Last summer, we visited Dublin, Ireland, London, England, and Paris, France. Visiting Europe is such a great experience to give yourself and your family. From the culture, fashion, architecture, food and art- there's so much to explore.
Euro Adventures
I will be sharing all the fun adventures in separate posts. While there are lots of pictures from this journey, I will give you the highlights. If you have any questions about any of the places mentioned, feel free to comment below.
It was a big trip for my little one since it was her first time visiting Europe. Pretty cool for a 7 year old! Since the young age of 3 she spoke of visiting Paris to see the Eiffel tower. I didn't expect to take her so soon but the opportunity arrived and I couldn't resist. Paris, here we come!
For any parent of a young child, you know the importance of making them feel comfortable and being as prepared as you possible can. Everything from blankies to entertainment- there's nothing you want to forget.
Tips for Traveling with kids:
Give your child his/her own small backpack. Let them bring a stuffed animal or favorite item to travel. Pack a book, crayons, activity book or sketchpad, chewing gum (for the plane ride), wipes, tissues, sunnies, a travel size blanket (or leggings like I did- it gets cold on the plane), and some of their favorite snacks.
I wouldn't bother traveling with an ipad or any pricey gadget. You don't want to chance it getting lost, stolen or broken. And remember when you pack lighter, checking out and in is easier, faster and less stressful. Your cel phone with games will do for down time but believe me, a Euro trip is exhausting for the little ones and they won't really miss out on techie stuff. Unplugging is a good thing. This is a chance to explore new places and spend time together.
Cool art in the streets of Dublin…
Dublin is filled with wonderful art.
Dublin has art everywhere you look. We stayed at a hotel across from a Preforming Arts building where you can see big theatre productions like HairSpray for example. Ireland also broke the world record with their famous Irish jig that week. Unfortunately, we missed it because we had jetlag and fell asleep in the hotel. We literally checked in, unpacked and fell asleep. But of course, my mom woke us up so we could go eat dinner. And it's always better to wake up to get used to the new time zone when traveling. We needed that power nap but sleeping the entire evening would have been a bad idea. The other thing to keep in mind is that places close earlier in Europe so you want to make sure to eat something before it gets too late.
A visit to a chocolate factory
The next day, we had plans to visit Butler's Chocolate Factory. I have to say this was definitely Liana's favorite stop in Dublin. It was a little complicated to find. We took a bus and got off too soon but we were able to walk there (a long walk!). The factory has a cafe when you walk in. Visitors are asked to wait at the cafe until the tour guide comes to get you. The cafe smells amazing! Almost everything is made of chocolate.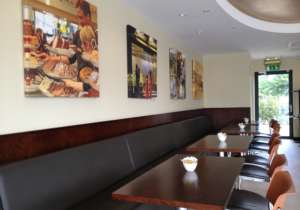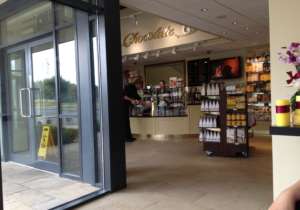 Butler's Chocolate history and experience
Once the tour begins, we learn about the history of Butler's Chocolate. Marion Butler founded the company in the 1930's. She established the company in the heart of Georgian Dublin, making her delicious chocolates by hand. Later the company was bought by was bought by Seamus Sorensen from Cork and franchised in several locations around the world. The Butlers Chocolate Experience Visitor Centre opened in 2011 in order to give people the opportunity to see the chocolate museum, see how the luxury chocolate is produced and have some hands on fun. It has become quite an attraction for families in Dublin as well as tourists.
After touring the factory and tasting some yummy samples we were taken into a room to decorate our own chocolate teddy bears. We were given hair nets and white lab coats just like the chocolate factory workers. We were also given a cup of hot cocoa to sip on while we worked.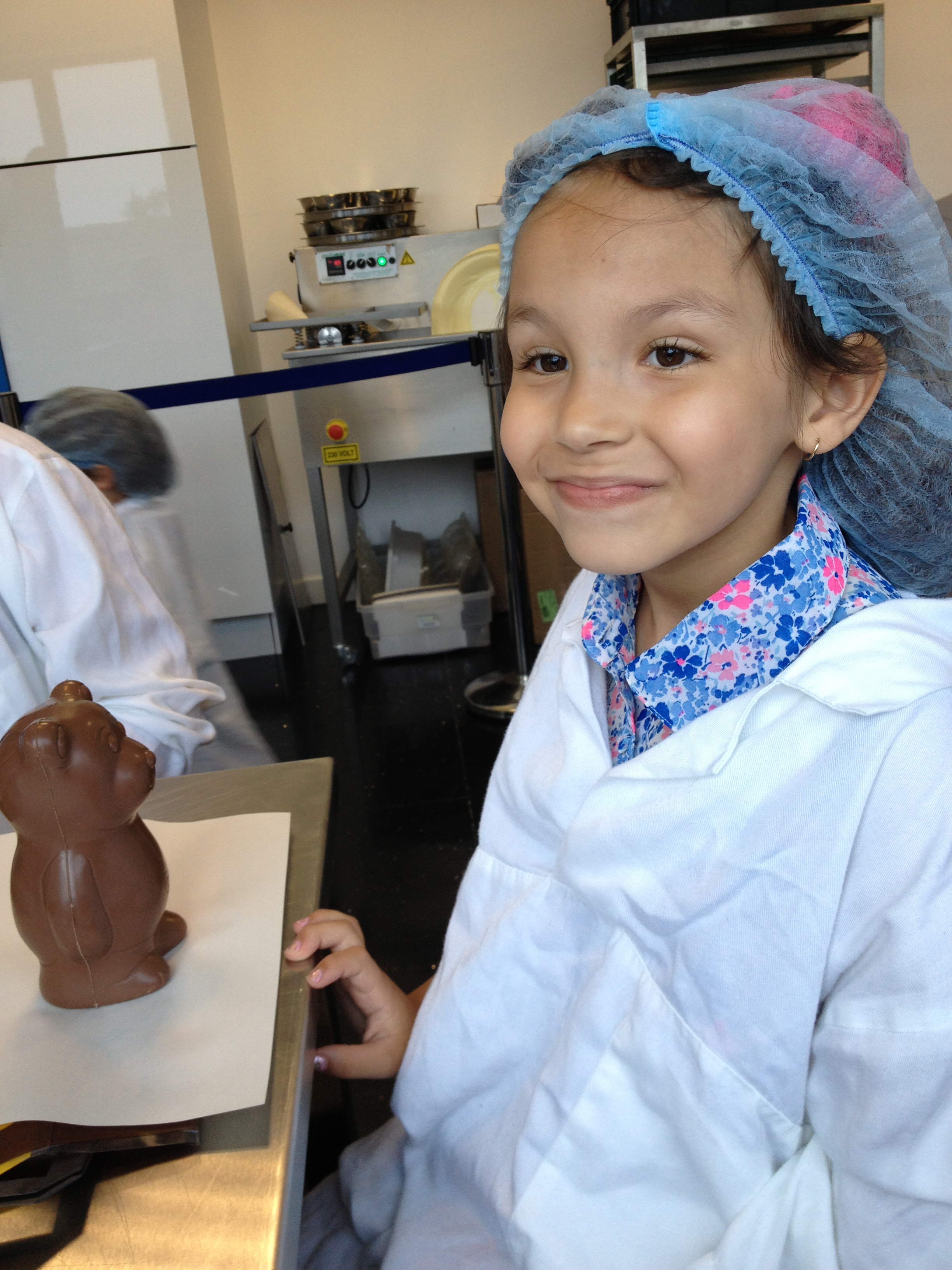 My dauhter loved decorating her bear. She gave hers a white tummy and I gave mine some pretty lashes and a bow. She loved the entire experience at Butler's Chocolate so much she talked about it all the time.
After we left Butler's, we took the bus and headed to the hotel for dinner and pool time. The next day, we got up bright and early caught the D.A.R.T. (train in Dublin) to get to the Malahide Castle. Unlike New Jersey/New York, I found Dublin's trains super clean- they even had wifi.
Next stop, Malahide
Malahide is a lovely part of Ireland. It has a country but suburban feel. The town has vintage style mom and pop shops and seems very family oriented. The castle is in the garden area. There is a cemetery and an information house across from that. Inside, you can get headphones for an audio tour, eat lunch, see art and shop. Before getting to the castle, you see many beautiful flowers and a unique cemetery. It has sort of an open building. The architecture is pretty amazing. The castle is beautiful inside. We couldn't photograph the inside but it's nicely kept and even has a ghost story!
See Part II of this post to read about the rest of our time in Europe.