If any young woman ever asked me for advice when it comes to driving I'd tell her to learn to drive stick. Say what now? Who drives manual cars anymore? Oh, you'd be surprised at how many people prefer it over automatic. And well, you just never know. If there's a situation and that's all that's available, you'll be the girl who saves the day. Put simply, it's badass.
*Disclaimer: I was loaned the 2020 Mazda Miata MX-5 in exchange for social shares and blogs. All opinions are honest and true.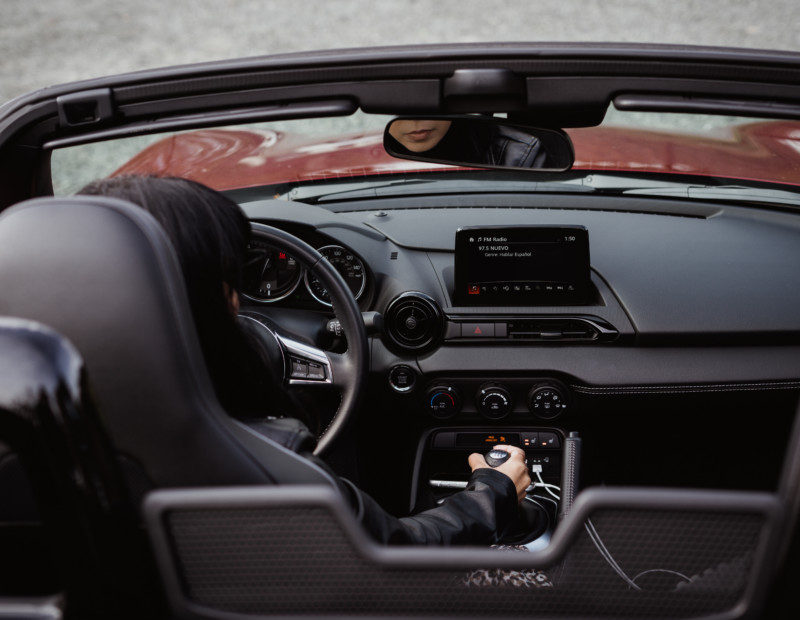 How I Learned to Drive Stick
If there's one thing that bugged me since I was in my 20s, it was when I realized no one in my car-obsessed family taught me to drive stick. When I questioned my parents about it they said I didn't seem interested. Well, I sure don't remember but I do remember being annoyed about it. So when my friend Dawn (SimplySassyStyle.com) invited me to collaborate on an idea to review the same car (manual type), I admitted that I didn't know how to drive stick. But I'm always up for a challenge. So I asked my dad to teach me. And Mazda was totally cool with it.
Read about Dawn's experience here.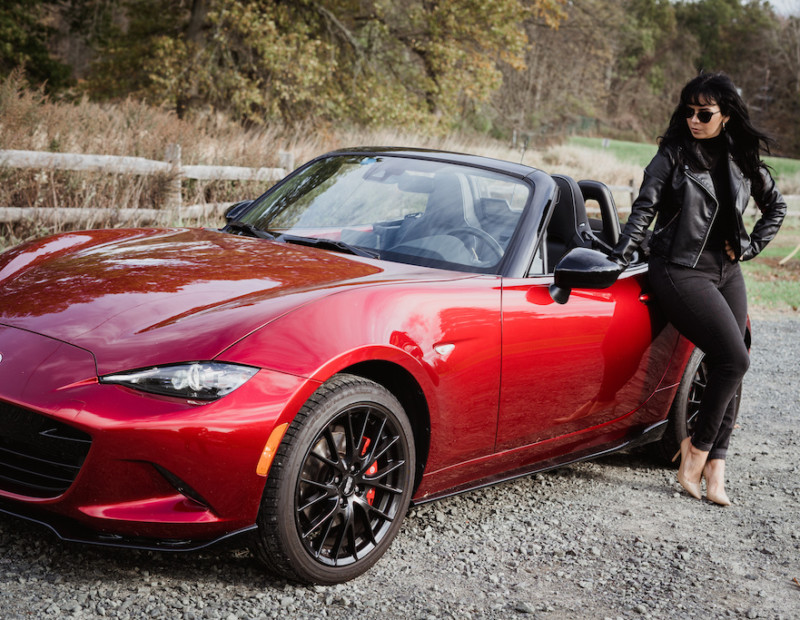 Clutch, Gas, Break
When it comes to driving manual, everything is different. See, there's this "extra pedal" called the clutch and you have to learn to use it for a successful driving experience. So you've got your clutch, break and gas pedals. Then you've got your shift where you change gears. It sounds a bit confusing but once you get the hang of it, it just makes sense. The important things as my dad put it: take your time, be patient and practice.
My dad took me to an empty parking lot and started with the basics. He explained where everything was and the difference between driving automatic and manual. I studied him driving for a bit and then I took the wheel. I did laps, changed gears and the car turned off quite a few times. I had to get used to the whole clutch thing. Ahhhh! After all those laps and repetition, I drove us home and even parked the car. Woohoo!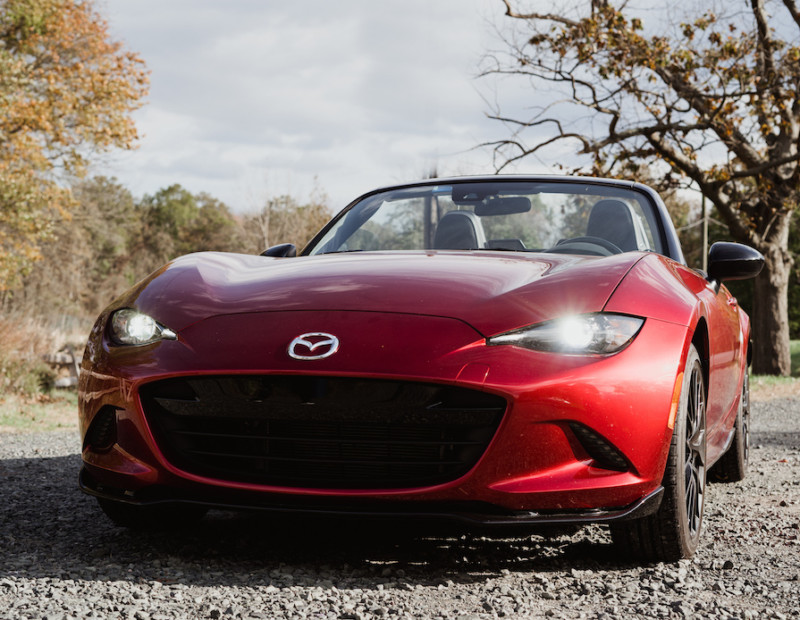 Ok, Let's Roll
After I got the hang of it, what felt intimidating at first became pure pleasure. I got comfortable enough to bring the top down, turn up the music and enjoy the sweet sounds of the (9 speaker) Bose system. Kids on bikes stopped to stare and I could hear, "cool car!" and "nice ride!" as I turned the corner. The Mazda Miata MX-5 is a statement piece like no other. Forget the Hermès bag, ladies- get yourself a hot red little roadster instead.
More Reading: Hello, November: Let's Celebrate!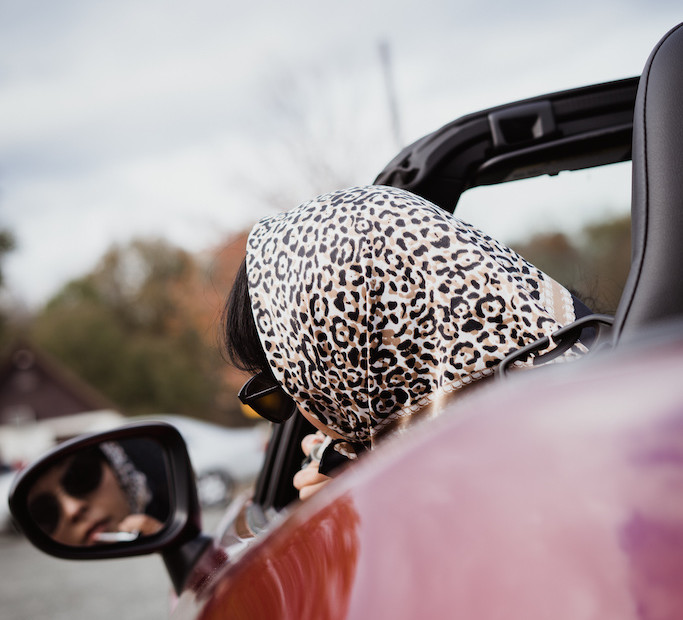 Let's Talk Cars
Ok, you're probably wondering about this beauty. So let's get into it. The Mazda Miata MX-5 may be little but she is fierce. Now this may not be a practical everyday ride but it's surely a joy ride. Every time I got behind the wheel I was wishing I was on a track as soon as I heard the engine roar.
Safety & Specs
i-Activsense which is a package filled with Mazda's safety features, is in the Miata. This package includes things like blind spot monitoring, lane departure warning, traffic alert. Here's what the model I drove included:
Horsepower 181 hp @ 7,000 rpm
Torque 151 lb-ft @ 4,000 rpm
Fuel (manual) 26 city / 34 highway *premium unleaded is best for this car
Rear wheel drive
i-Activsense (Mazda safety features)
Bose 9-speaker audio system, headrest speakers and subwoofer
LED headlights and taillights
17 x 7 aluminum alloy wheels in Metallic Black finish
Color of the model featured (Soul Red Crystal Metallic)
Heated seats
Apple Carplay / Android Auto
6-speed manual transmission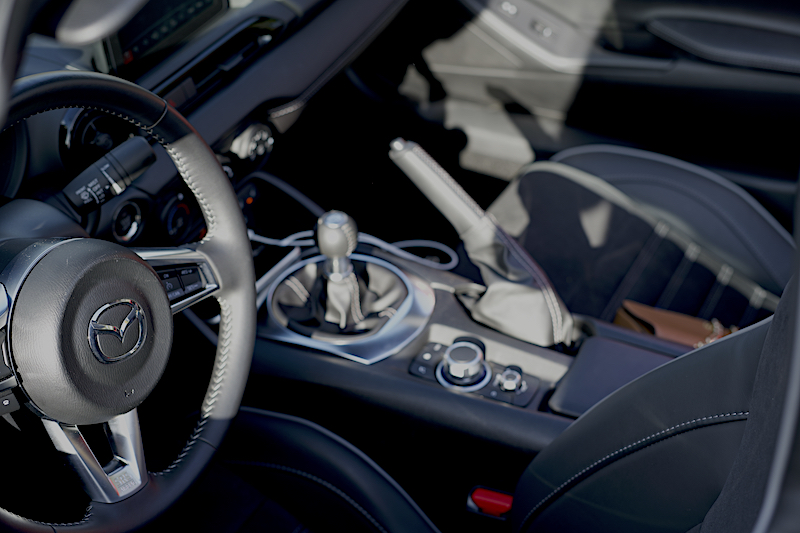 I had a lot of fun driving the Mazda Miata MX-5 (and learning to drive stick). If you're looking for a fun, fast roadster, I recommend looking into this car. It's a whole mood.