It's always refreshing when the purchase of clothing goes toward a good cause. Cool Kid Tees  is an expression of a child's love and an effort to convert creativity into charity. These fun tees for a good cause make the perfect gift for any occasion. The proceeds from this cool concept are donated to military families of fallen soldiers.
The cool kid tees concept was created in an effort to bring family and friends together through creative expression. The idea came about when the founder's seven year old daughter took one of his work tees and decorated it with art.
"She was so proud to present to me her hard work and creativity. I wore that shirt with pride and enjoyed every minute of explaining her art to my friends and co-workers. My daughter and I would like to bring this concept to the world." coolkidtees.org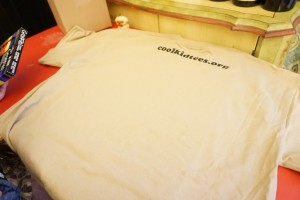 I was asked to review and write about my experience with Cool Kid Tees. Of course, I thought my eight year old (who loves art) would enjoy this. The kit comes with a tee labeled coolkidtees.org on the back. The tee is a camel color and comes with a package of fabric markers green, brown, red, yellow, blue and black.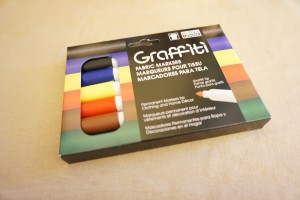 After some thought, we decided to create a gift for my dad (her grandfather). They both enjoy art together and things like guitar, cars and the history channel. So, she decided to make him a guitar design. In order to get the shape for the guitar, I printed out a picture of a guitar so we can have an idea and trace it. She wanted it to look good so I had to help her out with that part. The rest, she did all by herself.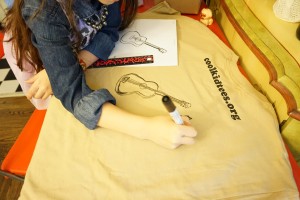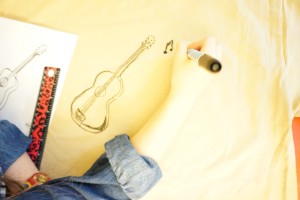 We used a piece of cardboard under the tee so it wouldn't bleed onto the other side and we allowed it to dry for a couple of hours. But it dried quickly, we jus wanted to be extra careful before rolling it up into the bag.
She really enjoyed making her "papa" this gift and was excited to give it to him. And he was also happy to receive such a wonderful surprise 🙂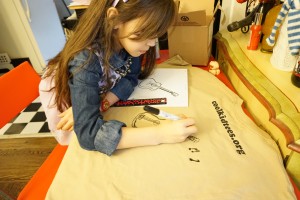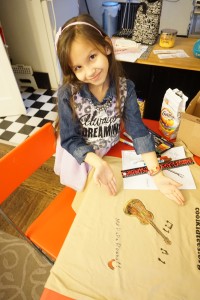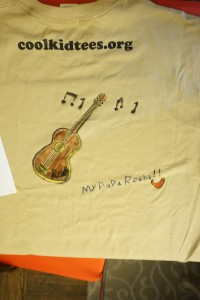 For more information, visit: coolkidtees.org