You can never go wrong with a pair of jeans, nice top and some heels. With this look, I'll show you how I styled blue jeans, blue shirt and played with neutral tones- taking the average casual to show stopping casual. And it's a great easy look to take out for cocktails, dinner or a movie.
Jeans are always fun to dress up. They're comfortable and casual but when styled the right way, can be dressed up. And did I mention this look is budget friendly? Sure, I love my high end brands but scoring a deal can be pretty awesome, too. To start, the hi lo top was a find at Mandee for under $8! Next, the jeans are from Old Navy and cost me under $30. The bag is a favorite which I've been toting around most of the summer and I found it at TJMaxx for $25. The shoes, I picked up at a little boutique in midtown for $25. All great deals, if you ask me. The Ray Bans… well, they're Ray Bans.
This look is a perfect example of transitioning between seasons. Lately, there's been a light breeze but it's still sunny here in Jersey. So, a pair of jeans and sleeveless top is definitely the way to go right now. And if it gets chilly, you can always carry a nice scarf to cover up those arms 🙂
About this look:
Hi lo top: similar
Jeans: similar
Bag: TJMaxx
Shoes: similar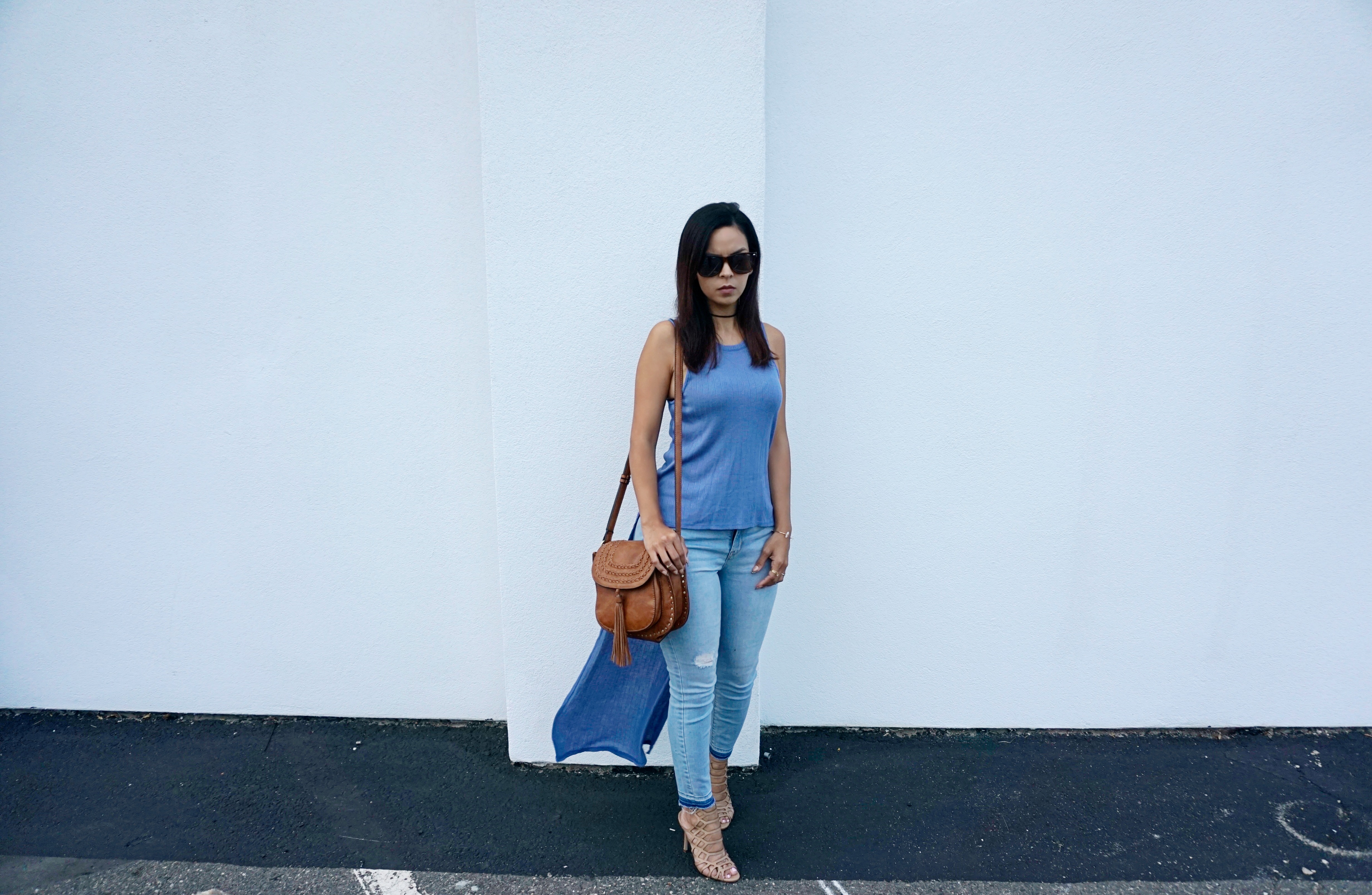 Sunnies: RayBan
"Refuse to be average. Let your heart soar as high as it will."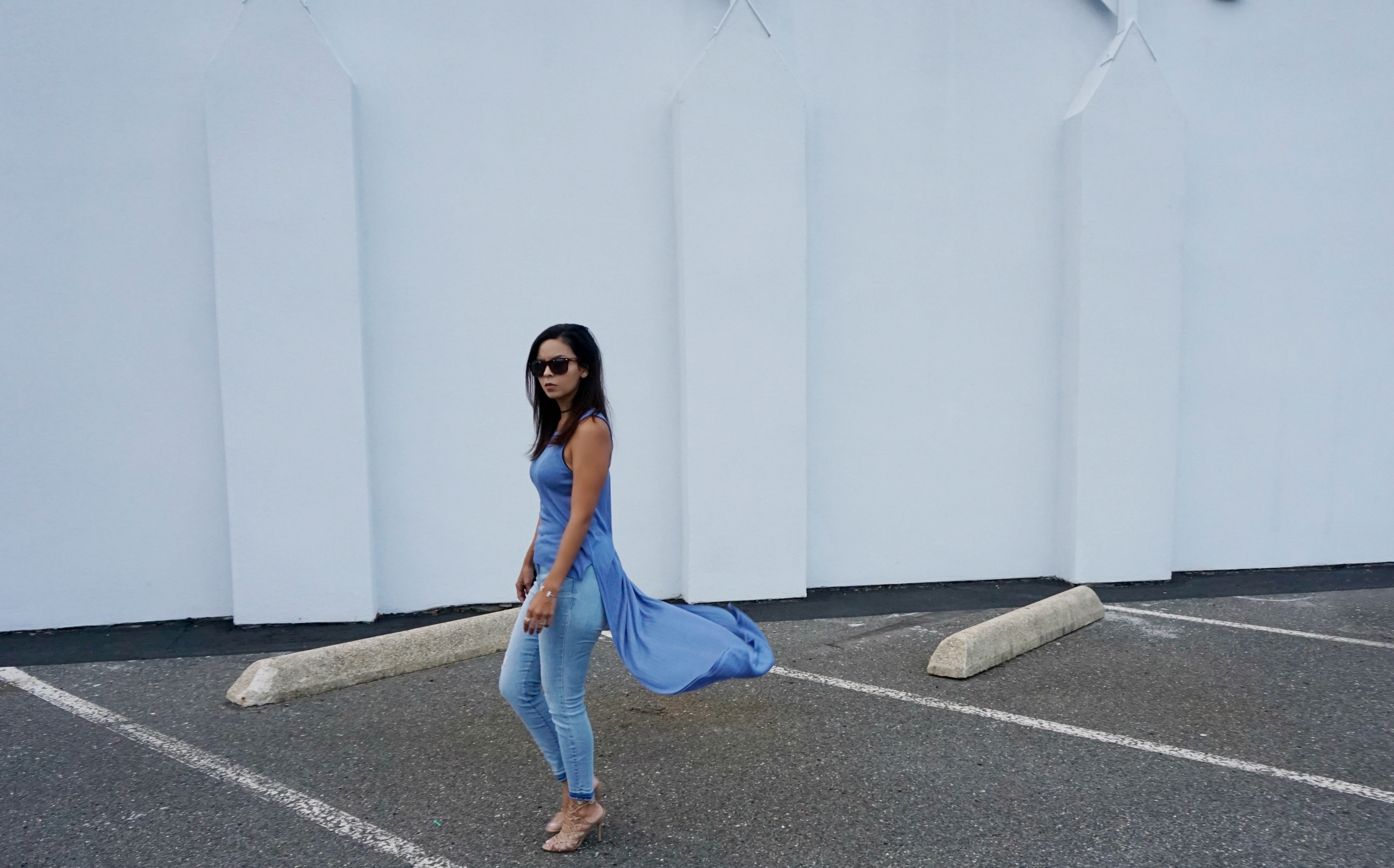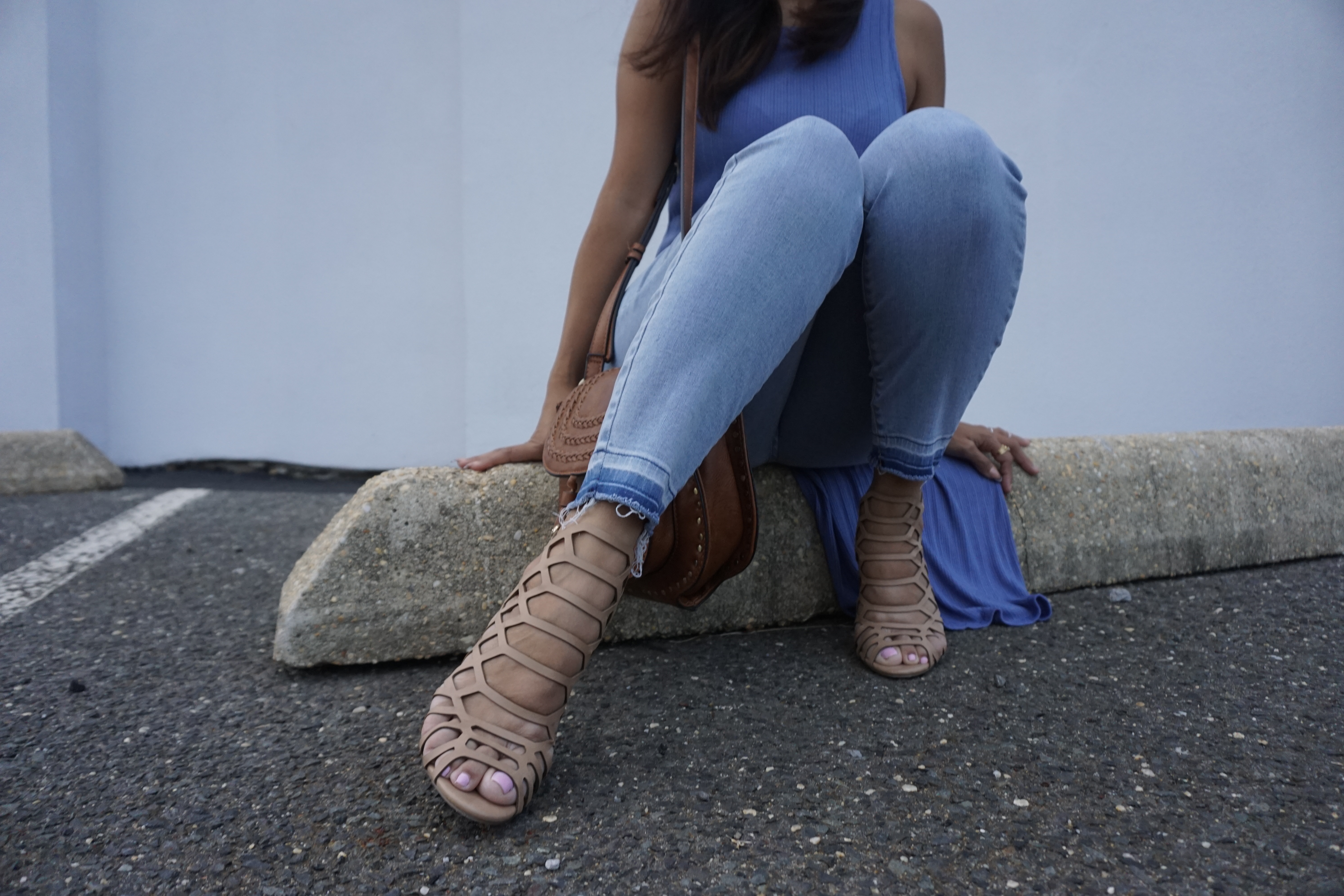 En Espanol:
Nunca se puede ir mal con un par de jeans, top agradable y unos tacones. Con esta mirada, te voy a mostrar cómo labrÓ blue jeans, camisa azul y jugaba con neutro polifónicos tomando el promedio ocasional para mostrar parar casual. Y es un gran aspecto fácil de llevar a cabo para tomar un cóctel, cena o una película.
Los jeans son siempre diversión a vestir. Son cómodos y casual pero cuando labrado de la manera correcta, puede ser vestido. Y no he mencionado este aspecto es agradable y económico? Por supuesto, amo a mis marcas de gama alta, pero anotando un acuerdo puede ser bastante impresionante, también. Para empezar, la parte superior hi lo fue un hallazgo en Mandee por menos de $ 8! A continuación, los pantalones vaqueros son de Old Navy y me cuestan menos de $ 30. La bolsa es una de las favoritas, que he estado portando alrededor de la mayor parte del verano y lo encontré en TJMaxx por $ 25. Los zapatos, me recogieron en una pequeña tienda en el centro por $ 25. Todas las ofertas, si usted me pregunta. El prohibiciones de Ray … bueno, son Ray Ban.
Este aspecto es un ejemplo perfecto de la transición entre temporadas. Últimamente, ha habido una ligera brisa pero sigue siendo soleado aquí en Nueva Jersey. Por lo tanto, un par de pantalones vaqueros y camiseta sin mangas es definitivamente el camino a seguir en este momento. Y si hace frío, siempre se puede llevar una bufanda agradable para encubrir esos brazos 🙂