*Disclaimer: I was loaned the Toyota Rav4 TRD Off-road in exchange for social shares and blogs. All opinions are honest and true.
At the start of the pandemic, my family and I hoped the at-home life would be temporary. After four months, we realized it may take longer than we hoped. Our 2020 plans were filled with travels, museum trips, and more. But the pandemic had other plans. As long as our loved ones were safe, we were thankful. My daughter (who was already homeschooling since last year), was feeling a bit lonely. Homeschoolers are actually pretty social and with everything being canceled or made virtual…she could really use a friend.
The Search
I began to look into adopting a puppy. Because of her allergies and asthma, the breed needed to be hypoallergenic. Through research, I found that poodles and poodle mixes were the best options- among them, the F1b Goldendoodle, the most hypoallergenic breed out there. So I searched and searched for one. Shelters were empty (quarantine puppies became a thing) and breeders had long waiting lists. It seemed impossible.
More Reading: Free Things to Do in Puerto Rico
Yes, No, Maybe?
One day, a friend posted that her Goldendoodle was expecting puppies! I couldn't believe it. So I asked her about it (a million questions). The thought did make me nervous. A puppy is work- like having another child. But then my daughter would send me videos of her dream "chicken nugget" puppy. Ok universe, I get it. So I spoke to my husband. I could tell he felt the same as me- do we really want to do this? Yes and no. No one likes to lose sleep but …it will make her so happy. So scary and so exciting at the same time. That evening, we gave my friend the ok.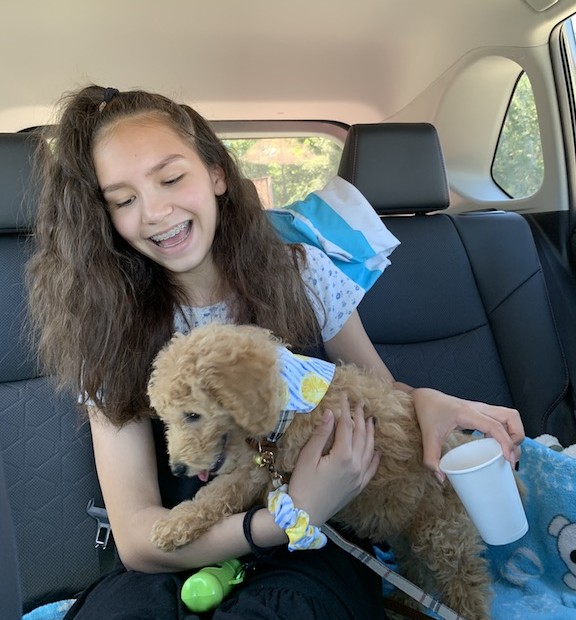 Yes!
The puppies were born on July 23rd and we could go pick her up at the end of September. I have to say, this was the hardest secret to keep! I ordered all the puppy things and had them sent to my mom. Next, I did research on the breed and watched training videos. I was nervous about taking on this new journey but also so excited to see my daughter's reaction when she met her new puppy.
More Reading: Toyota Sienna: Made for Fun Adventures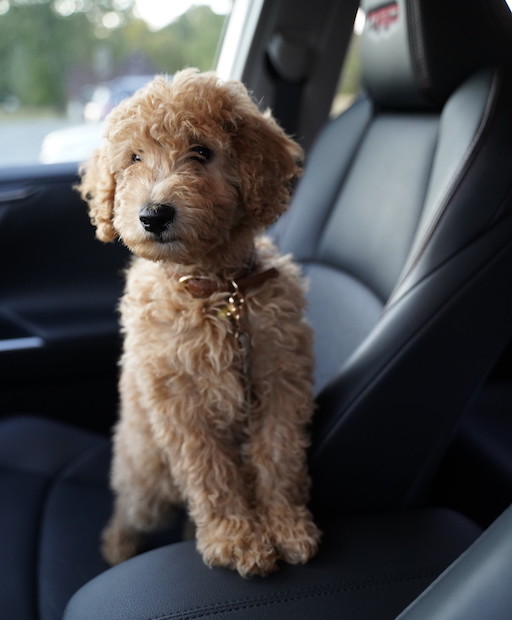 Let'stake a road trip to South Carolina
As the time to meet our new fur baby came, my friend asked if we'd prefer to meet her in the Carolinas instead of having to drive further south. Of course, we said yes. And thanks to our friends at Toyota, we were loaned a Toyota Rav4 TRD Off-road edition, the perfect road tripping suv. We told our daughter we were taking a scenic trip down south for a change of scenery. She believed it- even though I have been super nervous and anxious about the whole pandemic. Before we knew it, we pulled up to a rest stop for the special delivery. My daughter had fallen asleep and when she met her pup, she was shocked, emotional and speechless.
You can watch the video here.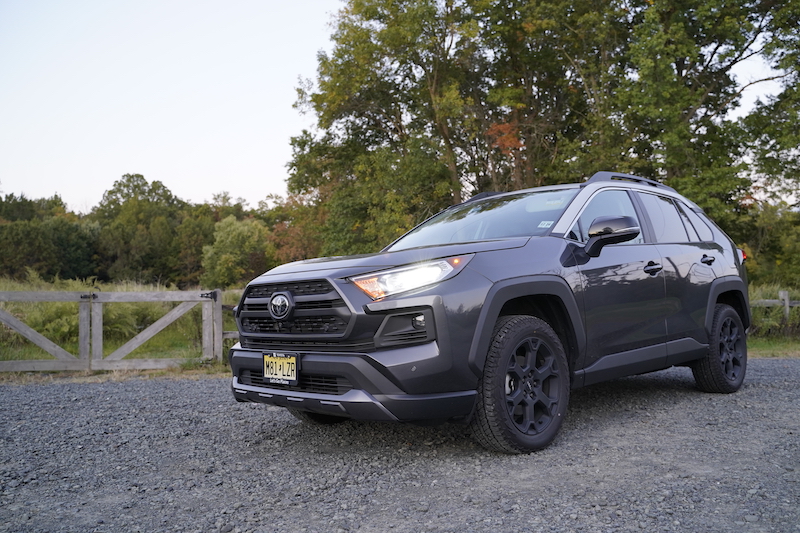 About the Toyota Rav4 TRD Off-road
It was a long drive. From NJ to SC, it took almost 11 hours. But the 2020 Toyota Rav4 TRD Off-road made it easier. It's a road tripping, made for adventures kind of car. Good for families and the adventurous types (think hiking, cycling, and more).
The TRD Off-road we had for the week was fully loaded. Leather heated and cooling (bucket) seats with nice cross-stitching in red, JBL surround sound system, a moonroof, and more. Comfort, convenience, safety and power.
What Else Can I Tell You About the TRD Off-road?
Fuel Economy- 27 MPG (25 City / 32 Highway)
2.5L 4 cylinder
203 hp @ 6600 rpm / 184 hp @ 5000 rpm
8 Speed automatic transmission
8 inch touchscreen
4 USB ports, 120V/1000W power outlet (in the trunk)
Apple/Android compatible (plus a charging pad in the front!)
Backup camera, bird's eye view camera, pedestrian detection
WIFI connect (optional service but you get a free 3 month trial)
Price of the model I drove: $41, 385.00 but it starts at $35,780.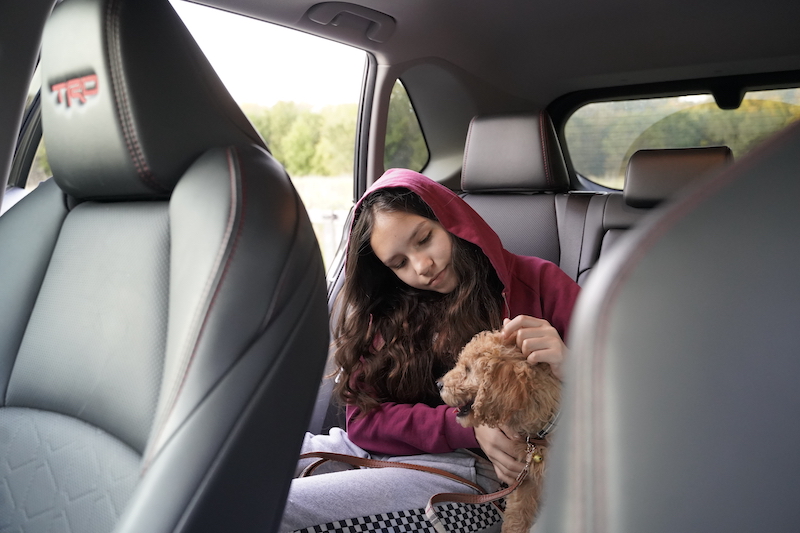 The Toyota Rav4 TRD Off-road has such a great, rugged design. I loved the exterior two tone look- Magnetic Gray and Metallic Black, the all black rims, and TRD badges on the car. This was a comfortable SUV for road-tripping (and daily use) and if you're in the market for an adventurous ride, I highly suggest you check this one out.