Project Runway's own Christian Siriano showcased his Spring 2014 collection during New York Fashion Week. The collection was absolutely stunning. Soft, delicate, and feminine. From the colors to the fabrics, it was an edgy yet feminine ready-to-wear collection.
September 7, 2013- Eyebeam Atelier, NY
Give me all the sets!
I especially loved the two-piece ensembles which were cropped tops with pencil skirts. I am a huge fan of the pencil skirt and what it does for the female body. After seeing this collection, I can say it's safe to predict that the pencil skirt will continue to live on for another few seasons. One of my favorite things about the collection was the way Siriano designed, for example, a pair of trousers with a skirt or short suits in the style of a flowy skirt. And the gowns that were tiered like one shorter dress layering another.
More Reading: Christian Siriano- Spring Summer 2015 Collection Showing
Gorgeous gowns took everyone's breath away
The collection's gowns were what really stole the show. The way they flowed down the runway was just beautiful. It was something you'd see in an Estee Lauder or Christian Dior ad. Very romantic and delicate.
We saw hairstyles like sleek ponytails (Anthony Cole Sebastian Professional) and soft makeup (Polly Osmond Hourglass Cosmetics) with lip tones in pink and coral colors.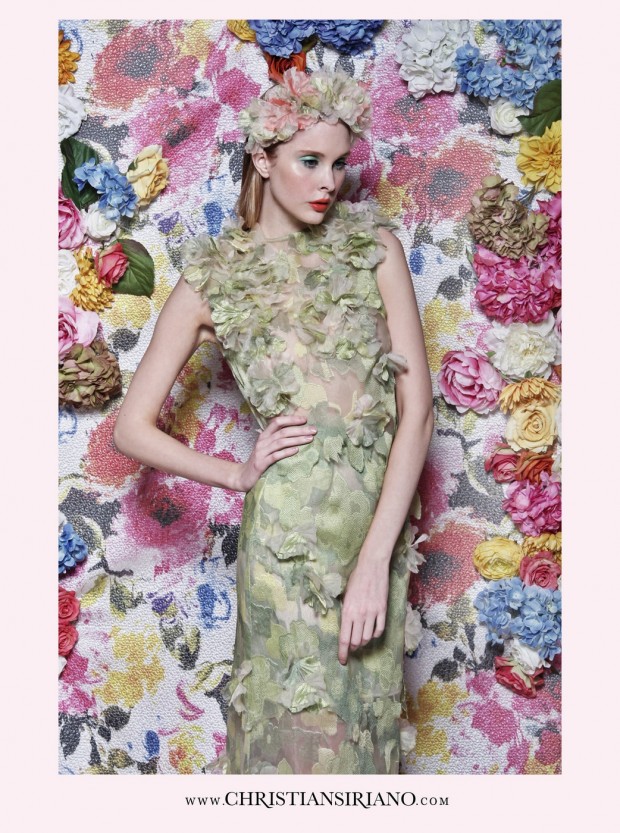 The shoes!
And the shoes were killer! Strappy heels with colors that popped like orange and neon yellow mixed with nude or gorgeous red heels with fabric flowing as they strutted along the runway.
See the collection for yourself below! And check out the video for an inside glimpse of Christian Siriano's S/S 2014 Collection.
About the Collection:
For spring 2014, Christian Siriano drew upon his recent trip to Isla Mujeres, the "Island of Women," off Mexico's Yucatan Peninsula for inspiration. It is a modern yet authentic representation of Mexican culture that is still appealing to women around the globe. The collection is a celebration of the female form as seen through a romantic lens to capture a refreshingly young vibe.
The color palette and silhouettes of the collection evolved from the architecture and bright tropical colors of the residential buildings, the crafts and handmade textiles, and the Caribbean coast. The imagery behind a fusion of grass and palm-lined huts, the terribly picturesque color-blocked streets, and intricate stonework in the town created a base foundation for the clothing's shapes.
Prints were sparked by the traditional abundance of the dahlia, creating a reoccurring floral pattern. There are day separates in vibrant prints paired with raffia textiles, and soft elegant organzas for evening in sand tones. This collection, like the stimuli of the island, is dramatic and powerful in the lightest way possible.
Photo Credits: Runway – Jay Marroquin
Behind the Scenes / Front Row – Nenaji Agbolabori
Special thanks to Agentry PR for the invitation