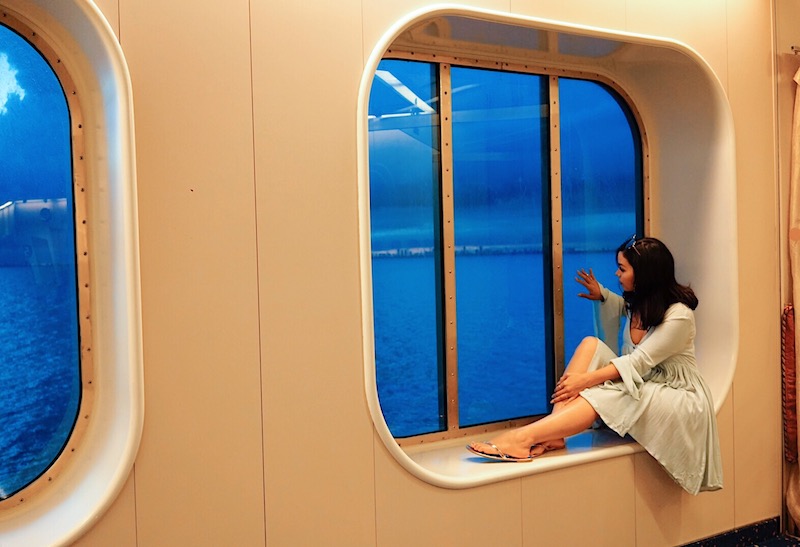 I recently went on my very first cruise.
Yes, you read that right- my first cruise. I was always skeptical about going on one because I wasn't sure what to expect. I feared getting sick, food poisoning, feeling claustrophobic; etc. But if there's one thing I've always believed, it's that no matter how afraid or worried you may be, fear should never win. So, I put my faith in a higher power and let go. That's just how I view things. And I'm happy to report that I survived and it was a great trip.
Packing Tips for a Cruise
When packing for the cruise, I had no idea what to bring. Naturally, I searched for travel blogs with tips and found some useful ones. However, learning firsthand, I can now share with you all my own packing tips for cruising. Keep in mind that I traveled to the Caribbean. So, if you're traveling to say…Alaska- these packing tips may not be for you.
What to Expect Upon Check-In
As soon as you check in, you will be in an area where there are photographers set up and kiosks. If you're not photo ready, don't worry there will be other opportunities on the ship. The kiosks sell a variety of things that you will most likely need. These include lanyards (with room card holders), sunglasses, sunblock, bug repellent, water shoes, ponchos, waterproof phone cases, hats, and pashmina scarves. If you wish to save money, buy ALL of these things ahead and do not forget them. You will need ALL of these items and they will cost you less if you order them on Amazon, for example.
Read More: Getaway Glam Essentials

Choosing the Right Luggage
I made the mistake of using a small carry-on luggage (and a weekend bag) instead of the standard-size luggage. Don't ask me how I managed to do this. I packed eight outfits, 2 swimsuits, 3 pairs of shoes and a flat iron in there. Never again. I can't tell you how much I regretted that. It was difficult to manage and I didn't think about toting new things from my travels. I recommend a standard-size luggage and a carry-on bag or backpack.
Staying Organized
I'm a bit of a control freak when it comes to travel. I make packing lists for each traveler (in print and via text) as well as itineraries that include photo ops, addresses; etc. One thing I loved about the cruise was getting a new itinerary each evening. Call it nerdy but I need to know what's going on!
What to Pack
As I mentioned before, I packed a lot of outfits. I did not wear them all but that's ok. When traveling you can never be too prepared for the weather. Here's a list of things I recommend packing.
Toiletries- (toothbrush, toothpaste, deodorant, body lotion, body wash; etc) Pack everything you use on a daily basis in travel size. Our cruise had essentials and other things available for purchase but not like a hotel would.
Undergarments (pack double, pool time may require a need for extra stuff)
PJs
Clothing- pack beachwear, swim shoes, flip-flops, sunnies, hats, coverups. Pack an evening look (cruises do an evening of formal attire. Great for family photos). For men- suit rentals are available if they do not wish to pack one. Pack comfortable shoes for excursions and walking tours. I try to go according to the weather when I pack but I always bring a light jacket and scarf in case it gets chilly.
Pashmina scarf- Ladies, you will want to have one handy for the windy days/nights on deck.
Swim Coverups- Cruises have pools. A coverup that you can throw over your swimsuit after a dip or while on deck is essential. Also, back a light tote bag or beach bag for your essentials (sunblock, sunnies; etc).
Travel size steamer- invest in one, it's worth it! I plan to buy one after this trip. There were no irons in the rooms because of fire hazards. I hate wearing wrinkled clothing so I used the hair dryer to iron out the wrinkles. What can I say? When times get tough, get creative! The cruise does offer streaming service but I sure didn't want to waste money on that when I could use it on other stuff.
Blanket- my daughter has traveled with her own pillow and blanket for years. I always found it annoying to tote around but our last few trips have made me appreciate this habit of hers. Most hotels and cruises have light bedding and it can get chilly plus it's so nice to have something from home. You can find cute travel pillows and throw sets. Invest in that, it's worth it.
Sunblock and bug repellent- super important when traveling! You can find it on the ship but it will cost you more. The sun is strong in the Caribbean and your skin needs protection. Bug repellent will protect you from any mosquitoes and you especially want that protection with bugs carrying the Zika virus these days.
Ponchos or an umbrella- we always carry both. I stock up on disposable ponchos at the Dollar Tree and my hubby carries an umbrella in his backpack. A poncho when traveling can cost you $15 and up compared to $1. Save that money and go prepared.
Medicine- my daughter got seasick. Thankfully, we bought medication beforehand and she was fine after taking it. I also packed Tylenol, band-aids, and Tums. You can never be too prepared.
Hand Sanitizer- it will be available all over the cruise. In fact, the staff is so good about it. There are attendants at every restaurant door making sure all guests sanitize their hands before entering. It's also available on every floor. I carry one in my bag for when we are out on excursions. You want to be safe. You're entering foreign land where you just never know what diseases can be transferred.
Wipes and tissue- not every bathroom off of the ship will have toilet paper. To prevent an uncomfortable situation, carry wipes and tissues. They came in handy a few times especially for my daughter when eating ice cream.
I hope this packing tips list wasn't too overwhelming. Believe me, I did not over-pack. I used a carry-on-size suitcase and a weekend bag above it. However, I will definitely use a standard size next time around 🙂