*Disclosure: I received media passes to experience LEGOLAND for the day with my family. All opinions are true and honest.
When in Orlando, one simply must visit the theme parks.
But which one? There are so many! And after many visits to Orlando, I finally decided to pay a visit to LEGOLAND. I'd heard good things about it and my daughter always wanted to visit. She and my mom joined me for a fun day at LEGOLAND and here's what we loved about it.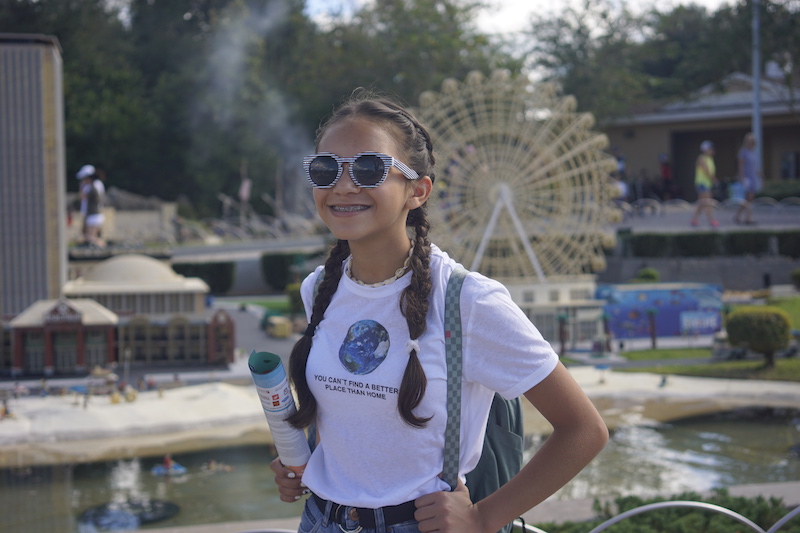 LEGOLAND: Everything is Awesome!
So Much Creativity
Anyone who appreciates creativity and imagination will surely find LEGOLAND a fun place to visit. As soon as we walked into the park, we noticed the LEGO hotel to our left- totally designed like it was built out of giant Legos! The entrance of the park alone was also colorful and made of Legos. And as we went deeper into the park, we discovered an entire mini-land made of Legos. Just WOW.
Great for All Ages
The park is designed for families with kids ages 2-12 but we found that it's all-around great for all ages to visit. My mom, who is in her late 50s, was amazed at the LEGO village and very much enjoyed the 4-D movie. My daughter, who is 13, and like me not a big fan of scary big rollercoasters, was happy to get on these friendlier rides. We all had a great time. P.S.- if you're a Star Wars fan, you'll appreciate the park's Star Wars mini-land!
Ford Driving School
It could be my love for Ford Mustangs or the fact that I've actually done a driving course with the brand (and am an editor at a women's car site)- but I really loved this! My daughter just made the cut at 13 and was able to cram her long model legs into the little LEGO cars and take the course. Basically, the kids get to watch a video that teaches them the rules of the road and then put it into practice. If they follow the rules, they pass the test and get a driver's license (optional- for about $17.00). It's a great concept and they have a Jr. version for the smaller kids.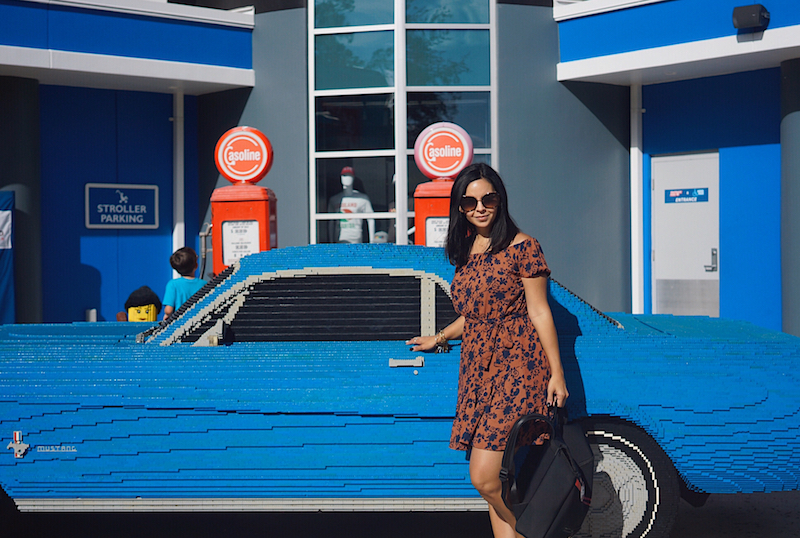 Fun Facts: There's a life-size replica of the 1964 1/2 Ford Mustang V8 Coupe. It's made of 194,900 standard LEGO and DUPLO bricks. It took 1200 hours to put together, weighs 1712 lbs and goes by #BrickPony.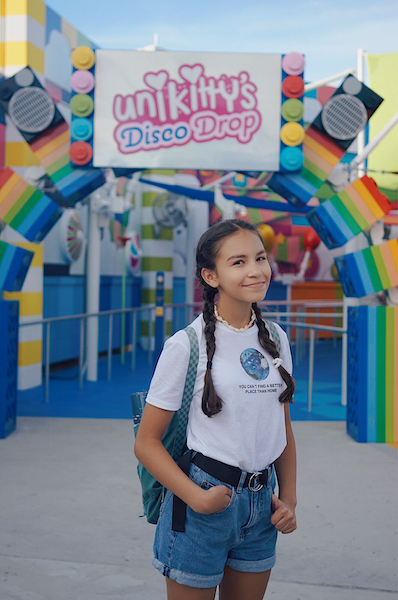 The LEGO Movie World
Aside from Star Wars Miniland, I have to say my favorite area was the LEGO Movie World. It brought back some memories because we celebrated my daughter's 8th birthday at the movies one year and the movie she chose for her party was The LEGO Movie. I remember it being funny and just adorable. And the land is soooo cute! It's colorful, bright and a lot of fun. We went on Masters of Flight which was so well done with sound, screen, and scents. My daughter also loved Unikitty's Disco Drop ride.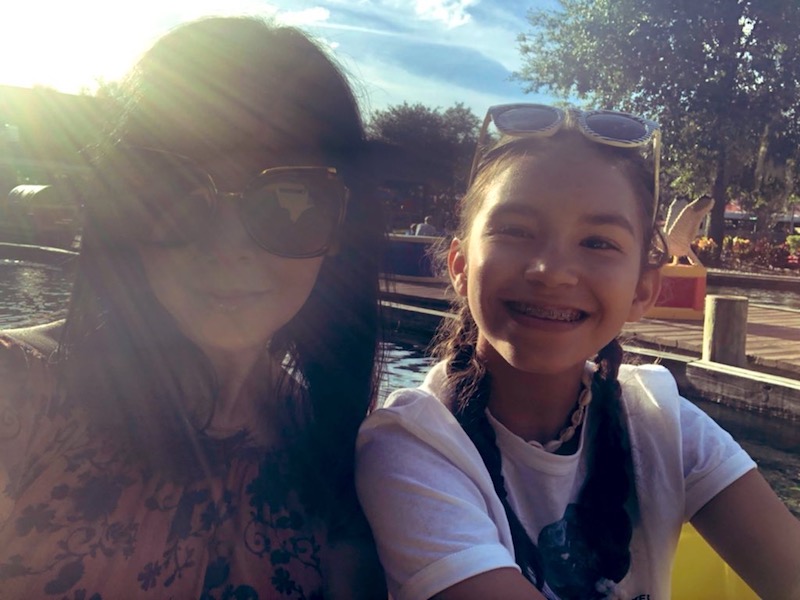 Reasonably Priced
As a parent, I noticed that LEGOLAND offers a lot of different food and choices. They have everything from burgers and pizza to tacos and paninis. But everything is reasonably priced and affordable for families. Meals go from $10.99 and up at the restaurants. I only have one child but I can't imagine having a big family and buying overpriced food for everyone. You won't have that issue at this theme park and I think that's super important when planning and budgeting for a trip. You may also bring outside food (within the park's guidelines).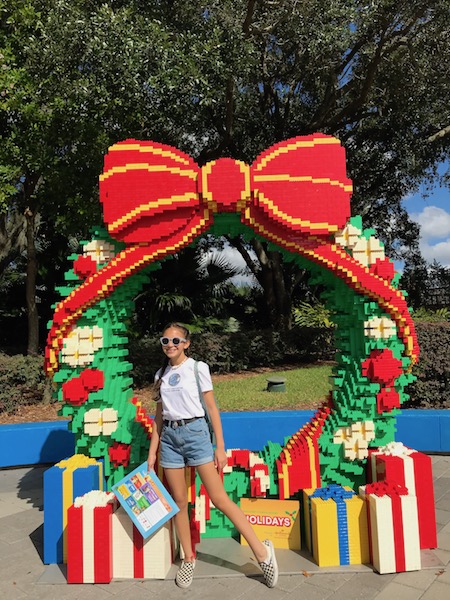 What You Should Know When Planning Your Visit
Parking is not included. Standard parking is $23. (Bicycles and buses are free).
LEGOLAND Florida offers daily shuttle service from I-Drive 360 on operating days.
Lockers are available. Starting at $9.
LEGOLAND is located in Winter Haven which is about 45 minutes away from Orlando. You can get a free shuttle but we drove since we had a car.
How Much Does It Cost to Get In?
LEGOLAND website has savings, so I would check there first. If you plan to stay at their hotel, you may be able to get a package. Here are the walk-in admission prices:
1 Day LEGOLAND® Florida: $99.99
2 Day LEGOLAND Florida: $119.99
1 Day LEGOLAND Florida + Water Park Combo: $124.99
2 Day LEGOLAND Florida + Water Park Combo: $144.99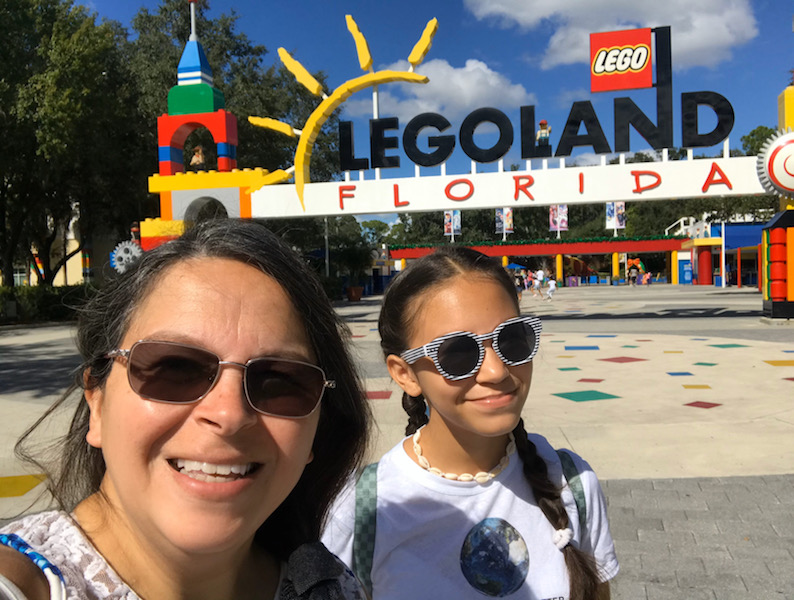 Would We Return?
Absolutely! We had so much fun as a family exploring LEGOLAND. It's also easy to navigate and not too tiring. You can see and do a lot in a day. I'd love to go back when the water park is open to see what that's like. But I highly recommend paying this unique and awesome theme park a visit. Whether you're a toddler or a senior, there's really something for everyone.