*Most of the products mentioned in this post were given to me by brands to try out or take on my trip. All opinions are my own. #ad
Planning a getaway can be enjoyable, but packing for it is a different matter. If you follow me on social media, I'm certain you've noticed my recent travel posts. And you may be thinking, "that girl surely doesn't pack lightly"… Well, you're mistaken. I believe I have become skilled at packing lightly for getaways. It's not an easy task, but it is achievable. Here is a list of my essential items for a glamorous getaway, along with some advice and techniques for maintaining your glamour during your trip!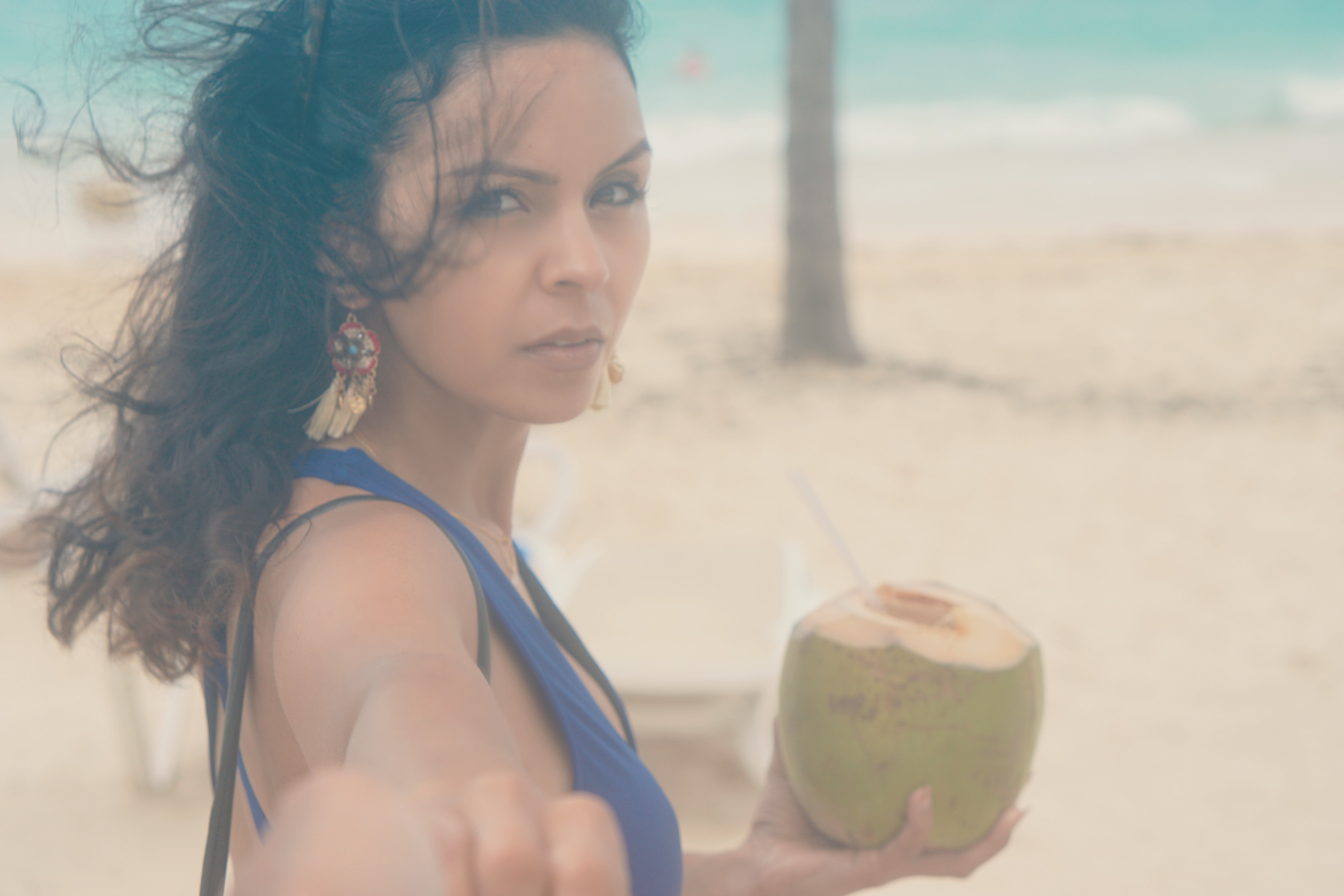 Lash Extensions- Ok, this is about the best thing you can do before your next getaway. Of course, you need to go to the right person. Brows by Jen MC is truly wonderful at what she does. Her work is all a la natural style and it really lasts. Trust me on this one! Having lush lash extensions gives you that awake, bright-eyed look 24-7. You don't even need make-up if you have them. Most days, all I did was fill in my brows and add a touch of highlighter and lip balm. I mean, who wants to be at the pool full-faced anyway?
Hair Care- Before I departed for my trip, I had time for a blowout. I had my hair flat ironed because they say it lasts longer. It really did. And as much as people will tell you that the Caribbean will mess up your luscious locks, don't believe it. With the right products and techniques, you can get a simple blowout to last a little longer. Of course, it depends on your hair type, too. The first two days were fine, nothing happened to my hair. On the third day, I added some dry shampoo, rubbed it in, curled my ends, and added hair spray. And by the fourth day, I went to the beach and then it was time to wash after. If I had more time, I would have opted for a Brazilian blowout but this worked just fine, too. I recommend Living Proof's Perfect Hair Day. It's a 5 in 1 styling treatment and works wonders on hair. It also comes in 2 oz which is perfect for travel. This particular product allows your style to last longer and says clean.
Eventually, I had to wash my hair. When that day came, I made sure I was using good shampoo and conditioner. I love the Quenching Coconut Curls line. I brought along the curling hair butter (it doubles as body butter!) and the frizz-defying curl styling milk. This stuff smells so good and works well. Both me and my daughter use it. For shampoo and conditioner, I brought along the Biotin & Collagen travel-size products. I had been wanting to try them out since I've heard such great things about them and I really did like them. They left my hair shiny and nourished. I also made sure I applied a product to my hair afterward while it was damp so it could dry nicely. And after that, I opted for a sea salt spray that gave me a nice beachy wave look. I like Mai Tai Spritzer Sea Salt Spray by Dry Bar.
Beauty Balm- I am a huge fan of beauty balms. I don't like to pile on the foundation and BB creams give you that nice light coverage. The key is to find the right one. I love using Diorskin Nude BB cream. It also has SPF 10 and it's just amazing.  I also brought along Water Blend face and body foundation by Makeup Forever. Part of the trip was because of a wedding so I had to pack some extra makeup for that day. And this stuff is seriously amazing on the skin and lasts all day. It's also waterproof which is great for humid weather in case you… begin to glisten.                                          
Cover Ups and more- Part of staying glam is how you dress. In order to eat at a resort, you have to be dressed. I loved wearing loose dresses that you could throw over a swimsuit to dine and later take off to jump in the pool. I also liked using a pretty scarf you could wrap around you, twist and tie and remove with ease (like the one pictured above by Kate Spade available at Bloomingdales).
Skin Care- SPF is so important when you're away- especially on a tropical island. The sun is stronger and that means you have to reapply more often. Everything I used on my face contained SPF15 and higher. I like Clarins Broad Spectrum SPF 30 and Super Fluid by Kiehl's. The sun is strong in DR and these products prevented me from getting sunburned and believe me- nearly everyone on the resort had a sunburn.
Nail Care- My nails are naturally long and stiletto shaped but to avoid any chips or nail breaking, I went for a gel mani two days before take off. It's really the best thing if you want to avoid a sad-looking mani during your trip. 8 days later, they are still looking fresh 🙂                                                  
Sunnies- This one is simple. What glam diva doesn't rock a nice pair of sunnies while on vacation? Sunglasses are a must when away. For those early morning excursions, breakfasts, or the next day after a long night. Or maybe you want to ditch any makeup and just apply some lip balm. The right sunnies will keep you looking glam and that's a promise.
Tips:
*Find a good make-up bag that doesn't take up too much space. I like the deluxe travel cosmetic bag from Baggllini. It holds all of my beauty products, makeup, and grooming essentials like hair ties, a toothbrush, mouthwash; etc.
*Make sure your products are all under 3.4 oz. If you can find them at 3 oz or less it's even better. Going to the Dominican Republic the requirement was 3.5 and less but coming back to the U.S. it was 3.0 and less. You can find most products in these sizes and if you need specific beauty products in a travel or sample size, Sephora and Ulta carry travel sizes or visit your beauty counters- they are super helpful with this!
*Don't forget to pack some good SPF for your face, lips, and body. Also, pack bug repellent to avoid those pesky mosquitos. My daughter and I sported insect repellent bands by Parakito. We also used a spray called Natrapel.
So, there you have it! I hope you found these tips helpful and if you have any tips or questions, post below!