This season has been filled with holiday events and lots of work for me. As I juggle my business and my blog life, I sometimes need to find looks that are easy to transition. This holiday look is just that. Easy, comfortable, and still stylish. Here's how I took a reindeer tee and made it fashion.
Last weekend was quite busy.
I held a holiday minis weekend at the studio. I also hosted a Christmas event for kids. So it was pretty busy. After work, I had to run over to a friend's cookie party so I went with a pinstripe blazer and holiday tee paired with ripped jeans. For work, I donned some gold slip-on sneakers. To dress the lookup, I simply added a gold metallic pump and a red clutch for a pop of color. These pumps by Marc Fischer are a favorite in my closet. I've had them for a few years. They go with almost anything and are comfortable.
Blazers are perfect for dressing up a look.
You can pair them with basic (or printed) tees, jeans, and heels. I find this is my go-to style for stuff like meetings, cocktails, or in-house events. Pinstripe blazers are hot this season and they're very versatile. This one is from h&m which I got on sale for under $30 on Black Friday.
Camel coats are also a hot trend this season. They're great for dressing up (and down). I have had this one for about five years but it is a classic piece. It's funny because so many people compliment me about it and I'm like this old thing? I think it's one of those pieces every girl should have in their wardrobe.
The reindeer tee was a Walmart find I picked up while running errands.
A client needed a last-minute ornament prop and I saw a Walmart, ran in, and spotted this tee near the checkout. For under $10, it was just one of those rare finds. It's a vintage wash, lightweight, and I must say good quality for the price. I was really surprised to find it.
The clutch is by Kate Spade. I choose to pair it with this look for a pop of color. The red on Rudolph's nose and the clutch really complement one another. It's great to stand out and shine like Rudolph 😉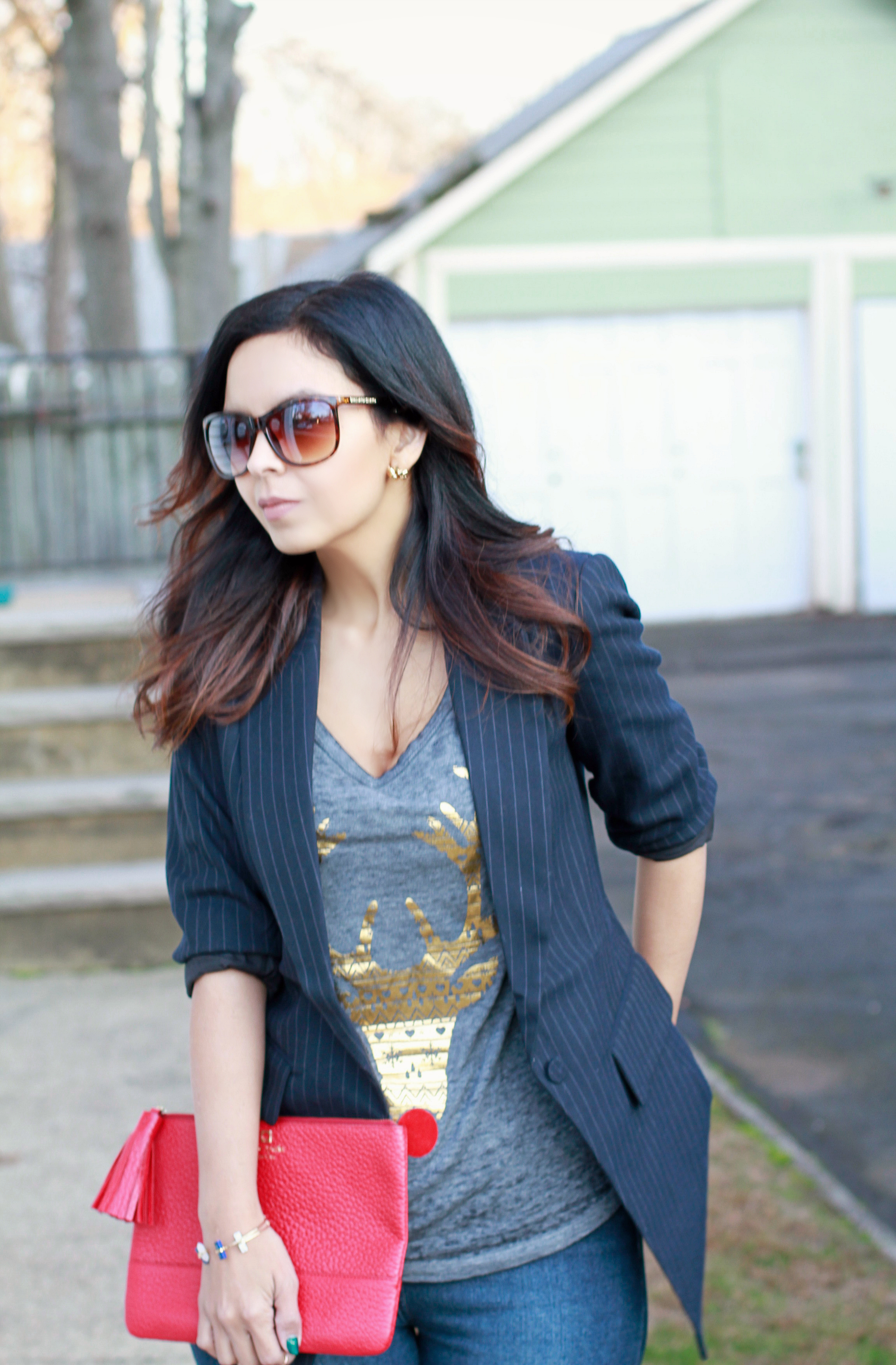 Outfit details
Blazer: H&M
Coat: H&M
Clutch: Kate Spade
Shoes: Marc Fischer (Macy's)
Hair/Nails: c/o Recreations Salon (Emerald Lights gel mani )
Bracelets: Claire's
Earrings: Mandee
Jeans: Material Girl