I can't believe my little girl just turned 9. Have I really been a mom for 9 years? How did the chubby little baby with the prettiest smile I used to hold get so big? It's really just mind boggling to me how life works. These questions run through my mind every birthday. If you're a mom, you probably get it.
Besides all the emotions, my favorite thing to do for her is plan awesome birthday parties. This year, she asked for something smaller. We're used to having over 25 kids but she was new at school this year and most of her cousins are in the tween ages making them a bit old and boring to join us. So we decided on an all girls painting and…juice party. We had a group of eight girls which was perfect. And the party was held at a new local art studio nearby.
The first thing we had to do was invite her guests. An art party, I thought. What type of invites would go with this theme? I searched online and found nothing. So, I decided to print out a picture of a paint tray and create my own. I knew this was something Liana would love since it required being crafty.
First, I printed the image and cut it out. Then, with a pencil, I lightly traced the art trays onto a white poster board. I made extra just in case I made a mistake. I then cut all of them out. I'd say this was the most tedious part. After that, it was a breeze!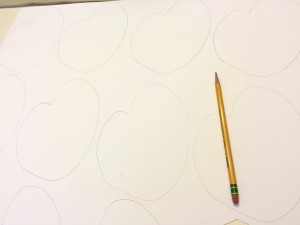 Next, we erased the pencil outlines and painted on the colors. Five big circles to look like paint in the trays. And with colorful markers, we wrote in the info. We also splatted some more paint onto the invites and finished off by spraying glitter onto the invites.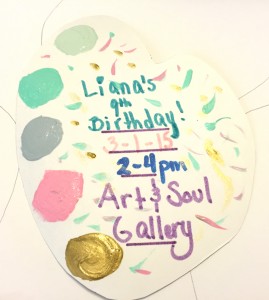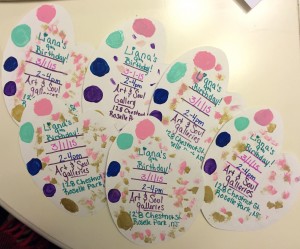 For party favors, we put together little art goody bags. Most of the items I purchased at A.C. Moore. A mini canvas, some paint in a mini paint can, a brush and jolly ranchers. I didn't want to give out a ton of candy since I know most parents don't like to overdo it with the sweets. Aside from the goody bags, we gave each girl their own personal mason cup and a cake pop. They were a hit! Even the ladies at the studio were in awe. They took lots of pictures, too.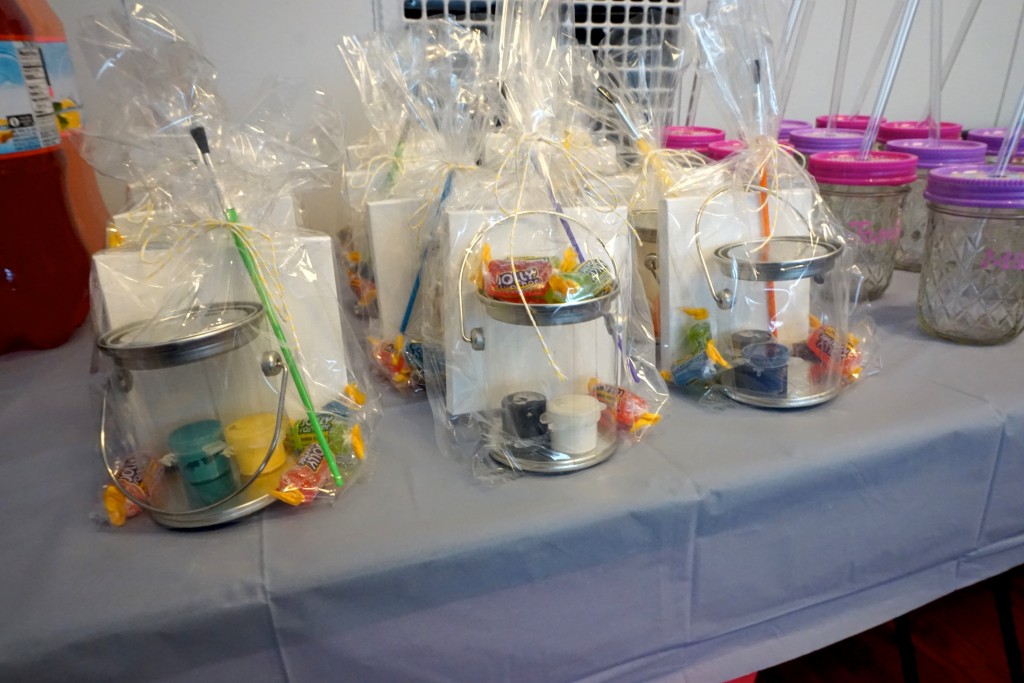 Liana's favorite painting is Vincent Van Gogh's Starry Night so we requested to paint that and the studio owner was very accommodating to our request. Turns out, it was a popular painting many customers also wanted to paint! I found her the perfect skirt online a few weeks earlier with Starry Night printed on, too. It was all too cute 🙂
The best thing of all was the happy birthday girl and her little friends. They all had a great time and couldn't believe they recreated Van Gogh's master piece. Here's a collage of her special day. (yes, the cake was also artsy! It's ice cream, too!)