If you're looking for a fun ride, fasten your seatbelts, the Toyota GR86 is quite the joy ride. With 228 horsepower and 184 lb.-ft. of torque, this blue beauty reaches 0-60 in 5.8 seconds (6.6 with automatic transmission). It's been a while since I last toyed around with a manual ride but once I practiced a little, it started coming back to me. Read on to learn about my experience driving the Toyota GR86 for one week.
Note: This vehicle was loaned to me for editorial purposes. All opinions are true and honest.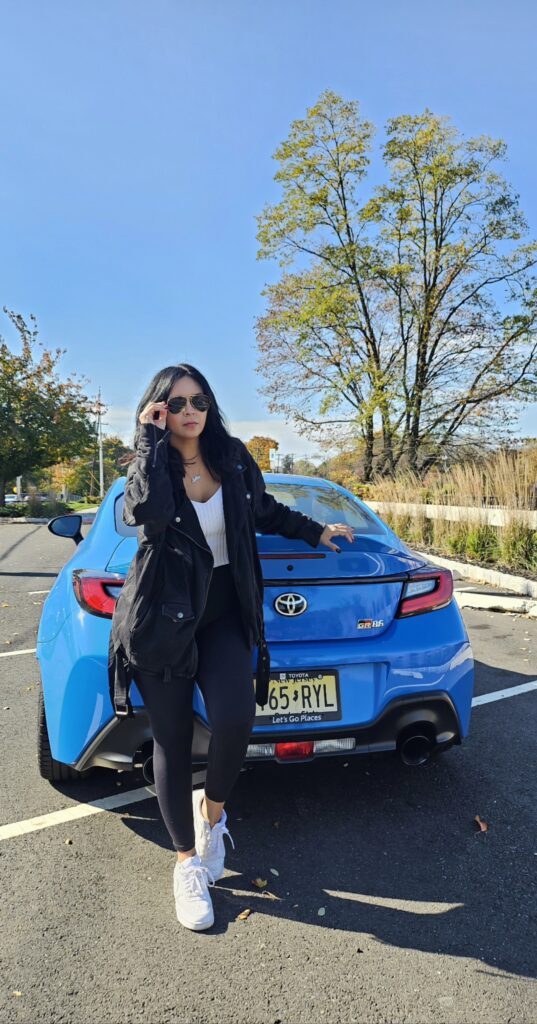 More Reading: Toyota Debuts the Latest Cars from their GR Series
My first glimpse at the GR Series cars was during the summer, at an event.
It was fun to see them up close and appreciate the designs. But the real experience comes when you're able to take these cars for a spin. So when I got the chance to drive the GR86, I was pretty excited!
Let's go places on a sunny, fall afternoon.
A fun little sports car is perfect for those warm sunny days. Take a scenic drive to appreciate the changing of the leaves, stop for a cup of joe. And to stretch your legs. Sports cars are fun but are they comfortable? Meh. But that's expected and the GR86 wasn't too uncomfortable to be honest. Of course, I wouldn't recommend someone with back problems to get this car but the front seats are pretty nice (Heated, suede and leather). The backseat, however, is only meant for storage. There is no way a person (even a child) could comfortably sit back there (as there isn't any legroom). I'd toss a gym bag or backpack in the backseat. So it's great for driving solo as well as up to two passengers but no more than that.
Aside from the backseat for storage, the trunk is actually a decent size.
I was impressed by the cargo space in the GR86. You can definitely fit some groceries, a gym bag and more back there. You get 6.26 cubic feet of space and if you pull down the backseat, you can get a little extra.
Model tested: $33,028.00
Starting MSRP $28,400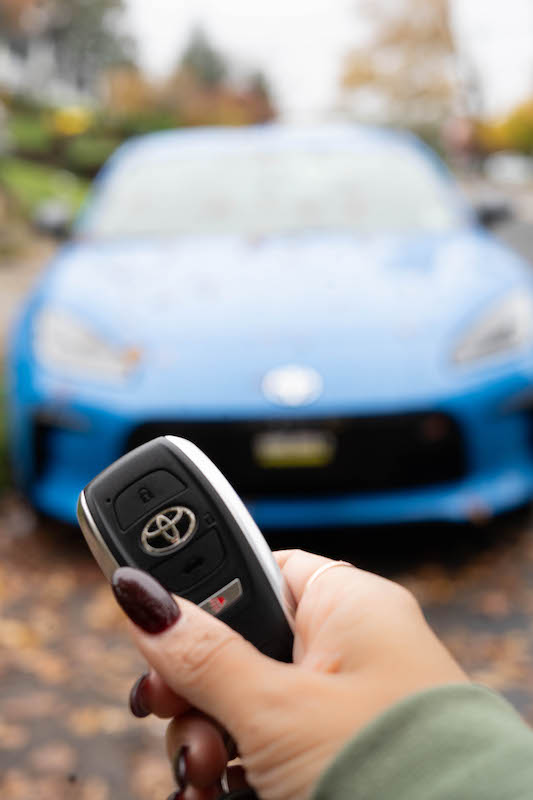 All good things come in small packages.
This cutie has got some great features. Read on for the specifications.
Specs
Gas 20 city/27 highway (22 MPG combined)
2.4L 4 cylinder Boxer engine DOHC 16V 228HP
18 inch matte black alloy wheels
2+2 Coupe (2 door) 6 Speed M/T
228 horsepower
184 lb.-ft. of torque at 3700 rpm
Heated ultrasuede front seats with leather-trimmed bolsters
GR86 Audio- 8 inch touchscreen, 8 speakers
Apple Car Play / Android Auto
Safety- blind spot detection, rear cross traffic alert, 7 airbags, smart key with bush button start. Lower anchor/tether for carseats.
trunk space- 6.26 cubic feet of space
Color-keyed duck bill rear spoiler
Chrome-tipped dual exhaust
Heated power exterior mirrors
'Earning its GR badge means GR86 comes track-tested with the soul of a true sports car.'

Toyota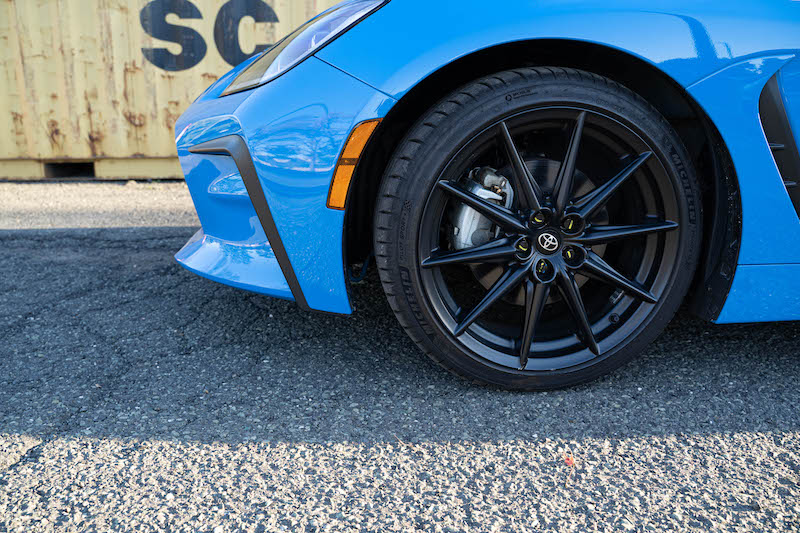 The GR86 makes for a great entry-level sports car.
It's affordable, fast and fun to drive. The model I tested was manual transmission but it does come in automatic as well. It handles nicely on the road although it's a little loud but that's not a dealbreaker if you want that old school feel. I grew up around loud cars and driving this car around felt so nostalgic. Ironically, both of my parents are literally pro stick shift drivers (my mom is pretty badass, I will admit but my dad's the better teacher) and by the time I was driving, they put me in an automatic car. So I really learned later on and I am not a pro but once I remember the gears, it is a lot of fun. If you have the chance to learn, do it. I took both of my parents for a spin and they both agreed that the GR86 is a fun little car 😁