If you asked me what I look for in a dream car, I would say tech, luxury, and comfort, For some, it's more about practicality and while I understand that, I just cannot agree especially since your car is like an extension of your personal style. For me, anyway. So naturally, I was impressed with the beautiful Genesis GV60. And for someone that's not entirely convinced by the EV switch, that speaks volumes. Read on to find out what stood out to me about the GV60.
More Reading: Genesis Winter Lights Reveal
Note: I was loaned this vehicle for editorial purposes. All opinions are my own.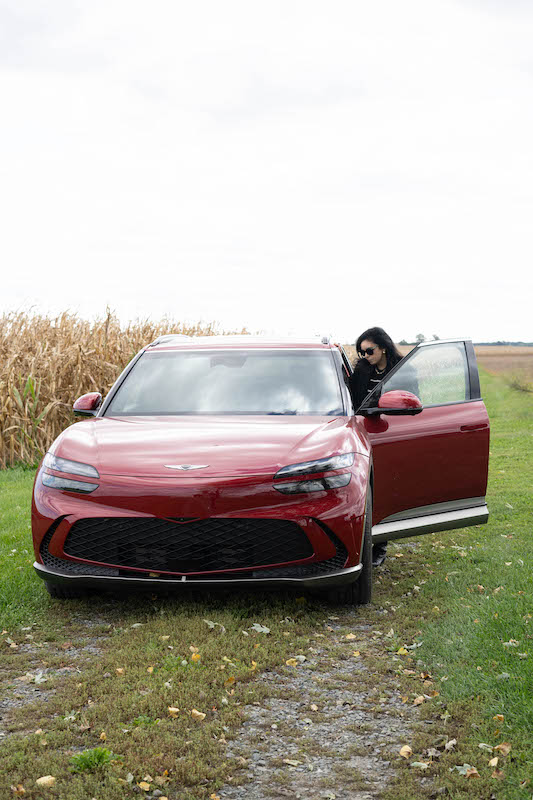 The Genesis GV60 has it all.
From hidden storage compartments to 21 inch wheels, fast charging, stunning car jewelry, luxury, comfort and so much more. And every time I thought I covered everything, I found more. Customization options, massaging seats- this car can even move itself! The future is Genesis.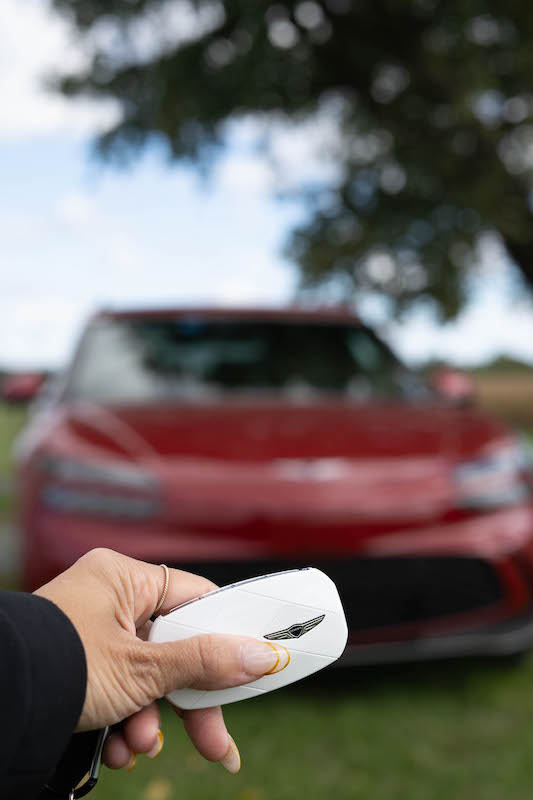 The exterior itself is a showstopper.
People stopped to stare, compliment and ask questions about the GV60. She's a real beauty. The exterior is a beautiful design equipped with full LED headlamps and rear lights and 21 inch Michelin tires & wheels. The front of the car features two line lamps, complementing the GV60's sleek and sporty body. There's a whole lot of tech on the outside, too. The car can unlock using facial recognition or when it senses the key fob nearby- the door handles automatically pop up. And of course, you can't miss that stunning Genesis signature grille. The coupé roof profile ends with a sporty wing spoiler. And again, we see the brand's signature two line lamps at the rear. The lighting on the Genesis stands out, it's often what people point out when admiring the vehicle.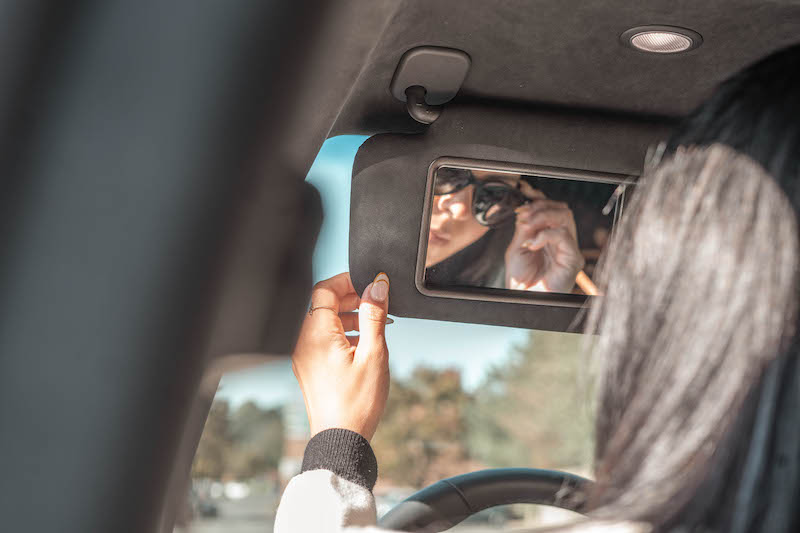 Get in ladies, there's a lot more to show you.
Accessories are a girl's best friend and the GV60 has some stunning car jewelry. It was probably one of my favorite features- not to mention, you can customize the colors! When you power on the GV60, the 'Crystal Sphere' rotates, giving the driver access to the shift. When the vehicle is turned off, the it becomes part of the vehicle's lighting, adding to the interior's ambiance.
The console has a futuristic flair, giving the illusion that it's floating. I love this thoughtful design because it provides more space- plus storage. I was able to perfectly stow away my small purse underneath the console. Backseat passengers also get more legroom since the back floor is completely flat.
The interior was designed with the environment in mind. Interior materials are sustainably made from plant-based leather and recycled PET bottles and fishnets.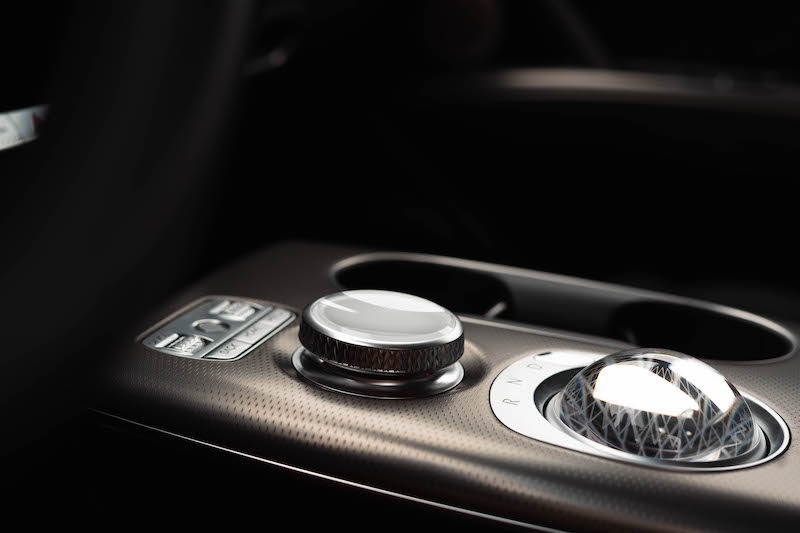 It drives on its own.
Well, sort of. You can actually control the car from the smart key fob. Pull out of a tight spot, back in, take it for a walk. How cool is that?
Does it have a "frunk"?
It sure does and it's perfect for smaller valuables. For example, I may keep a laptop and camera or a purse there (if absolutely necessary).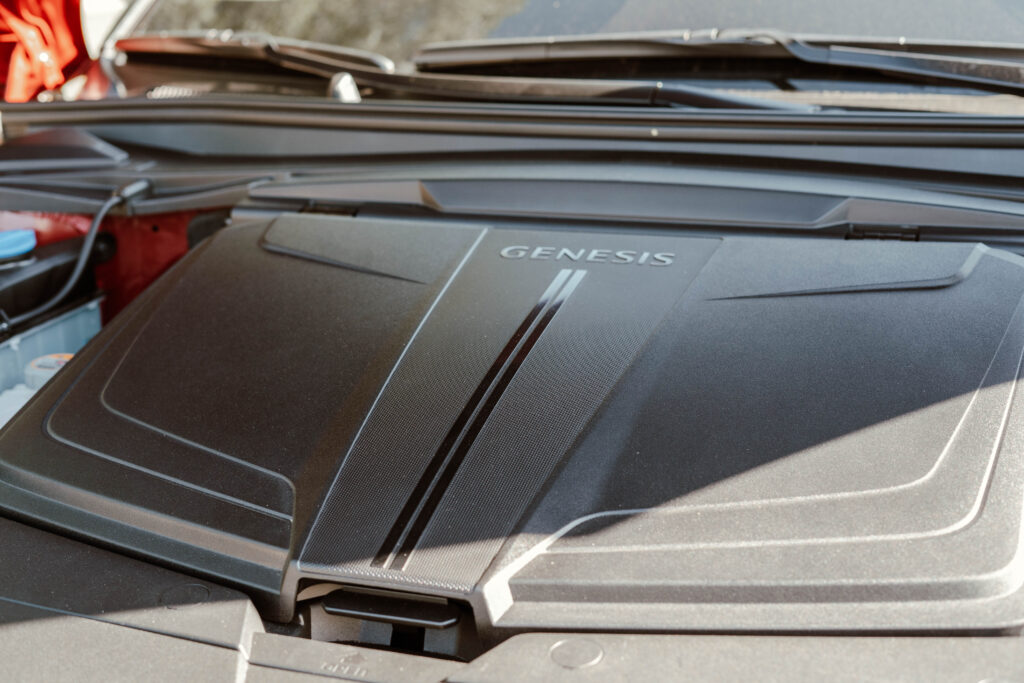 I drove the GV60 for 3 weeks and it did not disappoint.
This was my first time experiencing what it would be like having an electrified vehicle for over one week. My usual day trips consist of taking my daughter to school, errands, creating content, shooting on location, and the occasional events. For local daily use, an EV is great. One charge goes a long way. The GV60 gives you up to 248 miles of driving range and can fully charge in less than 20 minutes. Of course, this is possible when charging at 350kW with ultra-speed charging function.
No charger at home? No problem. The GV60 has maps and gives you charging locations. The real challenge however, came when I ventured out a little further. I attended a wedding in Delaware with my husband and really put this EV to the test. In comfort, the GV60 passed with flying colors. Those massaging seats sure came in handy. Not to mention the Bang & Olufsen 17 Speaker System to keep me in good driving spirits.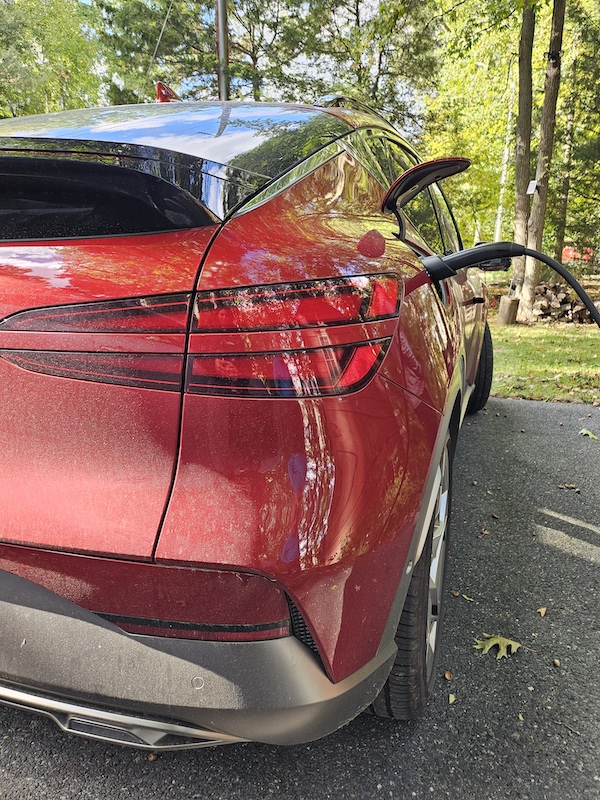 The challenge in finding a fast charging station in that area was not the car's fault at all but it does go to show that the U.S. isn't fully ready for the big EV transition. We did find one eventually – a friend had a home charger which helped. Overall, the Genesis GV60 is not only a great style accessory but an even greater road trip companion.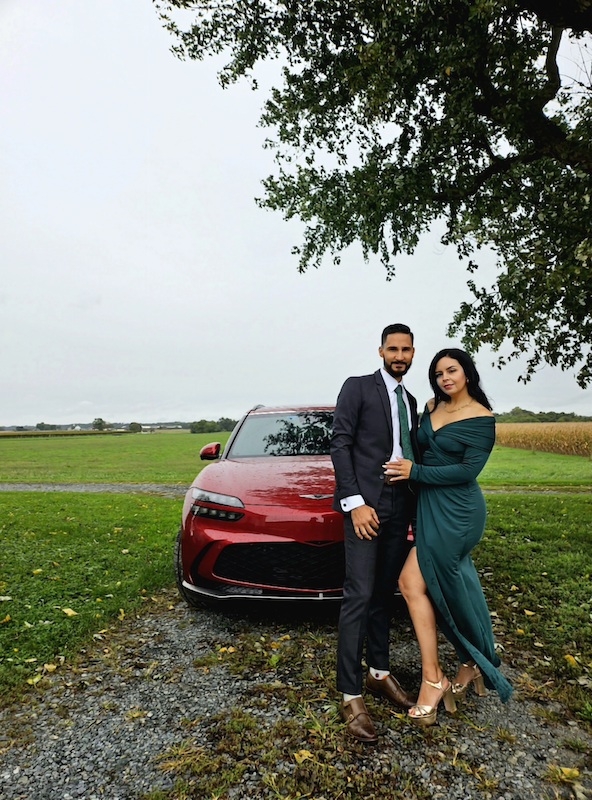 Specs & Safety
Engine: Lithium-ion
Max Torque: 350Nm (Rear)
Max Power: 168kW (Rear)
Fast charging (under 20 minutes)
248 miles of driving range
Heating / Cooling seats
Massaging seats
Options to customize lighting, display background and more
Plenty of cameras and sensors to help you park and drive safely
Power adjustable driver's seat (12 way, with lumbar support)
Panoramic infotainment/display 12.3-inch
Apple Car Play / Android Auto and Bluetooth connections
Built in maps with places to charge
Remote Smart Park Assist (control your car from the key fob to help you park or move)
Bang & Olufsen 17 Speaker System (incredible sound system!)
10 Airbag System
Emergency Stop Signal
Lane Keeping Assist
Vibration Warning Steering Wheel
High Beam Assist
Driver Attention Warning
Forward Collision-avoidance Assist (Car, Pedestrian, Cyclist, Junction turning)
Blind-Spot Collision-Avoidance Assist
Rear Cross-Traffic Collision-Avoidance Assist
Rear Guide Lamp
Safe Exit Assist
Intelligent Speed Limit Assist
Advanced Rear Occupant Alert
Multi-collision Braking System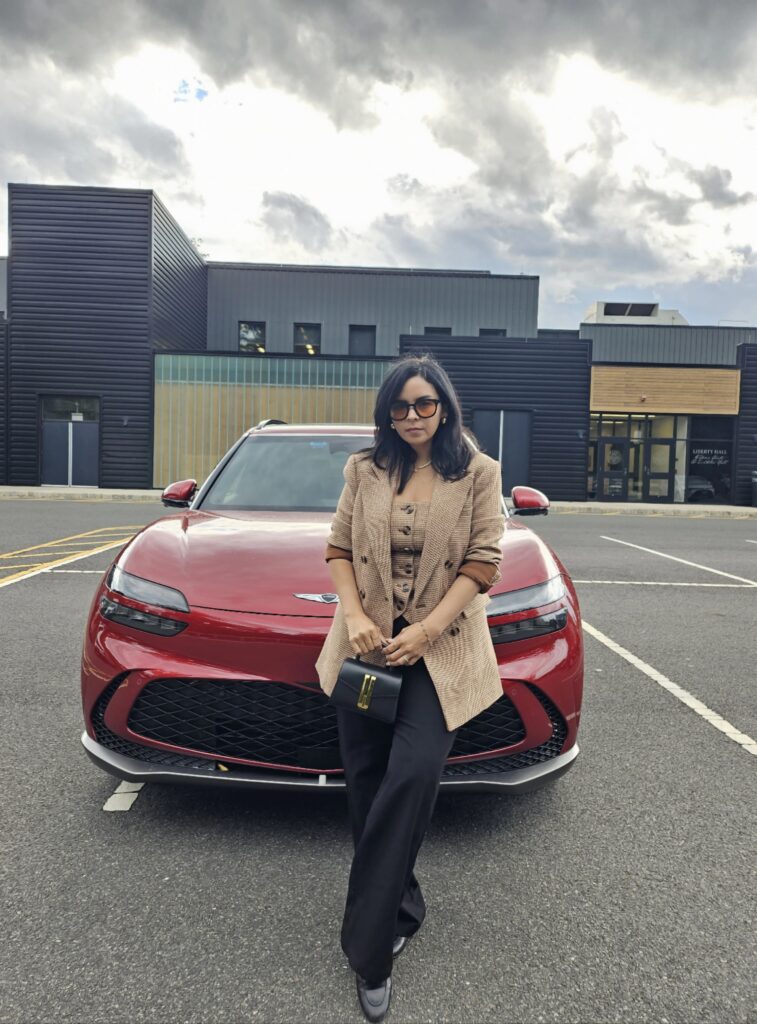 There are so many details I loved about the Genesis GV60.
Genesis covers all the luxury details any driver (seeking luxury) could want. From the sleek and elegant design to the car jewelry, ambient lighting, massaging seats, fast charging- performance, smooth, and quiet ride… This car has so much to offer. Just think, if even a sceptic like me can be convinced to go electric, that says a whole lot.