Are we there yet?
If you're a parent, you've heard that question tons of times when on road trips. And with spring in full swing, you've probably planned some road trips- and you'll surely hear it again. But not if I can help! Here are 5 ways to keep kids busy on road trips.
Read On: Hacks for Traveling with Kids
Get Busy with Crafts
My daughter and I love DIY, arts, and crafts. A couple of years ago, I decided to pack a small bag with little crafts we can do in the car. We made pompoms and colored. Our favorite coloring book is linked below. It helped the time pass more quickly and she wasn't so bored.
Read On: Visiting Niagara Falls
Play Games
IQ Fit
There are some great compact games you can take on road trips. My daughter loves taking her IQ fit game on the road. It keeps her busy and she really enjoys it. We first found out about it at a toy event and she's been hooked ever since. You can play alone or with friends.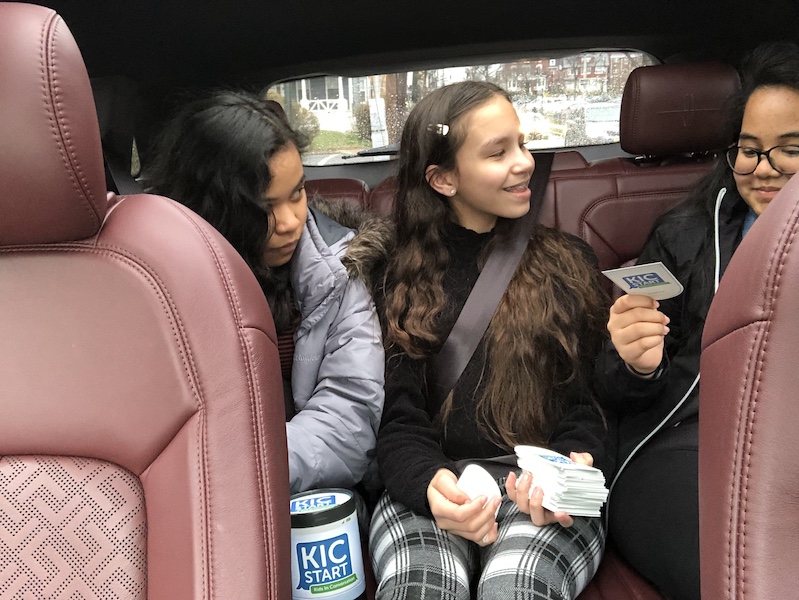 KIC Start
KIC Start (kids in conversation) recently reached out to me so I decided to give it a try. I was taking my daughter and her friends shopping one afternoon and handed them the game. I said, "this should keep you girls busy." Usually, her friends argue with each other (they're twins). They giggled and opened it up. Minutes later, I hear them talking and laughing. And one blurted out, "Oh my God, this game is really fun!" See, the game is like a conversation starter and with kids glued to screens all the time, they can be awkward to have real meaningful conversations. This game helps encourage that. Parents can play, too!
Video Games
Gaming keeps all ages entertained. Especially Mario Kart! Trust me, it is highly addicting. We bought our daughter a Nintendo Switch last Christmas and she loves brining it in the car. Mario Kart is definitely a favorite but I'll give Street Fighter an honorable mention. That's a game her dad and I love to play. The Nintendo Switch is easy to travel with and keeps the family entertained.
Disney Playlist
Not in the mood to think or concentrate? A Disney playlist is always a good idea. Try not to sing, it's really hard not to! I'm a Disney fan but if you're not, maybe there is another playlist your kids can enjoy.
Having a teen now, you never know what mood you'll get- happy, annoyed, bored, sad, mad at the world, extremely hungry and so on. But I play Disney tunes in the morning before school drop off and it works wonders. Without realizing it, my daughter is singing and in a not so grumpy mood. I played this for her friends recently, too and they were all singing and laughing in the back seat.
I hope my ideas help inspire your next road trip activities. If you try any, let me know or tag me! I'd love to hear what you thought 🙂