My daughter is quite a little traveler. She has a curious list of places she wants to visit and on that list was Niagara Falls in Canada. For some reason, the ginormous waterfalls were at the top of her list. And Canada itself seemed to be of interest to her. The maple syrup, the moose- just the culture. And this kid loves learning about new cultures.
Pack your bags, we're taking a road trip!
As usual, she researched fun facts about Canada and its famous Niagara Falls. So, we decided to surprise her, pack up the car and make the trip. From New Jersey, it's about a 6-8 hour car ride. It depends on how many stops you make. Surprisingly, we didn't have to stop much. I guess as kids get older, the potty stops lessen which is a good thing.
Road trip tips
DVD players and a good movie selection are a great way to kill time.
Coloring books and pencils or crossword puzzles keep little minds entertained.
Pack a blanket and pillow to keep little ones cozy.
Snacks and drinks are a must!
Lodging
Since it was a last-minute trip, we were not so sure where to stay. I will tell you that the next time we visit, I will be sure to book the Sheraton which overlooks the falls and has an indoor waterpark. If you have kids, it will be worth it. We stayed about a five-minute drive from the falls at the Hampton Inn which was clean, included breakfast, and was decently priced. The hotel had a pool but it was outdoors and a bit cold because it was in the shade.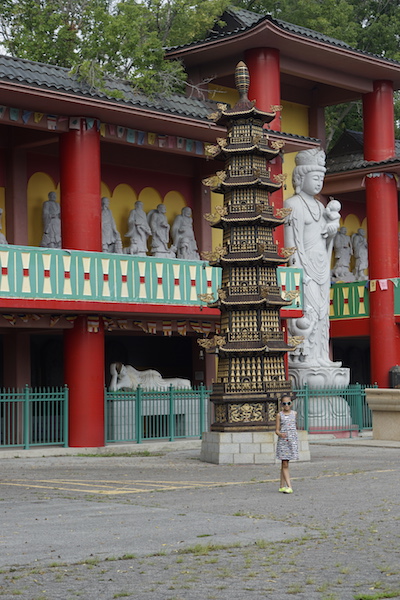 Exploring other cultures
The cool thing about our hotel was that it was right next door to a colorful Buddhist temple, Cham Shan Temple (Ten Thousand Buddhas). It was really a sight to see. We were so curious, that we walked over and a monk stepped out and invited us inside. The people were very kind and gave my daughter a comic-style book for children about meditation. The temple was beautiful and had amazing peaceful energy. If you have time, check it out.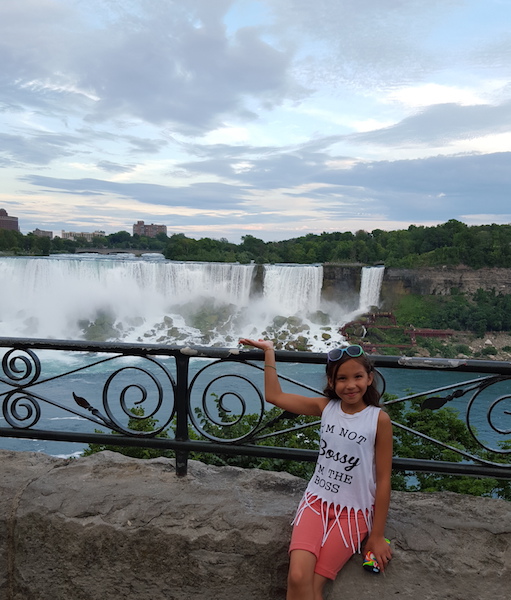 You can't get bored when visiting Niagra Falls.
There is so much to do for the whole family. A trip to the falls can also make for great couples or friends trip. There's basically something for everyone. First, you will want to book your boat ride at the falls. I admit I was terrified to do this but after it was over I was so glad I got to experience it. I'm not a great swimmer, so that much water just makes me nervous. But trust me, if I did it- so can anyone.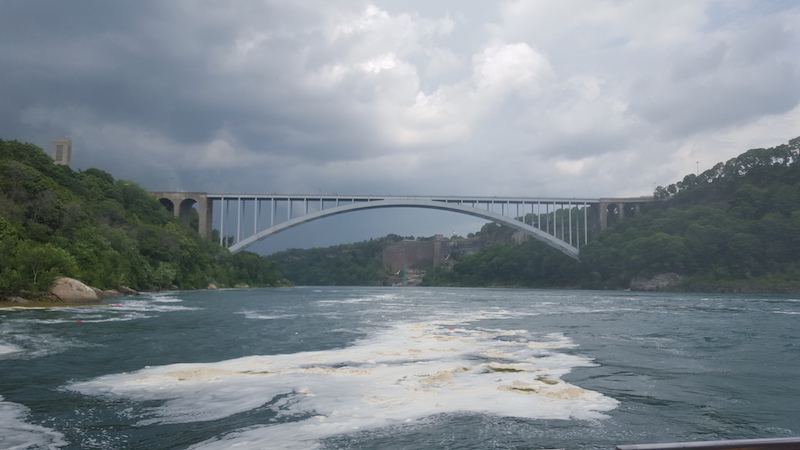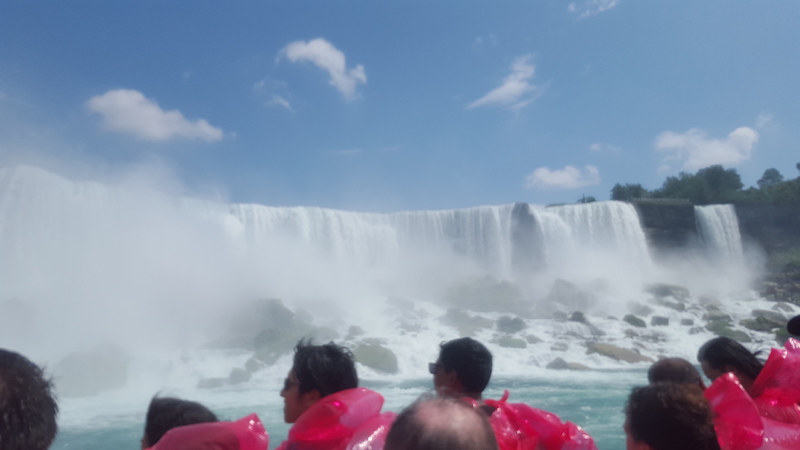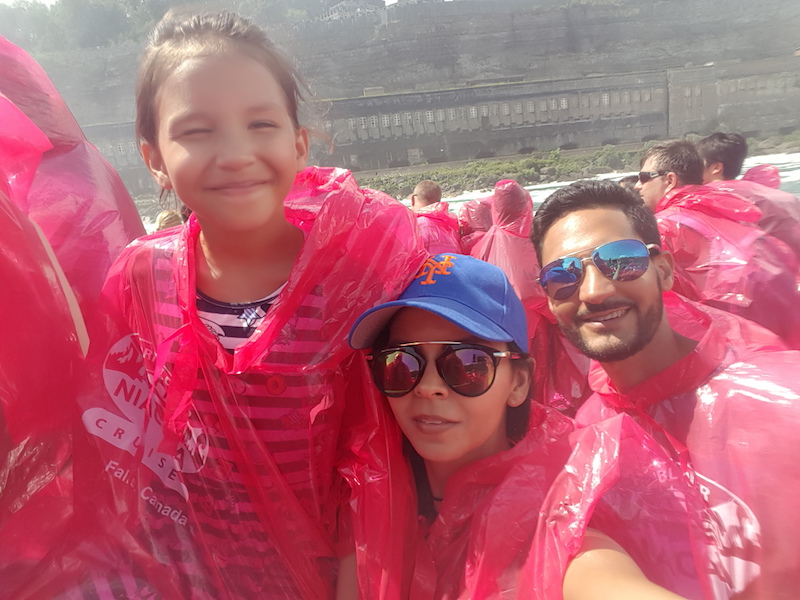 The falls are pretty in the daytime and stunning at night!
You can take the boat ride at night when the falls are lit up or in the day. We opted for the daytime but a walk along the falls at night is a must. The lights are simply beautiful.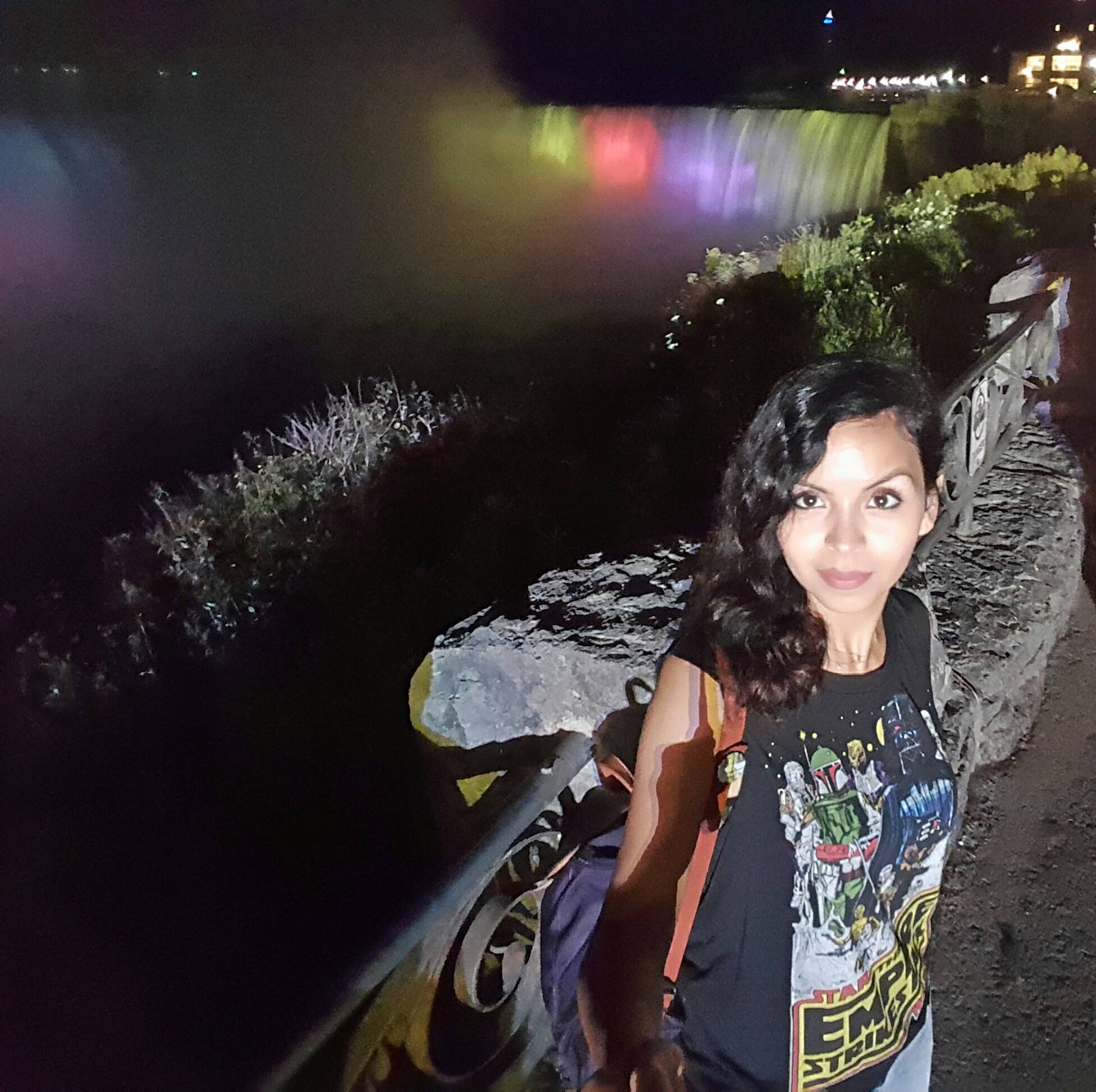 Tip: Wear rain jackets because you will get wet walking by the falls. When taking the boat ride, wear water shoes.

There's lots of entertainment in the area.
For dinner, games, and overall amusement- Clifton Hill is a lot of fun. There's always live music and something to do like play at the arcade, attractions- that sort of thing. My daughter loved it but I'm not a fan of that stuff. Got to do it for the kids, right?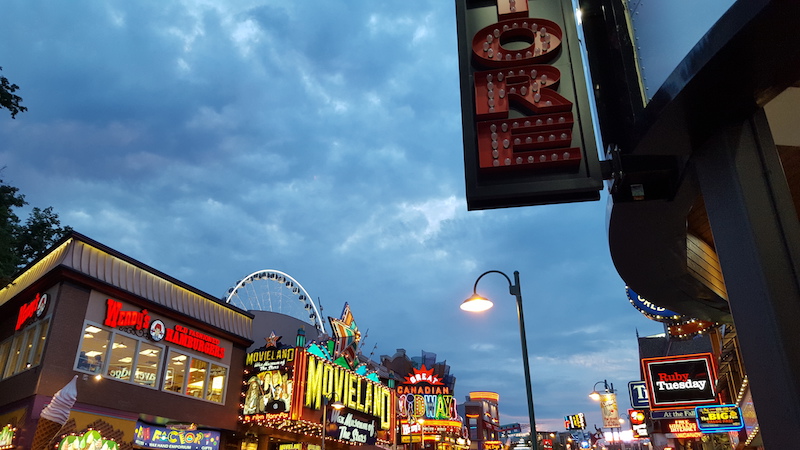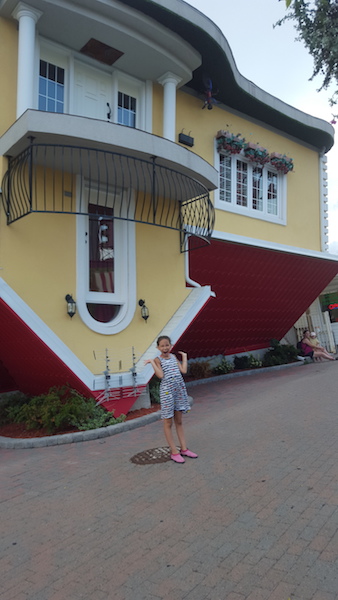 If you're not afraid of heights, another great way to view the falls is from Skyline Tower.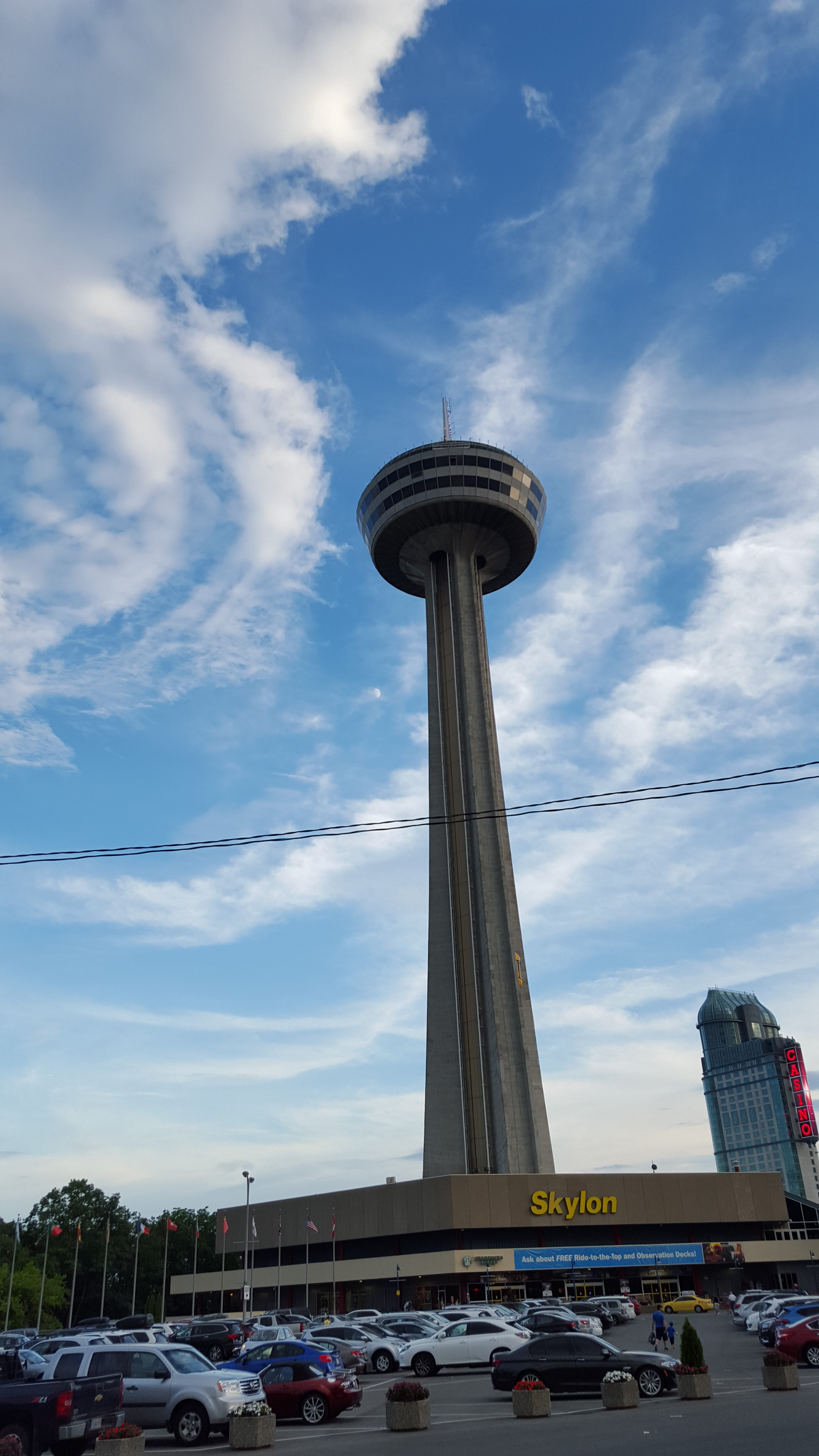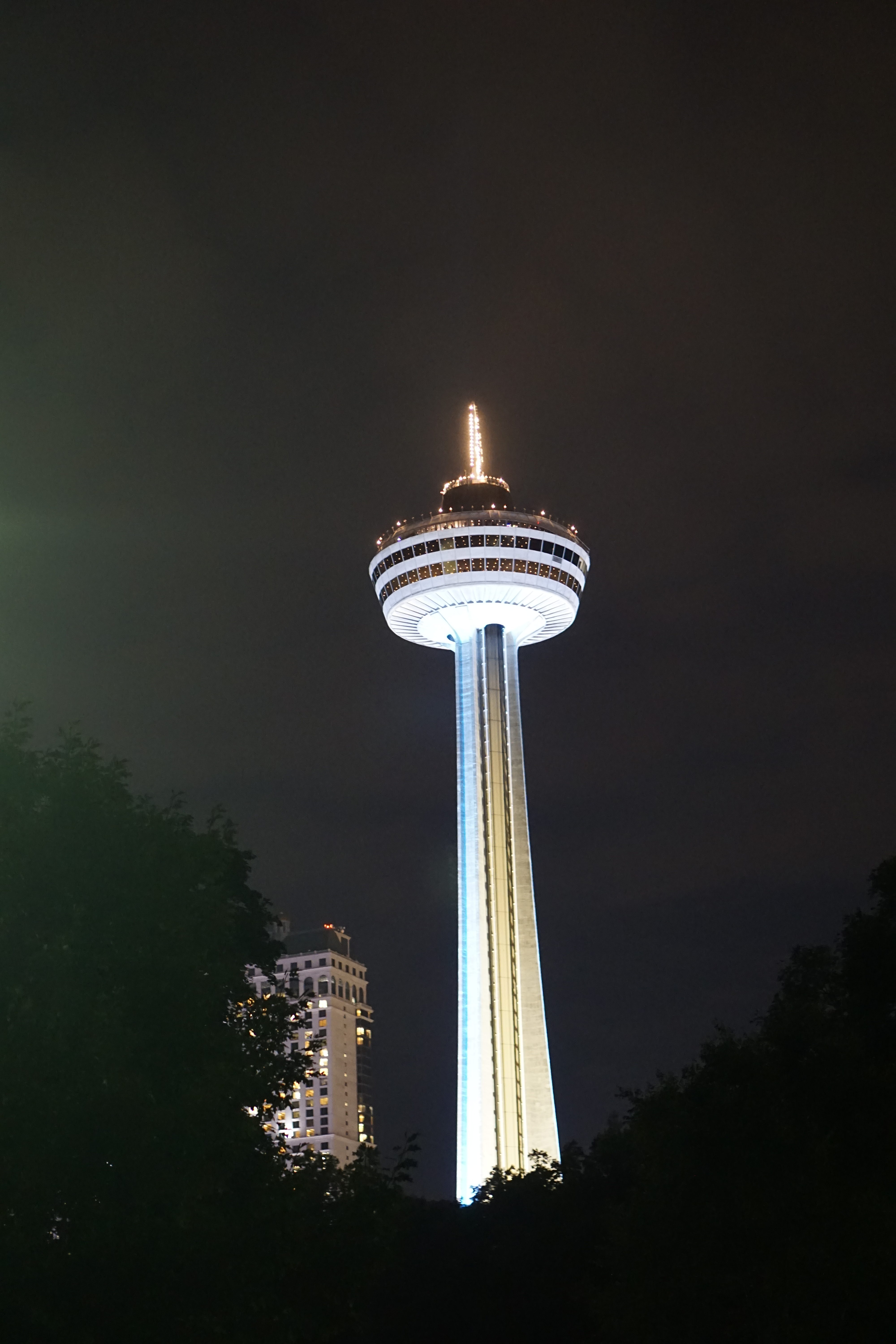 Niagra on the Lake
One of my favorite places we discovered while driving around was Niagara on the Lake. It is simply the cutest little town with mom-and-pop shops, boutiques, pretty hotels, theaters, and lots of vineyards.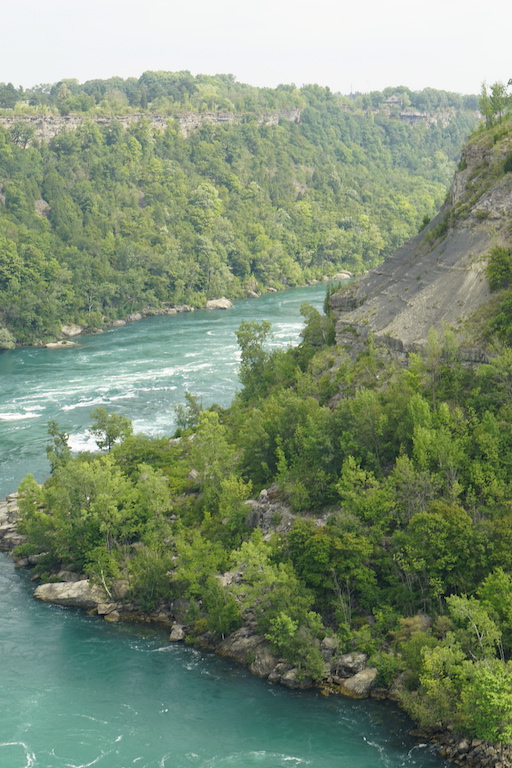 Niagra Falls has beautiful scenery everywhere you look.
We found some more scenic areas just driving to Niagra on the Lake with other attractions- like a ride across the water, for example.

There is plenty more to do in Niagara Falls, Canada but these were the highlights from our trip. We also drove out to Toronto for a day to explore the city and have dinner there before heading back home. My daughter had a lot of fun and wishes to go return someday. Hope you find this post helpful in planning your own trip to Niagara Falls. It's definitely worth the trip.
Happy travels 🙂