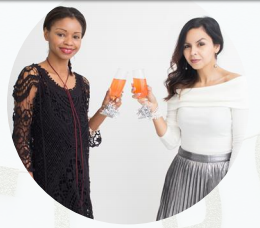 Cheers to the holidays! To celebrate, blogger friend, Chastity Palmer-Davis (GlitterBuzzInfo) and I decided to collaborate and put together a fun ebook featuring 6 cocktail recipes, party hosting tips, and more. Along with Chastity, creative friends Lee Valenzuela (LVR Shop) and Ricky Lugo (Lugo Studios) also added some of their magic. And last but not least, we worked with some great brands including Devotion Vodka, Social Enjoyments, and Bloomingdales of Short Hills Mall (the Home Store).
More Reading: The Perfect Valentine's Day Cocktail
Cheers, Chica
Chastity and I love a good cocktail but as two chicks who have battled some health issues in the past, we have to be conscious about what we put into our bodies. What better way than to come up with our own recipes for healthier drinks that we can share with others?
Healthier cocktail options for the health concious
I was able to collaborate with two liquor brands that are gluten-free and sugar-free- and yummy. This made creating healthier options so much easier. Usually, when people hear sugar-free or any healthy term, they cringe. But trust me, we did not sacrifice good flavors on these. The ebook contains simple recipes that only take minutes to make and they are a few that have some extra detail as well. If you follow me on Instagram, you may have seen my teaser videos. Here's one of my creations, Let It Snow.
Sip with us!
Creating this ebook was a lot of fun. I enjoyed coming up with the recipes, styling them, and photographing the final products. The hard part is always the editing. Writing an ebook is no simple task. Everything from the design process to editing photos and text- can be quite tedious! But in the end, it's all worthwhile. I am so pleased with the outcome of this project. I hope you guys get a chance to check it out and I appreciate your support.
Get your copy here:
Here is some behind-the-scenes footage that Chastity shot. I love how she captured us in action and added the book launch in-store event at the Short Hills Bloomy's. Thanks to all who came out!
Have you tried any of the recipes yet? Which is your favorite?