When the world was locked down, we decided to get a puppy. But little did we know, this puppy would eventually develop anxiety. The term, "pandemic puppy" is a thing. What does it mean? Basically that you added a puppy to your home during the pandemic and not just any one, an anxious puppy. Our pup is now a year old and we are all working from home so I'm not too sure if she'll ever overcome this anxiety.
More reading: New Puppy: Checklist & Must-haves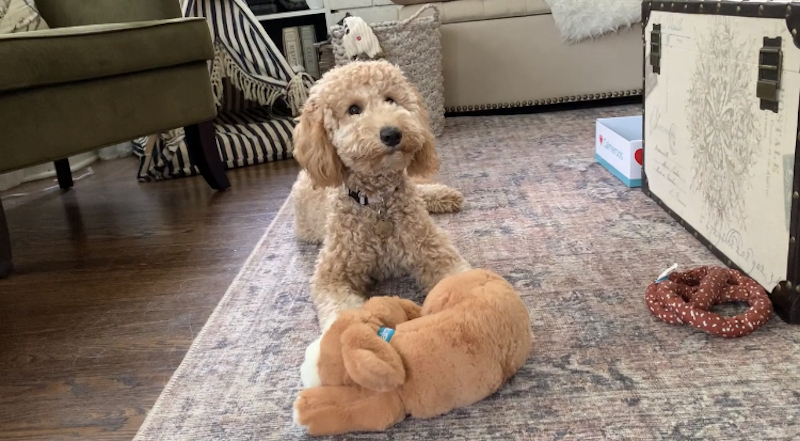 Here's how we help her cope.
Safe space– we set up an area with her bed, blanket, a food dispensing toy (she loves her Kong), water, and a wee pad. We place her in her area when cleaning. She used to get scared but will now go to that space knowing it's safe.
CBD treats– these are pretty amazing. Wait 10 minutes and your anxious puppy will be in chill mode. We only use these if we have to step out or before car rides (although she's a great road tripper). Or if she's acting a little wacky!
Walks– a little exercise is always great. Pet owners and their pups benefit from it plus it lets your pup release all of that energy they may have. They'll be so tired afterwards, they won't notice you've waltzed out.
Calming collar– we used these when Honey Lemon was a puppy. They worked wonders! She used to get into these crazy moments and start barking at us. As soon as we put it on her, she calmed down. Definitely worth a try if you're exploring.
Calmeroos– this plushy is not your basic doggy toy. Calmeroos Puppy recreates the experience of cuddling up to their mama and littermates. This plushy provides anxiety relief and comfort with a heartbeat and heat packs to create warmth. We've caught Honey Lemon cuddling with her Calmeroo quite a few times.
Interactive toys– our pup is definitely spoiled with toys. But interactive toys are seriously the best. They keep her busy band keeping busy means anxiety relief.
Music– there are actually playlists on YouTube for dogs. They've been pretty helpful to keep our anxious puppy calm. Sometimes, we even leave the television on Mickey's Clubhouse for her, too.
There's still work to do but consistency is key.
We've still got a way to go with our girl but the main thing is to keep trying. She's a really well behaved dog just a bit attached to us. But can you blame her? We're always together! After all, we are in a pandemic…