If you believe in yourself enough, big things can happen. And that's just what Gran Tourismo teaches us in the film. Based on a true story, this action-packed film is a tale about a gamer turning pro racer. I got the opportunity to attend an advanced screening at Sony with my family and we all really enjoyed the film. Here are some of my favorite takeaways about the Gran Tourismo movie.
*Note: I was invited to an advanced screening of this film. All opinions are true and honest.
Spoiler Alert:: Please do not keep scrolling if you don't want to read any spoilers!!!
The Gran Tourismo movie is not just about a video game but also based on the true story of British gamer Jann Mardenborough.
Jann's story is a dream come true for a teen gamer whose gaming skills win a Nissan competition to become a pro racecar driver. The gamer is passionate about playing Gran Tourismo on his PlayStation and dreams of one day getting on the racetrack. He shares this dream with his family but they don't really believe in him. He especially has trouble with his father who worries about his son's future. This fuels Jann to play harder and prove his father wrong. He places into a team of fellow gamers to be trained as pro racecar drivers at the GT Academy. This then also puts the racing world against him since there's a lot of negativity about the whole idea of gamers becoming racers. Many of Jann's teammates don't make the cut but his hard work and dedication get him to the finish line. He clearly has no intention to lose.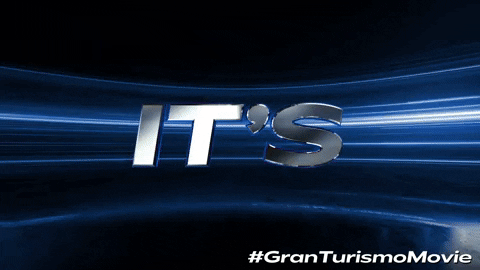 The visuals and angles make you feel the energy of the car racing.
One of my personal favorite things about this film is the effects. We see Jann playing at home and the racecar coming to life around him. There's great ASMR of the racecar and the closeups are just awesome. Having driven on a racetrack and growing up watching car races, the sounds of the engine were just everything. Director Neill Blomkamp did an awesome job making the game and the racetrack come together.
There are some very emotional and heart-tugging moments.
Grab the tissues, you may cry a little bit. I don't want to spoil the film for you but there are some real emotional moments that will make you gasp, hold on to the edge of your seat, and cry.
Plus, watch out for Ginger Spice (Geri Halliwell Horner) who plays Jann's mom. And Stranger Things fans will enjoy watching David Harbour play the role of the trainer. He did an awesome job.
View this post on Instagram
Jann's story is absolutely inspiring.
This is a story that really had to be told. It's the perfect example of someone who wasn't afraid to go against the odds and fight for his dreams. How many times have people shared a dream with others only to be ridiculed or criticized? So many. I really think people, especially teens can walk away from this film feeling inspired.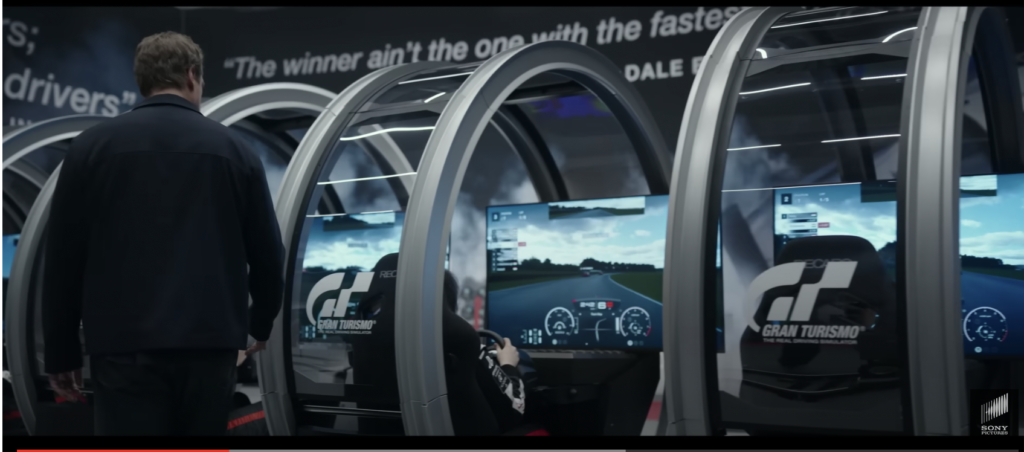 This true story has a happy ending.
While Jann really went through it to get to the finish line, I loved that this true story has a happy ending. The main character proves himself, makes it to the great Le Mans track, gets the girl, makes his family proud and so much more. There are beautiful friendship and family bonding moments, too. And the real-life Jann is actually his own stunt double!
Everyone in the screening room cheered and clapped that evening. I can only imagine how movie-goers will react.
Cars featured in the film.
So you know I am going to talk about the cars here. It's kind of what I do. It was so exciting to see these beauties zoom across the screen! Nissan definitely had a big presence in the film but there were some other car brand features, too. I'm sure I am missing some but here's what I caught a glimpse of in the film.
Nissan GT-R
Nissan Liger chassis DPi
Volkswagen Corrado (Jann's family car)
Aston Martin Vantage GT12
McLaren 720S GT3
Porsche 911 GT3 Cup
BMW GT3
Ford GT MKII
Lamborghini Hurcán STO
McLaren F1
Chevrolet Camaro GT4
Gran Turismo opens on August 25th
Directed by Neill Blomkamp, based on the PlayStation Studios video game.
Cast:
David Harbour
Orlando Bloom
Archie Madekwe
Darren Barnet
Geri Halliwell Horner
Djimon Hounsou
Rated PG-13 by the Motion Picture Association for the following reasons: intense action and some strong language.