Masks are the new norm and if there's one thing that doesn't cease to exist it's a trend. So what's the latest nail trend? Apparently, matching your mani to your protective face mask. Have you tried it? It's actually kind of fun! Here are some good ones we found on Instagram.
More Reading: Mascara- My Top Picks
Instead of complaining, make it fashun…
Masks are becoming a fashion statement out of necessity. Why not make it fashionable to keep safe? Trends are about as contagious as a virus (maybe more) and I am all for this trend. Keep it simple and match a solid color mani to your mask or go all out with prints like these beauties did below!
Nail Trend: Matching Masks + Manis
Artists, this is your time to shine! And collab while you're at it. Get creative with your nails and show off a stylish print mask by another artist. You'll be a walking masterpiece!
Express Yourself
Love music? Sports? Comics? Show it off on your mani and your mask! It's so cool that you can express yourself by these little details. Nails, masks- how about shoes and bags, too?
Trendy Prints
Trendy prints like cow print look so good on nails and masks. (And just look at her stunning eye makeup!) If you feel the sudden urge to go buy a cow print face mask, follow your gut, girl. You won't regret it.
Get Funky
There are really no limits with this nail trend (mask trend, fashion trend- whatever you want to call it). You can have fun with florals, prints, bling, logos and so much more. Or see below for some dollar fun! Go ahead girl, make those money moves!
Ok, I Love this Trend
Yep, I am sold. If you've been following me for some time- you KNOW I love nails and art (still practicing). So much that I do my own at home. See my photo below matching a pink nude mani with a floral mask!
More Reading: DIY at Home Mani/Pedi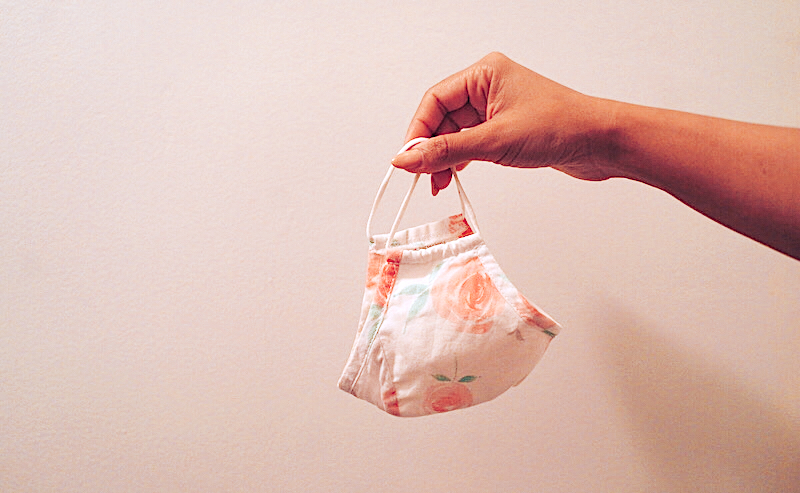 -Sidenote: I shared this mask recently on Insta stories and got questions about it. So here are the deets: it's a 3-layer mask which has been PROVEN to be one of the most effective face masks on the market. Designed by Lynette Damir, RN, SwaddleDesigns masks are fitted to minimize leakage around the nose, on the side of the face, and under the chin. Using the most-current research, SwaddleDesigns masks yield superior filtration of aerosolized droplets by using three layers of tightly woven 180 thread count cotton fabric compared to many other commonly used masks. But even better, they are comfortable and breathable, not making you want to yank it off the minute you're by yourself. Seriously, these are great quality masks if you're looking for a high quality (and stylish) facemask.
Have you tried this new trend?