I've always wanted to visit Savannah for it's historic charm. Anything antique just gives me life. So, after vacationing at Hilton Head Island, we headed over to Savannah, Georgia. It's a short drive away and worth the trip.
We booked a night at the Brice (a Kimpton hotel) which happened to be the old Coca-Cola bottling plant back in the day. It's a beautifully decorated hotel with a pool. If you're on a tight budget, I wouldn't recommend staying here since it goes for about $200+ per night. Rooms are also on the small side but there is a pool and pets are free which is an upside plus you can walk to places and explore the city pretty easily from there.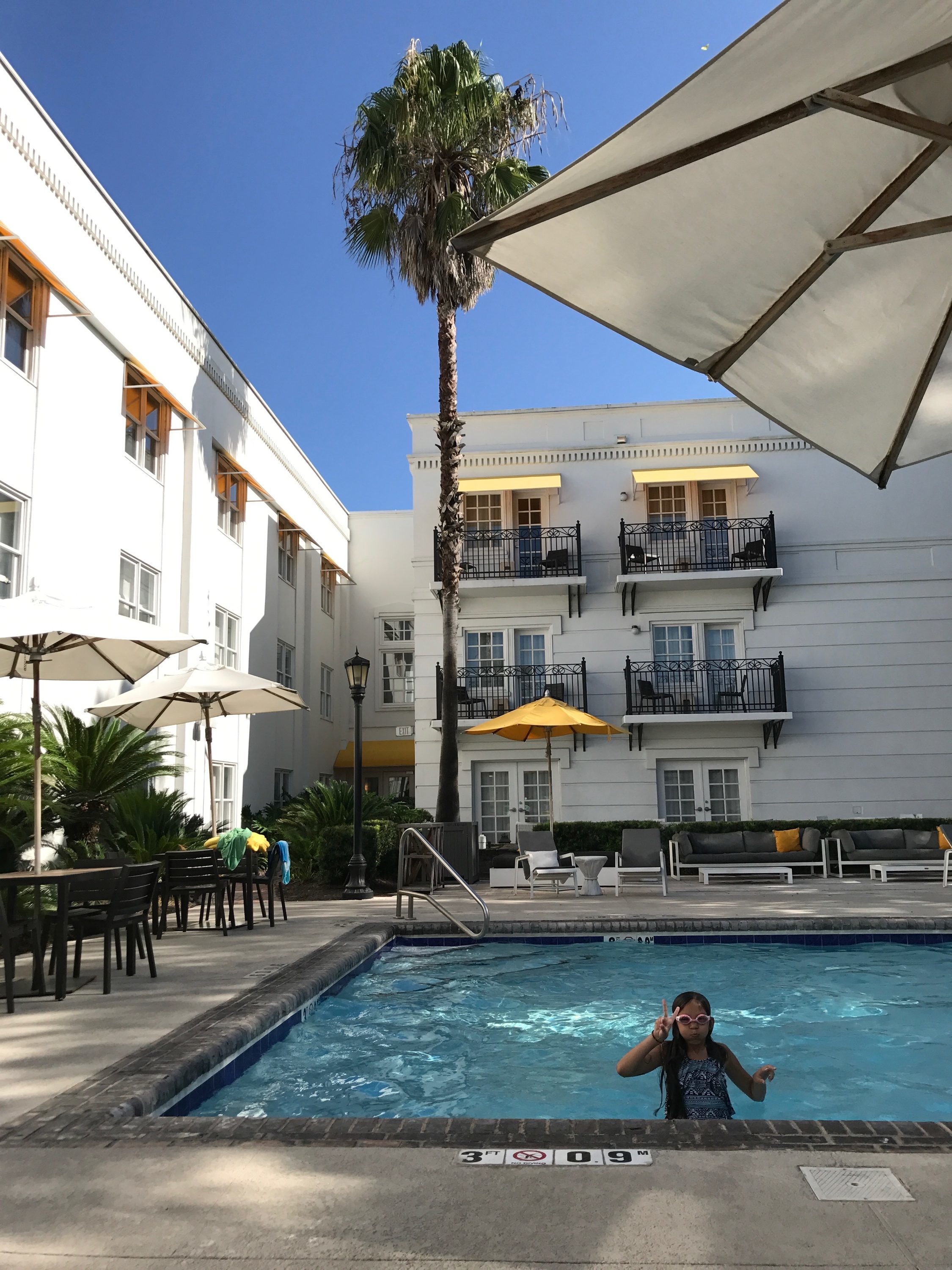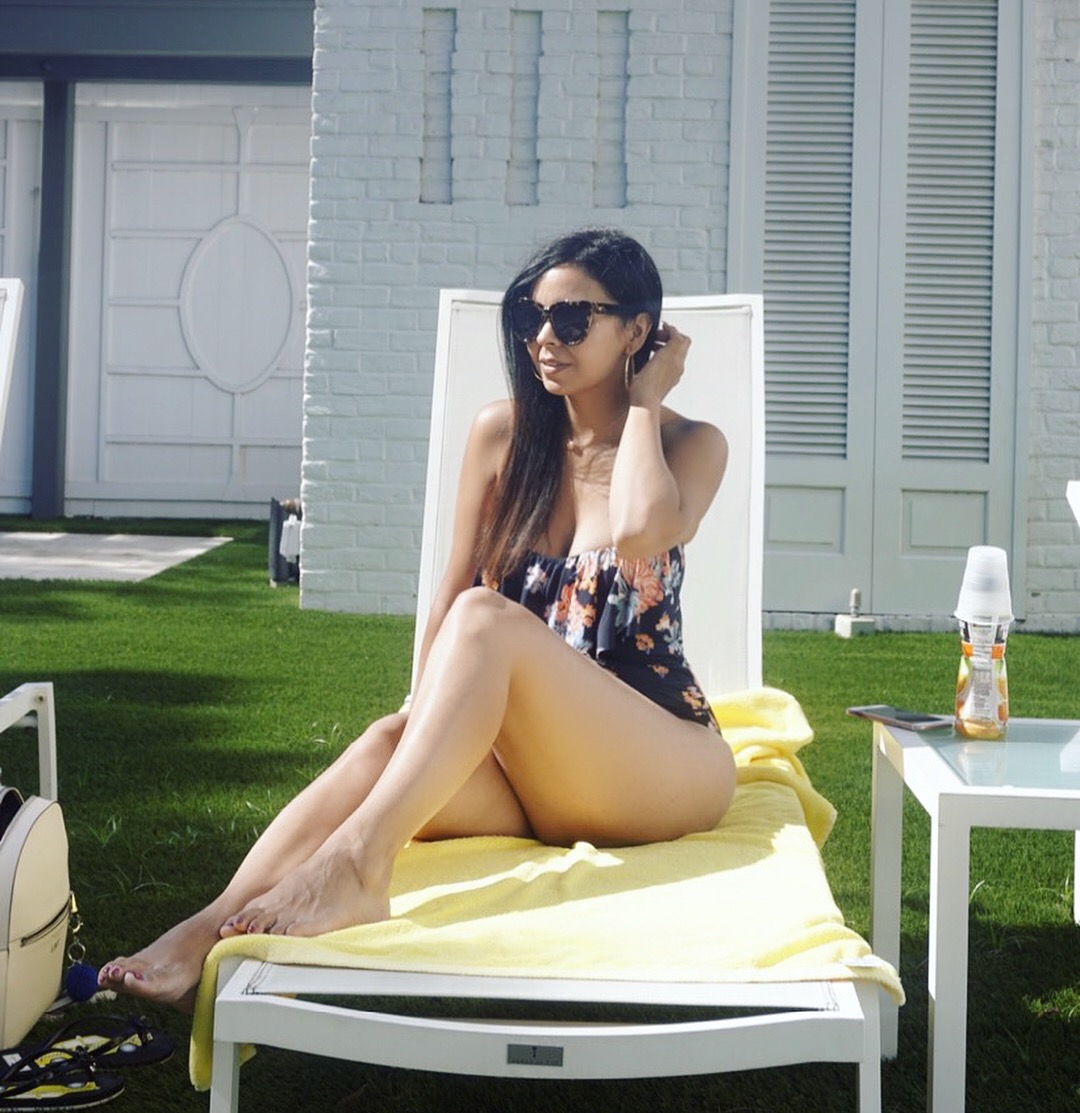 The quickest way to explore Savannah is by taking a trolley tour. The trolley takes you around and gives you brief info about historic sites. You can also hop on and off. If you are driving, you can also do this on your own and pre-map out the sites you want to see or a third option would be by bike. The bad thing about the trolley our is that the info is so brief and you don't really get a chance to take good pictures unless you get off.
The next day, we went back by car, found parking and walked around to explore on our own. The unique thing about Savannah is it's squares-24 to be exact. General James Edward Oglethorpe founded Savannah, GA in 1733. And it was his idea to design a series of neighborhoods surrounding 24 pretty squares surrounded by Spanish moss and more.
The first thing we found was the cutest little waffle cafe across from the cathedral called Mirabelle Cafe. We stopped in for some yummy waffles and from there visited the cathedral. The cathedral of St. John the Baptist is an iconic symbol of Savannah, Georgia. It's truly special not only because of the beautiful architecture but also because of its size and detail. In my opinion, it is a must see. And it will take maybe 20-30 minutes of your time to stop in and appreciate it. It's one of the top 10 historic sites to visit in the United States. The church is an active place of worship but it is also open to the public for tours. There is no fee but donations of $2 are appreciated when visiting.
After that, we passed by one of the most haunted homes in Savannah- the Sorrel–Weed House. It' one of the largest houses in the city but it is also said to be one of the most haunted homes, too. People have reported paranormal activities like figures appearing in the windows, hearing voices and feelings of being touched. The strange part is that I had a strange feeling when I caught a glance at the basement door which you can see from outside the home. But I had no idea the story behind it! Supposedly, it used to be a kitchen used by the slaves of the house and later they began practicing voodoo down there. Yikes!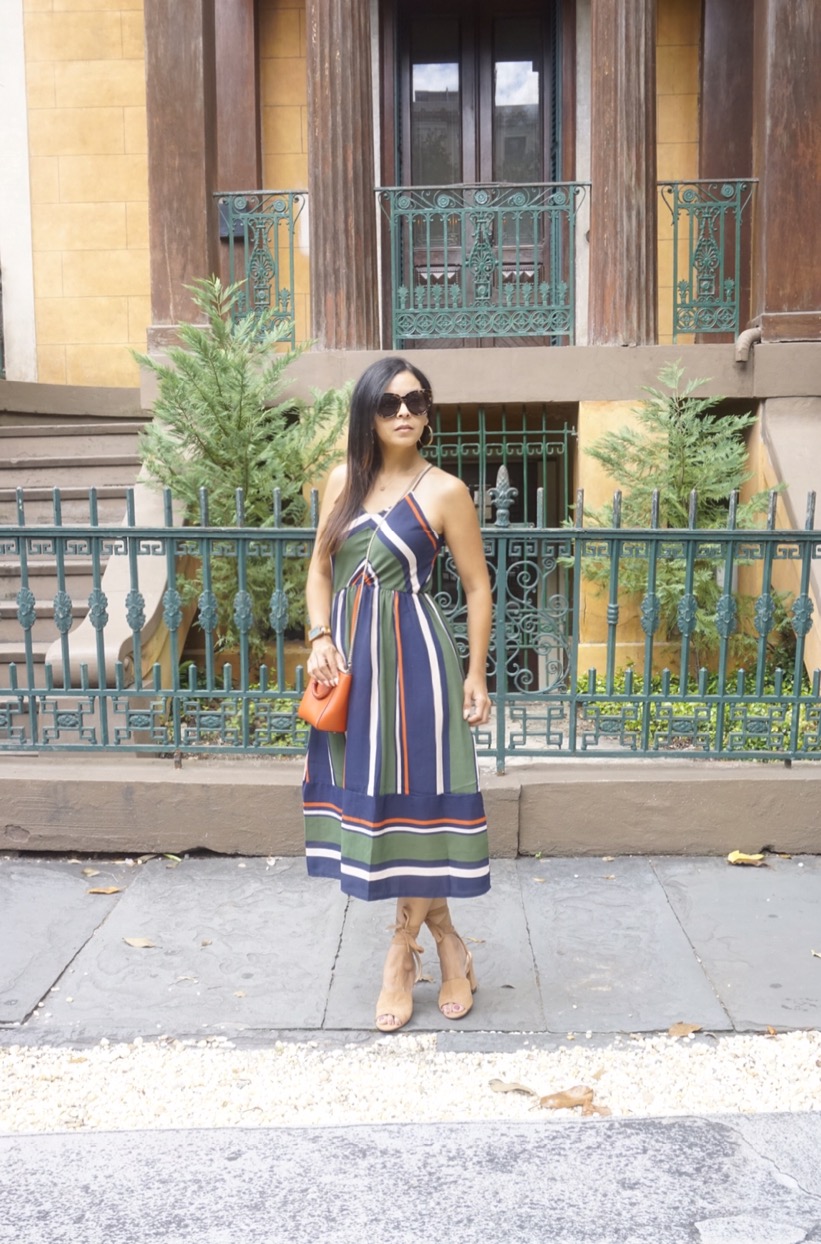 Next, we stopped at the Girl Scout First Headquarters. My daughter was a Girl Scout since kindergarten and she was so excited about this. I have to say, even if you are not a Girl Scout, this is a great little stop to make. Not only is it inspiring but it has such an amazing history to it. I left feeling so inspired and thankful to pioneers like Juliette Gordon Low for doing such great things for girls. She left a legacy behind for her contribution to girls lives and the American culture. This visit will only take you about an hour. There is a silent film about the girl scouts (created by Juliette Gordon Low herself!) and one large room which you can tour on your own.
Later that day it poured BUT that didn't stop us from running to take a picture in front of ChippewaSquare- where Forrest Gump sat on a bench to tell strangers his story! Now, the bench was actually a prop from the movie- unfortunately, there is no real bench in the actual spot but many tourists still come to photograph the spot. Forrest Gump is one of my favorite all time films- I must have watched it with my dad about a hundred times so I just had to visit.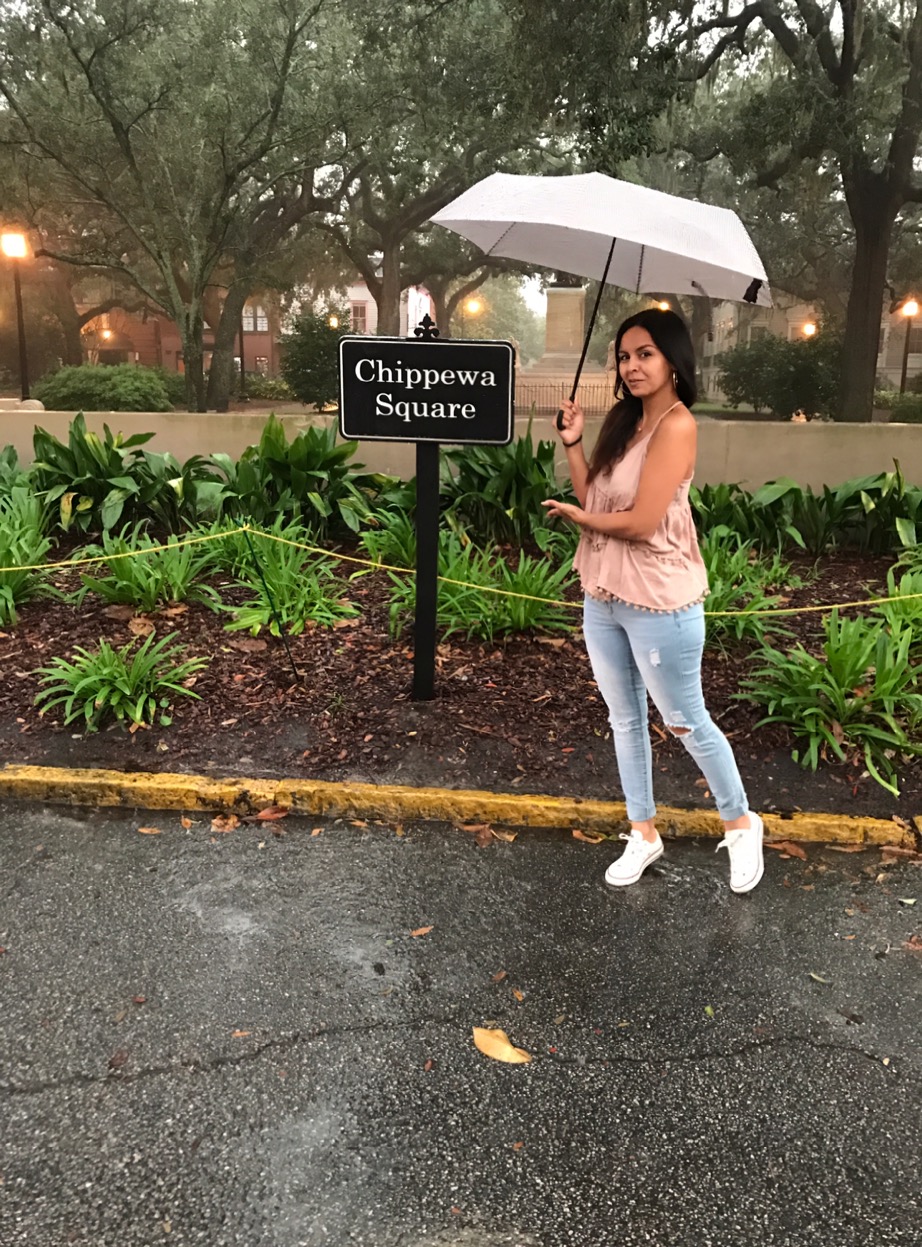 And you can't visit Savanah without stopping into Leopold's for a yummy frozen treat. Seriously, they make good stuff! Their ice cream is hand crafted in the historic downtown using original, secret recipes passed down for generations. It's also the inspiration to the song titled "Tutti Frutti" by song writer, Johnny Mercer.
More random pictures here…
I know this post is getting super long so I'll skip what we had for dinner- a good pizzeria called Vinnie Van Go-Go's You can check that out if you're looking for places to grab a good bite but not too fancy.
Before we left Georgia the next day, we headed over to the Wormsloe Plantation. This is a must see BUT I have to be honest and let you know a few things. First, you can't just pull in to take pictures. The ranger is in a little house and watches like a hawk. We saw her tell a few people that even if they only wanted pictures, they had to pay the admission. The admission is a bit high to visit the grounds that don't include tours or anything. There is a small museum and a room where you can watch a short video on the history of the plantation on a television set. $10 per adult and children pay about $5. Secondly, unless you're planning for a hike around the grounds- don't do it. We had no idea but thankfully we had sneakers and walked around. However, the trails are long and the further out you go the longer it takes to get back. Again, perfect for a hike. No pets are allowed on the grounds and I don't recommend the trails for young children either. There are many bugs, so slather on the bug spray. I recommend a backpack, bug spray, wipes, water and workout gear- it's the south, you'll sweat.
Now, I know I stated some cons but this is a must see. The arched oaks are simply beautiful (also where Forrest Gump rannnn!) and even if for a few photos, pay the $10, take your photos and go. It's worth it. And I have proof! After our long sweaty walk, I cooled off in the restroom and washed up- and changed into a red ruffle wrap dress pictured below! #bloggerlife what we'll do for the perfect outfit post! Someone should make a reality show on it lol It's a good thing I have a patient man who will hop out of the car, sweaty and hungry to help me out…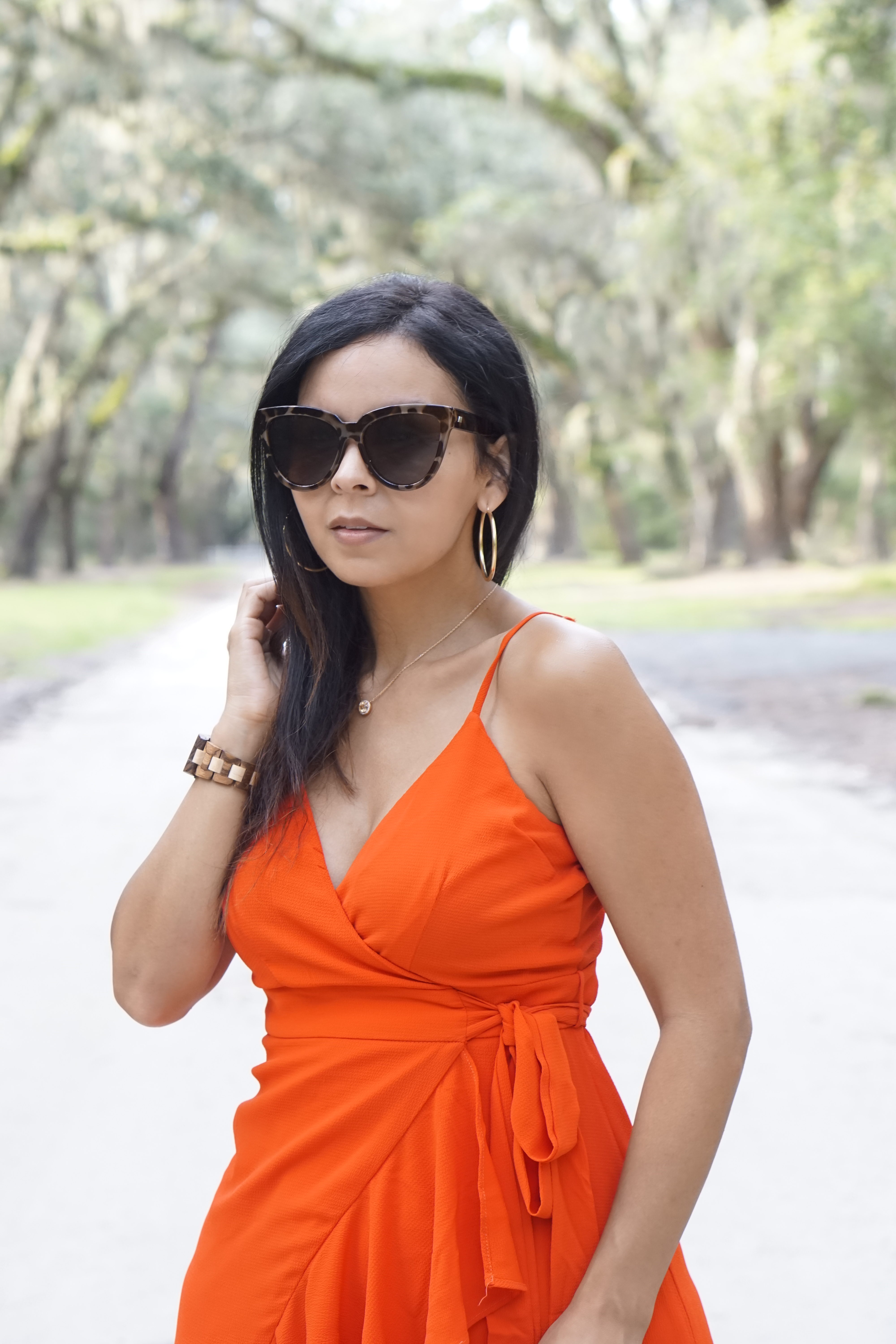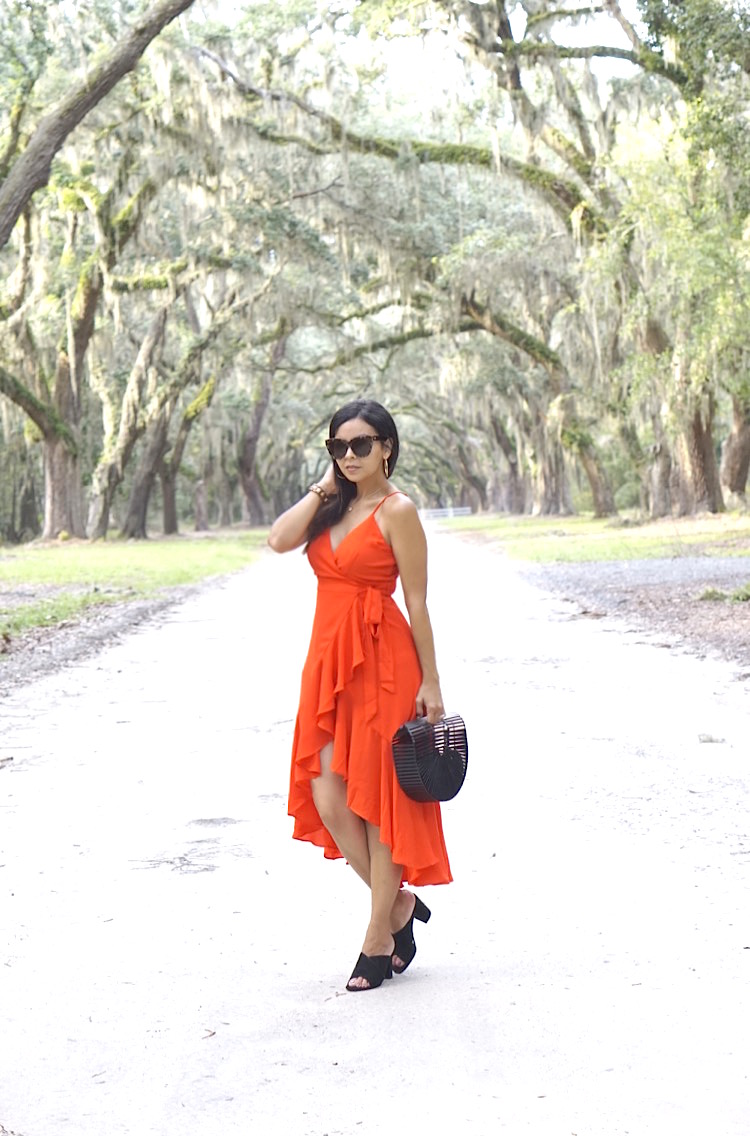 Well, that's all for my Savannah post. I hope you enjoyed reading about my travels and feel free to ask any questions if you need tips on planning a trip.
Catch ya'll later 😉