This shop has been compensated by Collective Bias, Inc. and its advertiser. All opinions are mine alone. #LimpiaTotal #CollectiveBias

The days are getting brighter and the weather is warming up. For most gals running a household and keeping it tidy, means Spring clean-up vibes are kicking in. But in a house with extra hands, why do all the work by yourself? The more, the merrier. Spring cleaning can be a fun family thing, right?
Growing up Latina, Saturday mornings were for cleaning.
As soon as I'd hear mom's radio turn on, I just knew- it was going down. And it was only a matter of time before mom would start calling our names and asking for assistance. Laundry, sweeping, mopping, dusting, bathroom clean up, and making beds. I admit I was spoiled. The only thing my mom asked of us was to keep our rooms clean and occasionally to wash dishes or sweep the floor. My brother was terrible at keeping tidy but I was a master at it. I was filled with pride each time I walked into my cleanroom. I loved the smell of "clean."
Sadly, I can't say my daughter came out like me in that sense… but she is a mix of me and her uncle. She doesn't like to make her bed, she whines when I ask for help – but if she sees a mess she doesn't like it. So, that got me thinking. I needed a way to make cleaning more fun for her. For my little family, I came up with a chore chart. I remember I had one for my daughter when she was in pre-school to help her keep track of potty time, washing hands, brushing teeth: etc.
Here's how I made a family chore chart.
To create our family chore chart, I created a word document (standard letter size) and used images from google. Simply copy and paste it onto the document. Using pictures in a chore chart makes it more fun and easier to understand (for both kids and husbands).
Next, I played around with the font colors and I created a collage of illustrations of the rooms to be cleaned. I found all images online. It's best to search for PNG files so that they are transparent once pasted onto the document.
Lastly, save and print!
In our chart, each person's column shows what room they have to clean. For example, I get the bathroom, master bedroom, and living room. Liana gets the dining room, her bedroom, and shares living room duties with me. And last, her dad gets the kitchen, playroom, and upstairs room.
Now… to give my little girl an incentive, after we are all done, she gets to pick a movie rental, a trip to the book store, or her fav cafe for a treat. She loves those incentives so she makes sure to get her chores done on cleaning day.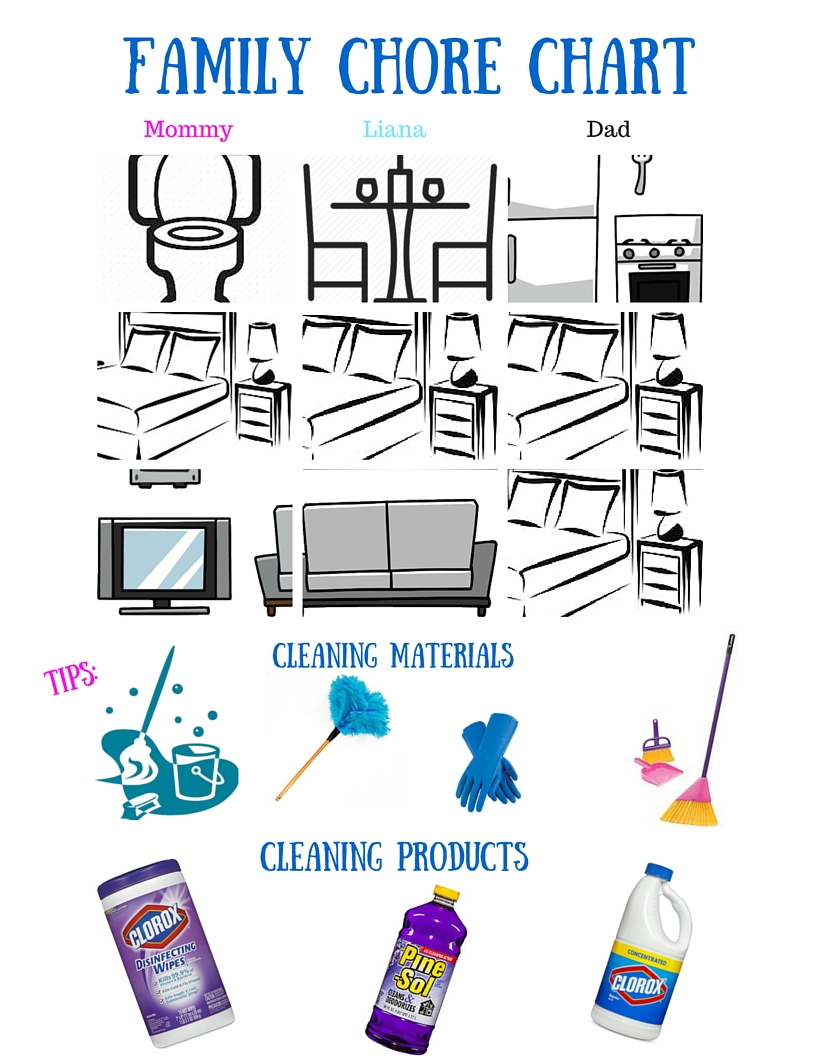 The chore chart also includes tips so that they know what to use for cleaning and even what products to look for in the cleaning supply closet.

Since my daughter is only ten, I give her more simple tasks and limit what products she can use. For example, she gets to use the dusting mitt and dust down tables, shelves; etc. She does wear a little bandana to cover her nose because she has seasonal allergies. One of her favorite things to do is mop the floor.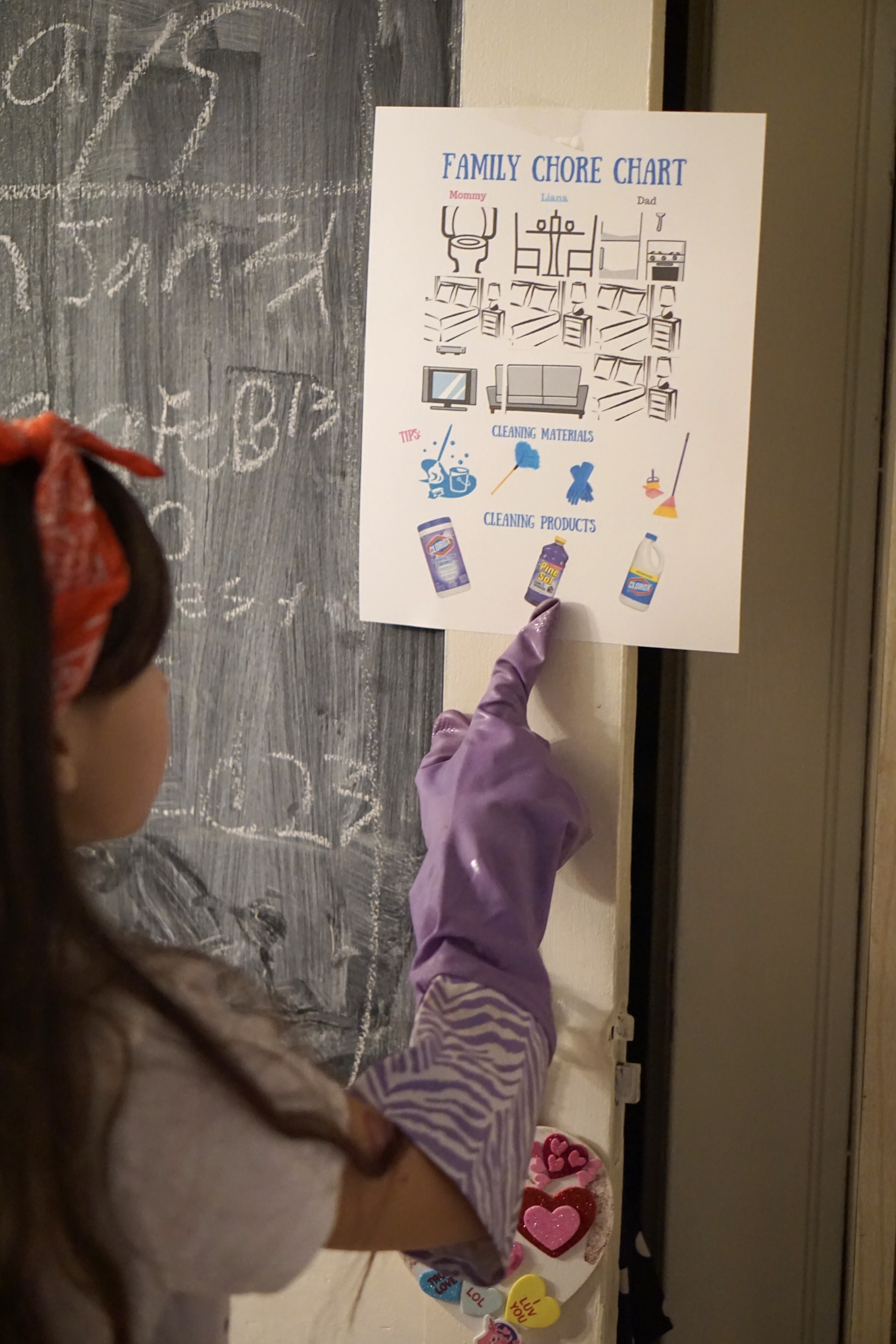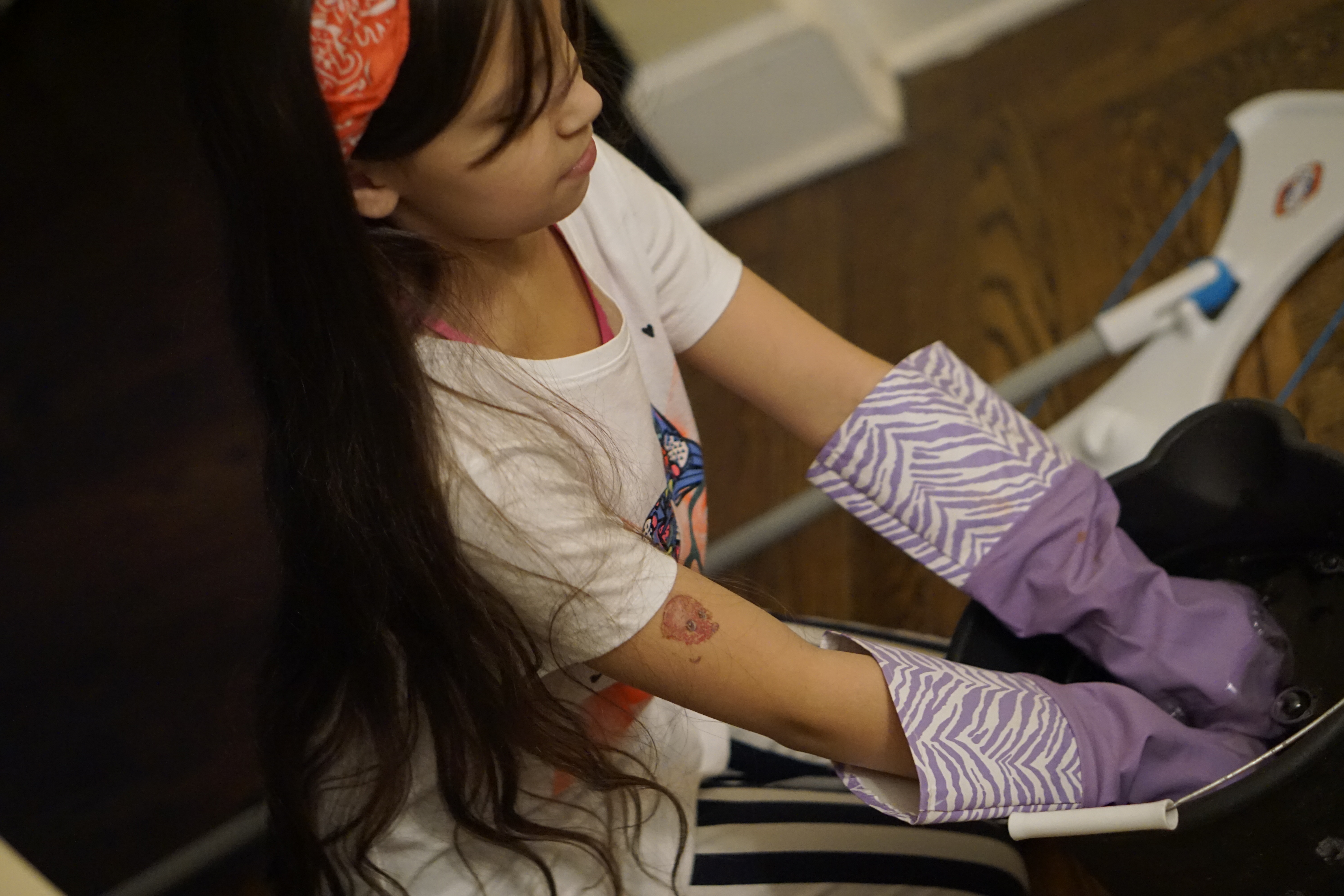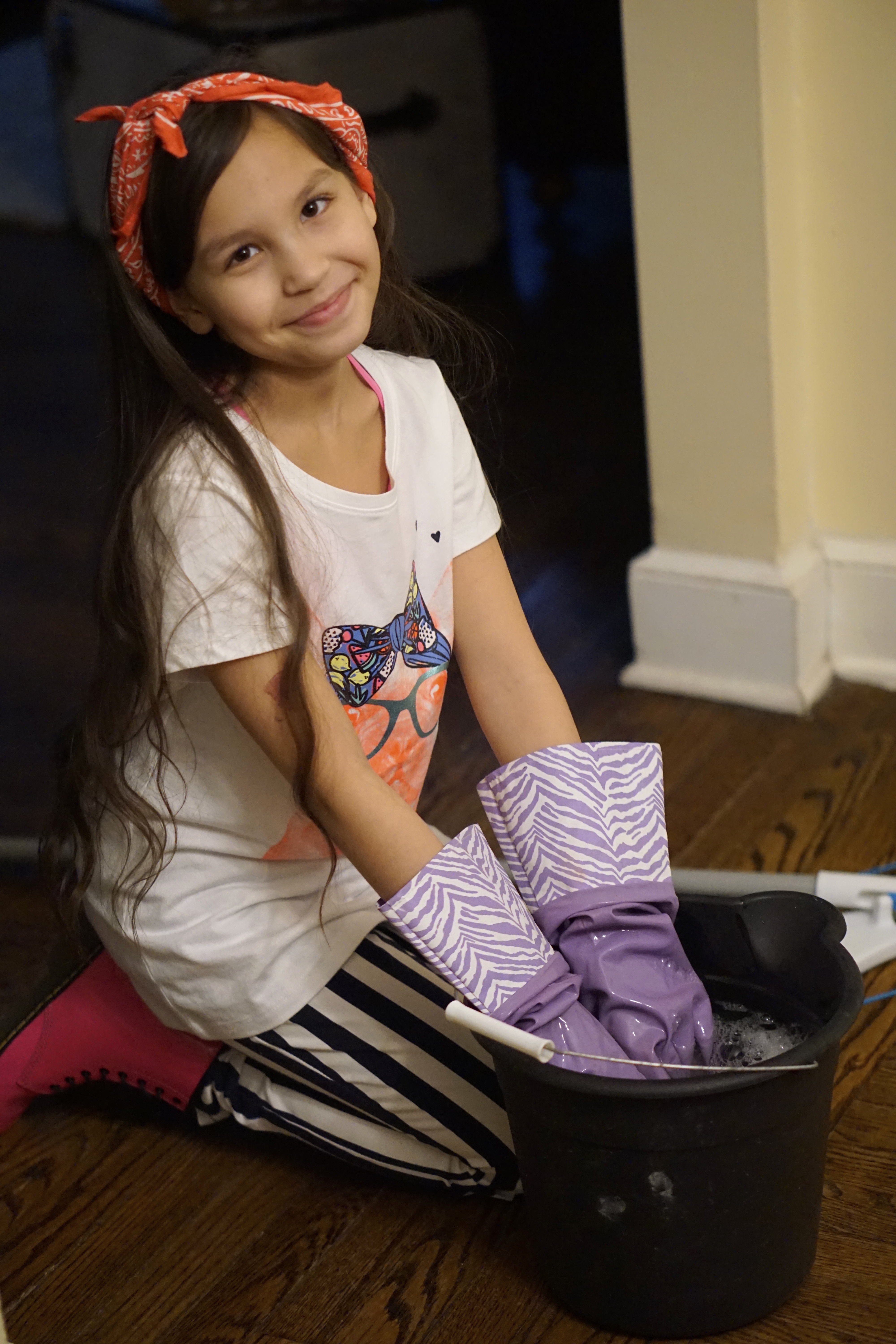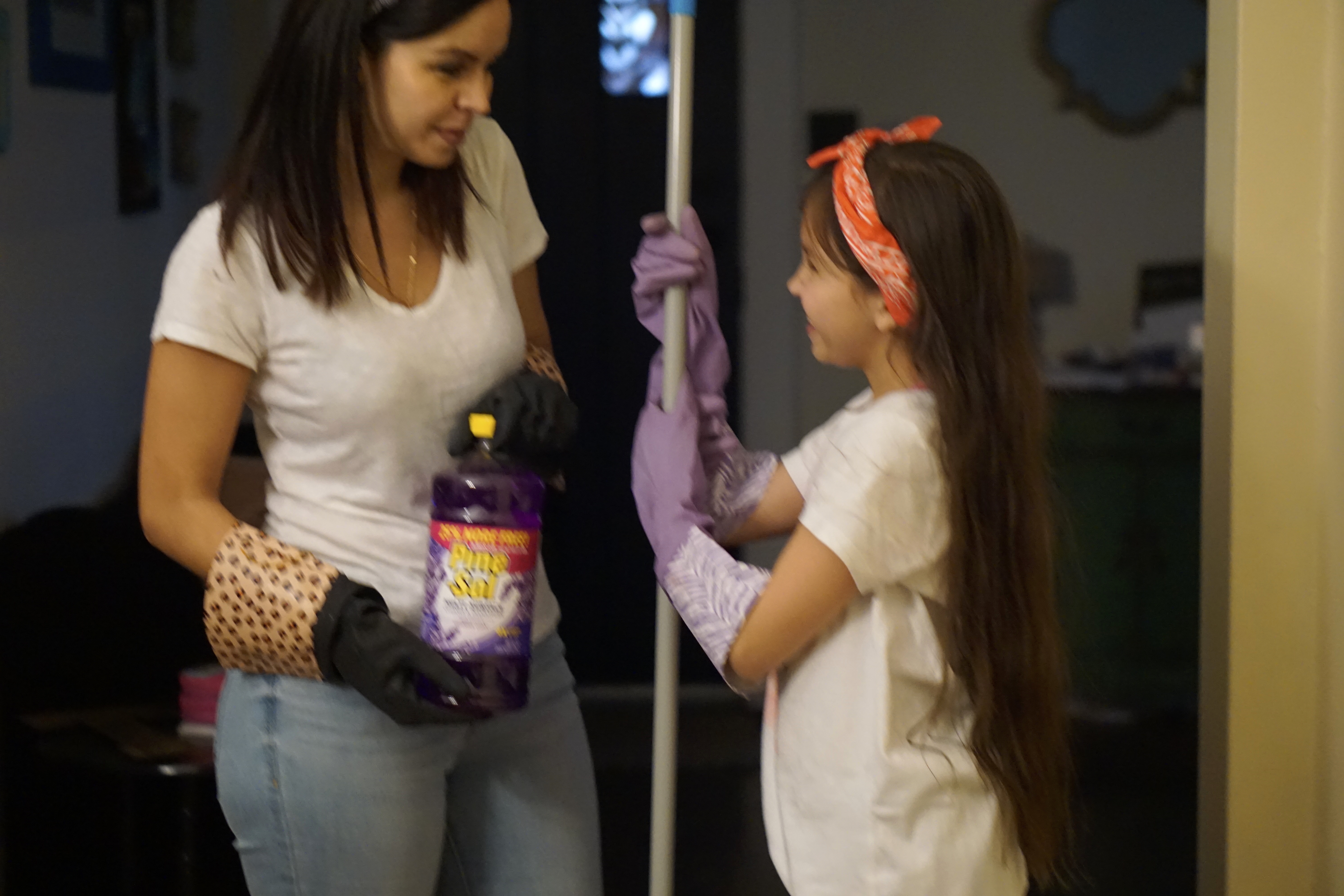 For spring, we LOVE to aromatize the home using scents like lavender.
We use Pine-Sol multi-surface cleaner in lavender scent to keep that aroma going. It cleans and deodorizes, leaving a fresh, clean scent. We also love using the Clorox disinfecting wipes in lavender to wipe down surfaces. These two layers of lavender leave the home smelling sooo good!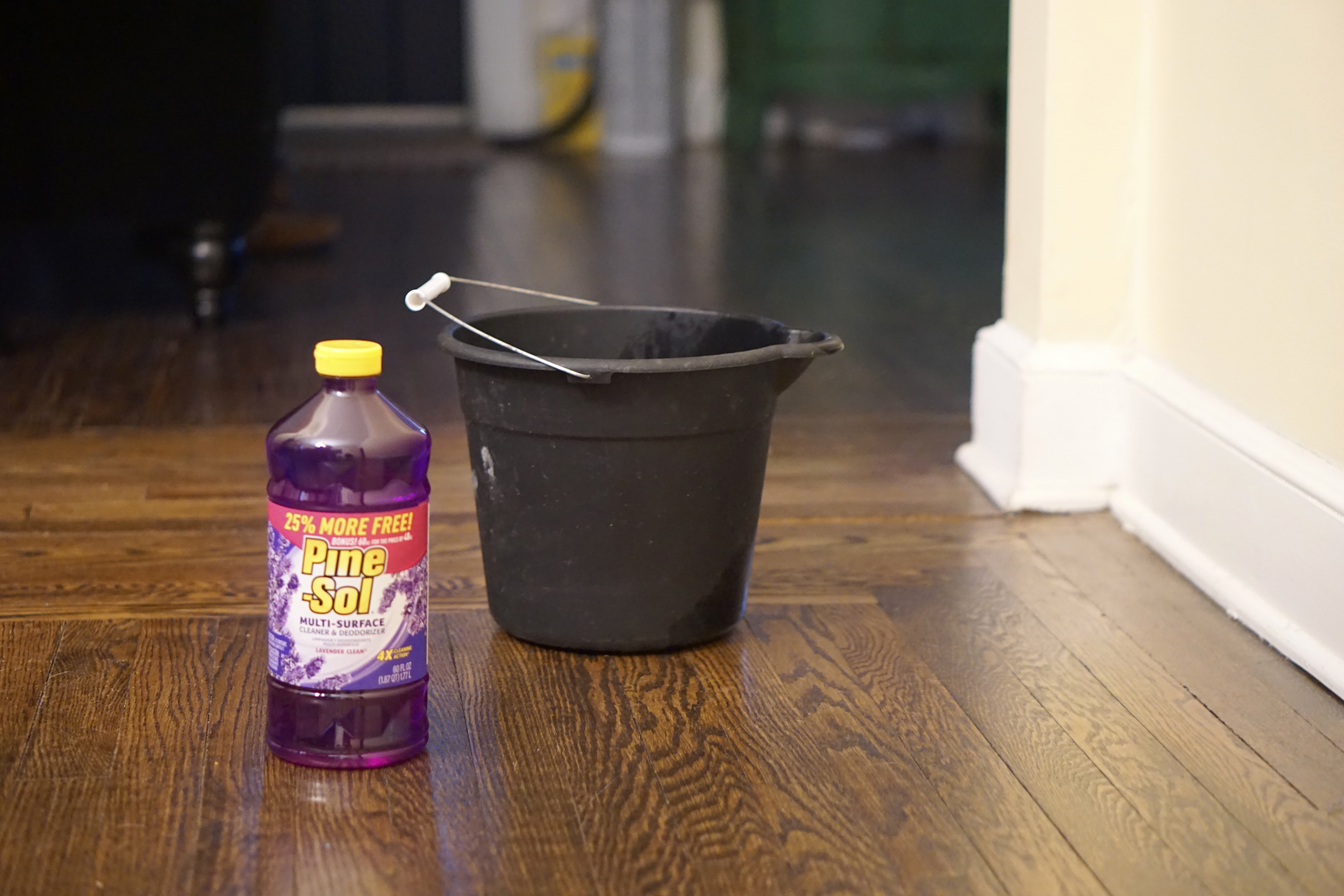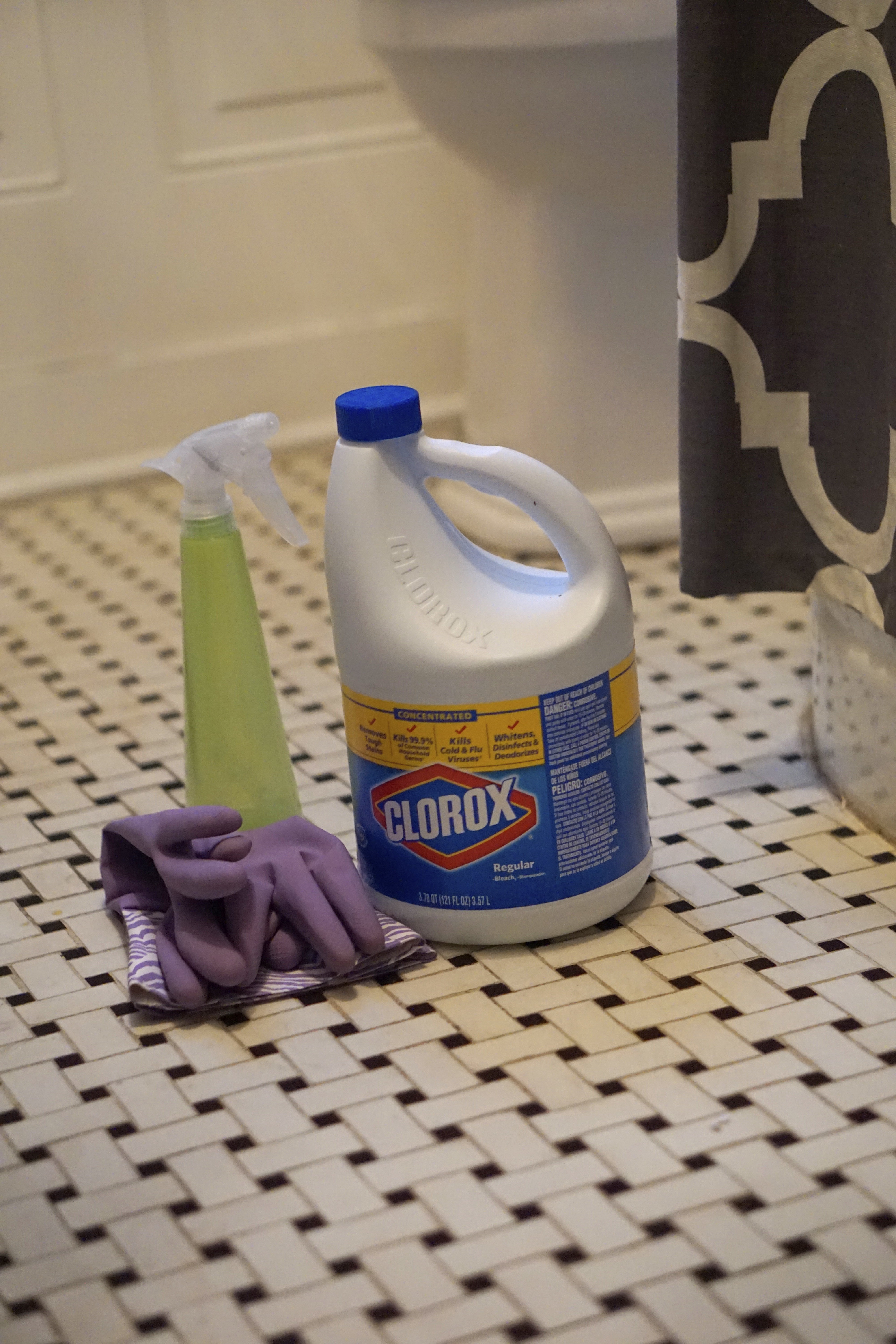 Time to disenfect.
For the bathroom, I like using Clorox bleach. To me, nothing disinfects as this product does. Plus, there are so many great ways to use it.
Cleaning tip: 
To clean the bathroom, I love using Clorox bleach (regular-concentrated). There are so many uses I have found with this product. Here's a tip you can try, too.
pour 1/2 cup of Clorox into the toilet bowl
Using a toilet brush, scrub away the dirt
Let sit for a few minutes (while you clean the tub)
Flush
I also like to mix Clorox with water in a spray bottle to clean around the toilet and in between grout. Use to disinfect your toilet brush and mops, too. It truly works wonders- whitens and disinfects at the same time. It's a pretty basic formula; Clean. Disinfect. Aromatize.
I pick up my cleaning supplies at the local Walmart. You can find the products mentioned in this post in the Paper & Cleaning aisle. The prices are great and they have a big selection.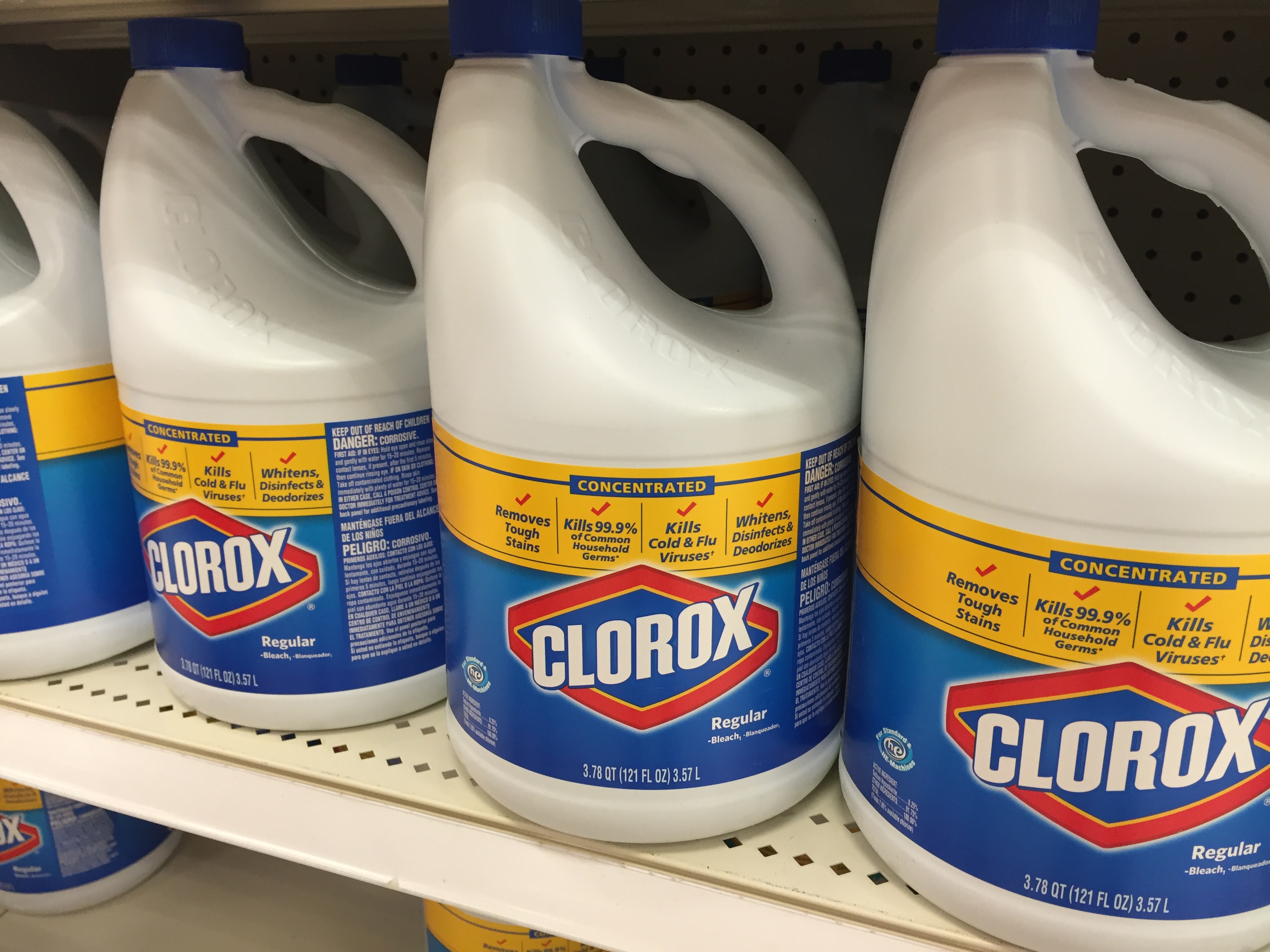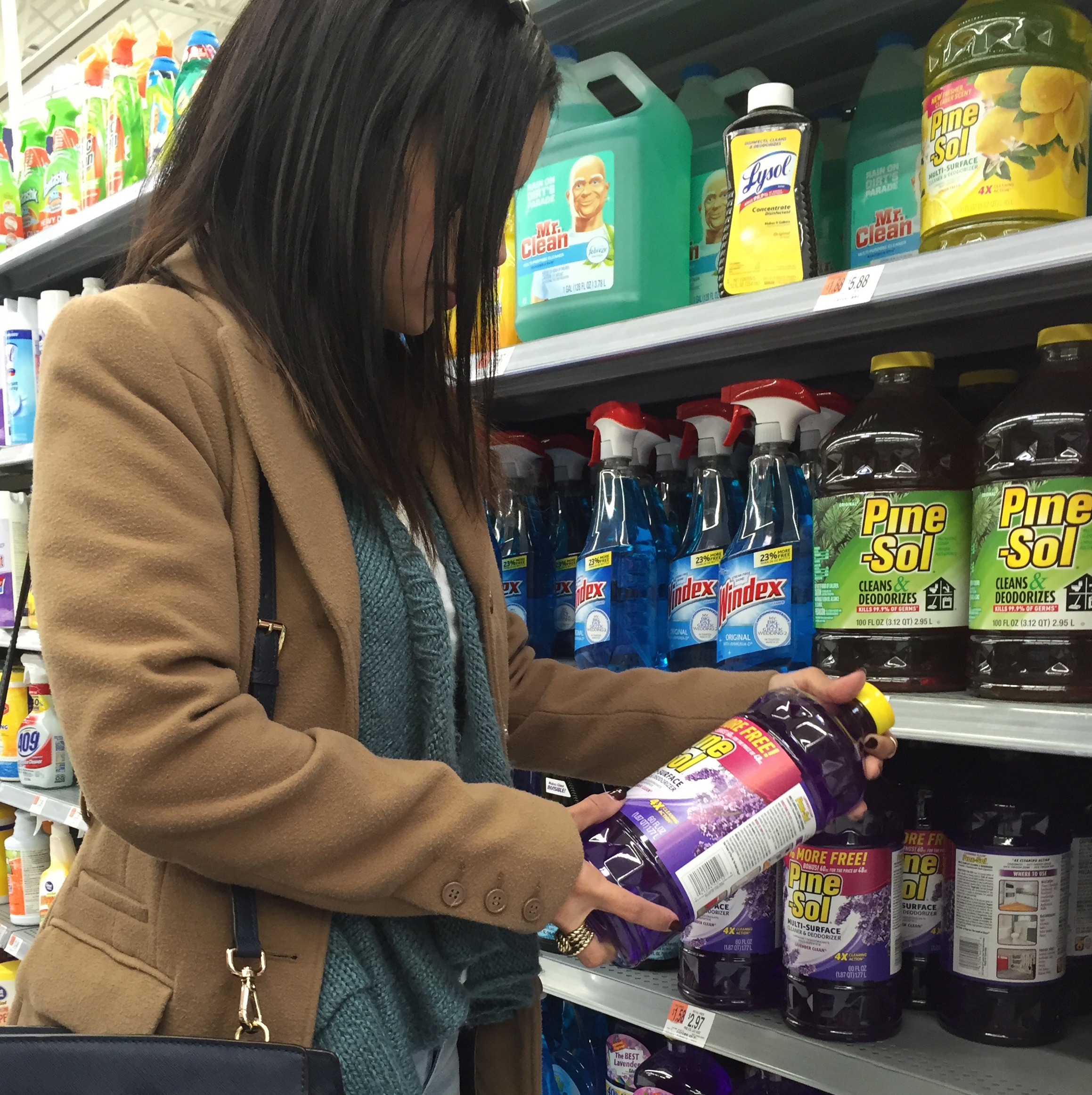 I won't go into all the details of how we clean but I will tell you music makes everything more fun. So if you're ready to introduce your family to a chore chart, make sure you put on some upbeat tunes to help them get into the mood.
What do you do to make cleaning a family affair?