Summer is almost officially here! That means it's time to change up some beauty products. As the seasons change, so does our skin. So it's important to change up some products. But it's also fun to try new things. I am a total product junkie and trying the new new is kind of my thing. Here are some summer beauty must-haves for the new season.
*This post contains affiliate links. All opinions are my own.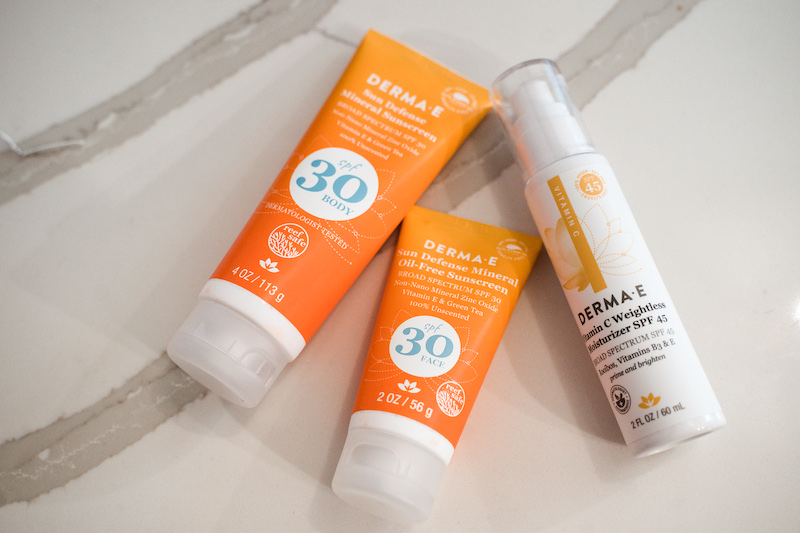 For your Skin
Sun Defense Mineral Oil-free SPF 30 Body & Face – Derma E's Sun Defense Mineral Body Sunscreen SPF 30 is lightweight, sheer, absorbs quickly to provide broad-spectrum UVA/UVB protection, and anti-aging antioxidant defense. Leaves skin soft and is great for sensitive skin types (hypoallergenic). Derma E is also cruelty-free and vegan.
SPF isn't only for your body
Vitamin C Weightless Moisturizer SPF 45 – One of my go-tos has to be Derma E's Vitamin C line. So I was super excited to see that they also carry an SPF 45 moisturizer. It brightens, primes, and protects the skin. Yes, you read that right- PRIMES. So, yes you may use this under your makeup. It's amazing!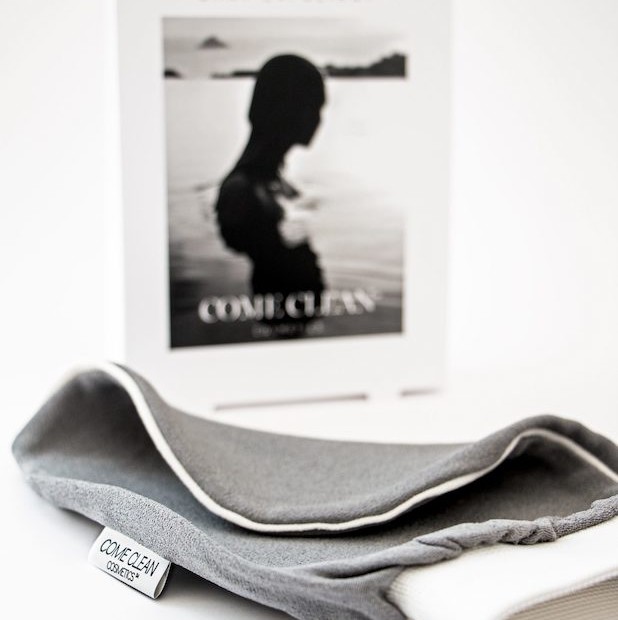 Come Clean Exfoliating Mitt – an exfoliating mitt that removes strands of dead skin cells. This particular method has been practiced for centuries in European and Turkish baths. All you need is water and the mitt eliminates toxins, boosts collagen, and renews your skin. Perfect to get summer ready.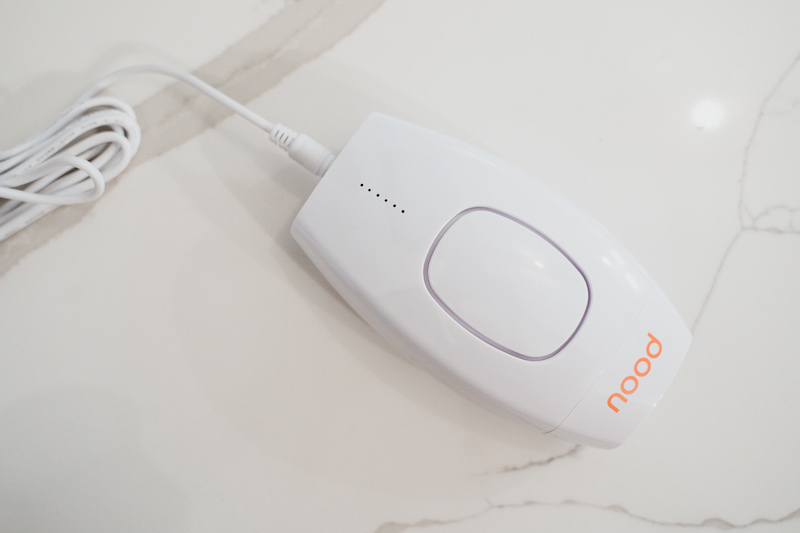 Nood – Aside from having nice smooth skin, get smooth hairless skin with this at-home device. If you've wondered about laser hair removal but have sensitive skin, this is a great product to try out. The Nood has 5 different levels for your skin tone and sensitivity. All you need is 10 minutes of treatment, once per week. Plus, it's not as painful (or pricey) as regular laser hair removal. Regularly priced at $239 but it's currently on sale for $189. Run, don't walk.
Brazilian Bum Bum Body Cream by Sol De Janeiro – Tighten, smooth and smell amazing with Bum Bum Body Cream. I've been using this cream for years and the smell always gets me. It also moisturizes so well. It's been a summer must-have for me for a long time!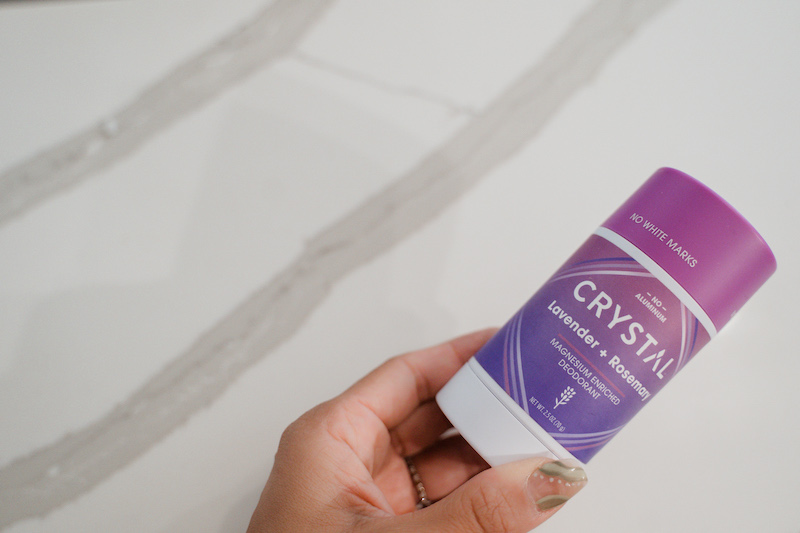 Crystal Deodorant – Smell your best (naturally) with Crystal Lavender + Rosemary deodorant. I had to throw this one in here because I've been on the hunt for a natural deodorant and this one works so far. Perfect for those warm summer days. It doesn't stain and goes on clear. It's also aluminum-free and unisex (for women and men). Plus, it's dermatologist-tested to be hypoallergenic, and perfect for all skin types. Tip: go deodorant free for a few days before switching.
For your Hair
Clarifying Shampoo- If you use product on your hair, a clarifying shampoo is great. I recently tried this product on my daughter's hair and not only did it work well but smells amazing, too!
Nothing Says Summer Beauty Like Beachy Hair Waves
Beach Waves- Summertime hair to me means beachy waves. Aprés Beach Wave and Shine Spray makes it easy to make some waves. It's hydrating, anti-frizz, protects from heat, adds shine- and it's vegan. Tip: Apply a minimal amount. Ends first and use smaller amounts on pieces you want to create texture.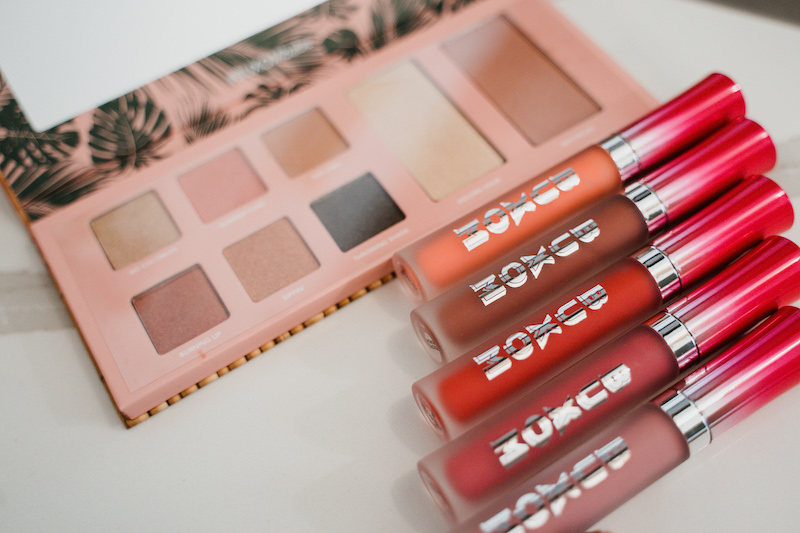 Makeup
Buxom – Ok nothing says summer beauty like a tropical collection. Buxom Cosmetics recently sent me their latest Vibe Island lip gloss collection (and palette) and it is stunning! Island Vibe is a limited-edition collection of Buxom's best-selling, plumping lip glosses in new and fan-favorite shades with a tropical twist. First, they smell amazing, second, the colors are perfect, and last- the packaging, as always is super cute. The Tiki Bar Eye & Cheek Palette is a primer-infused eye and cheek palette with a new highlighter shade, six new eyeshadows, and their best-selling Wanderlust blush shade. This is the perfect summer/travel palette.
Dior – In the 2000s, Dior lip glosses were my jam. Sometimes we forget about the beauty products we loved because we try so many new ones. So I decided to give their Dior Addict lip maximizer plumping gloss a try and it didn't disappoint. I love the shade 012 Rosewood. It's a lip-plumping gloss that hydrates and plumps.
Laura Mercier – During the summer months, who wants to wear a full face of makeup? Not this girl. But I do love a good beauty balm. My go-to is the Laura Mercier tinted moisturizer. Whiles it's a bit of a splurge, it will last and is worth it. The tinted moisturizer provides up to 24-hour hydration and SPF 30 sunscreen to protect your skin. And not only that, it's light and gives skin a nice glow.