This year, I was invited to attend Heels & Wheels, a test drive event that focuses on women in the automotive industry. I was honored to be working along 25 other female writers in the industry and be a part of Heels & Wheels ten year anniversary in the beautiful Santa Barbara, California. I had a wonderful time and met so many amazing women on this trip.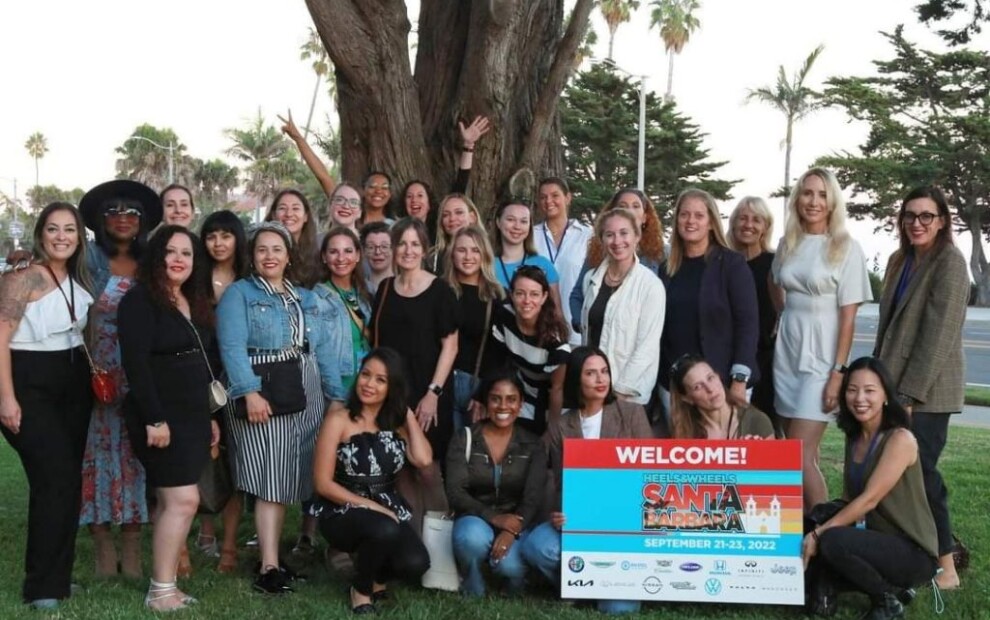 They say time flies when you're having fun and it most certainly did! Here's a glimpse at all the cars I test drove (and then some) at Heels & Wheels 2022.
More Reading: MIA Fest: an Electric Weekend with GM
Disclosure: I was invited by Heels & Wheels to test drive various vehicles. All opinions are my own.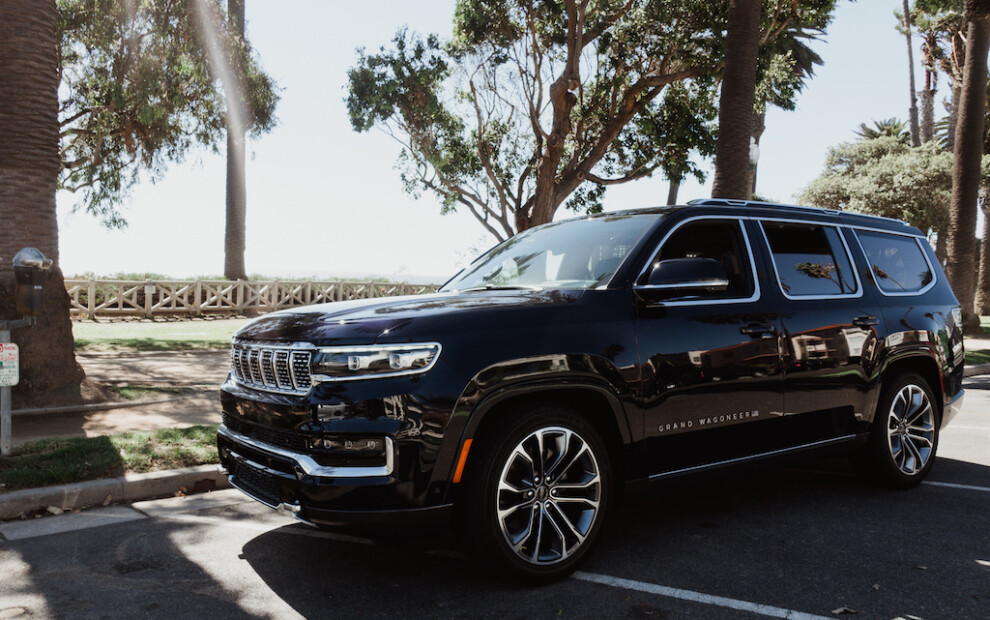 The first car I got into was the Grand Wagoneer.
My drive partner and good friend, Dawn Gibson-Thigpen (Sassy Auto Chick) picked me up from the airport in this beauty and off we drove to Santa Barbara. The ride from LAX to Santa Barbara was about two hours- plenty of time to catch up with Dawn who lives in South Florida! I just love California weather and it's scenic views. We had such a lovely ride.
Here's what I loved about the Grand Wagoneer Series III 4×4 and the specs…
Luxury design, comfort, convenience- designed with everything a passenger could want in mind- it's got a mini fridge!
MSRP: $107,995+
Engine- 6.4L V8
Transmission- 8-Speed Auto
0-60 mph in 6.3 seconds
Horsepower- 471 hp
Torque- 455 lb ft
Cargo room- 27.4 ft³, 94.2 ft³ with seat area
Fuel Economy- 13 city/ 18 hwy/ 15 combined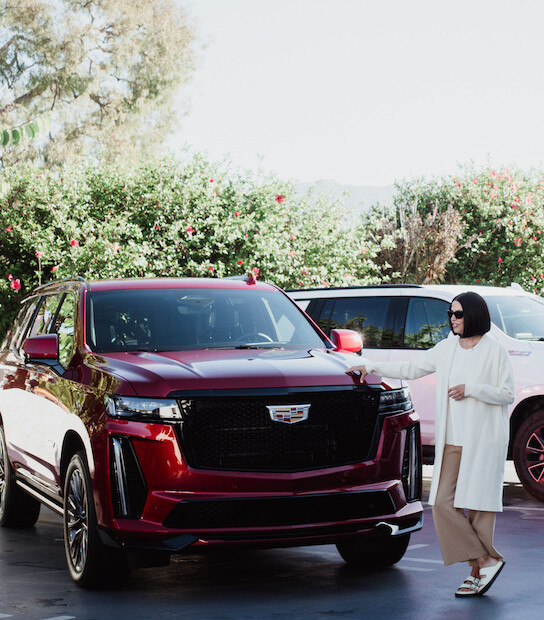 The next morning, we learned about all of the cars at Heels & Wheels.
The lineup included:
Cadillac Escalade V
Kia EV6
Honda HR-V
Nissan Z
Infiniti QX60
Lexus RX
Jeep Grand Cherokee Reserve 4xE
Grand Wagoneer Series III 4×4
VW Arteon
Alfa Romeo Guila Estrema RWD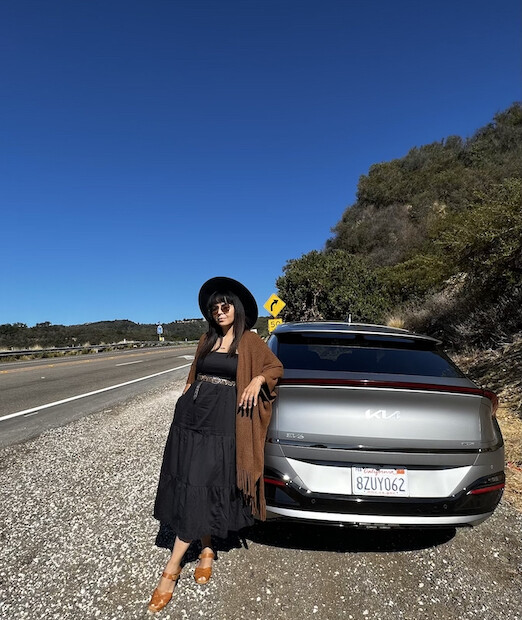 After previewing the lineup, we were assigned a car to get to the winery.
Dawn and I were assigned the Kia EV6. This is Kia's first all electric model.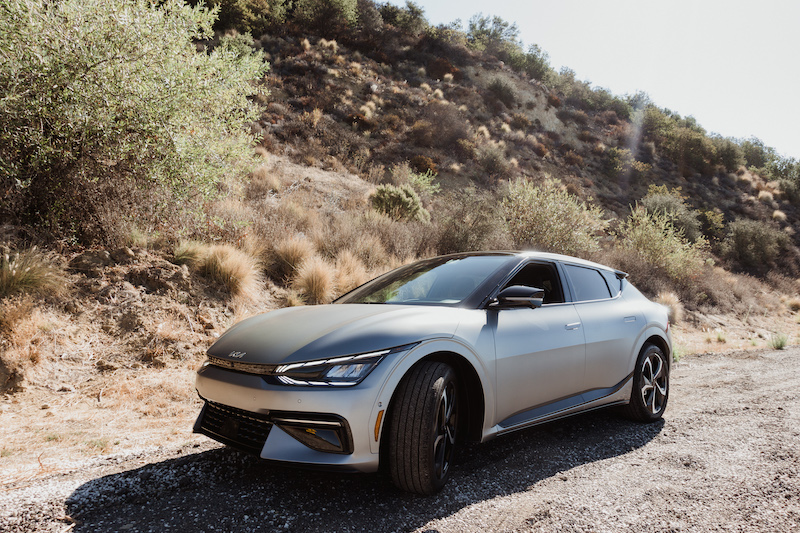 Here's what I loved about the Kia EV6 along with the Specs.
Sleek, modern and eco-friendly design
12.3-inch digital instrument panel
0 to 60 in 3.4 secs in EV6 GT model
MSRP: $41,400+
Engine- AC Synchronous Permanent Magnet Motor
Transmission- Gear reduction Unit
Fuel Economy-RWD (range up to 310) / AWD (range up to 282)
Seats up to 5
LED accent lighting
Once we arrived to the winery, we stretched our legs a bit and sat down for lunch (sponsored by Alfa Romeo).
Presqu'ile Winery is family-owned and located in the Santa Maria Valley. With it's beautiful views and Mezze Picnic presentations featuring local ingredients from the estate's garden, it's no surprise that the winery was named 'one of the ten most beautiful wineries in California' by Condé Nast Traveler.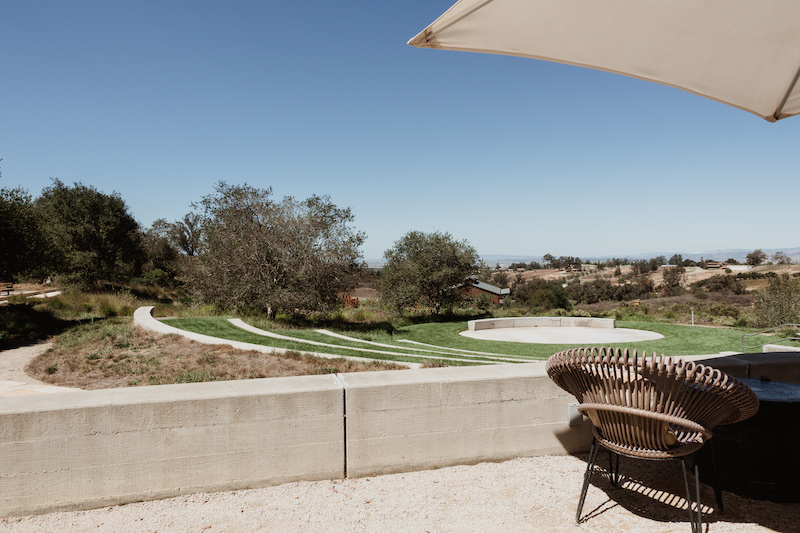 After lunch, we test drove the 2022 VW Arteon, 2023 Infiniti QX60, 2023 Nissan Z, and the 2023 Cadillac Escalade V.
Time flies when you're driving all these pretty cars! So we didn't get the chance to drive every single vehicle but here's a glimpse at those we did get to test drive.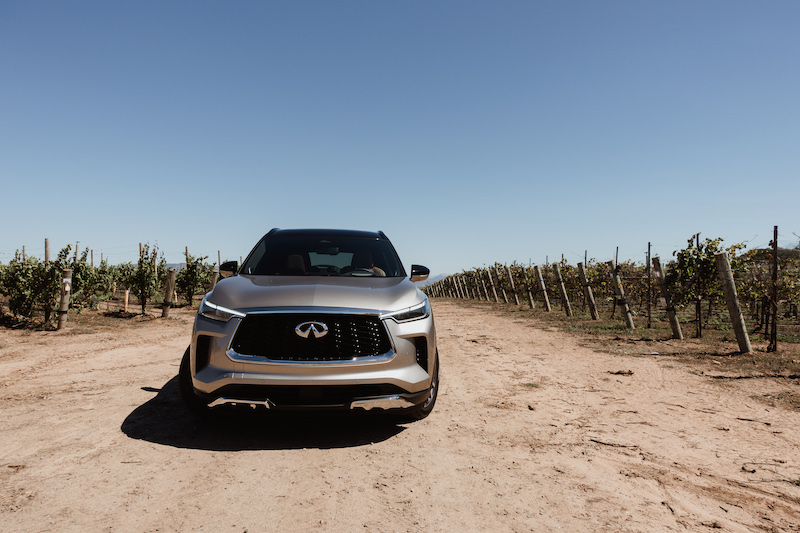 The QX60 is smooth like butter, baby!
I hadn't had the opportunity to test out an Infiniti model until Heels & Wheels and now I see what I've been missing. From the ride to the buttery leather seats, this car is smooth.
Infiniti QX60 Pricing & Specs:
MSRP: $49,200+
Engine: 3.5L V6
Transmission: 9-Speed Auto
Horsepower: 295 hp
Torque: 270 lb ft
Fuel Economy: (FWD) 21 city/ 26 hwy/ 23 combined (AWD) 20 city/ 25 hwy/ 22 combined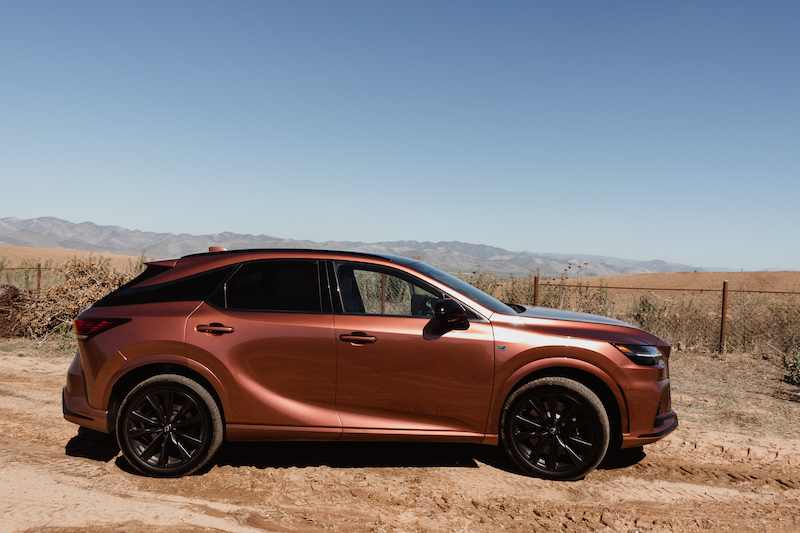 First, can we discuss this color? It's an absolute stunner!
And it's called Copper Crest. I've always liked the design of the RX and this model doesn't disappoint. It's sporty, bold and beautiful.
Lexus RX Pricing & Specs:
Color pictured: Copper Crest
MSRP: $47,070+
Engine: 2.0L inline 4-cylinder turbo
Transmission: 8-Speed Auto
Horsepower: 275 hp
Torque: 317 lb ft
0-60 in 7.6 secs (RWD) 7.2 secs (AWD)
Fuel Economy: (RWD) 22 city/ 29 hwy/ 25 combined (AWD) 21 city/ 28 hwy/ 24 combined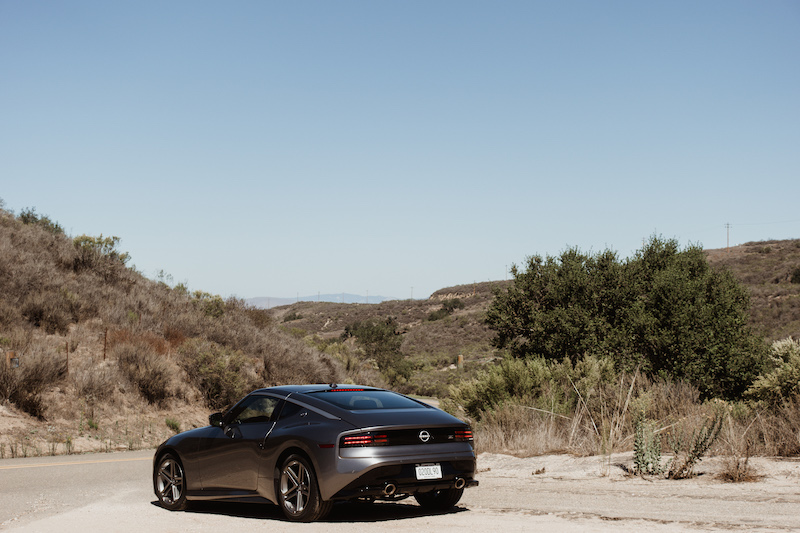 The Nissan Z is small but fierce- and she's fun.
The all new Nissan Z comes in a sleek, stylish design with a classic Z silhouette. It comes in two different models; the Z Sport and the Z Performance.
Nissan Z Pricing & Specs:
MSRP: $49,900+
Engine: 3.0L V6 Twin Turbo
Transmission: 6-speed manual / 9 speed automatic
Horsepower: 400 hp
Torque: 350 lb ft
0 to 60 in 4.5 secs (manual) or 4.3 secs (automatic)
Fuel Economy: 18 city/ 24 hwy/ 20 combined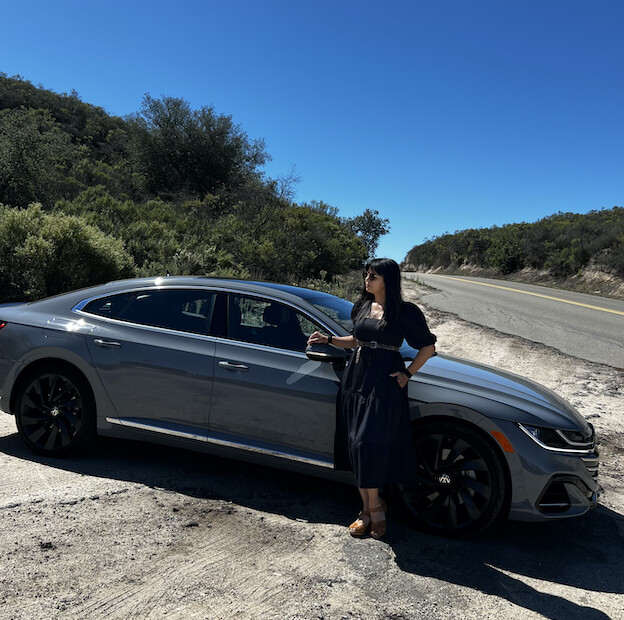 A sporty sedan with high end features like massing seats, ventilated heating/cooling leather seats, a Harmon Kardon sound system- oh, she's fancy!
2022 VW Arteon Pricing & Specs:
MSRP: $40,750+(FWD) $45,550+ (AWD)
Engine: 2.0L inline 4-cylinder Turbo
Transmission: 7-speed auto
Horsepower: 300 hp
Torque: 295 lb ft
0-60 in 4.6 seconds
Fuel Economy: 24 city / 34 highway / 28 combined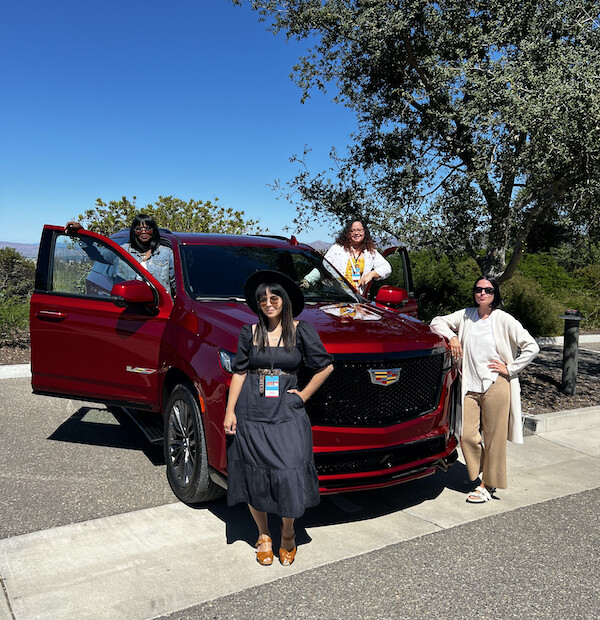 The 2023 Cadillac Escalade V is the first-ever V-Series large SUV, a beautiful marriage of luxury and power. This is one mean ride!
Cadillac Escalade V Pricing & Specs:
MSRP: $149,990+
Engine: 6.2L V8 Supercharged
Transmission: Hydra-Matic 10-Speed Auto
Horsepower: 682 hp
Torque: 653 lb ft
More Reading: 2023 Buick Encore GX: the Perfect Small SUV
There was so much to cover at Heels & Wheels, it's exciting to see what the automotive future holds!
Which car is your favorite from the lineup?