Hey girl, so you want to be a boss?
Maybe that idea that's been keeping you up at night finally convinced you or maybe you've saved up some money to open that little café you always dreamed of. Whatever it may be, now's your time to shine. But not so fast, before you take that leap, make sure you're making the right moves. Here are 5 essential steps to starting a business.
Related: How Working with Bloggers Can be Beneficial to Your Business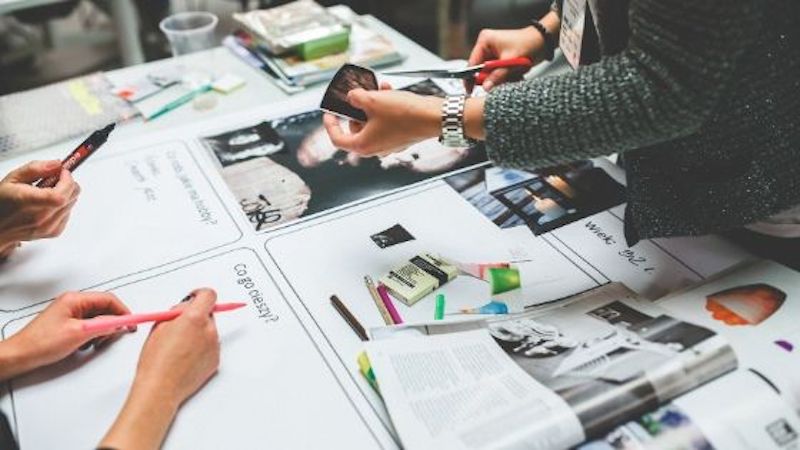 5 Essential Steps to Starting a Business
Create a business brand plan. Not a business plan, that you can do later. But a business BRAND plan is essential. I cannot tell you how many times I've sat down to analyze businesses for both clients and friends. The first thing I notice is their logo. Sometimes it's too busy, looks cheap (you know those logos everyone gets off of VistaPrint) or the color choices are just bad. Next, is the branding consistent? Do the logo colors match the website, marketing, newsletters, social media pages??? Creating a business brand plan will help you put all of that together. Tip: Make a mood board, choose your brand colors, brand name, and tagline. Ask a few business-savvy friends to vote on their favorite logo/colors if you need help.
Have a brand mission. What's your brand's story? Does it have a purpose? Does it give back to any charity? What makes it unique and why would a consumer want to invest their time/ money into it? If your brand doesn't have a story, is it really a brand? You want to have a story that connects your brand to your audience. P.S. Know who your audience is.
Learn about business. Before I registered as an LLC, I took a course on NJ small businesses. The course covered everything from setting up an LLC, resources, grants, trademarks, programs, small business practices and more. At the end of the course, I got a certificate for NJ Small Business. This course helped me understand small business ownership better. Most people are surprised that I formed my LLC on my own. Why pay someone $300+ to do something that you can do yourself?
Learn the art of bookkeeping. So this all depends on your time and your budget. In the early stages of being self-employed, I made HUGE mistakes. First, I went to someone for help to file my quarterlies, annual report, and general advice. This was a big mistake that ended up costing me time and money. They advised me just to keep a folder with all receipts and have a bank account for the business. Later when I went to file my taxes, I discovered that the person never bothered to file my quarterlies or anything. They told me I could do everything late in one shot and I believed them- this was so stressful. The following year, I paid someone to do my bookkeeping which was a waste of money being that my business was only part-time. The next year, a woman (recommended to me) came to my home and sat with me for a few minutes. I explained to her what I was doing and all she basically did was look at my quarterly and say, "yes, that's correct." A week or so later, I received a bill from her for over $200- what for? You got me! Never again. After that, my last mistake was with another woman who started a bookkeeping business. She asked me to take photos of her and her small staff in exchange for bookkeeping services. What a joke! The woman disappeared and never did an ounce of work for me. After a whole lot of frustration, stress, and tears- I decided to LEARN. I researched different ways to keep organized until I found a way that worked for me. I purchased a spreadsheet set up that was created by a CPA (sorry, if I remembered I'd link it!) and set reminders for my quarterlies. Being in business is a learning process- you're always going to learn something new and make many mistakes. The reason I share my story is so that you don't have to make the same mistakes. So, either hire a reliable professional or learn to manage on your own.
Believe in yourself. Here's the big one. The greatest key to your success will be you. Don't allow imposter syndrome to take over your brain and believe you are that badass girl boss you set out to be. Surround yourself with like-minded individuals, get yourself a mentor, join groups and start manifesting! If there's a desire in your heart to do something outside of the box (or cubicle), there's a great reason for that.
Keep On Learning
I hope these tips help you with your new business venture. Remember, the best thing you can do- with anything in life- is to keep on learning. Evolve and fall in love with the process. Try not to become frustrated, instead take deep breaths and keep on fighting for those dreams, girl