During NYFW I got to interview celebrity makeup artist, James Vincent. ChapStick® is the official cosmetic partner of the Kia Style360 New York Fashion Week shows. James Vincent talked to me about his use of ChapStick® for working his magic on the models.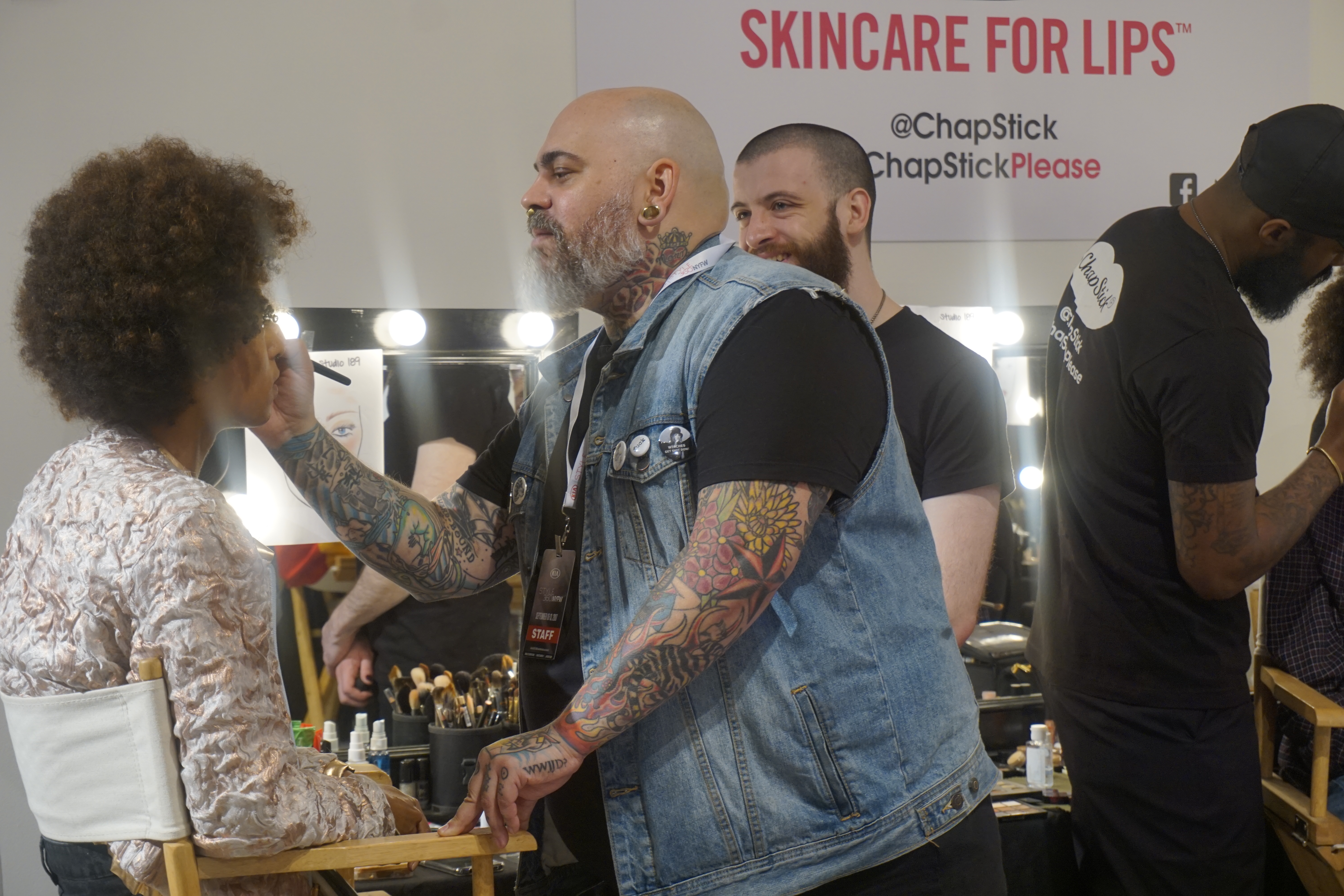 Q&A with James Vincent, Celeb Makeup Artist
JerseyFashionista: Tell us about the looks you created to go with the Studio 189 collection.
JV: What I wanted to do was create a look that brought across the designer's narrative. Working with such beautiful fabric and color, the African prints- it really is about that warmth and that heat but keeping it very new and very modern. So, I am using some of the sheer ChapStick, I'm using colors that bring across warmth, that bring across heat, that bring across luster. I'm working with everything from house reds, to coral blushes based on complexion and skin tone to deliver a flush that feels natural but still has a bit of heat. And what I love about this flush of color is that you can pop it on the lip, pop it right on the cheek and you've got a look that works well for a natural daytime look. We're also pairing that with a bit of shine to elevate that bit of heat that we're providing with the ChapStick and just lift up the cheekbone- a little gloss in the center of the lip and some gloss on the eye. So, it's a very natural look with a natural complexion and I think it feels strong and feminine and sexy without being over the top.
JerseyFashionista: What inspired you?
JV: I'm always very inspired by the designer, not only the clothing in the collection but by their narrative. And I think when you see a designer who's working with such beautiful textures and colors and then cast to show so beautifully with so much diversity and a multitude of skin tones, I love that a pot of good ChapStick will allow me to bring in something that works for everyone. We also have men in the show. And I think just having an ability to make sure that men's lips are looking healthy, that their cheeks are glowing, lips are healthy and we can go in and ensure that they look their best for Spring- that's an easy way to do it. So, my inspiration really comes from the people involved in the show.
JerseyFashionista: How did you incorporate ChapsStick into your looks? Any tips to try it at home?
JV: ChapStick is very easy for me to incorporate because it's something that I use in every makeup application anyway. Traditionally, we've always used ChapsSick to prep the lip and repair the lip. And now, having the ability to exfoliate. I can remove dead skin, stimulate circulation so the skin is healthy. What it allows me to do is I can remove the dead skin with the lip scrub, get rid of everything so that even if you're wearing a lip color or you like something more natural like just a stain of ChapStick, your lips look healthy and flush all day. So, you start with the exfoliator, remove the dead skin, stimulate circulation and then follow up with a little bit of total hydration. That's going to keep moisture on your skin and it's going to keep your lips looking full and plump but also deliver that bit of color and especially for my New Yorkers on the go- or my Jersey girls that run around all the time. You want something easy, you want something you can throw in your bag and just touch up with and I think that effortlessness is a big part of the inspiration for this season.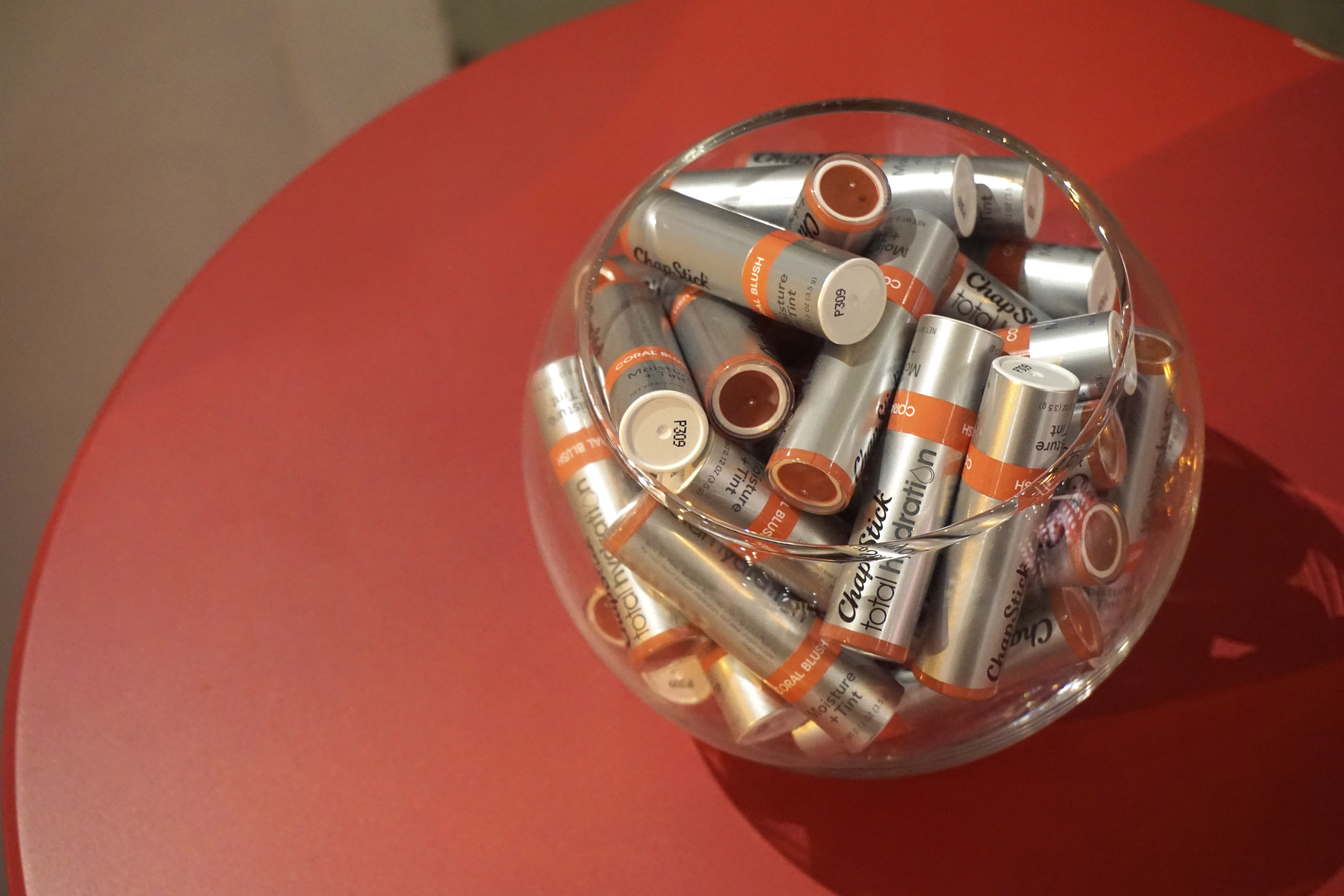 Behind the Scenes is where the magic happens
As always, the runway shows at NYFW are amazing but behind the scenes is where it all comes together. Everything from hair, makeup, wardrobe planning, and more- it's always fun to see how so many talented people work together to execute a successful event. Check out some highlights from the show below 🙂
About STUDIO ONE EIGHTY NINE : Created by Rosario Dawson and Abrima Erwiah, the mission of Studio OneEighty Nine and the idea for Fashion Rising took shape following a trip with V-Day in February 2011, through Kenya, Burundi, and Rwanda to Bukavu in the Democratic Republic of Congo for the opening of the City of Joy.
​

STUDIO ONE EIGHTY NINE

(headquartered in Ghana, West Africa, and USA) is a social enterprise that provides a platform to help promote and curate African and African-inspired content and brands through worldwide distribution and manufacturing of our private label artisan-produced collection as well as through our support of other brands. We focus on empowerment, creating jobs, and supporting education and skills training. The first collection launched on February 14th, 2013 in honor of One Billion Rising.