Toyota is all about going places and making new memories. Recently, my friend Dawn and I were invited to coast the keys with Toyota. It was a fun way to kick off the summer season. From food to beautiful sunsets and water adventures- we did a little bit of everything in just a few days.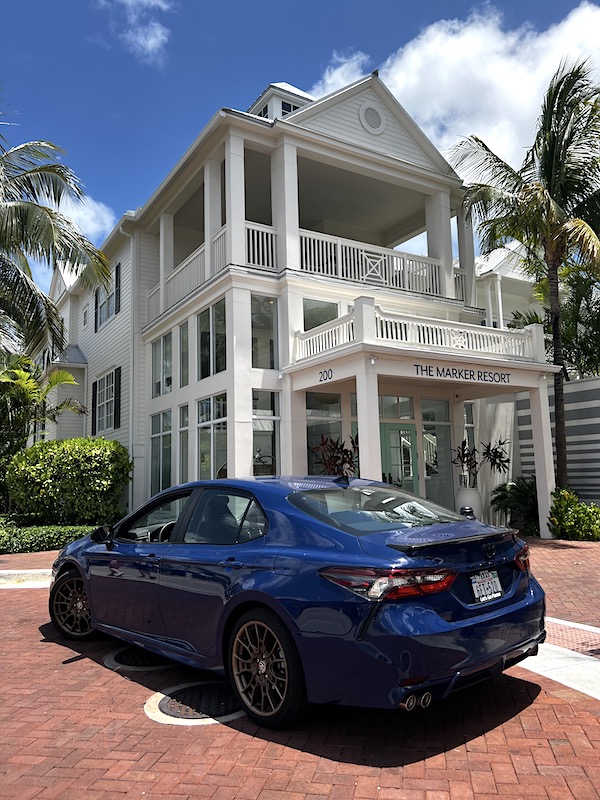 More Reading: Puerto Rico: 5 Free Places to Explore
Talk about taking the scenic route… we drove the legendary 7-mile highway all the way out to Key West.
This was my time driving on this highway and I was a little nervous about it because I heard it was scary (and anything above water scares me really). But I'm happy to report that it was not scary at all! It's a new bridge that's wide and safe to drive on. You can, however, see the old scary-looking bridge that once was there. And not only did we drive on it but we also took a boat ride under it! Sometimes you have to say no to fear and yes to adventure.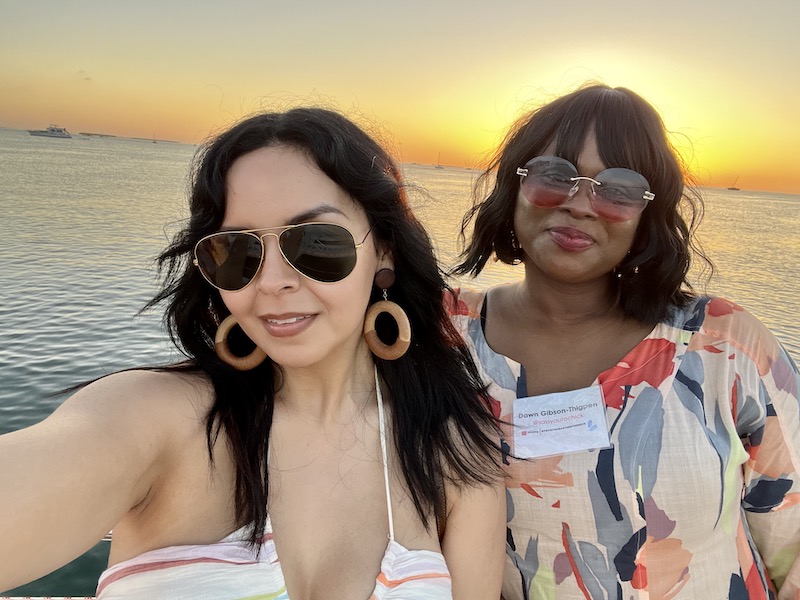 First stop, Key West.
Upon arrival, Toyota welcomed us with a lovely sunset boat ride on the Fury. This is a great way to kick off a trip to Key West as you sail along the water and take in the beautiful sunset. And you'll definitely want to take pictures. Of course, on a boat full of content creators- everyone was capturing all the content- unapologetically. Being surrounded by like-minded creatives was quite refreshing. 
We stayed at The Marker Resort which is in a great central location if you're visiting Key West. Everything is walkable.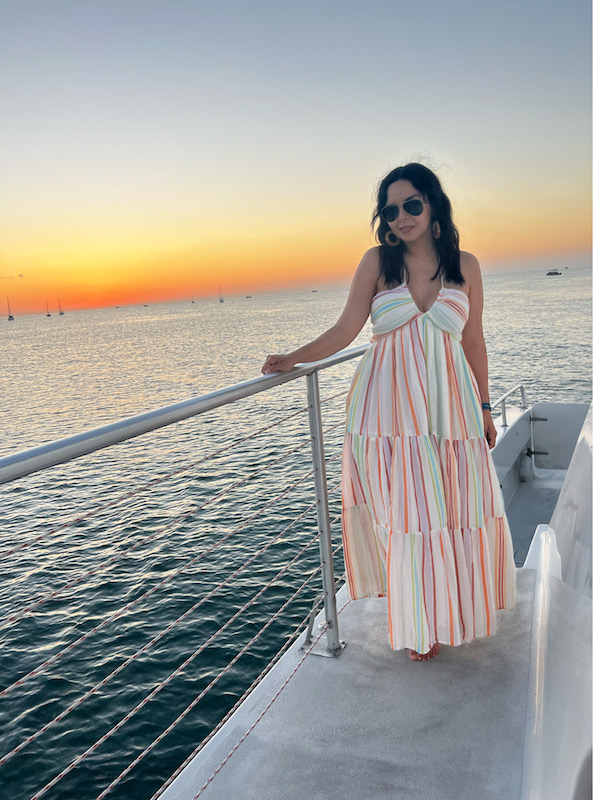 You didn't visit the Florida Keys if you didn't have some Key Lime Pie!
The next day, we visited the Key Lime Pie Co to make our very own key lime pies. I was so excited about this since I love key lime pie! We got to make mini pies and learn about the desserts' origins. Did you know that the key lime pie was made popular by fishermen in the Florida Keys? Of course, their wives perfected the recipe. Unfortunately, they didn't share their 100-year-old recipe with us but I can tell you that it's made using all-natural ingredients, fresh key lime juice, and handmade graham cracker crust. If you're planning a trip to the Keys, a stop here is a must.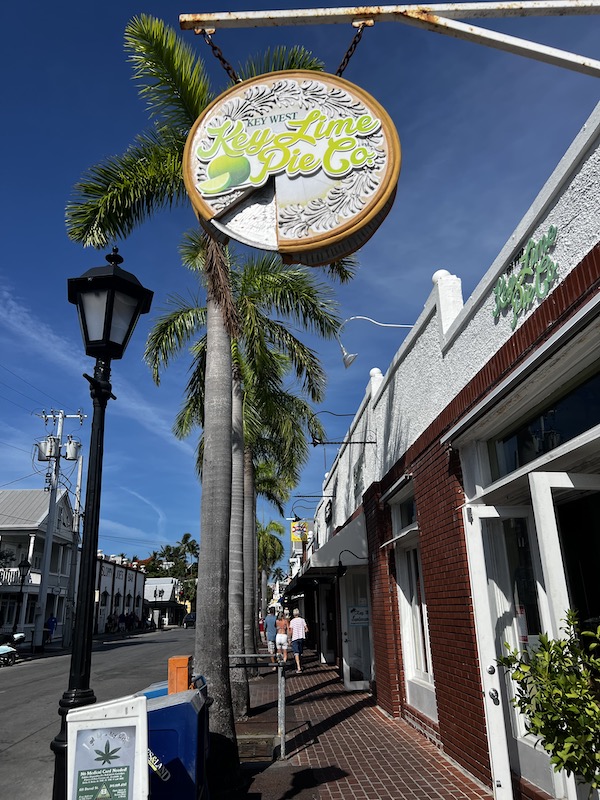 Key West is a walkable city and a pair of Kinos are a must-have when visiting.
While our group waited for our pies to chill, we strolled over to Kino Sandals, a well-known sandal shop in Key West. Kino's makes over 17 styles of sandals using natural leather and rubber soles. The local shop is known for handcrafting sandals that provide comfort, quality, and affordability since 1966. I went with the Ladies Lily (how fitting!) style in White. Once I put these sandals on, I did not want to take them off! They are super comfortable and paired perfectly with every outfit. My only regret is not taking home a few more pairs.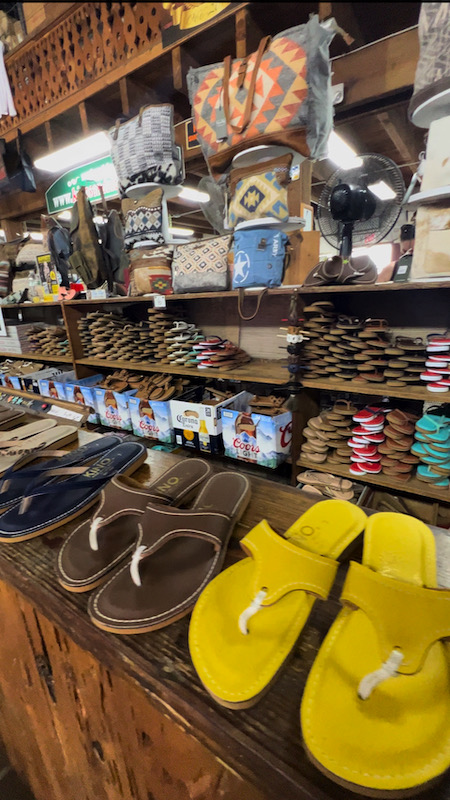 Afterward, we decided to visit the Hemingway House & Museum.
We had extra time and this was a place I always wanted to visit. Thankfully, Dawn was up for it (despite the heat) and we had a great time exploring the Hemingway Home and Museum. This is another must-see if you're visiting Key West. Earnest Hemingway was a legendary American novelist, journalist, and short story author. He produced most of his work between the 1920s-50s. The Hemingway home was once occupied by Hemingway and his second wife, Pauline, and their children. You'll find unique furnishings, antiques, and lots of Hemingway memorabilia. You can also expect to encounter Hemingway's infamous cats, plenty of greenery, a pool (a rare thing for that time), a pet cemetery, and a writing studio. Dawn and I left the Hemingway home feeling so inspired. If you're a creative, I recommend a visit.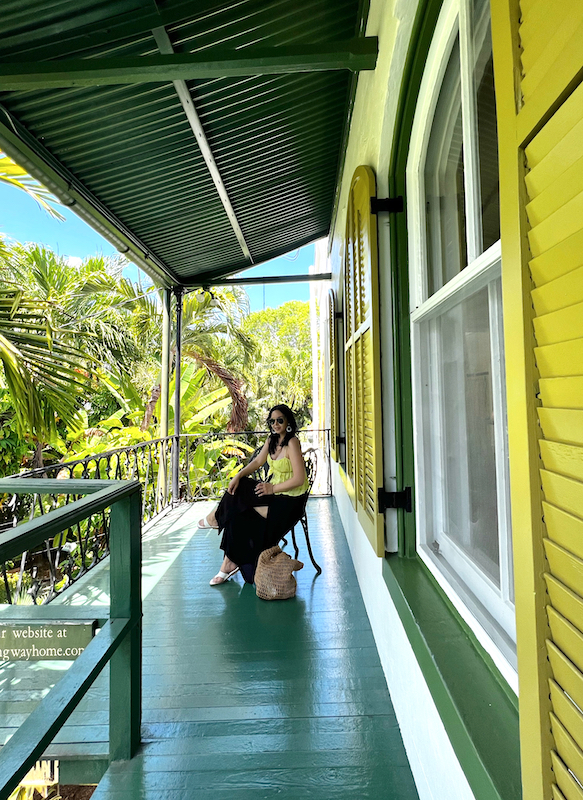 Next, we headed to Marathon, in the heart of the Florida Keys.
After a good time in Key West, it was time to head over to Marathon for some r&r and waterplay the next day. The Toyota Camry was a great choice for the two of us. It fit all of our luggage perfectly and provided a comfortable, smooth ride. When we pulled up to the next resort, we didn't know what to expect.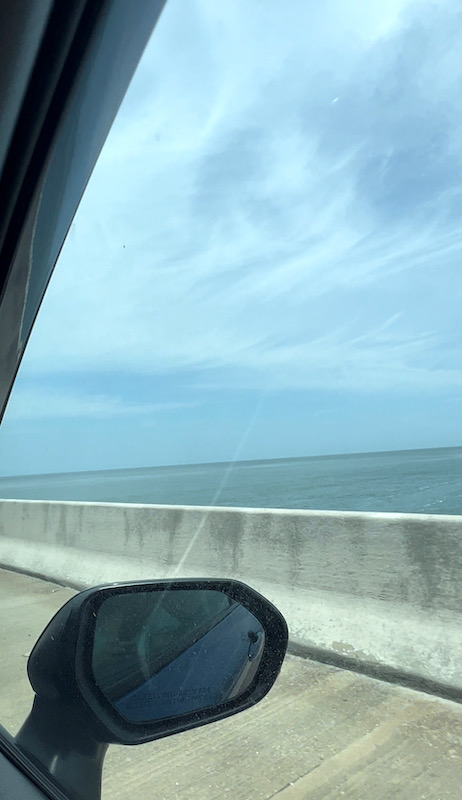 The Isla Bella Resort is absolutely stunning.
As soon as you walk in, you are welcomed with champagne and blue ocean views surrounding the property. The rooms are spacious, with balconies that overlook the water in a beachy chic style. Isa Bella Resort is also filled with amenities and activities for all ages. Aside from the beautiful views and dreamy heated pools and lounge areas on the property, there are lots of fun water activities. You can rent a bicycle, jet skis, parasail, take a sandbar boat, and more. Now, never in a million years did I expect to go parasailing but just like that, we signed up for it. I honestly don't know where my anxiety was hiding out that day. It was so calm and peaceful up there above the water (plus bird eye views of the 7-mile highway) and quite the experience!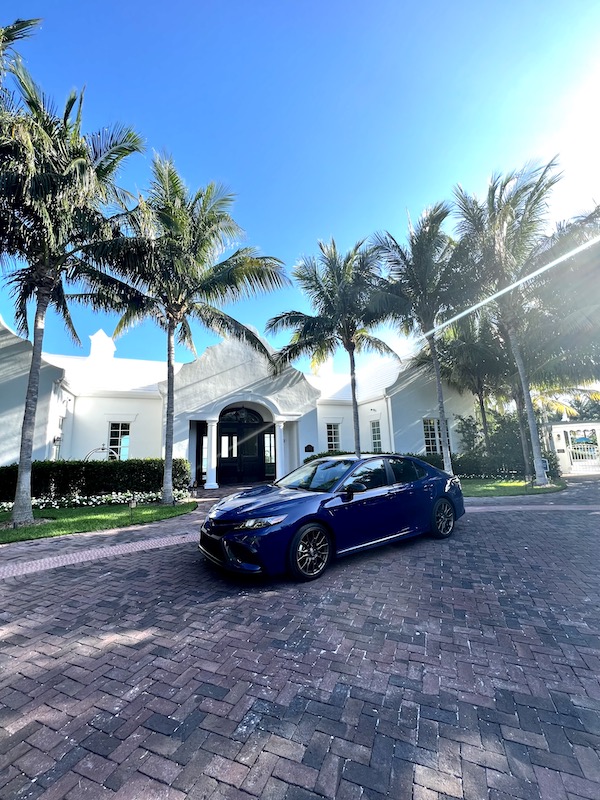 Last stop, Islamorada.
After a fun-filled time at Marathon, we continued on the road to Islamorada. We stayed at the Islander Resort. Our room had a spacious walk-out patio with a path right out to the restaurants and beach area. It was a peaceful, relaxing resort.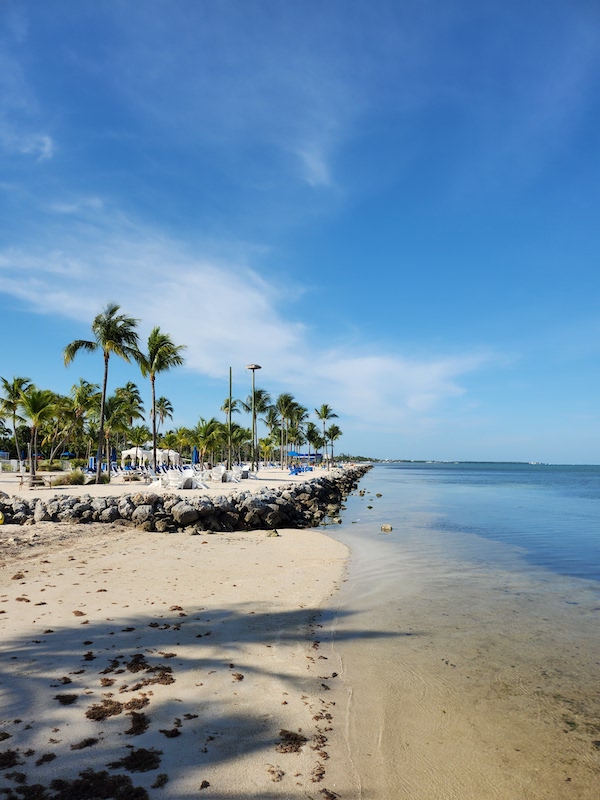 We concluded the trip with a lovely dinner at Pierre's Restaurant at Morada Bay and watched the sunset. The food was delicious and the views were everything. It was the perfect ending to a fun-filled adventure coasting the Keys with Toyota.