Are you ready for another party styling post?! I'm so excited to share this Girl Gang Party Styling with you all. The month of love is right around the corner. Valentine's Day decor is everywhere and you'll be seeing a ton of pink and red. This will either make you ridiculously happy or seriously annoyed. But who needs tradition, right? We're living in a time where it's ok to speak up and girl power is on the rise. Love isn't only for couples. It's totally ok to celebrate friendship with your girl gang. Think brunch with a cute but edgy Valentine's Day theme. Are you in?
To make this girl gang party styling possible, I teamed up with my creative gal pal, Lee (theLVRshop). You may have seen her featured in my other party styling posts on here. We had so much fun coming up with these decorations. I designed some of them and Lee did her paper magic. You can get all of the paper goods from her shop by contacting her 🙂
Girl Gang Party Styling
Start with a banner. Put up a Girl Gang banner to let everyone know what you're celebrating. We added a metallic fringe curtain as a backdrop for the banner. Metallic fringe is fun and photographs beautifully.
No Girl Gang party is complete without- boy tears! We thought it'd be fun to add some boy tears to our table. I designed the art and Lee created the carton. You can get creative and put a wine cooler pouch inside 😉
Add some sweets! Valentine's Day is 80% sweets so don't forget the sugar, ladies! I like champagne gummies by SugarFina.
Fries before Guys. Don't you forget it! How adorable are these fry boxes? Just like the juice cartons- I designed the art and Lee made the paper fry boxes. We added some fries (of course we ate them during and after the shoot).
Cuteness overload! Add items you may already have or shop for things in the pink and red family. We had a lot of the things in the photo but we also made and purchased some, too. Lee made custom confetti and signs with fun sayings to complete the design. Some items are from our favorite section at Tar-gét- the dollar section! Their seasonal items are just perfect for decor. Items such as the socks, paper clips, napkins, and straws are from there.
Invite your girl gang over and enjoy! This is the perfect set up for a brunch or even cocktails with the girls. Just add some booze and pizza 😉 If you have little girls, this set up can be fun, too. Opt for pink lemonade instead of alcohol and have some mommies and daughters over.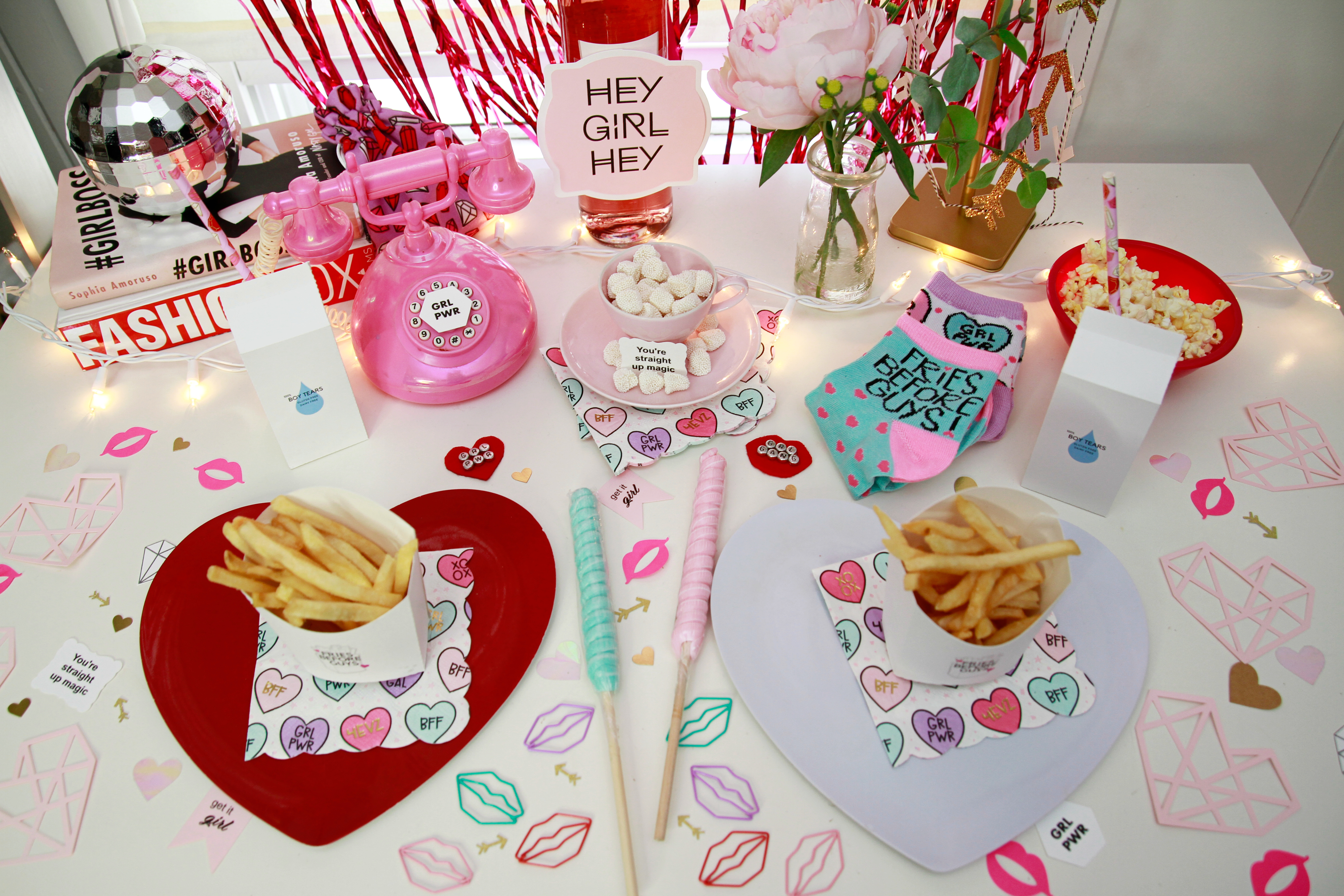 Did you think this was all? There's a fun DIY you can do with your guests! You can check it out here.
And I have a free download set of "Compliment Cards" I designed. Simply print them out (business card paper size) and give one to each friend. Complimenting your girlfriends is powerful. You can change a person's mood and lift their spirits by paying them a simple compliment. If you read through this post- YOU are Magic, my friend!
Download here.