It's been a while since my bedroom got some TLC so I decided to give it a little revamp last week. Ever since we bought the house, I never really got around to adding any art to the walls or putting much thought into the room. Not that it wasn't a pretty space before, it just lacked a few things. The walls were also starting to look dirty and dusty. It was time for a bit of cleaning and redecorating.
Paint It Black
I really had my heart set on a shiplap wall, but then I decided to do that in another part of my home. That would have become a project I just don't have the time for. After painting my bathroom walls "boudoir black" and researching black walls on Google and Pinterest, I felt tempted to try out a dark accent wall. Because it's a small bedroom, I was really afraid of making it look smaller. Thankfully, it did not have this effect. It simply made it stand out and look more elegant. Sometimes a little change is all you need to make a statement.
Painting
For the accent wall, I used "Boudoir Black" by Glidden from The Home Depot. I like that this paint is odorless (but I do not like that I had to apply about 3-4 coats). I used painter's tape to divide the wall from the other walls but truthfully, it wasn't the best solution. If you have a steady hand, use an angled brush as I did.I got way better results doing this.
Once the accent wall was done, it was time to touch up the trim. I always keep a small can of trim paint in the house. It's the same white semi-gloss trim paint (Benjamin Moore) throughout the house. I then realized I needed to give the other walls a fresh coat of paint. They were just looking dirty and in need of freshening up. So, I ran to Lowes the next day as it was on my way. You must be thinking why I use so many different paints! Not planned, promise. And obviously, this post is not sponsored! The answer is convenience. But if I had planned it better, I might have bought all the paint from Benjamin Moore as I have in the past. However, after trying the Sherwin Williams for HGTV paint at Lowes, I'm sold! It's nice and thick and does not require more than 2 coats. The quality is excellent and I recommend it if you're on a budget.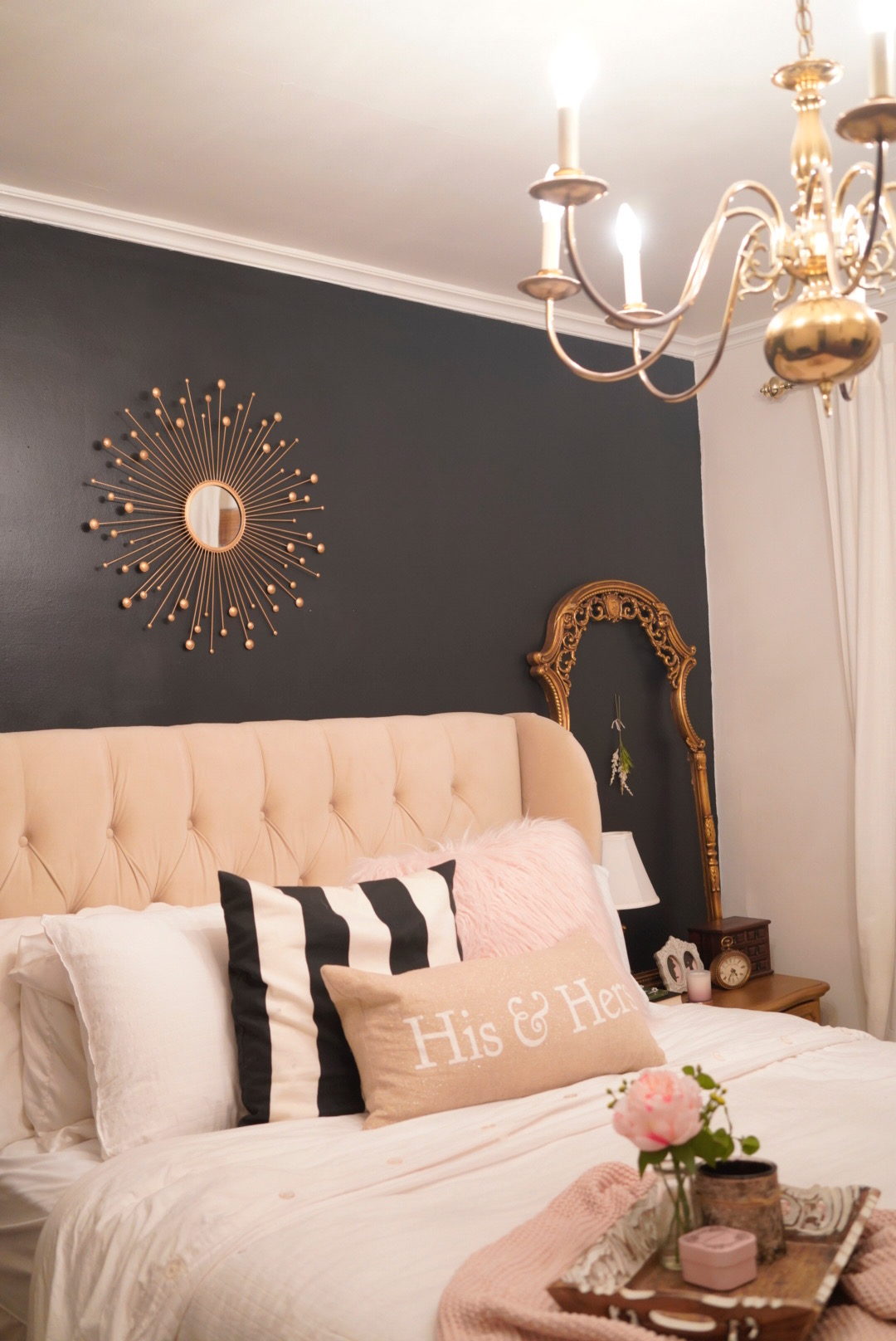 Bedroom Revamp
Enough about the paint, let's discuss the decor. Everything you see pictured is all repurposed. Sometimes, you can "shop your home" before you head out to the stores. I spent under $300 on this bedroom revamp. But I already had some of the supplies. The black paint was left over from the bathroom was used on the accent wall. I also already had trim paint. The only new paint I purchased was the Marshmallow by Sherwin Williams HGTV (Lowes) which cost $35.
---
Costs
Marshmallow by Sherwin Williams HGTV (Lowes) $35
Blush Knit Throw $75+
KOPPANG Dresser (IKEA) $99
Curtains (IKEA-RIVTA) $25
Bamboo Roman Shades $19+
---

Gold pieces against a dark wall always pop.
I decided to paint my nightstand gold. I used Americana Decor paint in metallic gold (which I already had). It was a risk since I wasn't sure how it would come out but I'm glad I did it because I love it! I grabbed an old vintage frame I had in the garage and sat it on top. There was a nail already on the wall so I added a simple upside down wreath. I spray-painted the sunburst mirror in the center gold to match. The other gold mirror I already had in my bedroom.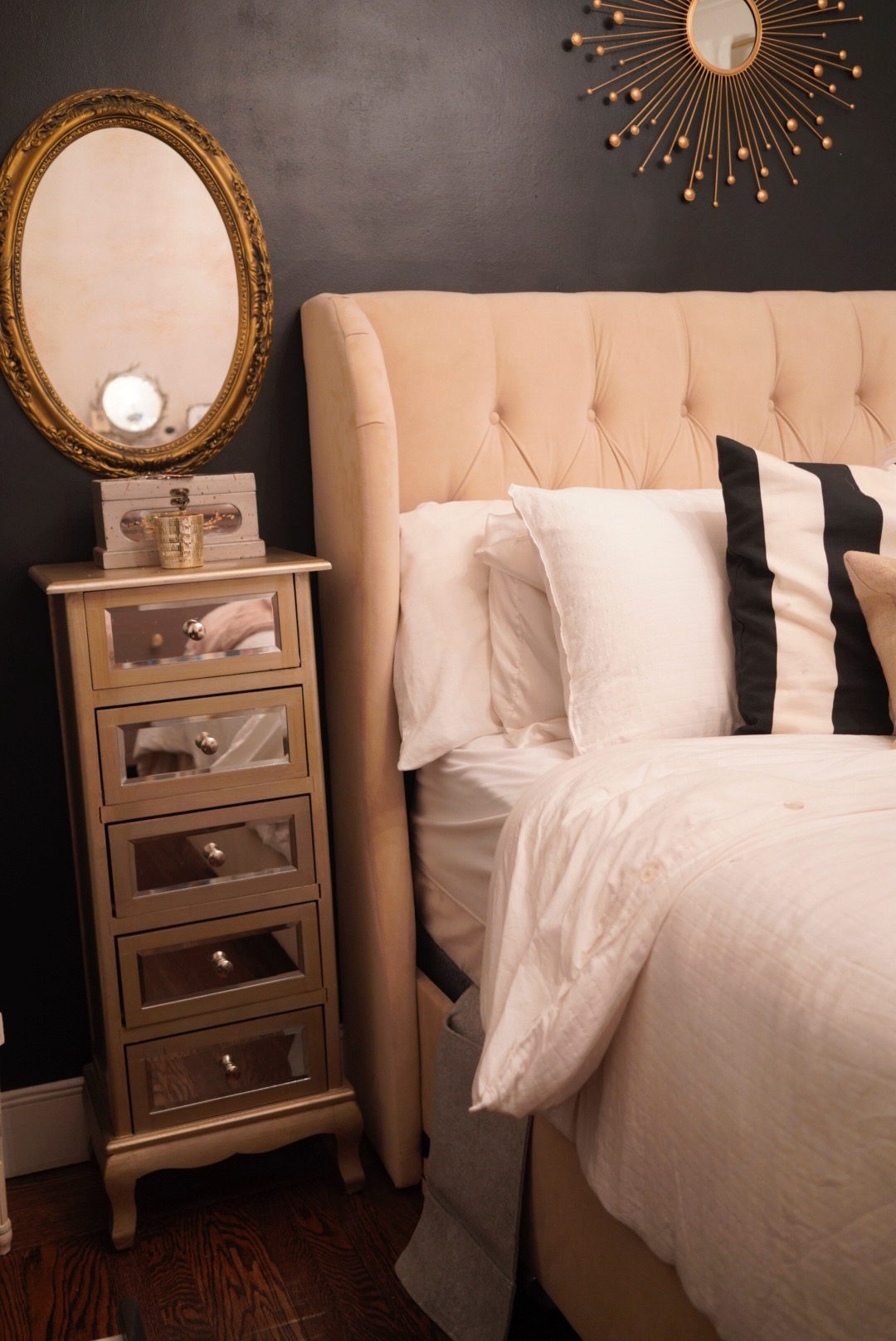 Other Details:
Bedding DKNY
Striped Pillow IKEA
Blush Faux Fur Pillow Marshalls
His & Hers Pillow Home Goods
Wooden Tray, Wooden Candle, Flower Home Goods
Champagne Candle Henri Bendel
Blush Throw IKEA
---
I absolutely love looking into my bedroom now.
It feels new, and cozy, and has all the vintage glam vibes! I have a few more things I want to add like mounting the television onto the wall and creating a frame to conceal it and adding some decor to the smaller dresser. And maybe a small rug to step onto in the morning. I'll be sure to share those updates, too.