Glitter and glam, shimmer and shine, radiate from every inch of this exquisite dress. It is a dress designed to make you feel like an absolute diva, commanding attention and stealing the spotlight wherever you go. With every step, the dress comes alive, a mesmerizing dance of light and color. The silhouette of the dress is a work of art in itself, made to accentuate your curves and flatter your figure.
But it's not just the dress that makes a true diva; it's the way you wear it. As you slip into this breathtaking gown, a sense of empowerment envelops you. The dress becomes an extension of your personality, embodying your inner strength and confidence. You become the epitome of grace and sophistication, effortlessly captivating the attention of everyone in the room. Whether it's a grand gala, a red carpet event, or an evening filled with glitz and glamour, this dress is it, girl. So, if you are ready to take center stage and shine like the star you are, this is THE dress for you.
And it's under $100. 
*Disclosure: I was gifted this dress in exchange for a post. All opinions are true and honest.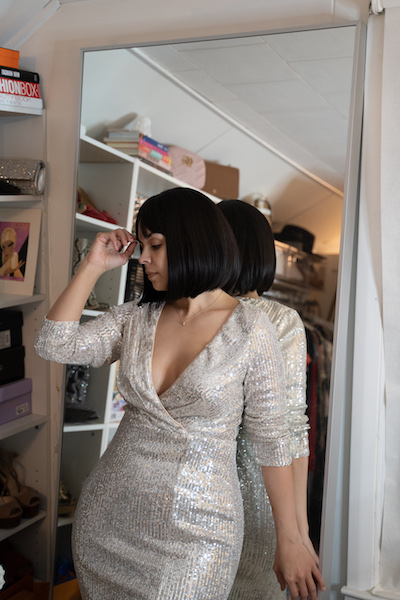 Oh So Shiny! Glitter and Glam!
If there's one material I adore, it's sequins. They're timeless, bold and so much fun. This gown in particular reminded me of grand occasions like a milestone birthday, New Year's Eve, a roaring 20's party, an engagement session, and even prom. It's simply stunning.
More Reading: Ombré Green Mermaid Dress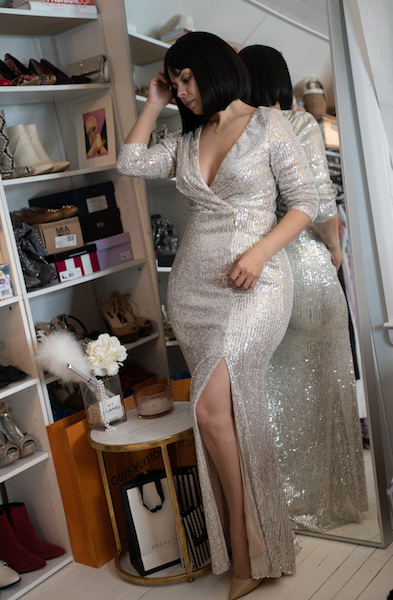 Flattering Cuts that Hug Your Curves
This is a fine choice for ladies with curves. It's got a deep V-neck (faux wrap) top and a high slit. So it hugs your curves and shows off your figure.
Fit & Design
As always, I recommend taking proper measurements and not guessing your size. Ever-Pretty gowns usually fit me very well. If you're unsure about the fit or stretch, I suggest sizing up and getting the dress tailored. It's always easier to tailor when a garment is bigger and not smaller.
Closure: A concealed zipper up the back.
Undergarments: Not Padded, has Lined.
Fabric: Polyester and Nylon.
Stretch: Fabric is Low Stretch.
Use my code to save! 30% off over $50 code: jerseyfashionista30
Shop this gorgeous gown here.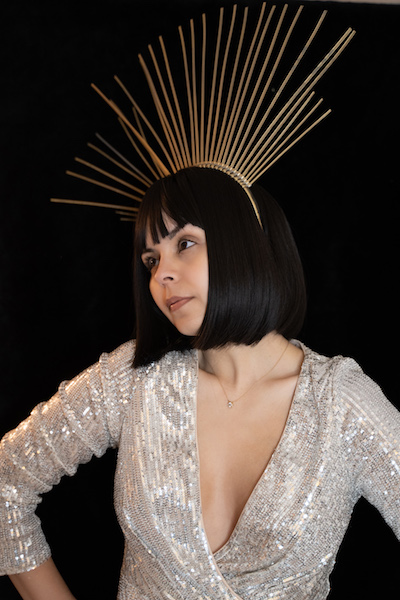 Yessss, Queen!
You really don't need a reason to buy this gown. Because you're a queen and you deserve it? To add a creative element, I made a celestial-style crown and took some creative self-portraits. I posted a short tutorial on Insta Stories in case you're interested. And there's a challenge this month! I'm challenging YOU to get creative with me. Create your own celestial-inspired image and tag me using #creativecoven (for a re-post). Won't you join me? I can't wait to see what you come up with!