There's something about the ocean that's so calming. The sound of the waves, blue skies, even the seagulls lounging by the rocks. While most people head to the beach in the early summer, we like to visit early September, too. It's quiet, not crowded, it's peaceful. (perks of homeschooling and being self-employed) And what do you wear to the beach (aside from swimwear)? A boho maxi dress, of course. ☺️
*Disclosure: I was gifted this dress in exchange for a post. All opinions are true and honest.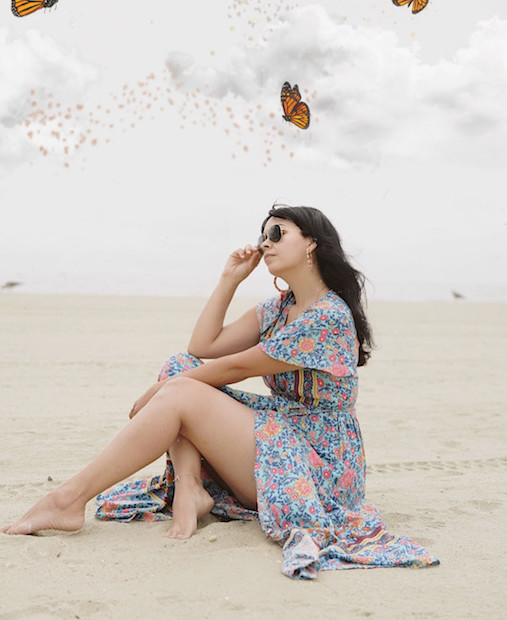 Ok, I will admit that I often daydream of leaving New Jersey. In fact, I did once upon a time. I tried living in Florida for almost 9 months but I felt so homesick (even though I had Mickey), I ended up back home. One day I do hope to return, maybe become a snowbird. But one of my favorite things about living in New Jersey is that everything is about 30-60 minutes away. The city, the countryside, different states and most of all- the Jersey shore. Not anything like the show it's become famous for. You really need to experience it. But I love that I can get in my car and drive to and from the beach in the same day. I can go watch the sun rise and be home for lunch. Not many people can say that.
Boho Maxi Dress: Beach Days at the Jersey Shore
When planning for a beach day, I always like to throw on something easy. Something that I can quickly and easily slip in and out of- discreetly. So when Ever Pretty sent me this beautiful boho maxi dress, I knew it was perfect for days like this.
More Reading: Yellow Floral Dress: Fit for Sunflower Fields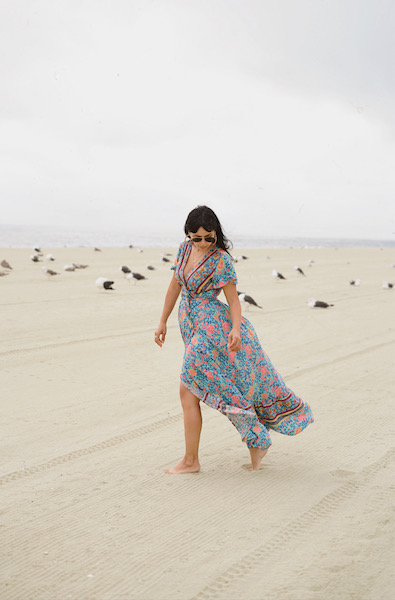 Easy and Comfortable
This dress is so easy to throw on. And that's what I love about dresses- throw it on and you're dressed! This boho maxi dress is perfect for a beach day because you can easily wear a bathing suit underneath. The fact that it's a wrap dress just makes it so easy to slip in and out of it. It also has a light fabric making it great for both summer, spring and fall seasons. With some layering, of course.
Sizing, Fit and Fabric
I'm usually a size Small in dresses. The sizes available are: 4, 6, 8, and 10. I opted for the 6 just to be sure it would fit me. I always prefer something to be a little big rather than small (it's easier to take in). I could have gone down to a 4 but the belt helped to cinch in the waist perfectly. So I think it's safe to say that this particular dress is true to size.
The print is beautiful and the fabric is nice and light. But not see through and it wraps around giving you full coverage. I got many compliments on this dress- and it photographs beautifully, too!
Get this beautiful boho maxi dress here.
***Save 25% off over $50 with code: AP25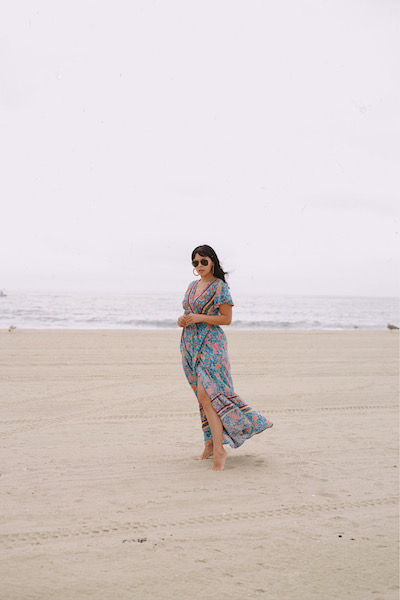 Summer may be coming to an end but we still have until the 21st to enjoy the warm sunny days. How will you be spending yours?