What makes a ladies night out even better? After wine, of course- make up! Makeup classes at Make Up For Ever? Yes please!!!
Last week, I spent some time with some lovely ladies at the Make Up For Ever store, located at the Garden State Westfield Mall in Paramus. We met with two MUFE pro artists who were there to teach us some new tips and tricks for daily makeup application. Bare faced and brave, we headed for the table located in the back of the store.
We each had a set up of a mirrored palette, concealer, primers, brushes, and foundation. Chastity of Glitter Buzz Style, was used as the model for the class and we all followed what the pro artists were doing. It was a lovely evening filled with dishing beauty secrets, learning new techniques (like applying shadows with your finger tips or sculpting), and taking lots of selfies!
Our teachers were great. They shared lots of tips and gave everyone advice on which new shades to try or how to apply foundation a better way, for example. They had great energy – it was as if we were all just girlfriends hanging out!
We could all agree on one thing- makeup is fun and empowering. Ever since I can remember, I have always been enamored by makeup. I remember begging my auntie to do her makeup until she finally gave in- really, she shouldn't have! I made her into a clown that day, but the fact that she allowed me to experiment gave me the confidence to play with makeup. A defined brow frames the face, a winged eye makes you fierce, and a bold lip is never to be messed with. Just saying 😉
Here's a little video with some highlights from our evening:
The Make Up For Ever brand is amazing. I have personally been a fan for years now because of being on camera. They seriously have the best HD foundation for on camera work. I also use other products including the translucent powder, lip liners, mascara and my latest obsession- the Aqua XL liners! So, when I was invited to attend the class, I was very excited. I had also visited this past summer with Chastity and we had such a great time.
We all chose different shades. It's pretty cool to see how each one of us had a different complexion, yet MUFE still had something for everyone. And the end result? Well, see below!
And what ladies night out doe not conclude with a great group selfie?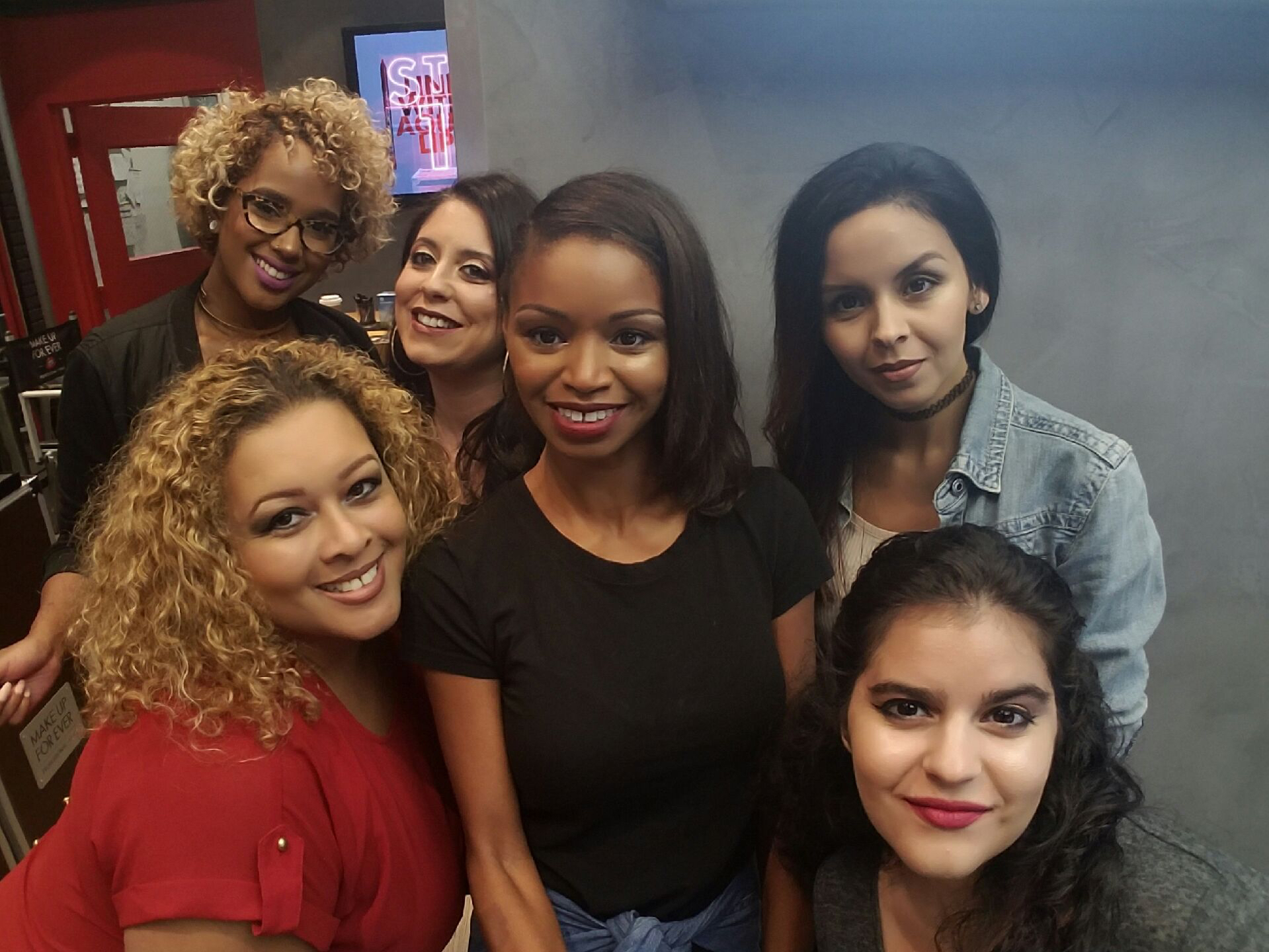 Interested in a group class at Make Up For Ever? See more info here.