*This post is made possible by support from Mean Girls on Broadway. All opinions are my own.
I've been told by my daughter's friends that I'm a cool mom. And not the Mean Girls type of cool mom! So, I did what any cool mom would do and took my teen to see Mean Girls on Broadway.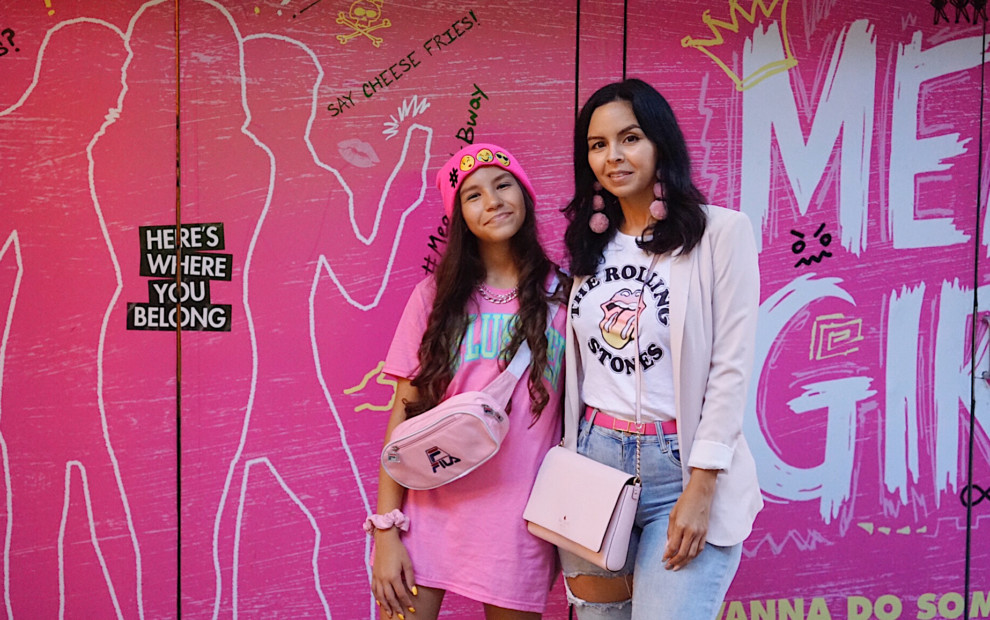 On Wednesdays We Wear Pink
Naturally, my daughter and I planned head to toe pink outfits to go see the show. I mean if you want to be cool and all, you must dress like "The Plastics," right? And when we arrived at the August Wilson theater- everything was pink! I've been to many theaters for shows but this one kept the Mean Girls theme throughout the entire place. Merchandise, the bar, even the bathroom- everything was instagrammable!
Related: Anastasia on Broadway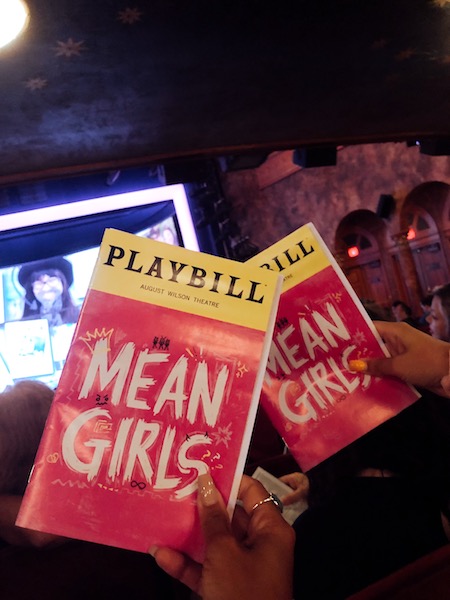 Is the Play the Same as the Show?
Everyone asks this and the answer is- sort of. Fans won't be disappointed as it sticks very closely to the movie script. Tina Fey really brings the film to the stage with this musical comedy. And in case you aren't familiar with the story, it's about high school teens, cliques, fitting in, falling in love and acceptance. And it's especially about the mean girls (and the Queen Bee) in high school. But while it's set in 2004, Fey's version adds in more modern things such as the power of social media (instead of the film's 3-way phone calls). There are humorous references to a certain president, too. So while there are some differences, there are a lot of similarities to the film.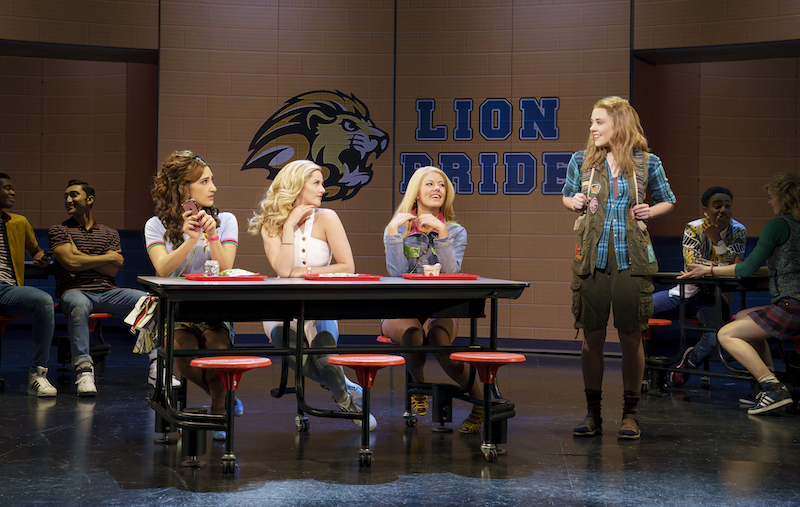 Mean Girls on Broadway is So Fetch!
Cady Heron (Erika Henningson) grew up surrounded by animals but when she gets to high school, she realizes the real jungle is in there. Naturally, the "Plastics" want to adopt her and make her just like them: Mean Girls. And how could she turn down the chance since the only two friends she just made (Janis and Damien) tell her to go for it. At first, it's all fun and games until Cady falls for Regina, alpha of the plastics, ex-boyfriend, Aaron. Once Regina realizes this, her claws come out and Cady plans for revenge to take her down.
What the story shows us is how cliques are in high school, rumors spread, girls get catty when it comes to boys, and everyone wants to be accepted. It's a comical journey of a teen girl trying to figure herself out in high school.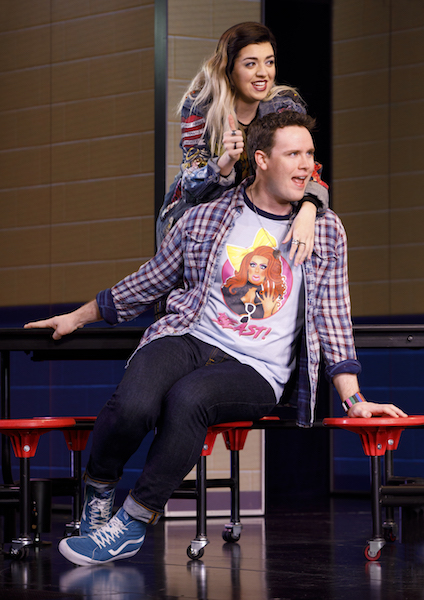 Damien and Janis: the Friends Every Teen Needs
This is the duo that every girl really needs. Damien, a gay best friend who will call you out for making bad choices but still love you when you realize it. And Janis, talented artist friend who really doesn't care about what anyone thinks but isn't afraid to show you how much you mean to her (on canvas).
Damien (Grey Henson) is not only comical but gives some great performances. We especially loved the song, "Stop" which he sings to Cady in a tap number. He tells Cady what every girl needs to hear sometimes. In other words, check yourself, Cady! Janis (Barrett Wilbert Weed) also gets a great song, "I'd Rather Be Me." It's a kickass empowering song that's seriously inspiring. It's about being yourself and not like everyone else and being ok with that.
Aside from that, Mean Girls on Broadway has such a talented cast. Ms. Norbury (aka "the pusher") does a solid Tina Fey impression and has some pipes on her, too! And let's not forget Regina George (Reneé Rapp) and the Plastics. Regina has an amazing voice and her crew is just hilarious.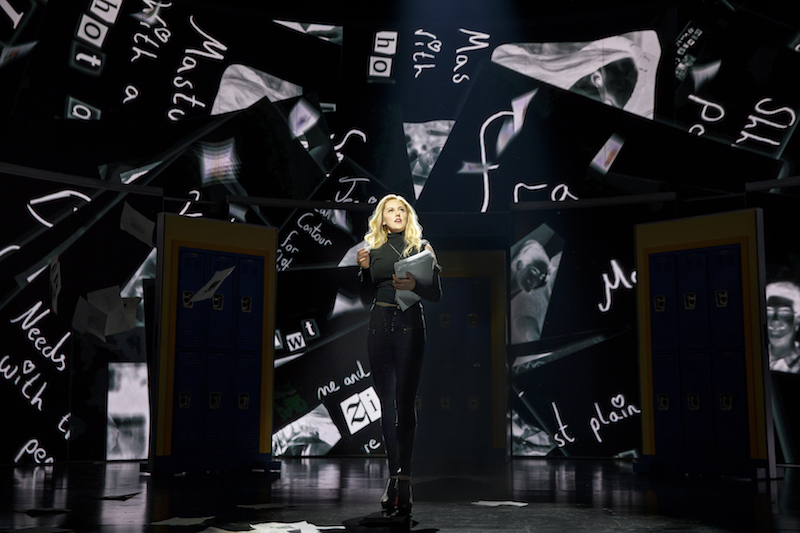 Empowering Messages
One of my favorite things about the show was how it had a lot of empowering messages. For example, treating women right or teaching girls to quit the whole girl on girl war, and Janis's song about being herself. And in the end, Cady sharing her Prom Queen crown and saying positive things about other girls. Even Regina is empowering when she tells Cady never to apologize for being a boss. I think it sends a very empowering message to teens (and women) watching.
What You Should Know About Mean Girls on Broadway
The Mean Girls book is by Tina Fey, Music by Jeff Richmond, Lyrics by Nell Benjamin, Directed & Choreographed by Casey Nicholaw
What's it rated? Recommend for ages 10+. Includes some mature content- it really depends on what you're okay with as a parent! Be prepared for a few sexual references and bad language.
How long is the show? 2 hours, 30 minutes (1 intermission)
What theater? August Wilson Theatre
What should you wear? Pink, duh. (not required)
Ready to go see the show? Here's a discount code: MGBWAY. It's valid for tickets starting as low as $59 performances September 17 – November 24.
*Don't forget, October 3rd is National Mean Girls day! It's the perfect way to celebrate 🙂
Cool Moms: want to make it a ladies night out and need a sitter? Offer: Your sitter search made simple. Join Sittercity and easily connect to local sitters. Join today and save 50% on a monthly membership.
To Redeem: Click the Sittercity link provided and follow the steps to create a new account or login from the homepage. Click "Upgrade" then select the 1-month Premium Membership option that shows the discounted rate of $17.50. Follow the steps to process payment for your new Sittercity membership. Discount offer is only valid for the first monthly payment cycle. Subscriptions are non-refundable and automatically renew at the original monthly subscription rate of $35 per month until canceled by changing your account settings or contacting us here. Offer is good for new Premium subscribers only.