*Disclaimer- I was provided with beauty services in exchange for an honest review. All opinions are my own. 
Thanks to the '90s, I may have over tweezed my brows a bit. I mean, thinner brows were in so naturally, I kept up with the trend. Fast forward, thicker more defined brows are in and I have to shade and fill in. That was until recently when I was offered the opportunity to change that. In this post, I'm sharing my Phi Brow experience from beginning to end- plus I'll update you in 30 days when it's time to touch up.
Pre Care
Before coming in, I was in touch with Clara, owner of Modern Beauty Studio in Warren, NJ. I asked Clara some general questions about the procedure and did some research of my own. I found that many women were very happy with their results, so I was excited to give microblading a try.
Clara asked me to come in wearing my brow makeup. She explained that the procedure takes about 2-3 hours. The brow mapping takes the longest because the artist has to come up with a design and you have to approve it. I also read somewhere that you should avoid caffeine for a few days before any microblading so I did this to avoid heavy bleeding.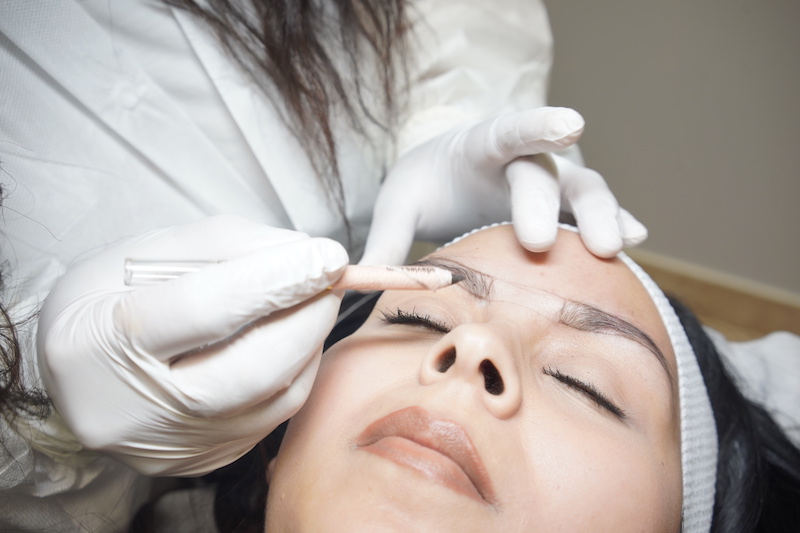 Brow Mapping
The longest part of the microblading process is brow mapping. The artist takes the time to measure you and find the right design for your brows. This part is super important because these brows will be with you for a long time. A good artist will make sure you are both happy with the design.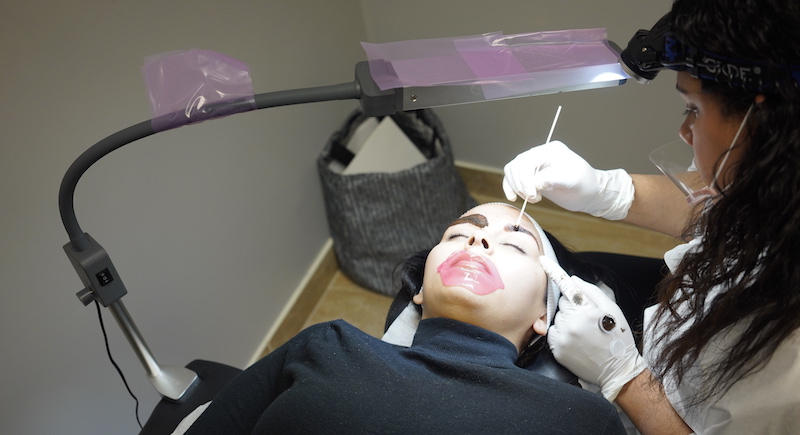 Did it Hurt? 
When I arrived at Modern Beauty Studio, I admit I was feeling a tad nervous. The thought of tiny slices being made on my brows made me have second thoughts. But Clara made me feel at ease. She walked me through the steps and told me what to expect. She even shared that she did her own brows to see what her clients went through. Her passion for what she does is very evident.
There were times where I feel a little sting but it wasn't unbearable. If you have a low tolerance for pain, simply ask for extra numbing cream. I didn't feel anything with the numbing cream on. I did hear the tiny cuts being made which was probably more annoying. Beauty is pain though, isn't it?

#BrowsOnFleek
If you are a brow shader or penciler, you know the joys of filling in your brows. It's a hit or miss on the daily. With microblading, you won't have to worry about that. You will wake up with beautiful brows every day. This is great for saving time, even money on beauty products.
What is Phi Brow?
When I shared stories on Instagram and mentioned "Phi Brow" many people asked me what that was. Naturally, I asked the expert to elaborate.
According to Clara, "What differentiates PhiBrows from other certifications is that the PhiBrows pattern is the most hyper-realistic in the market. To better explain it, Phi implements smaller strokes that replicate real hair. Other brands prefer long single strokes (if you focus on your brow, no one has a long single strand. Your eyebrows are made up of individual smaller hairs that connect and form your brow). With Phi Brow, you also get amazing patterns and every client is designed individually. The designs are based on the client's facial structure and we do not use sticky rulers to give clients what we call a one size fits all brow."
You can find more info here.
Post Care
After Clara finished my brows, she explained how I'd need to care for them. The aftercare is super important as it determines the results of your brows.
1st hour- pat dry with a clean tissue repeatedly.
Days 1-3- wash with neutral soap 3 times a day and apply a very thin layer of balm (found in your aftercare package).
Days 4-7- was twice daily with neutral soap and apply balm a minimum of 2 times as needed for dryness.
After day 7- wash normally and apply balm in the evening or as many times as needed for dryness.
As you can tell, aftercare is very important and takes time. If microblading is something you want to do, be sure to take very special care. After all, you are investing in your brows, right?
After 7 Days
The healing process wasn't too bad. The first few days, my brows were pretty dark but they did not look bad. It was odd washing, drying and applying balm. I was a bit paranoid about messing something up or infecting myself (overthinker problems). By the fourth day, I was seeing patchy dry areas and little tiny things would come off onto the tissue when patting dry. Again, I freaked out. But my phi brow artist Clara was great at keeping in touch and answering my questions. She ensured me this was all normal.
I kept a digital brow diary every couple of days throughout the healing process. See below.
Day 1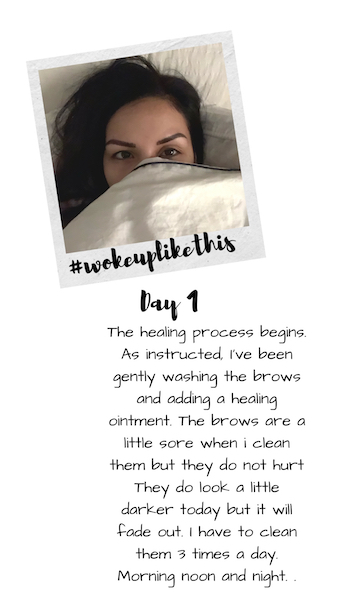 Day 4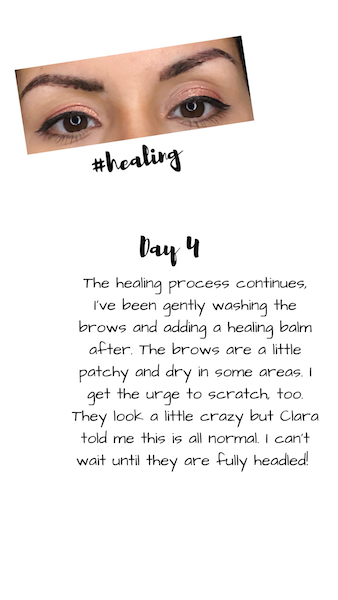 Day 7

That's all I've got for you guys for now! I am supposed to have a touch up in a couple of weeks. I will keep you posted in a follow-up post after the touch-up!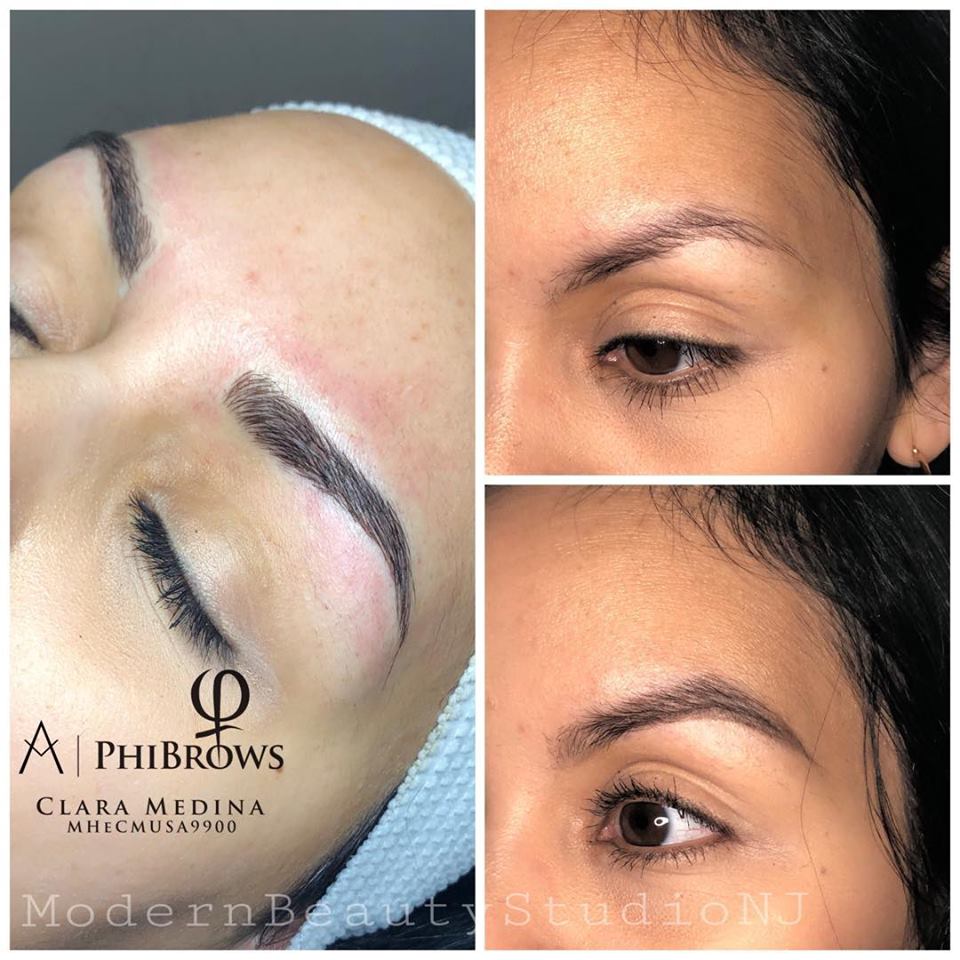 Connect with Modern Beauty Studio here.