Hooray! Spring break is here! This year, we decided to book a family trip. We don't always go away for Spring break to avoid all the crowds but this year, my daughter's break was later than usual. This means fewer crowds, cheaper flights, and warmer weather. Plus, she's now 12 so I thought this was a great age to revisit one of our favorite places- Disney!
Disney or Bust!
We both love Disney and comic related things, so we were pretty excited. We also planned to visit Universal Studios and the Kennedy Space Center. It's a busy break but well worth it. I've been to the parks before and always remember some essential things to pack in my backpack when visiting which I wanted to share. In case you're planning a visit, these packing tips for Disney can help save you some time and money.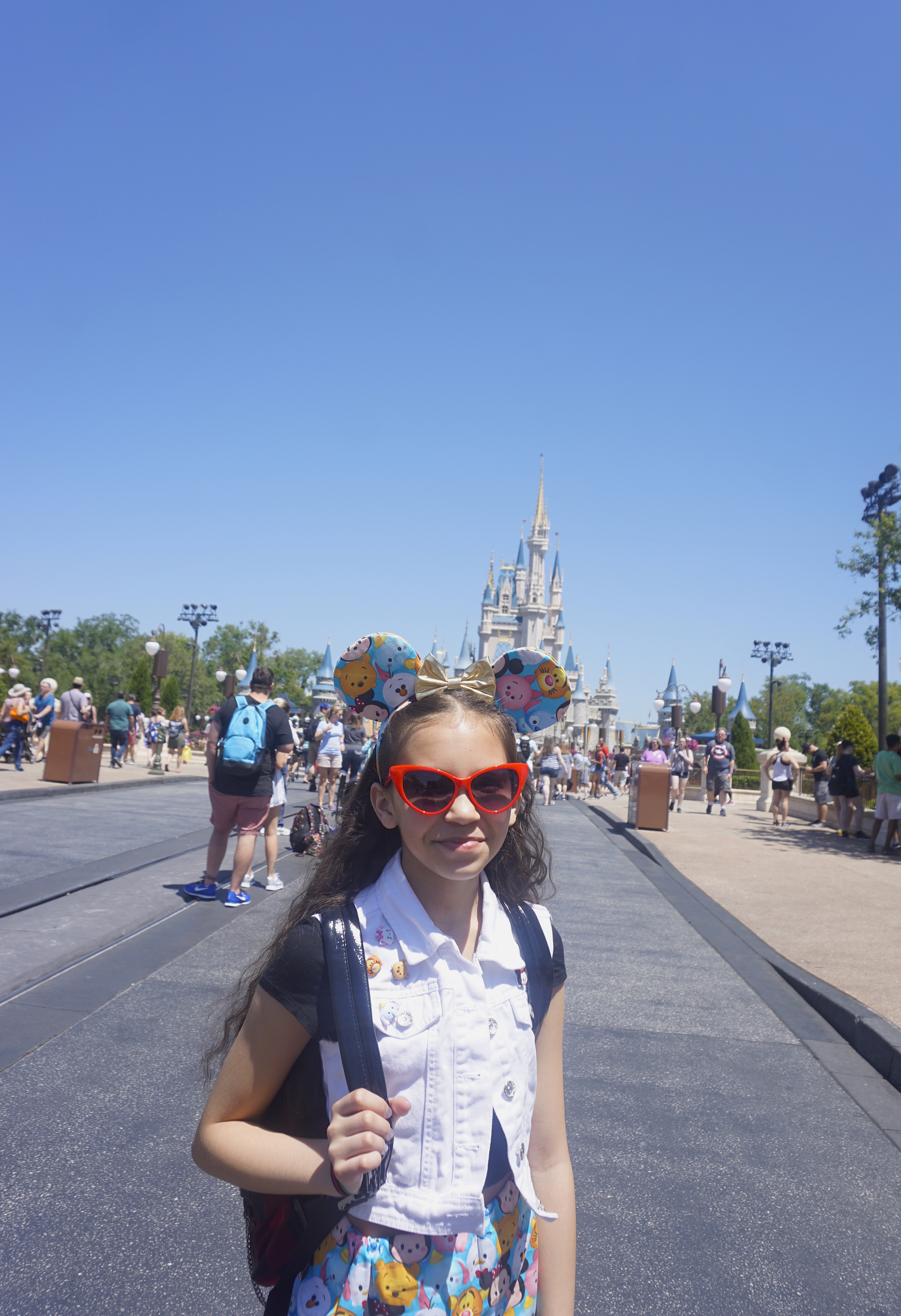 Packing Tips for Disney
Ponchos- I purchase our ponchos at the dollar store. Since Florida has tropical weather, it tends to rain here and there. When this happens, everyone runs to the carts and buys ponchos- if I remember correctly, a disposable poncho can cost you about $15 and if you have a big family that can add up quickly. Buy ahead and save the money for something better…like dessert?
Travel Sized Sunscreen- Disney will pretty much carry all of these things but if you plan ahead, you will save time from going to the shops. I purchase a travel size sunscreen and keep it in my backpack.
Fan- It can get hot in the parks. They do sell these water bottles with a fan that helps keep you cool. I have bought one in the past so I may bring it with me but I also like the smaller cool mist fans sold on Amazon. Small and easy to carry. Plus the fans the parks sell are about $20+
Comfortable shoes! Do not go to the park in flip flops, you'll regret it. Wear a comfortable pair of walking shoes or sneakers and if you like, carry a pair of flip-flops in a backpack in case you want to change. You will walk a lot and you definitely don't want to be in pain all day.
Sunnies or a Hat- When visiting the parks, you want to get there early to enjoy as much as you can. The sun is strong during the morning hours, so you will want some protection aside from sunscreen. I always wear sunnies to protect my eyes. A hat will also protect your eyes and scalp from the sun.
Freshen up- I always make sure to carry things like deodorant and body wipes. Again, it gets hot. If you don't like to be sticky or smelly, be sure to pack these things so you (and the family) can freshen up in the restroom. You can also carry a microfiber towel to keep cool.
Camera- Memories are best captured, right? Make sure to pack your camera (or cel) and extra batteries and a charger.
Tech accessories- phone chargers, battery packs… you know, your lifeline lol
 Hand sanitizer- Germs are everywhere, be safe.
Water shoes- If you plan on hitting any water rides or parks, they will come in handy.
Sweat Resistant Clothing- If you have any sweat resistant clothing, wear it. A tank top, shorts (even great under your dress).
Backpacks- My daughter is a tween which means she can carry her own things. Inside her backpack, I pack the following:  tissues, wipes, a poncho, an extra tee and leggings, cell battery pack and cord, sunglasses, sunblock, lip balm, and hand sanitizer. I also throw in a light snack. These are all very lightweight items that can easily fit into a small backpack. In my own back, the pack I carry the same items plus my camera and extra batteries. Dad also carries a backpack with a towel and snacks 🙂
That about sums up my list of packing tips for Disney. I hope you found it helpful. If you have any tips, please share below!
Happy packing!