Looking for sustainable luxury in a new car? Yes, it's a thing. Meet the Volvo C40 ReCharge, Volvo's first all electric SUV. Oh, and she's pretty fancy. I got to drive the C40 ReCharge for a week and here's what I loved about this luxury crossover SUV.
More reading: Test Drive: Heels & Wheels 2022
Note: I was provided this car for editorial/ testing purposes. All opinions are true and honest.
Here are 5 things I loved about the C40 Recharge…
Super quiet cabin. I loved how quiet the battery and cabin were. Aside from that, the ride was so smooth I forgot about all the potholes on New Jersey roads.
Eco-friendly interior design- the interior pairs nicely with its exterior blue color. Blue carpeting and stitching- and vegan. There is NO leather in the interior of the C40 ReCharge.
The Fjord Blue color is everything!
Picks up speed nice and fast (and still quietly).
Perfect size for petite girls like me (5'4)- though taller folks may disagree.
Bonus- the Harman Kardon speaker system is NICE!
More Reading: Road Trip Essentials: What to Pack Before You Hit the Road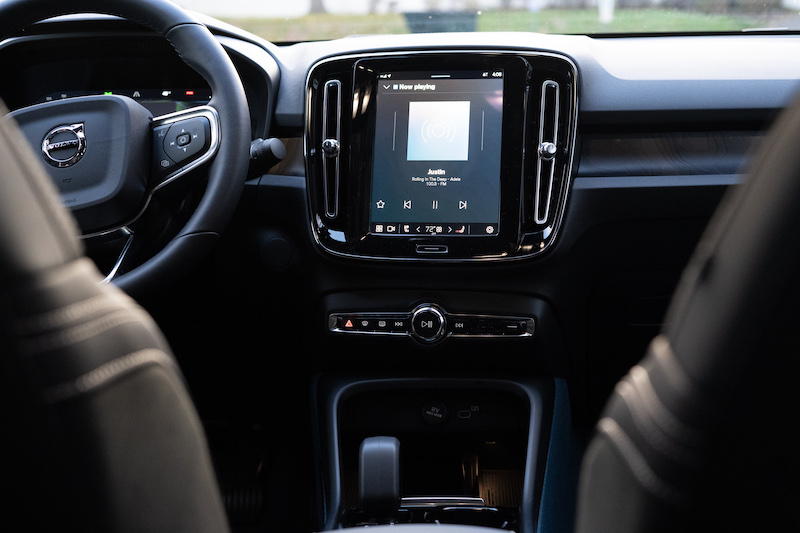 Check out the Volvo C4o ReCharge Specs
Starting at $55,300+
Dual electric permanent magnet synchron front and rear motors
Automatic
402 horsepower
487 lb ft Torque
0-60 in 4.5 seconds
220 mile range
Built in Google (Just say, "Hey Google…")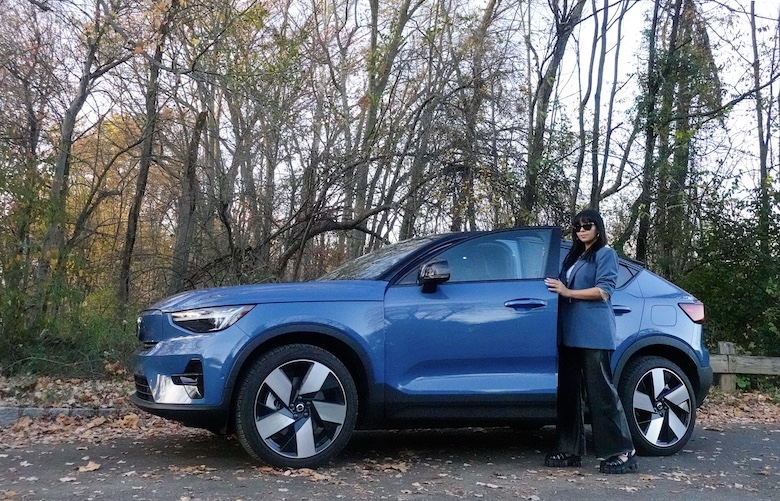 The C40 ReCharge is Volvo's first pure electric SUV.
It was thoughtfully designed from the inside out. Upon entering the vehicle, there's no push start button. You simply step on the brake get into gear. The C40 ReCharge has a fixed panoramic roof with laminated, tinted glass that provides protection from glare and UV radiation. It's got an advanced air purifier system prevents up to 80 percent of hazardous PM 2.5 particles entering the cabin. The all electric crossover SUV has a contemporary design with vegan material interior. In fact, the carpets are made of recycled plastic bottles. How cool is that?
Overall I really enjoyed my experience driving the Volvo C40 ReCharge.
Everything from the color, smooth ride, design and tech. There's a lot I really liked about this car. If you're in the market for a luxury, all electric SUV, the Volvo C40 ReCharge does not disappoint.