As soon as I step inside the luxurious cabin of the 2022 Jeep Grand Cherokee 4xe (Summit Reserve), I am instantly captivated by the perfect blend of cutting-edge technology, unparalleled comfort, and exquisite luxury design. This latest version of the Grand Cherokee has been meticulously redesigned to exceed all expectations, and it proudly boasts the title of being the first-ever hybrid plug-in hybrid with exceptional off-roading capabilities. For all the sophisticated and adventurous ladies out there, the 2022 Jeep Grand Cherokee 4xe is an absolute dream come true.
As I power her up, the sheer power and force of the engine reverberates through my entire being, leaving no doubt that I am in the presence of a true beast.
But an elegant one. It's not just the raw power that sets the 2022 Jeep Grand Cherokee 4xe apart; it's the seamless integration of state-of-the-art technology that enhances every aspect of the driving experience. From the moment I settle into the plush leather seats, I am greeted by an intuitive infotainment system that effortlessly connects me to the world around me. With just a touch, I can access a myriad of features, including navigation, entertainment, and even vital vehicle information.
More Reading: 2020 Fiat 500 X Sport: a Pure Joy Ride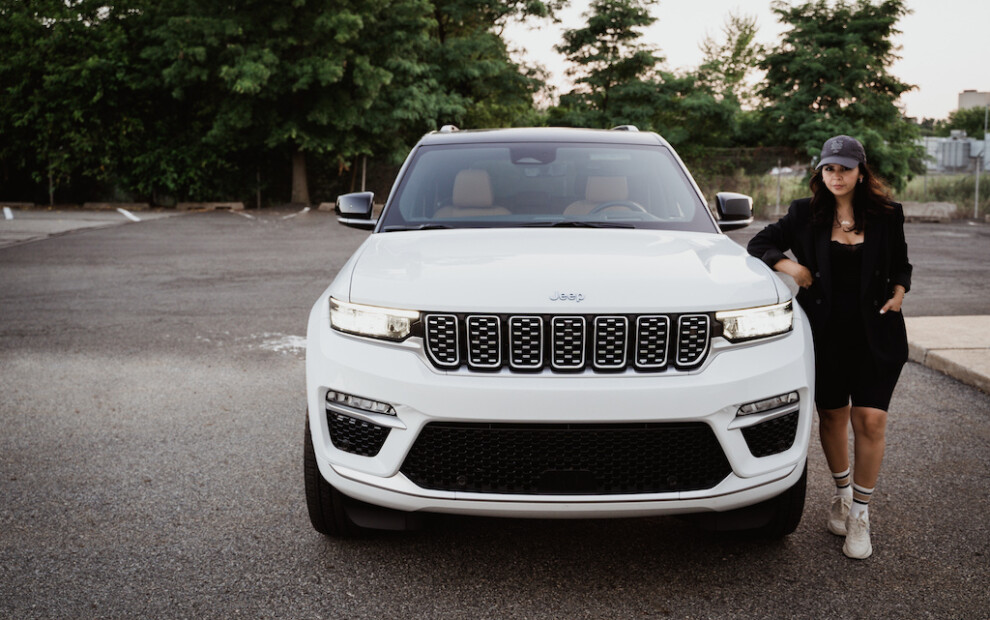 One thing I like to do when test-driving a new vehicle is running some ordinary errands.
Why? So I can get a real feel of what it would be like to own the car. Can I comfortably pick up groceries, take my kid to golf, or do a Target run? This is important to so many women especially since we spend a lot of time in our cars getting things done. I always look for comfort, luxury, and practicality. I can gladly report that the Jeep Grand Cherokee 4xE has ALL three.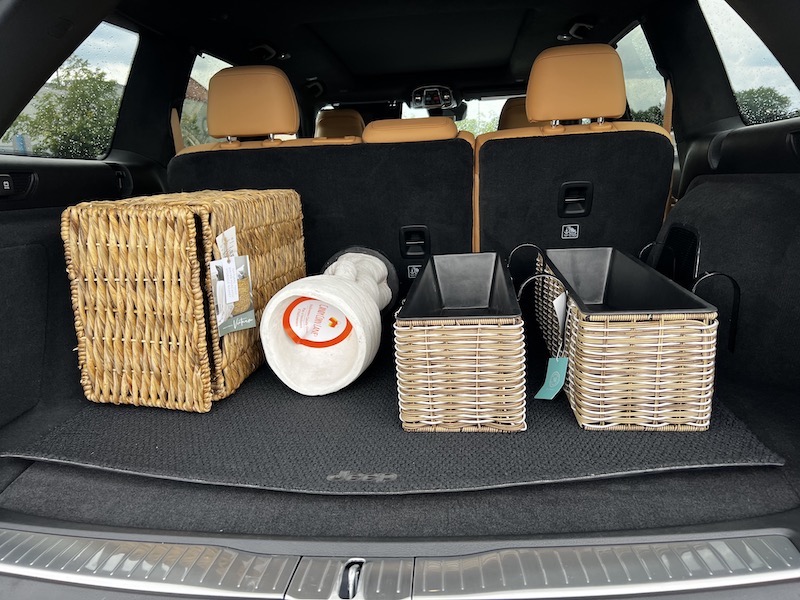 Even a trip to Home Goods feels like an adventure.
Of course, I had to put the trunk space to the test. It sure is a generous space. Once the backseat is folded down, the Grand Cherokee gives you over 70 cubic feet of space. Just imagine all the goods you can pack in there!
More Reading: Fall Road Trips: Essentials to Pack Before You Hit the Road
The Grand Cherokee 4xe is not just about indulgence; it's also a leader in sustainability.
Its hybrid powertrain combines a turbocharged engine with an electric motor, offering impressive fuel efficiency without compromising on performance. With the ability to drive on electric power alone for a significant distance, I can minimize my carbon footprint and contribute to a greener future while still enjoying a nice drive. In conclusion, the 2022 Jeep Grand Cherokee 4xe (Summit Reserve) is a testament to the perfect fusion of technology, comfort, and luxury design. You can tell it's an EV by the blue accents which compliment its classic look nicely. You get up to 26 electric miles to run on. Once they're up, the car switches to hybrid mode. I drove this car for a little over one week and it remained nearly full which was impressive.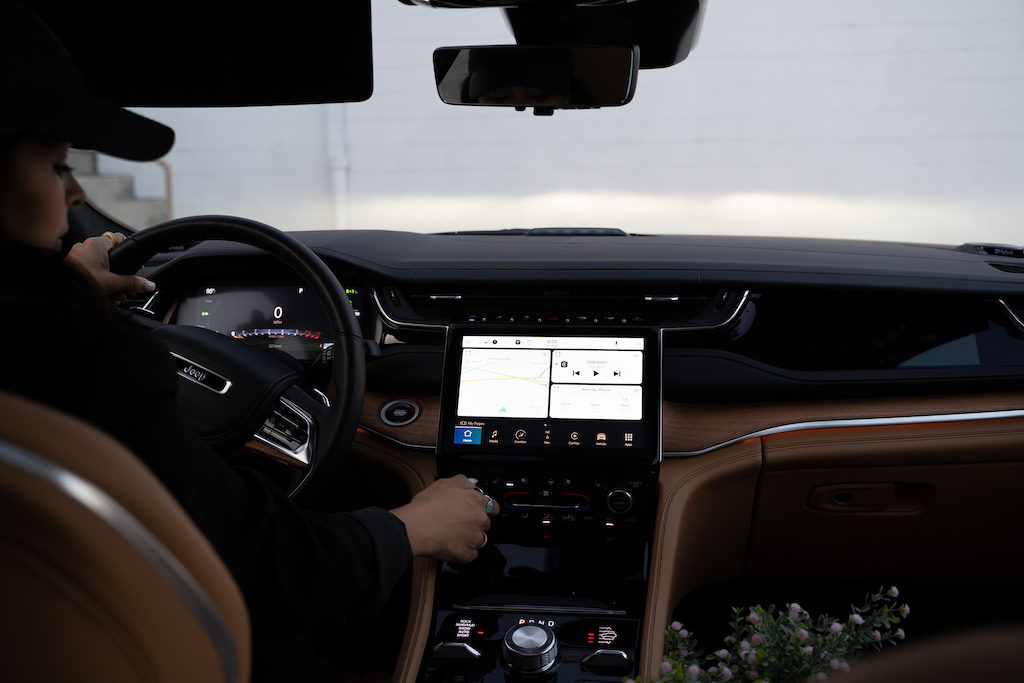 Safety is paramount, and the Grand Cherokee 4xe leaves no stone unturned in this regard.
With a comprehensive suite of advanced driver-assistance systems, I can confidently navigate through busy streets and challenging terrains, knowing that I am protected. From blind-spot monitoring to adaptive cruise control, the Grand Cherokee 4xe becomes a reliable companion, offering peace of mind. The attention to detail in the design of the 2022 Jeep Grand Cherokee 4xe is truly remarkable. Every curve and contour has been meticulously crafted to exude elegance and sophistication. The aerodynamic lines seamlessly blend with the iconic seven-slot grille, creating a commanding presence on the road that turns heads wherever I go. The interior consists of high-quality materials, ambient lighting, and ample legroom that envelops me in a world of opulence and comfort.
A beautiful interior that is fully loaded.
Inside you'll get pampered with soft, luxurious Palermo leather seats (ventilated with heating and cooling) and door trim. A high-performance 19-speaker sound system by McIntosh provides a beautiful, crisp quality to your listening experience (inside a quiet cabin). At night, ambient lighting is found throughout the car, giving passengers a more pleasant experience. Even the front-seat passenger gets their own interactive display. The Jeep Grand Cherokee seats 5 comfortably and spaciously. If you're a mama, this vehicle is a great option. No need to sacrifice style for space here.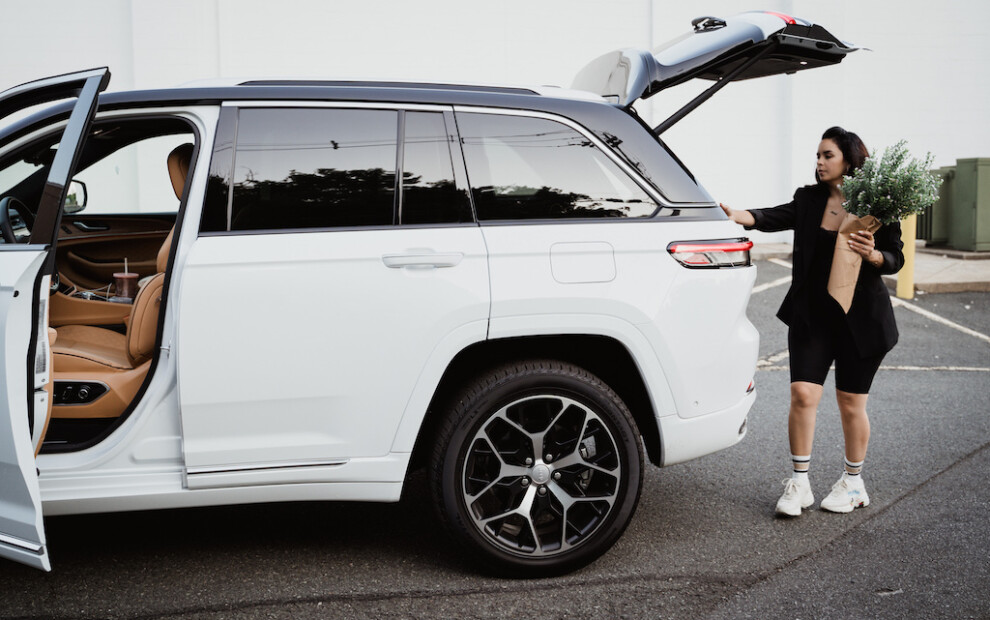 2022 Jeep Grand Cherokee 4xE Specs
Engine 2.0L I-4 Turbo PHEV Engine
Horsepower: 375 hp
Torque: 470 lb-ft.
Transmission: 8-speed PHEV automatic
Standard 4WD
EPA: 25 miles all-electric range City/Highway: 56 mpg (mpge combined) / 23 mpg (gas only)
Base Price: $69,820 Vehicle Tested: $78,605
You're probably wondering what you get with the Summit Reserve package.
Front passenger interactive display (music, media, navigation, and more)
21-inch machine face/painted aluminum wheels
All season tires
Palermo leather seats and door trim
McIntosh 19 speaker sound system
Active noise control system
950-watt amplifier
Ventilated seats
Deluxe headliner
The Summit Reserve group also comes with Luxury Tech and Advanced Protech which include:
Wireless charging pad
Shades (manual) in the back row
head-up display
night vision with pedestrian and animal detection
rear-view auto-dimming digital display mirror
What can I say? This is a great luxury ride.
Overall, I think the 2022 Jeep Grand Cherokee 4XE is a great mid-size SUV. It's stylish, spacious, and sustainable. It's got a strong engine that feels nice and heavy when running on gas but ultra-quiet when running on electric. So you get the best of both worlds. Take it out for errands and leisure or take off-roading. She's always pretty but not afraid to get dirty. If you like adventure but crave luxury, this may be the one for you.