Most conversations with friends these days includes the topic of hair-loss. Post-pregnancy, post-covid, pandemic stress, anxiety or simply aging and hormones. Whatever the case, it always seems to come up! And being that I cover beauty, I often get asked for product recommendations. Aside from the old remedies of garlic shampoo and coconut oil, I'd been at a loss as to what to recommend. Mostly because I wasn't affected until now.
Read more: 7 New Habits to Form in 2021
Post-covid, I noticed lots of my hair coming out in the shower.
Horrified at the amount, I began to wonder what was happening to me. So I asked my doctor who confirmed it was most likely a post-covid effect. He said that many patients were experiencing the same thing and that it should get better in a few months. Yikes. It's been more than a few months. So when Vegamour, a vegan haircare line that promotes hair growth reached out, I had to try it.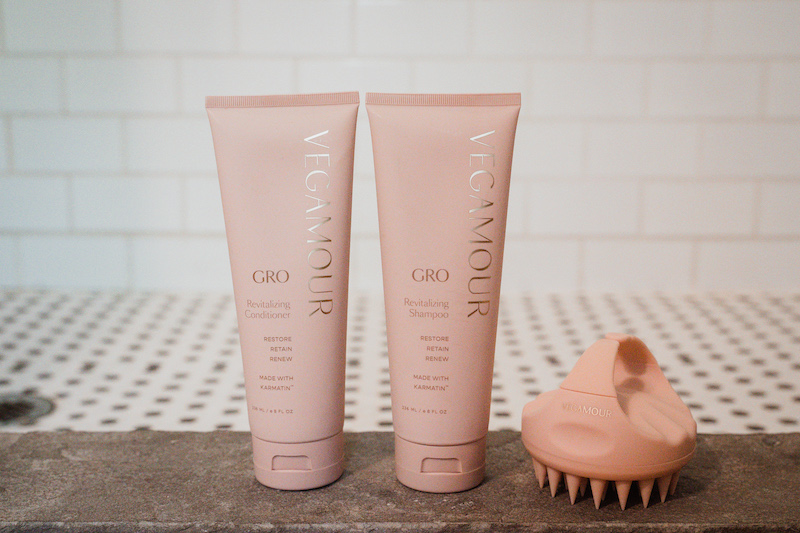 To my surprise, many of my readers were already fans!
After sharing an unboxing on Instagram, I got a lot of positive messages about Vegamour. I also got a lot of people asking me to keep them posted on results. I did ask Vegamour how long before I could see results and they said as early as 4 weeks. Obviously, these things take time so I wouldn't expect any sooner.
View this post on Instagram
Vegamour has lots of haircare products to choose from.
Every individual is unique. After sharing my own personal hair concerns with the brand rep, the following products (from the GRO collection) were recommended to me. GRO biotin gummies, a scalp massager, GRO Revitalizing shampoo and conditioner, and GRO hair serum.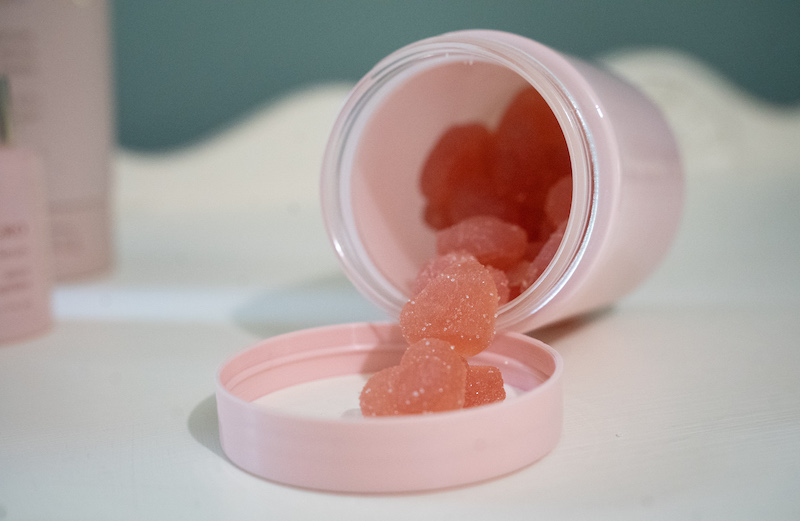 I've been using Vegamour for about 2 weeks now. Here's how it's going.
GRO Biotin Gummies– these gummies taste SO good! I love the jar they come in (it looks super cute on my desk, where I keep it to remind me to take one per day) and I would totally eat more if I could. But I won't (lol).
GRO Revitalizing Scalp Massager– I know these have been hot for a minute but this was my first time using a scalp massager and I just loved it! This one has soft silicone bristles that are nice on the scalp. It can be used on a dry scalp (great to relieve tension), to work in the shampoo or serum.
GRO Revitalizing shampoo and conditioner– this duo smells AMAZING! Probably the best smelling hair wash ever. After just one wash, I did notice that my hair felt a little thicker. It also felt clean and smelled great. I will have to keep using these before I can really say how well they worked but so far I think they're getting the job done.
GRO hair serum– nice and light, easy to apply. I won't really know for a couple more weeks wether this is working or not. I add a few drops onto my scalp and massage the areas I feel can use some growth. Excited to see results!
Now that you've read about my experience using Vegamour's GRO collection, I hope it helps you make a more informed shopping decision.
Check back in a few weeks for an update on my results!