I waited over 5 months in quarantine before returning to the beauty salon. My hair grew past my shoulders but it wasn't that serious. Not as serious as my husband's caveman hair anyway. But I knew I had to go in for that necessary trim. You know, the one that makes sure your hair stays nice and healthy. It's kind of important.
*Disclaimer: ReCreations Salon is my official hair sponsor. All opinions are 100% true and honest.
But First, Safety
Before I decided to make an appointment, I noticed that my go-to salon posted some photos on social media of their new setup. They also shared new guidelines for COVID. This immediately helped ease my anxiety. So I contacted Stephen (ReCreations Salon) and set up an appointment.
View this post on Instagram
When I arrived at the salon, I noticed signs on the doors. The signs instruct clients to call before entering the salon. The receptionist comes to the door, takes your temperature and has you sign a waiver. You must also wear a mask to have any service done.
I have been going to ReCreations for a long time now and getting to know the owner, Stephen, also made me feel more comfortable. I know he cares about his salon, staff and customers and puts their safety first. He shared with me all of the things the salon did to ensure safety such as sanitizing, temperature taking, getting better ventilation, adding plexiglass and dividers between stations, space between clients and more.
After I shared my trip to the salon on stories, a lot of people wanted to know how safe it was. If you really know me, you'd know about my anxiety and that this was probably not easy to deal with. But believe me when I say, I did not feel uncomfortable. If ever you go to a salon that is crowded, people are unmasked or stations are not being properly sanitized, I advise you to leave. In my personal experience, I did not have to deal with that. And you should not either.
More Reading: 5 Ways to Improve Scalp and Hair Health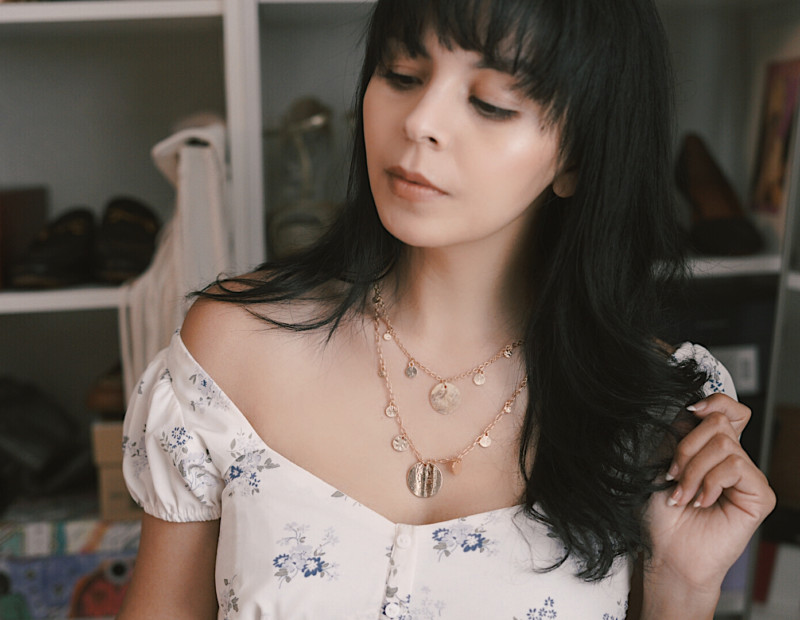 Time to Try New Things
The best thing about this all has to be having more fun with hair. I see so many people trying new cuts, colors and styles. On my first visit, I went for a bang! I hadn't had one since my daughter was a year old. But I am loving it. And recently, I got a little brave and played with color! My daughter had been trying to convince me to add in some violet hues and I have to say- LOVE it. So while we may not be able to go out and go crazy as usual, this is a fun time to experiment with hair (and support local businesses).
Have you tried anything new with your locks lately?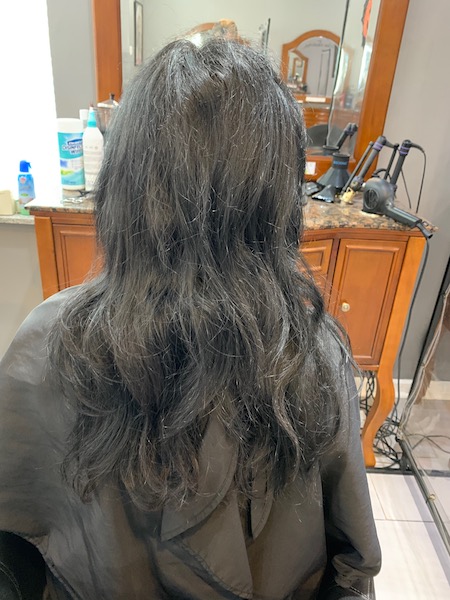 How to Know Which Beauty Salon is Right for You
If you don't have a go-to salon, I suggest asking friends for recommendations and checking their work on social media. Here are some tips before you book.
Call beauty salons and ask what their COVID safety protocol is. Ask how many clients and staff are allowed at a time, how often things are sanitized, if temperatures are taken and if masks are required.
If you are at high risk, request the earliest appointment on a weekday. Let the salon know, too. Sometimes places are willing to go an extra mile to keep you safe.
Referrals are the best- if a friend refers you to a salon, ask that friend for the scoop. Based on their experience, they can tell you how clean and safe things are.
Happy hair day ☺️