It's no surprise that planners, office supplies, and decor are such hot items in January. Everyone wants to up their workspace in search of that go-getter, boss energy. A new year means a new beginning. And for most, the best way to achieve that is by making little changes to their workspace- whether with new tech or supplies or just some furniture rearranging.
Note: there are affiliate links in this post. Basically, I make a few cents if you decide to purchase anything.
More Reading: Pantry Makeover: Let's Get Organized
Here are some ideas to help elevate your workspace in 2023.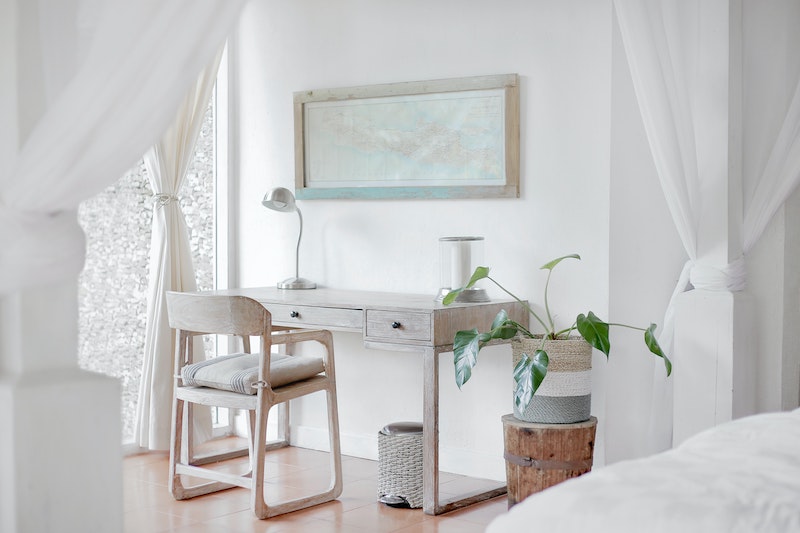 A new planner always helps keep you organized and get you motivated.
A planner is an absolute must-have for me. I'm old school and write myself lots of to-do lists, notes, info; etc. I also plug any important meetings and appointments into my cel phone's calendar with reminders. Adulting is hard and we don't have our mommies keeping us up to date anymore so if you're busy and forgetful, get yourself a planner. I like a mid-size planner I can tote around in my purse but big enough to transfer to my desk.
A fancy pen that writes nicely. Preferably in gold.
Fancy pens on my desk are a must-have. You can say I have a mini obsession with stationary and writing tools. Ever since I can remember, all of the successful people I know either carry a gold or steel pen with their monograms engraved onto it or they have a favorite pen. Either way, I think it helps somehow.
Aromatherapy. Good smells always help lift the mood.
One thing I find helpful is having a diffuser running in my office. It reminds me to breathe deeply and essential oils like Rosemary, Sweet Orange, and Peppermint are perfect for office hours as they help with focus, energy, and clarity. I personally like to get sets of oils so I have a variety on hand.
Hand cream to keep your hands happy and moisturized.
Need more aromatherapy? I love this hand cream by Sol de Janeiro- Brazilian Touch Hand Cream. Every time I apply it, I think of vacation, summertime, and tropical weather. If you're always craving a getaway, this hand cream can help you daydream in the meantime.
A dual-screen setup to help you multitask.
Having a dual screen setup is a gamechanger. You can be more productive this way. For example, I have emails and my website up on one screen and an editing app on the other. I recommend this portable monitor (because it's great for travel use) by the brand, SideTrak SOLO. It's compatible with Mac, PC, Chrome, PS4, Xbox, & Switch- so it's also good for the kiddos when some entertainment is needed.
Some more fancy things in gold…
I love a nice workplace and cute office supplies can make it better. This office accessories and supplies kit is perfect if you like gold accents and at a great price point.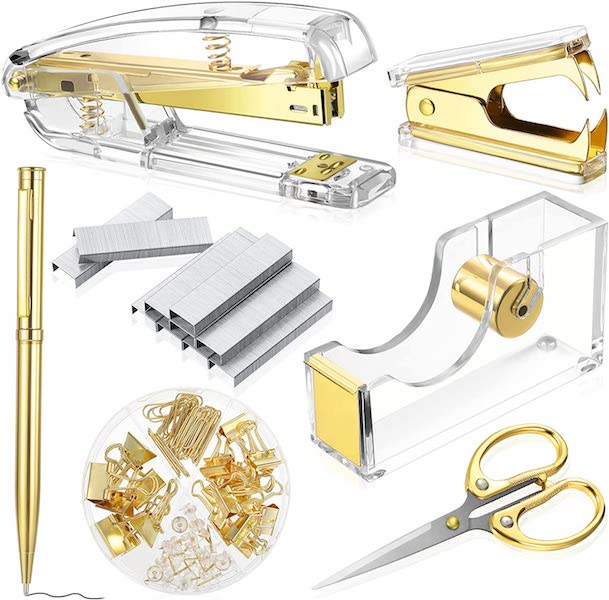 Do you enjoy listening to music or podcasts while you work? A new Bluetooth speaker will be nice.
This JBL waterproof Bluetooth speaker is perfect for travel, and indoor and outdoor use. It's especially handy if you're the type that enjoys working in different parts of the house.
Staying motivated can be so challenging!
But sometimes these small upgrades can make a big impact on your workspace and working experience.
Other tips for staying motivated/ relaxed include:
Here's to a successful 2023!