When the time came to makeover the pantry, I was ready. I had Pinterest boards saved for inspiration, baskets, jars, and containers – and labels, all ready to go. You can say I was excited to get organized. In this post, I'm sharing my pantry makeover.
Note: This post contains affiliate links. All opinions are true and honest and I do not recommend things I don't like!
Fresh Paint
Before I could do anything, I had to prep the pantry. Some sanding, patching up of any holes in the walls, and painting were a must. I went with the same color I chose for the kitchen- Marshmallow by Sherwin Williams HGTV line (sold at Lowe's). I really love this shade of white because it's warm and feels cozy. It's not like a bright white sterile hospital white if you know what I mean.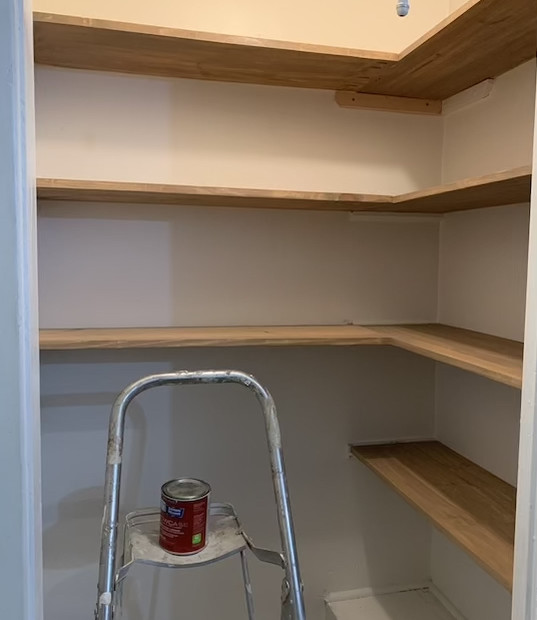 More Reading: DIY Home: Bedroom Revamp
New Shelving
Next, I added new shelving. My dad helped me with this part. He cut and installed the shelves and I sanded and stained them. My dad also added an outlet into the pantry so I could put any appliances in there. My kitchen is not huge so anything to save counter space is a bonus. I ended up putting a microwave in there and there's still room for another appliance.
Let's Get Organized
This part actually takes more thinking and planning than one may think. First, you have to figure out what your aesthetic will be. Do you want matching baskets? Wooden, woven, wire? Next, do you want glass or plastic? Do you want matching custom labels or will you handwrite them? I went with wire baskets, glass jars, and custom labels.
Shop Cereal containers
Shop Storage shelf rack
Look for good deals
During my planning phase, I read a lot of posts where the bloggers would direct readers to items they found on pricey websites and stores. Sure, they may be of good quality but you can say I'm somewhat of a pro when it comes to shopping. And I will tell you that you can definitely find better deals than certain higher end stores. I found so many great storage solutions on Amazon and Home Goods. I also repurposed a few baskets I already had at home. My best advice- figure out your style first, measure your space (shelving width and length), and then hit up the stores (or sites).
Tip: a tape measure is your friend. Carry one in your purse, too.
When it's not for sale, make it!
Since I have a lot of gold accents in my kitchen, I wanted gold wire baskets for the pantry. However, I couldn't find any so I decided to buy rose gold baskets and spray-paint them gold. I found a great deal on the baskets on Amazon- 4 for $12. I ordered a few sets and it worked out great.
Shop Wire baskets
Glass Over Plastic
I've always preferred glass over plastic. It lasts longer and is more eco-friendly. I found most of my jars on Amazon and the rest at Home Goods. Everything from spices to sugar, oats, and more have their own containers.
Links to glass jars:
Shop Smaller sized jars
Shop Long glass jars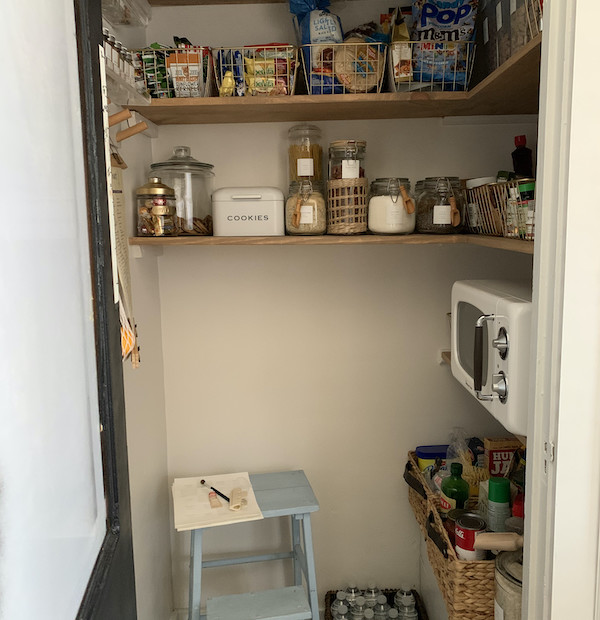 Pantry Makeover Complete
I have to say this makeover was much needed. The pantry was always a bit chaotic in the past and we'd end up buying things twice because we couldn't see what we had in there. My mom always taught me that an organized life at home resulted in a better lifestyle- a life in order. And it's true. I always feel better when things are not a hot mess!
Links for spices/rack/labels:
Shop Spice Jars
Shop Labels
Shop Acrylic Shelves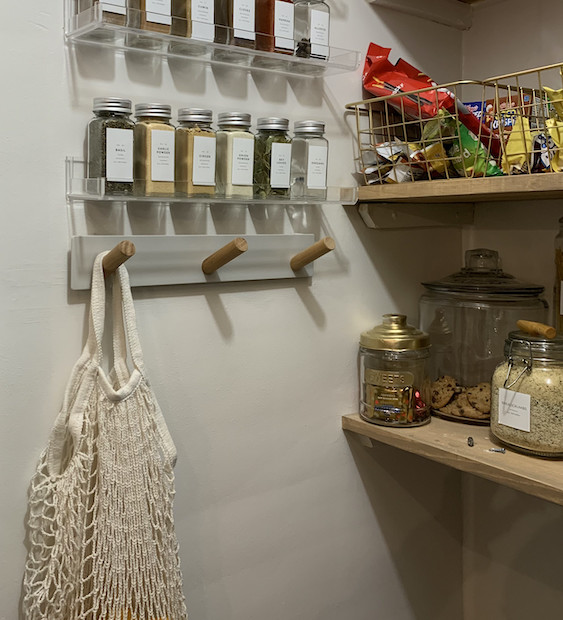 Tips to Stay Organized
Most people say the same thing after an organization makeover- now let's see if we can keep it this way. Yes, you sure can. Here are some tips that have helped us maintain our pantry organized.
Give everything a place. For example, I put shelves on the wall displaying my spices. There is no way I can misplace them and I like the way they look. I have baskets for items like popcorn, oatmeal, protein bars, and more. It makes it easier to store and keep in place.
Tidy up once a week. Now that there's a place for everything, there should be no mess, right? Wrong. The more people living in your household, the more difficult that can be. I have found so many things tossed into the pantry, on the floor, and in the wrong place. This makes my blood boil but then I take a deep breath and step back. I do a glance over and remove each bin, tidy it up, and place anything that is out of place and put it back.
Keep inventory. Don't overstock your pantry and don't buy things that you don't need. I like the idea of meal planning ahead and buying whatever you need to make those meals. However, that's not too realistic. If you do buy in bulk, keep the extras in another space. For example, I have a shelving unit in the basement where we keep extra supplies. Paper goods, cereal, cans, and more. Not everyone can do this but it sure helps keep the pantry from looking messy and overstuffed.
Ready, set, organize!
I hope I've inspired you to get organized. I am so happy with how our pantry came out and