One of our favorite things to make at home is pizza. Especially on Fridays. It's like a little celebration to kick off the weekend. I mean who doesn't like pizza? If you don't we simply cannot be friends. This past weekend, I asked my daughter (who has always made pizza with me) to make one on her own because I had a busy day. I guess she just goes with the flow when we make it together because she suddenly forgot what to do. So I thought I'd share it on here in case anyone wants to learn.
More Reading: 5 Reasons to Take a Family Vacation in San Francisco this Spring
It's not pizza night without the pizza.
So let's get to it. Here's what you will need:
Pizza dough (we usually pick it up from a local bakery or pizzeria but supermarkets also carry it)
Pizza sauce
Mozzarella cheese (I prefer to buy the block and grate it as opposed to those pre-shredded ones)
Basil
Extra virgin olive oil
And now, the prep work.
The first thing to do (with clean hands, of course) is knead the dough a little and create a circle on top of your pan. I usually sprinkle a bit of olive oil onto the pan before setting the dough upon it.
Next, I sprinkle a little olive oil on top of the dough and add the pizza sauce in a circluar shape.
Then, I grate the mozzarella and spread it out.
Sprinkle some basil and put it in the oven to bake on high for 15-20 minutes (keeping close watch).
*You can add whatever toppings you like, of course!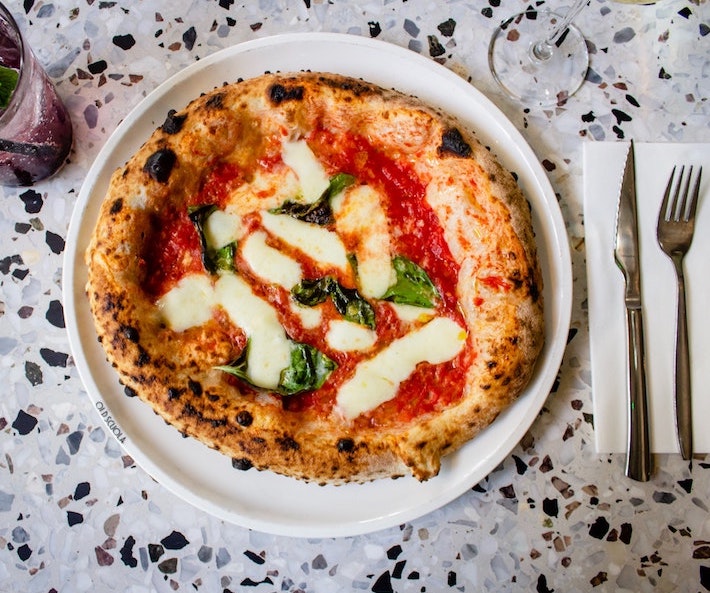 Presentation adds a little fun flair to your pizza night.
In case you're wondering, this super cute wooden board was sent to me and is by Fab Slabs USA. What I love about it is that is naturally and permanently anti-bacterial which is SUPER important when purchasing cutting boards. They're perfect for pizza, grazing platters, and more.
And now, we eat!
The best part about pizza night is sitting down to enjoy and relax with your people. And the wine, too!
I hope you like this little recipe. It's super easy even if you never cook. Trust me, it's simple!
For the adults, red wine and a salad pair nicely.
But for the kids, maybe some sparkling lemonade