Planning a family vacation this spring? San Francisco is a great destination. There are tons of family-friendly things to do in San Francisco. My family recently spent a week exploring this beautiful city by the bay and had a blast! Here are 5 reasons to take a family vacation in San Francisco this spring. Read on!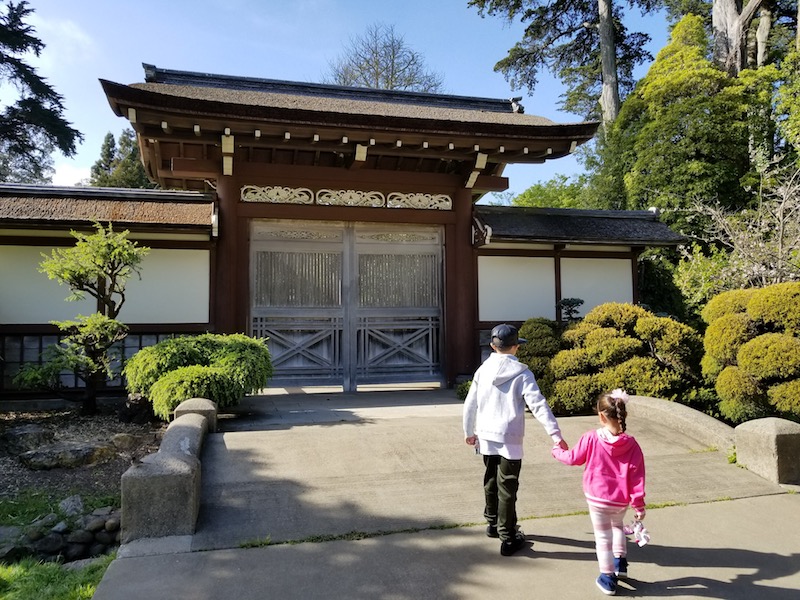 5 Reasons to Take a Family Vacation to San Francisco this Spring
Visiting San Francisco with family this spring? It's the perfect time of year to visit. The weather in March, April, and May is usually warm, dry, and clear. Daytime temperatures can reach the upper 60s and lows are in the high 40s and lower 50s, making it comfortable weather to explore this gorgeous city.
Lucky for you there's also no shortage of fun things to do in San Francisco. There are many basic hacks for travel fun with kids and these are some of my top family-friendly tips for you to follow during your San Francisco family vacation. Of course, you'll want to visit the Golden Gate Bridge but there's also so much more to see in San Francisco.
In addition, I want to tell you that you'll beat the tourist rush by visiting San Francisco in spring when the weather is mild and hotel prices are still lower than they will be during the summer season.
Here are 5 reasons why you should take a San Francisco family vacation this spring!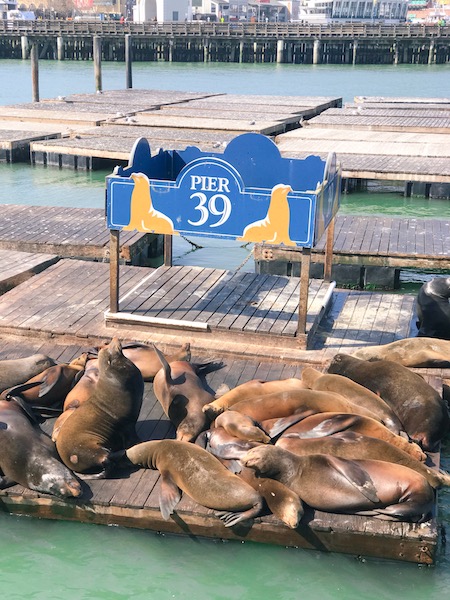 1. Spend the Day at Pier 39 & Fisherman's Wharf
Here you'll find something for everyone — from the nearby Aquarium of the Bay to a unique carousel carved and painted in Italy, to the world-famous Sea Lions of Pier 39. There's tons of family fun to be had at Pier 39! You could spend a day or two taking it all in.
Also, make sure not to miss the amazing views of Alcatraz from Pier 39. Since we didn't visit Alcatraz this was a great spot to just catch a glimpse of it.
There's also free entertainment on Pier 39, street performers and even a stage right outside the carousel where you'll find daily magic shows and other fun performances that the entire family will enjoy.
Once you're done exploring Pier 39 head on over to Fisherman's Wharf, a bustling spot with tourists taking in waterfront marketplaces and restaurants. Of course, this is a great spot for dinner. And you guessed it, they're big on seafood here!
Cioppino's Restaurant and Bar at Fisherman's Wharf is a great family-friendly choice for dinner. Not only is every Italian dish delish and super fresh. They also offer lots of variety on their kid's menu — from mac and cheese to grilled cheese sandwiches, popcorn shrimp, fish, and fries, to pasta with butter and spaghetti with meatballs, chicken fingers, pizza and burgers too! Plus each kid gets their own crayons and coloring page to keep them busy while mom and dad can enjoy a nice meal.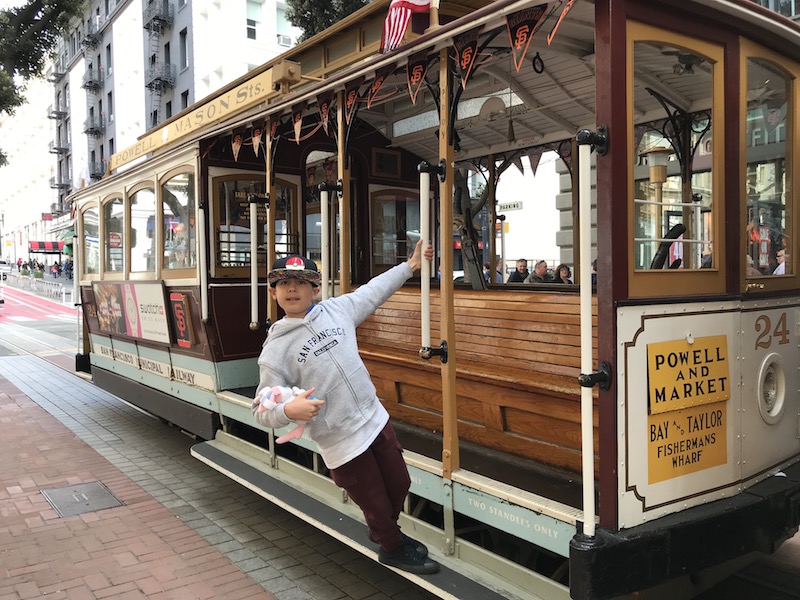 2. Ride a Cable Car
The most famous way to get around San Francisco is by cable car. It's a great way to get from one end of the city to another and makes it easier to get up those steep hills! Start your cable car trip at Fisherman's Wharf and hop on the Powell-Hyde line to Union Square. This is the longest of the cable car rides and offers the most scenic route.
Did you know that San Francisco is one of the few cities left in the entire world that still uses old-fashioned trolley cars? If you want to learn more about San Francisco's cable cars, you can also visit the Cable Car Museum. It's FREE and it's one of the stops along the Powell-Hyde line. Hop off the cable car and step back in time to learn about this city's most famous mode of transportation.
Be prepared to possibly wait on a long line to ride the cable car, but it's worth it! Arrive early if you want to beat the crowds and avoid long lines. A one-way ride ticket will cost you about $7 per person. If you are pressed for time, my advice would be to just take the cable car one way. You'll get the experience of riding the cable car and avoid waiting on long lines twice.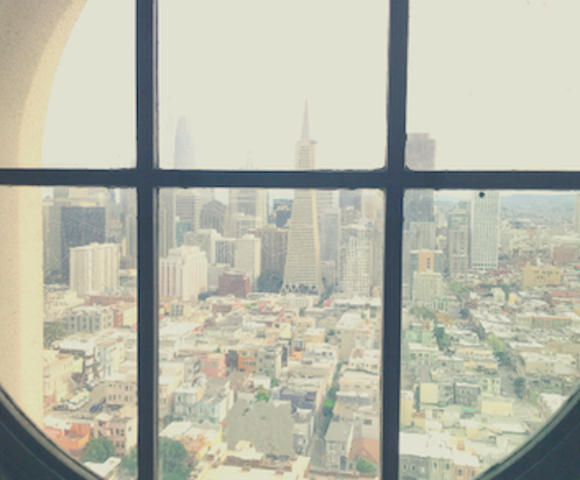 3. Drive to the Top of Telegraph Hill & Coit Tower
Coit Tower at the top of Telegraph Hill offers some of the best views of San Francisco. Here you can take an old-fashioned elevator to the top of Coit Tower for a 360-degree view of the city and the bay.
Did you know that there are 200 wild parrots living on Telegraph Hill? See if you can spot these cherry-headed conures and blue-crowned conures, a famous San Francisco sight. Unfortunately, we didn't find out about them until after our visit to Telegraph Hill and totally missed seeking them out. We did, however, hear them as we were driving up the hill to Coit Tower. So make sure to keep your eyes peeled for these colorful birds!
4. Explore Golden Gate Park
This is the biggest park in the entire United States and is totally worth a visit, or two! There's so much to explore here. You'll need an entire day (at least) or two, possibly even three if you want to see all of it. We only spent an afternoon here so didn't get to see as much as we would have wished.
Golden Gate Park has been around since the 1860s when San Franciscans started to feel like they needed a nice park of their own as the one New Yorkers had in Central Park. Golden Gate Park has so much to see — museums, lakes, playgrounds, gardens, and even herds of buffalo. Yes, bison in Golden Gate Park!
During our visit, we walked by the Japanese Tea Garden. Didn't visit inside because it was very crowded but still got some nice photos from outside.
We also walked past the Conservatory of Flowers, the California Academy of Sciences and de Young Museum. All seem like perfect places to visit and spend some time exploring. Since we only had one afternoon to spend at Golden Gate Park we didn't visit but hopefully, you will.
We walked over to the Koret Children's Quarter Playground instead — we had already heard so much about it! It's a great place to visit with kids. Here you'll find swings and playgrounds equipment, but you and the kids will have the most fun when you grab a piece of cardboard and slide down the super long concrete slides. There's also a fun climbing wall shaped like waves at the opposite end of the playground. Don't miss it!
Another great feature of this fun playground is the beautifully enclosed carousel that sits just steps away. Unfortunately, we made it to the park in the late afternoon and the carousel was already closing. We didn't get to ride but we did get a peek inside and hope to go back for a ride one day.
The carousel is open from 10 AM to 4:30 PM on most days but the last ride of the day begins at 4:15 PM. Adults pay $2 and kids under 12 pay $1 per ride. Rides are long and last 15 minutes. The kids will love that!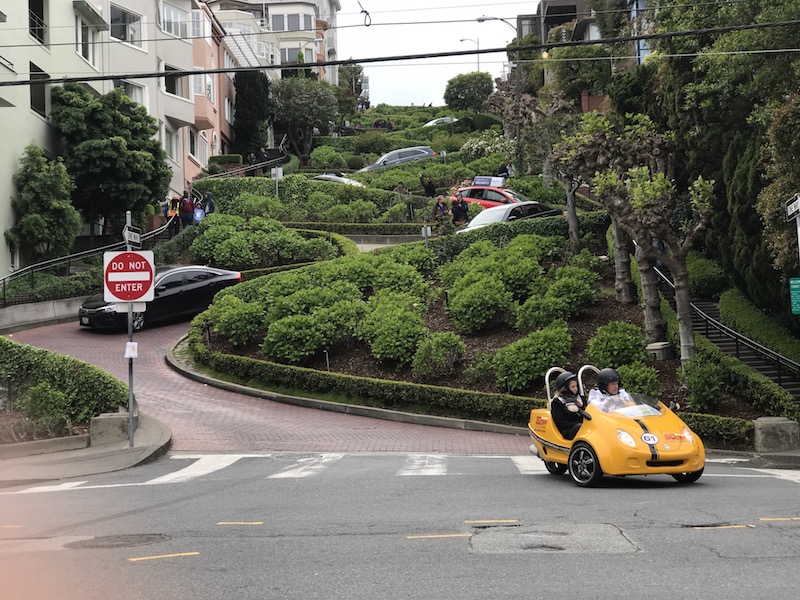 5. Drive Down Lombard Street
No San Francisco visit is complete without a visit to Lombard Street, famous for its steep, one-block section claimed to be "the crookedest street in the world". You've seen this famous street in postcards or on Instagram, I'm sure! It's a major tourist attraction with around two million visitors coming here every year. Everyone's trying to capture a postcard-worthy shot of it! Totally worth a visit since the kids will enjoy the steep and curvy joyride!
We personally avoided the crowds by driving down this crooked street late at night. My advice is that you do the same. You can come back the next day to snap pictures and avoid the long line of cars waiting to take their turn driving down the 8 hairpin turns that make up this world famous 600-foot-long stretch of road. Visit the bottom of the street so that you can get the best shot of this curvy road above.
We Left Our Heart in San Francisco 
We left our heart in San Francisco, and your family probably will too! Our entire family fell in love with this uniquely picturesque city. There are so many things to do in San Francisco with family  — beautiful views everywhere you look, delicious food, friendly people, and tons of family-friendly places to visit. I think you'll love visiting! Plus, April is the sunniest month in San Francisco so it makes sense to visit in spring. I'm sure you'll have loads of fun on your family vacation to San Francisco this spring!
Happy travels and please tell the beautiful city by the bay that I said hello!