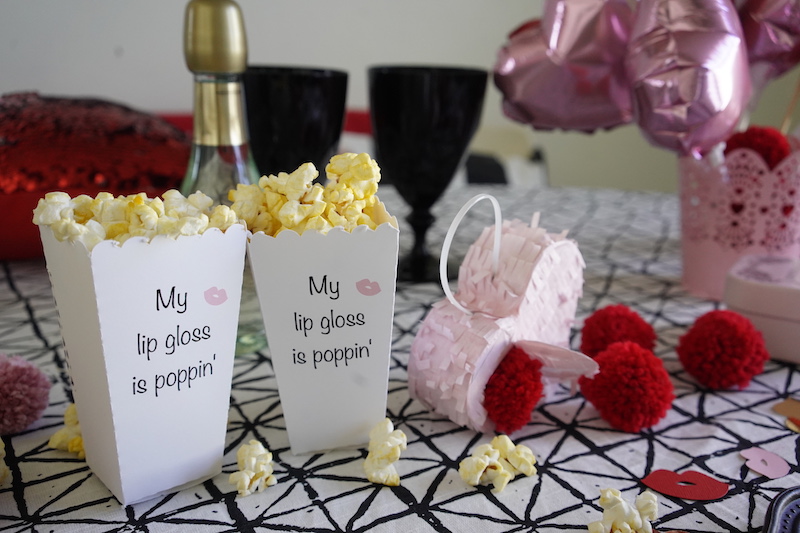 Hey Girl, Hey!
It's February and you know what that means- Galentine's Day (February 13) is around the corner. So grab your favorite gal pals and bring out the bubbly! I got together with my blog bestie, Lee to create a fun Galentine's Day set up. I can't believe this is our third year doing this! And every year, we have so much fun creating new things. This year, we went with your typical Valentine's day colors but added a pop of black and white (our favorite).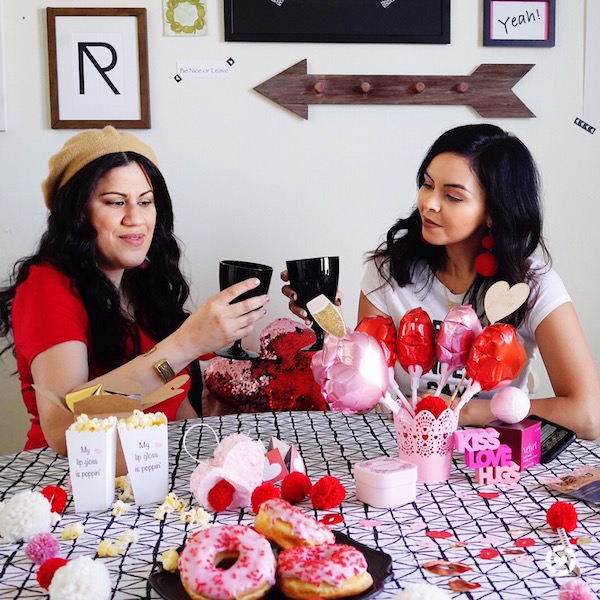 Women Supporting Women 
In case you're wondering what exactly Galentine's Day is, it's women celebrating their friendships and each other. The non-official holiday came from the television show, Parks and Recreations. Actress Amy Poehler plays Leslie Knope, a character who created it. Basically, it's the celebration of love for your girlfriends- brunch style. Obviously, we think it's awesome!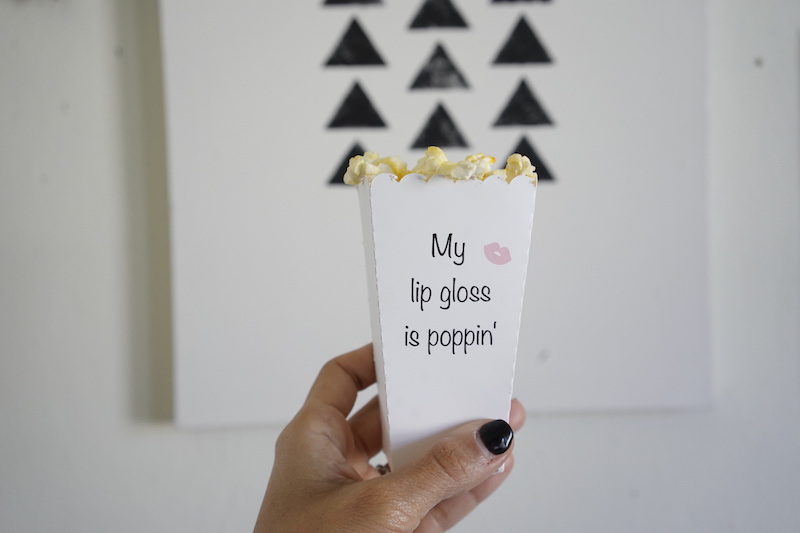 Budget Friendly
You can be extra and splurge on decor or you can keep it budget friendly. If you have your own place, you can use that but if not, you can always plan a brunch at a restaurant. Our set up this year is based at home for girls who work from home or can sneak out on their lunch hour. You can use this for inspiration for any style of celebration.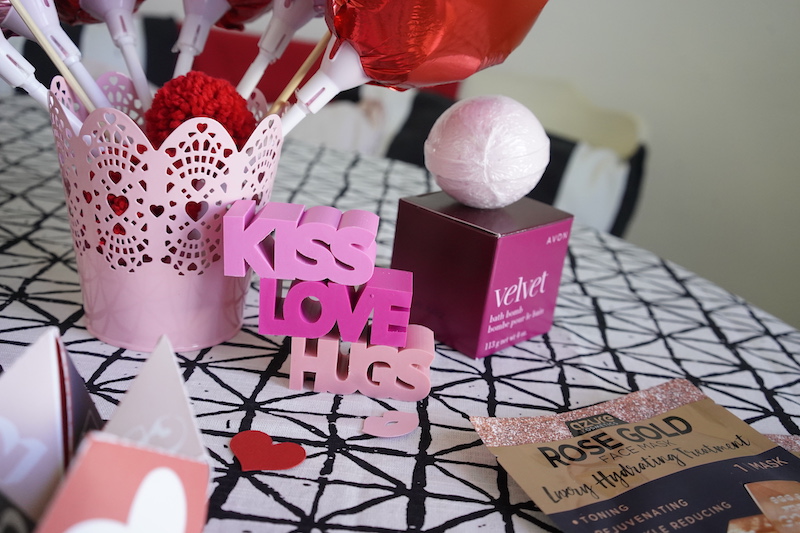 Galentine's Gift Ideas
Lee and I both work from home and don't have much time to spare so we went with mimosas, donuts, and popcorn. Yummy and quick snacks that are perfect to accompany chatter at the table. We also added fun things to the table to give you ideas like face sheet masks, candles, and bath bombs. These are all things your girlfriends will love.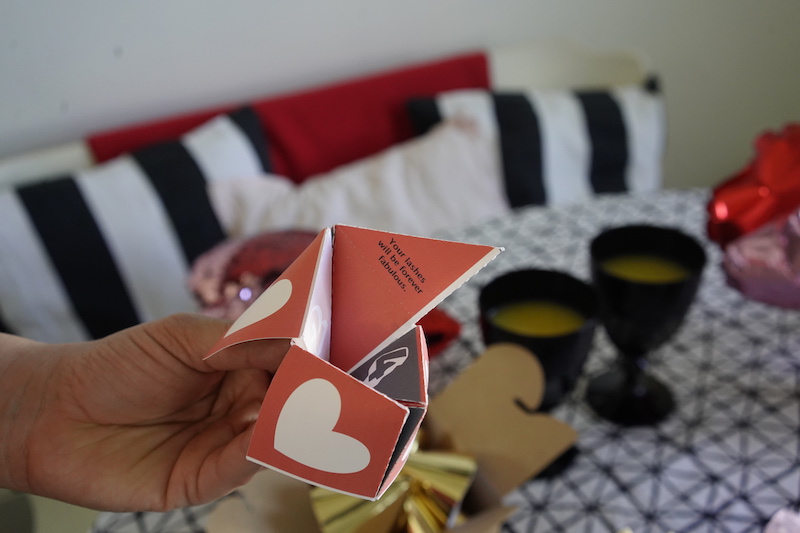 Galentine's Games
Lee and I came up with a fun idea for table games. One was a good old fashioned fortune teller. I remember playing these as a kid and they were always fun. We came up with awesome fortunes like "your lashes will be forever fabulous" or "you will marry a man who cooks, cleans and chauffeurs the kids."
We also came up with gold fortune cookies. And they're made of paper, so they're reusable! Another cute game is a mini piñata. We found the piñata in the Target dollar aisle and filled it up with pompoms. You can fill yours with candy or money or anything you like!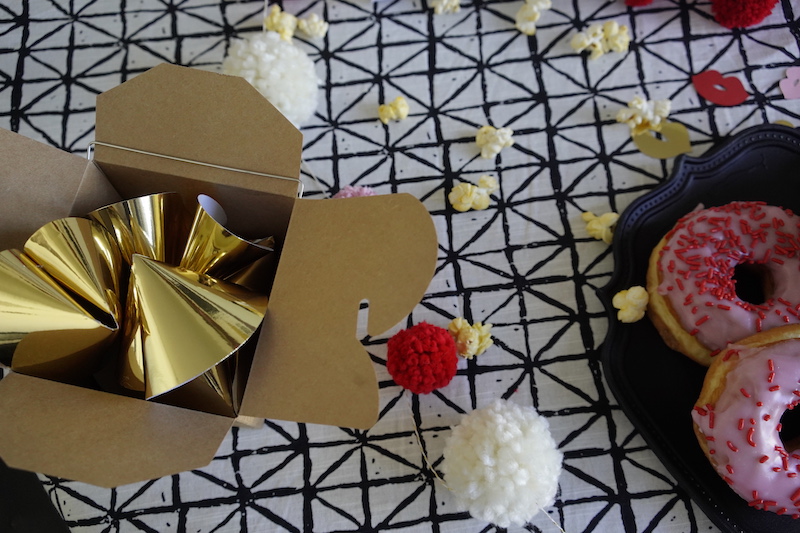 A Galentine's Day Set Up
For our set up, we used traditional Valentine's Day colors but with a pop of black and white to add some edge. Lee already had these amazing wine glasses in black- they were very witchy/queen style. We added mimosas inside. On a black tray, we placed strawberry frosted donuts with sprinkles and in our custom popcorn boxes, popcorn.
All of the pompoms on display were made by Lee. She also made the popcorn boxes, fortune cookies, confetti, and fortune teller game. Everything else we purchased or already had.
As always, we had a fun time setting up for Galentine's Day fun. Hope you find some inspiration to celebrate with your girls. Enjoy!
P.S. Before you leave, grab this FREE printable Besos Print from The LVR Shop!