Every chance I get to visit a new destination, I take it. This time around, I got to visit Punta Cana for a little under one week. In this post, I'll be sharing my experience visiting Punta Cana and give you some tips for your travels there, too.
At first, I admit I was a little nervous about traveling with my little one. Although we'd been to parts of Europe before, I'd never taken her to the caribbean. And with all the mosquito madness going on.. well, I'm sure you get the point.
So, the first thing I made sure of was making her comfortable. She had her own little carry on, a backpack with things to keep her occupied during free time, and her pillow and blanket. Tip: bring a blanket and hooded sweatshirt! It is very cold on planes these days.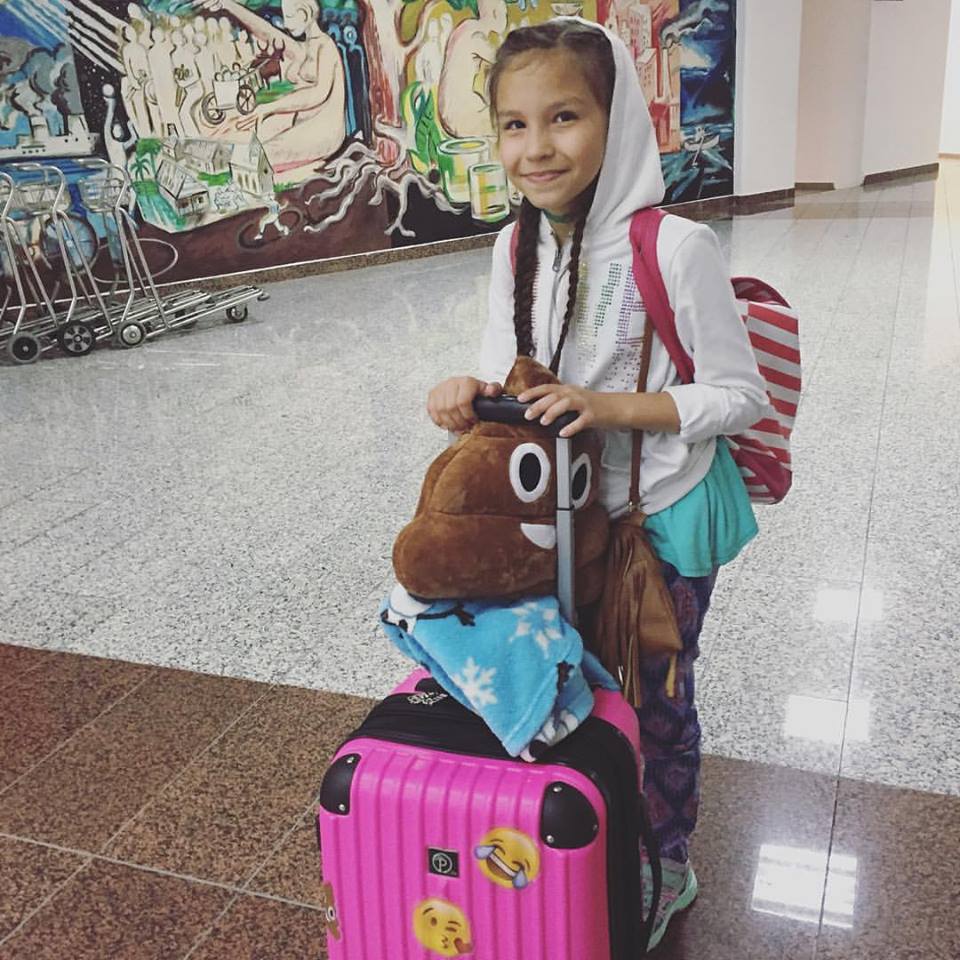 But enough about packing, let's get on to the travel part…
First, I will give you the BAD…
Not every trip is perfect and that's ok (there's a happy ending promise). We booked the RIU Palace in Punta Cana. Sure, pretty on the outside but once you get into that room- oh the horrors! I really hate to say anything bad about a resort but this was bad. Mold everywhere, a smell of mold so strong it should be illegal to have guests, and very dated. My daughter was afraid to even sit on the discolored couch. I read some bad reviews prior and warned the group we went with but no one listened. This was very much an "I told you so" moment. To make a long story short and get to the good stuff, we ended up having to suck it up, lay towels on the bed and get three hours of sleep until we could be switched the next morning.
We were relocated to the Hotel RIU Palace Bavaro. This resort was more modern but so much better. The room smelled good, everything was up to date and clean. While it was stressful to lose almost a day with relocating and lack of sleep, I was thankful we didn't have to stay at the other resort. This is when I truly felt the vacation began.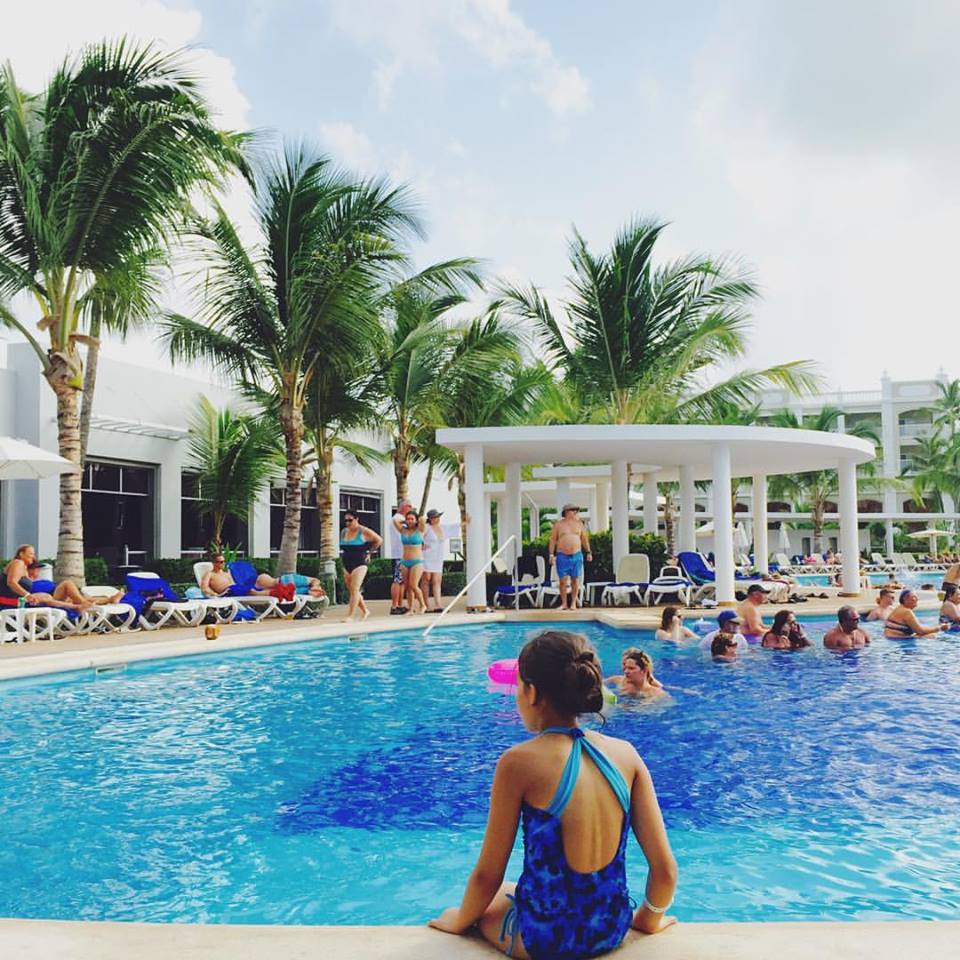 We spent the first day between the pool, restaurant and the beach. When you have a little mermaid like I do, that's pretty much paradise. The food was great. The resort has about four restaurants (which you have to reserve) and a buffet restaurant open from breakfast through dinner. If you're hungry later, there's a cafe in the lobby that serves everything from cakes, cookies, ice cream and coffee drinks. There is also a sports bar that serves chips, hot dogs and fast foods and a bar in the lobby.. and another bar near the entertainment area for night shows. Lots of variety and plenty to eat. To eat at the restaurants, there is a dress code. You have to have on a shirt and you can't just walk in in your bikini. I packed light easy dresses and accessories you could mix and match with looks for the resort. Just throw on and you're dressed!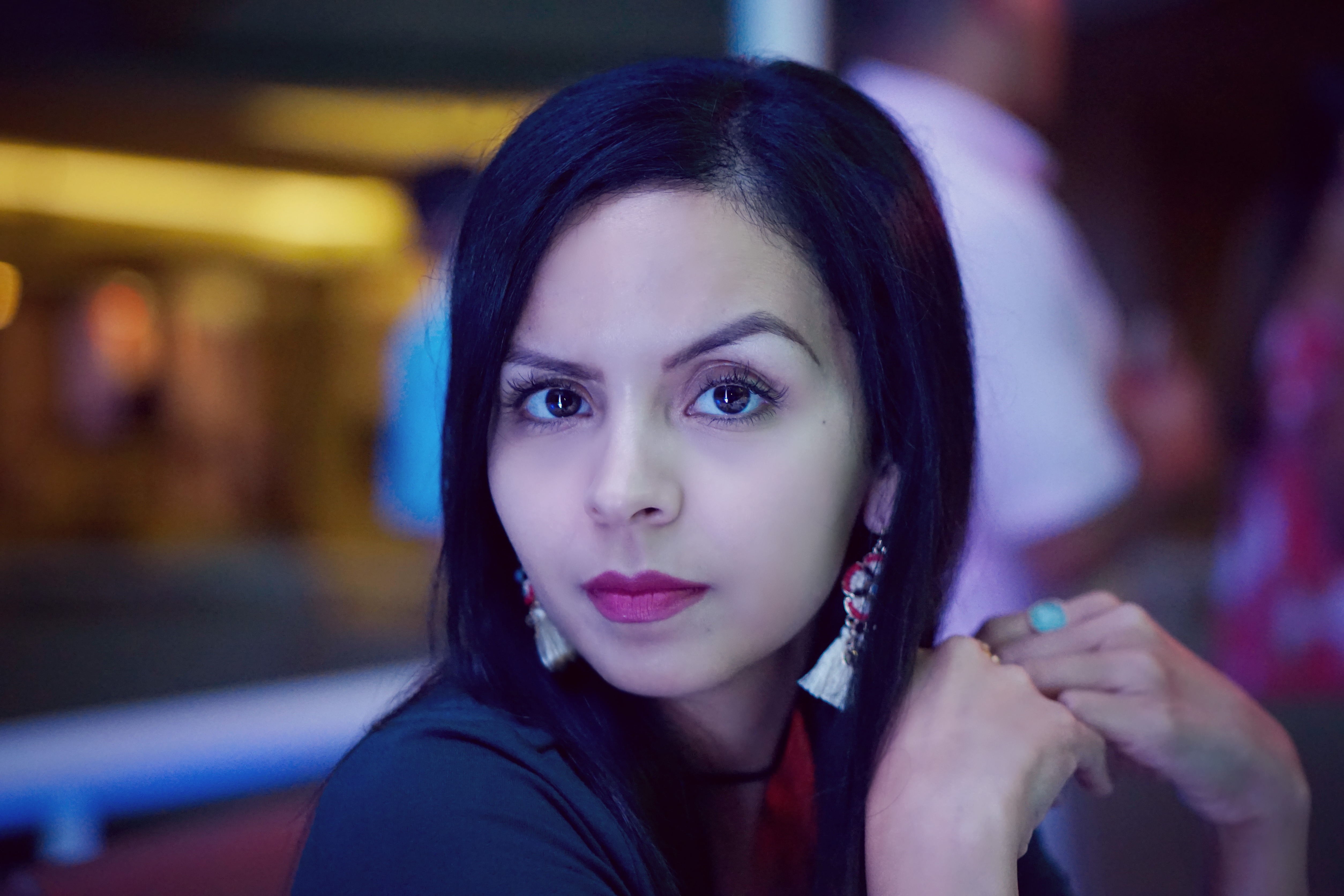 Earrings:c/o Bloomy's  Aqua
Lipstick: c/o MakeForever M401
Wrap Dress: Forever21
Clutch bag: H&M
Shoes: Sam Eldermen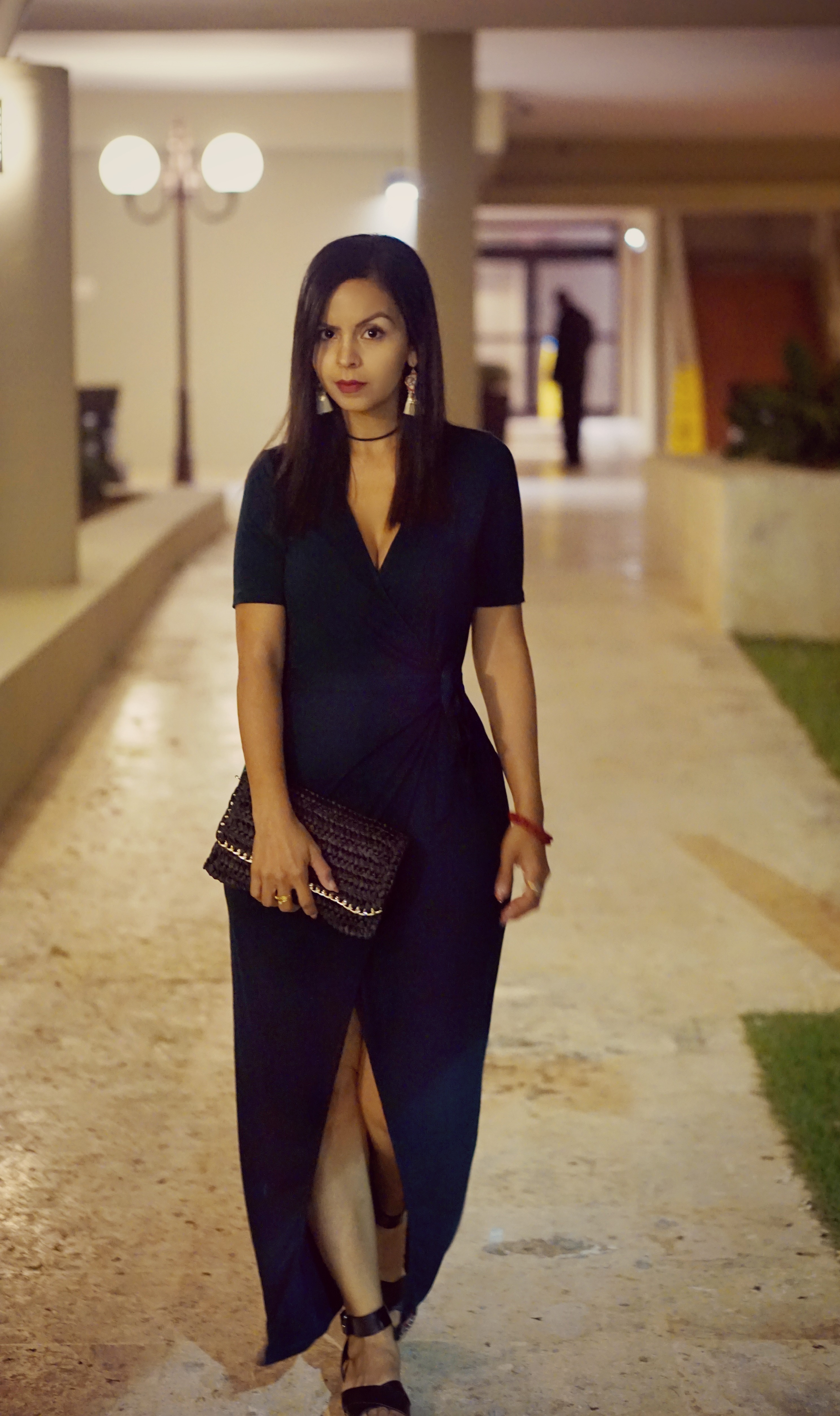 Spending time at the resort was both fun and relaxing. The resort also offers many activities like contests and games for guests. I even won an archery competition 🙂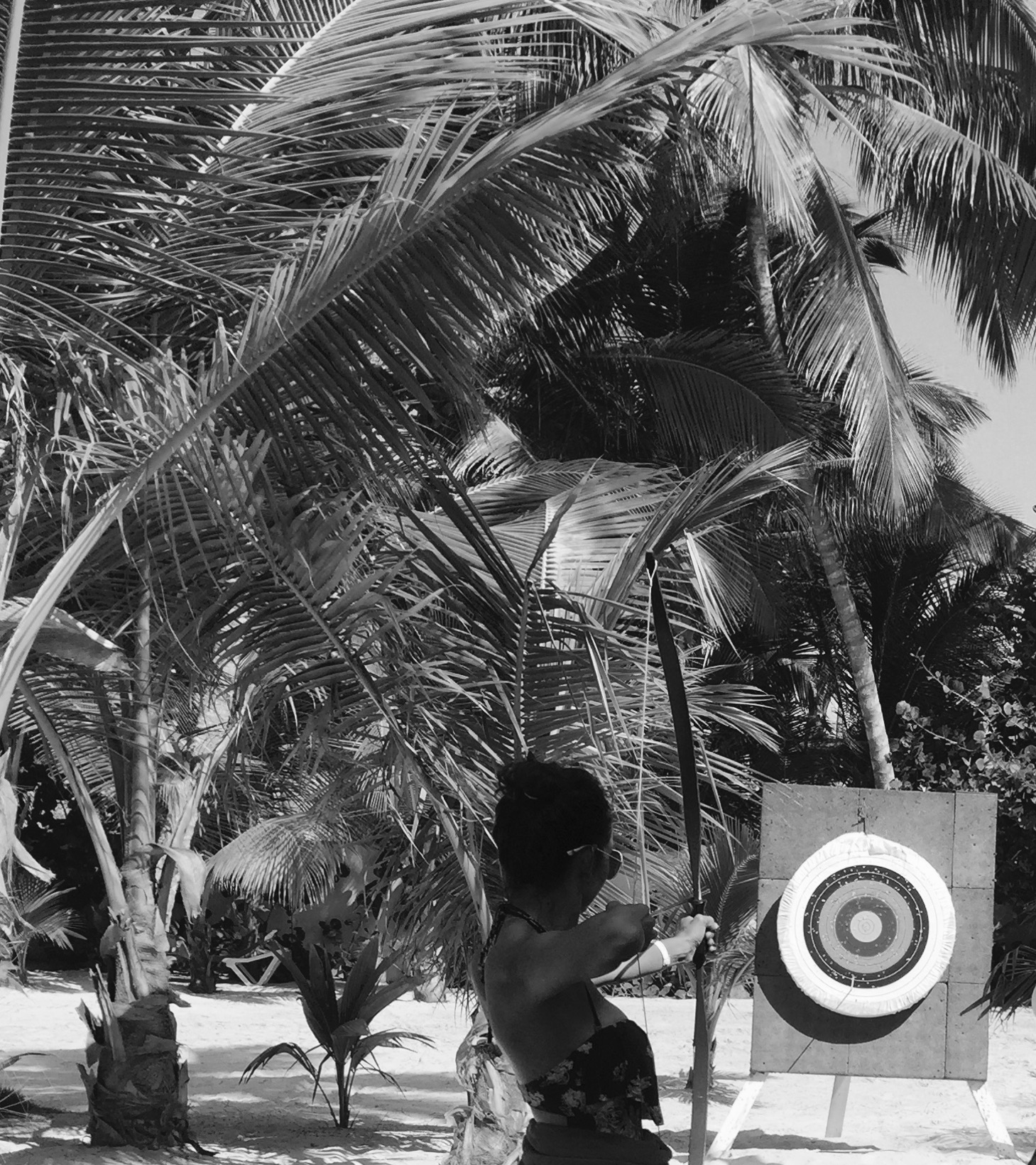 The beach is beautiful. There was very little seaweed, blue waters and white sand. Perfect to sip on coconut water and take a nap.
Tip: Pack on that sunscreen, the sun is strong and you will get sunburn if you don't protect your skin. I like Clarins Broad Spectrum SPF 30 and Super Fluid by Kiehl's for face and body.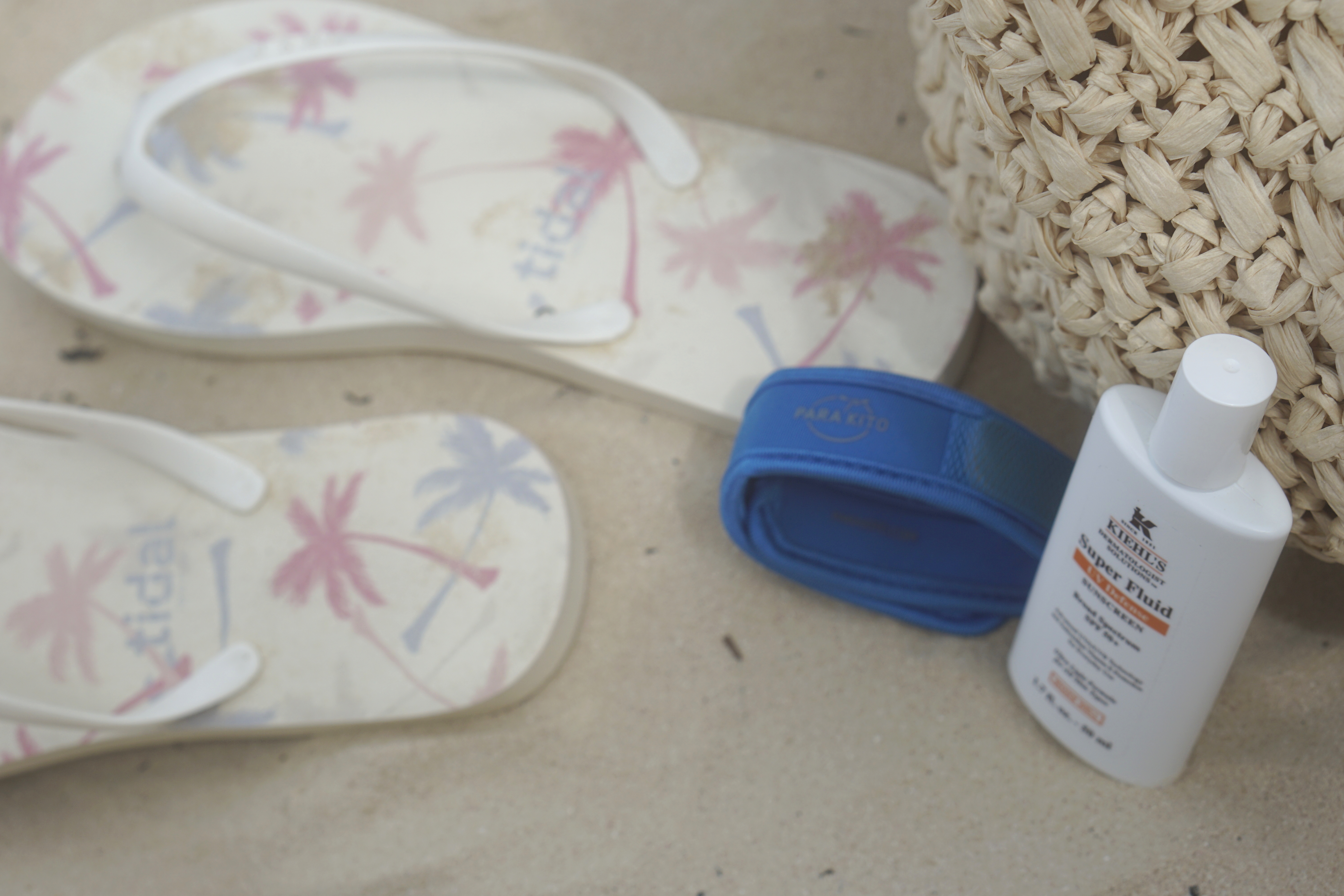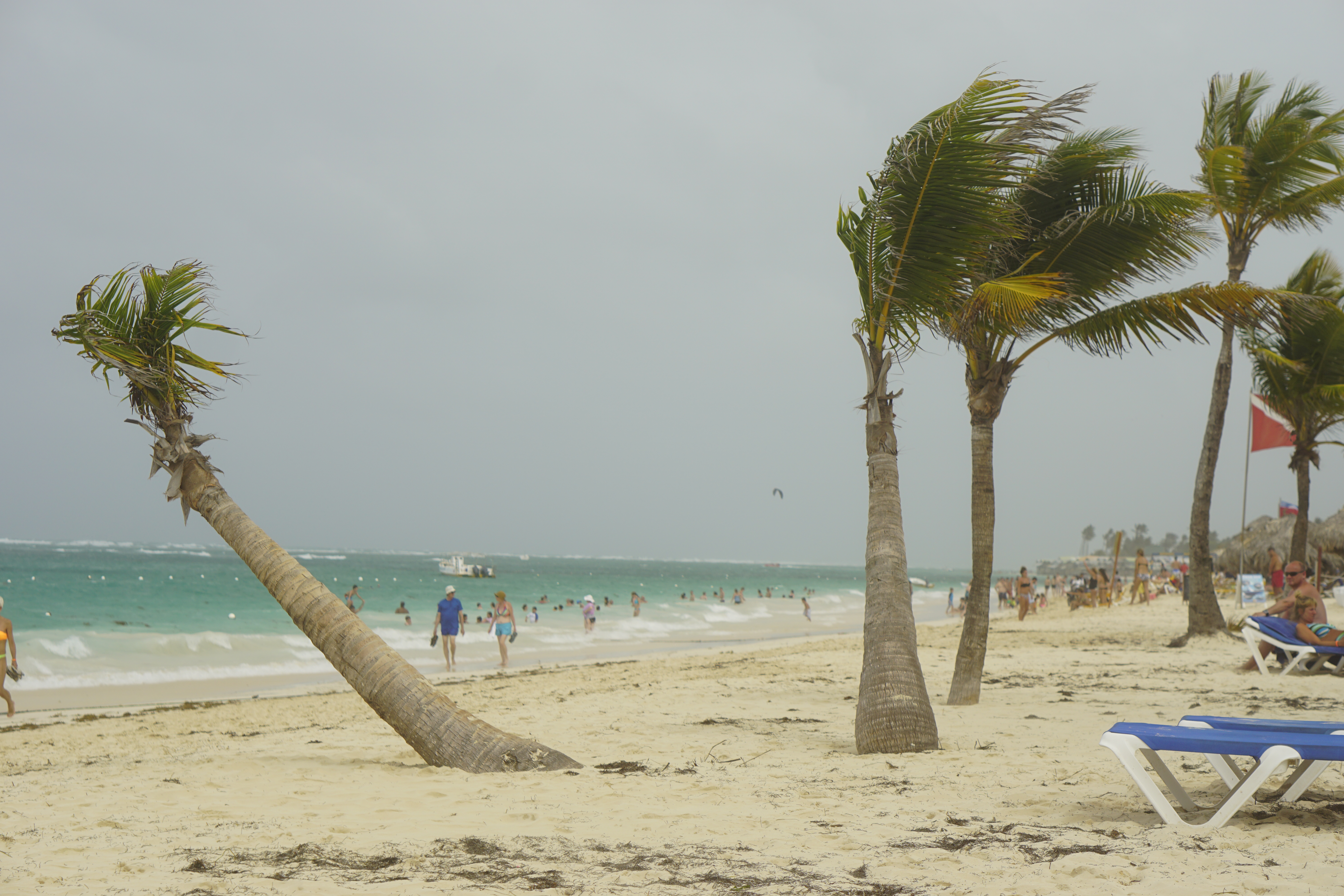 The next day, we were off to Isla Saona (Saona Island), a tropical island protected by the government. The island has become a major tourist attraction and you can only get there by boat. Films including Pirates of the Caribbean and Blue Lagoon have been shot there. This was probably my favorite part of the trip but it was a journey.
From the hotel, we were picked up by a small van that drove use to a bus that drove us to the marina to catch a boat. As I mentioned before, the Dominican Republic has many poor residents and our dollar goes a long way. So, as soon as we got off the bus, there are vendors trying to sell you hats, water, cigars and liquor. There are children dancing to traditional beats to gain a few dollars from tourists and there are men with exotic animals literally placing them onto your arms (or head!) in order to make some money. Don't be afraid. A simple no will do and if you wish to make someone's day, a few dollars will do as well.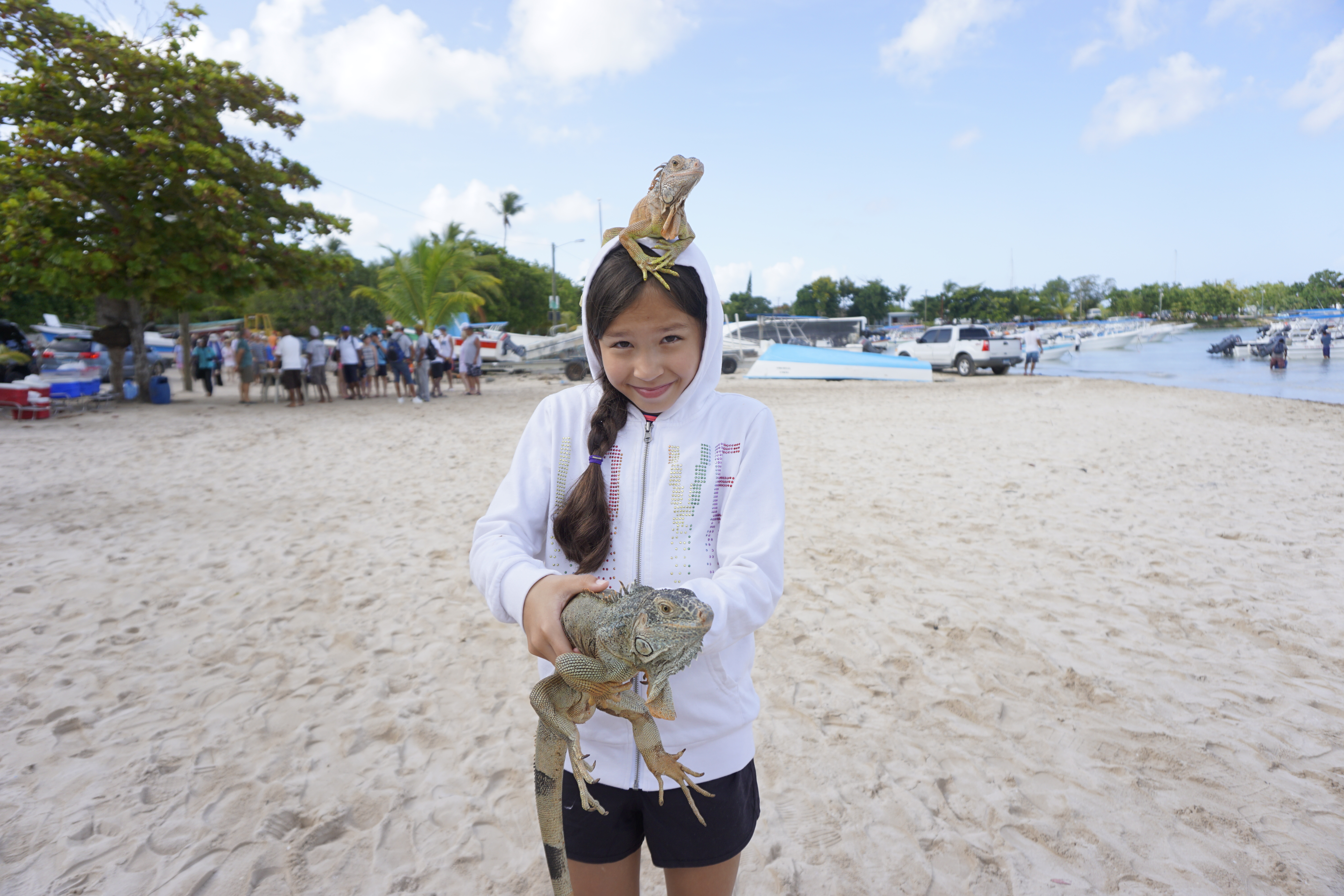 The first stop from our excursion was for snorkeling. I didn't do this part, they did. I tried it in Mexico and I was a hot mess so I decided to stay on the boat and watch. The captain and his staff were very kind and made sure we were taken care of. They have a photographer on boat which is nice because you can later buy the photo CD from him. To me. photos are the best souvenir. And of course, you can bring your camera, too. Just be sure to have a good bag that will protect it from water as you can get wet on the motor boat.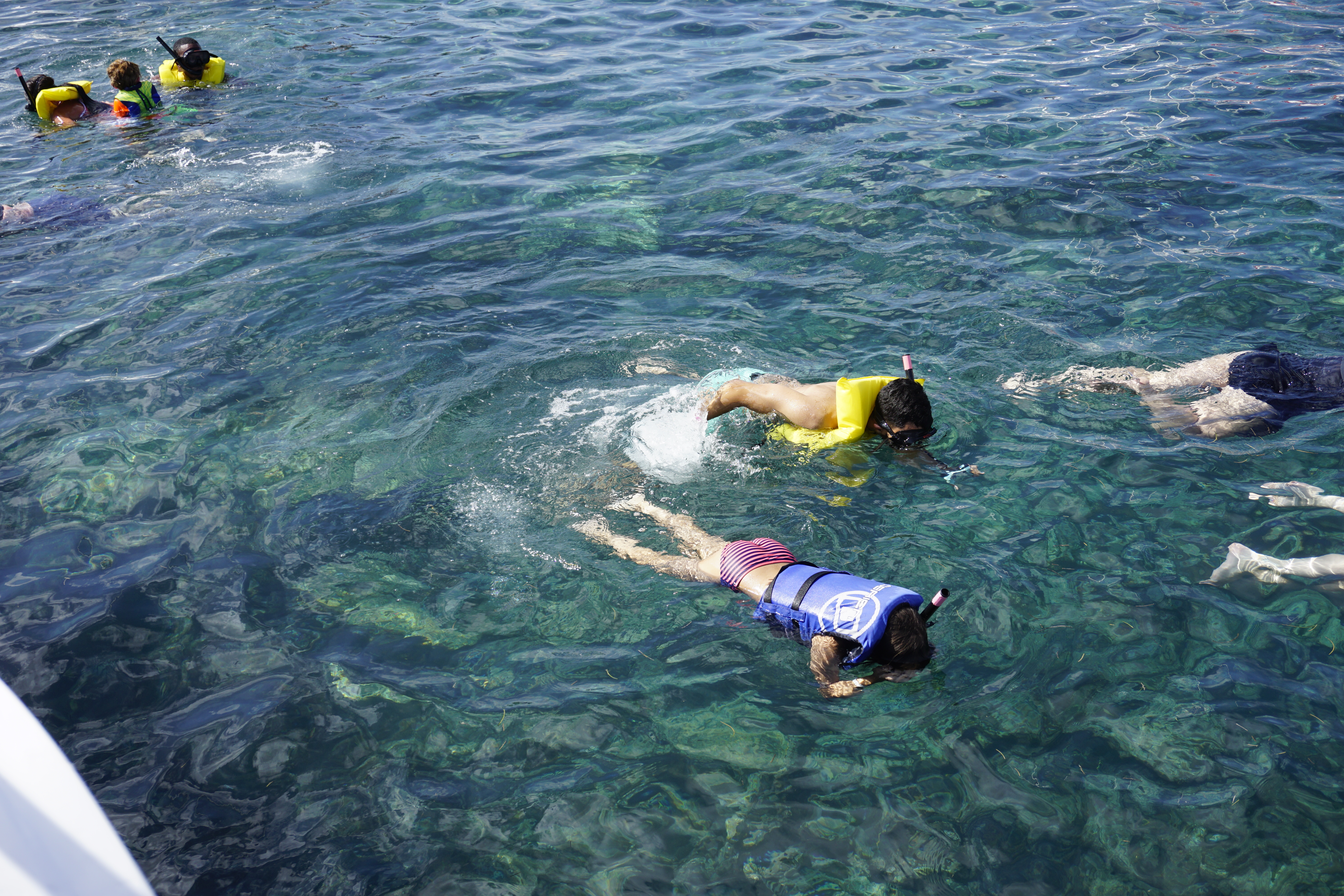 Next, the boat stopped at the "natural pool." Ok, this was my favorite part. I loved the natural pool. The sand is so soft under your feet, the water is almost clear and you can see starfish, find seashells and just take in the view. The water hits you at about waist high, it's just perfect.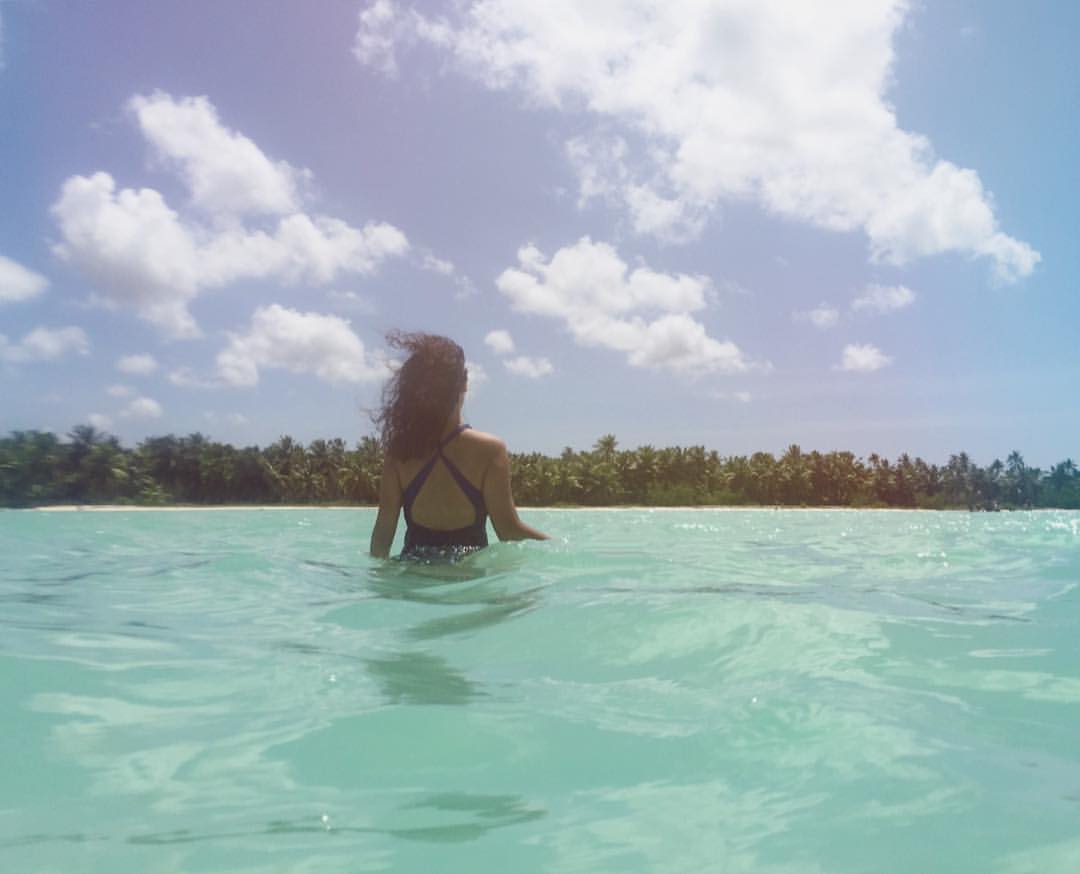 Yes, those are real starfish!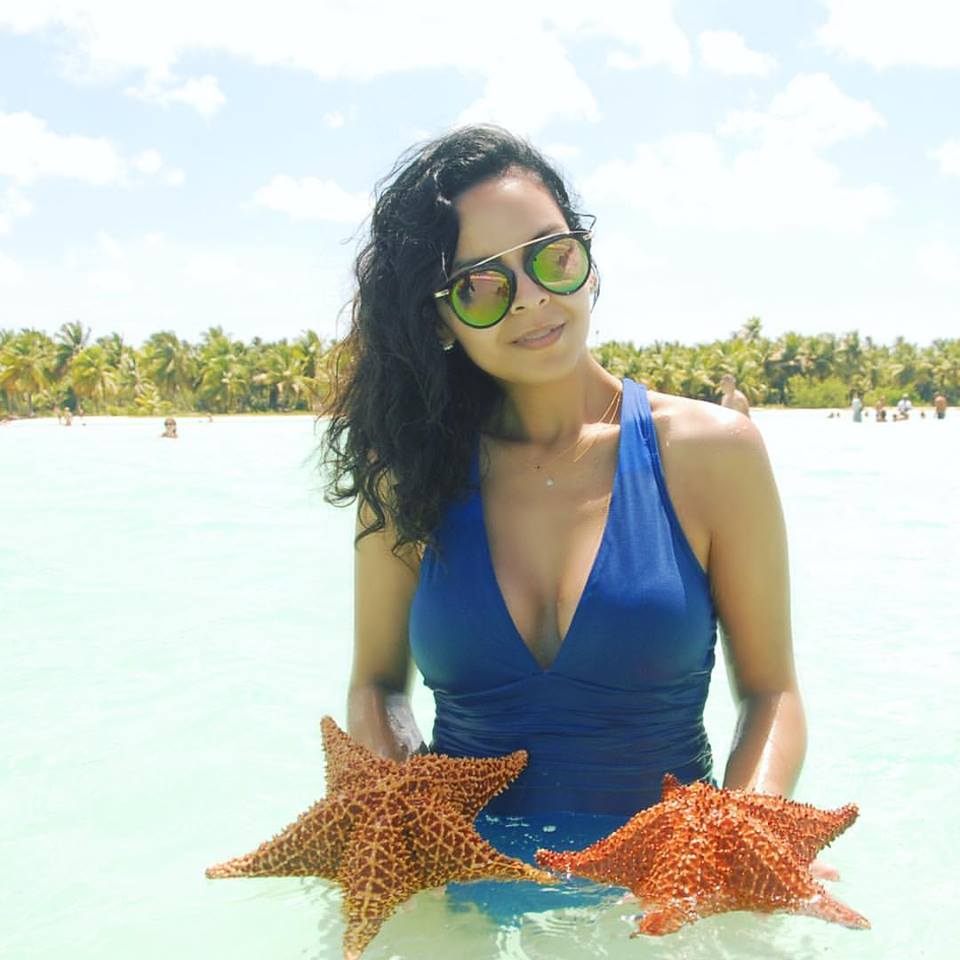 Next, it was back onto the boat and a short trip to the island. When you first get off the boat, it's a lot of  jungle. It has that true deserted island feel. The movie Cast Away came to mind as we walked through the path to get to the beach.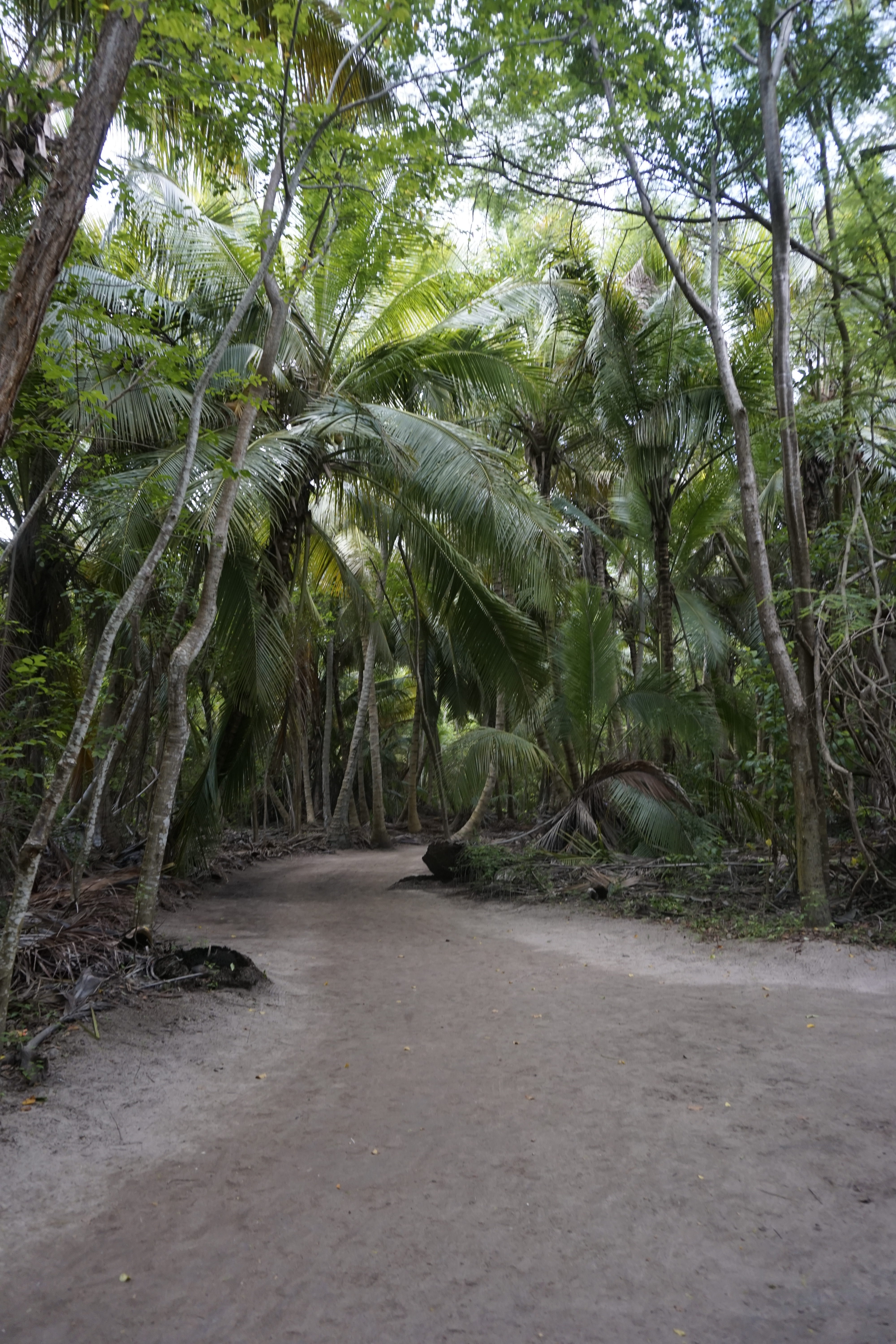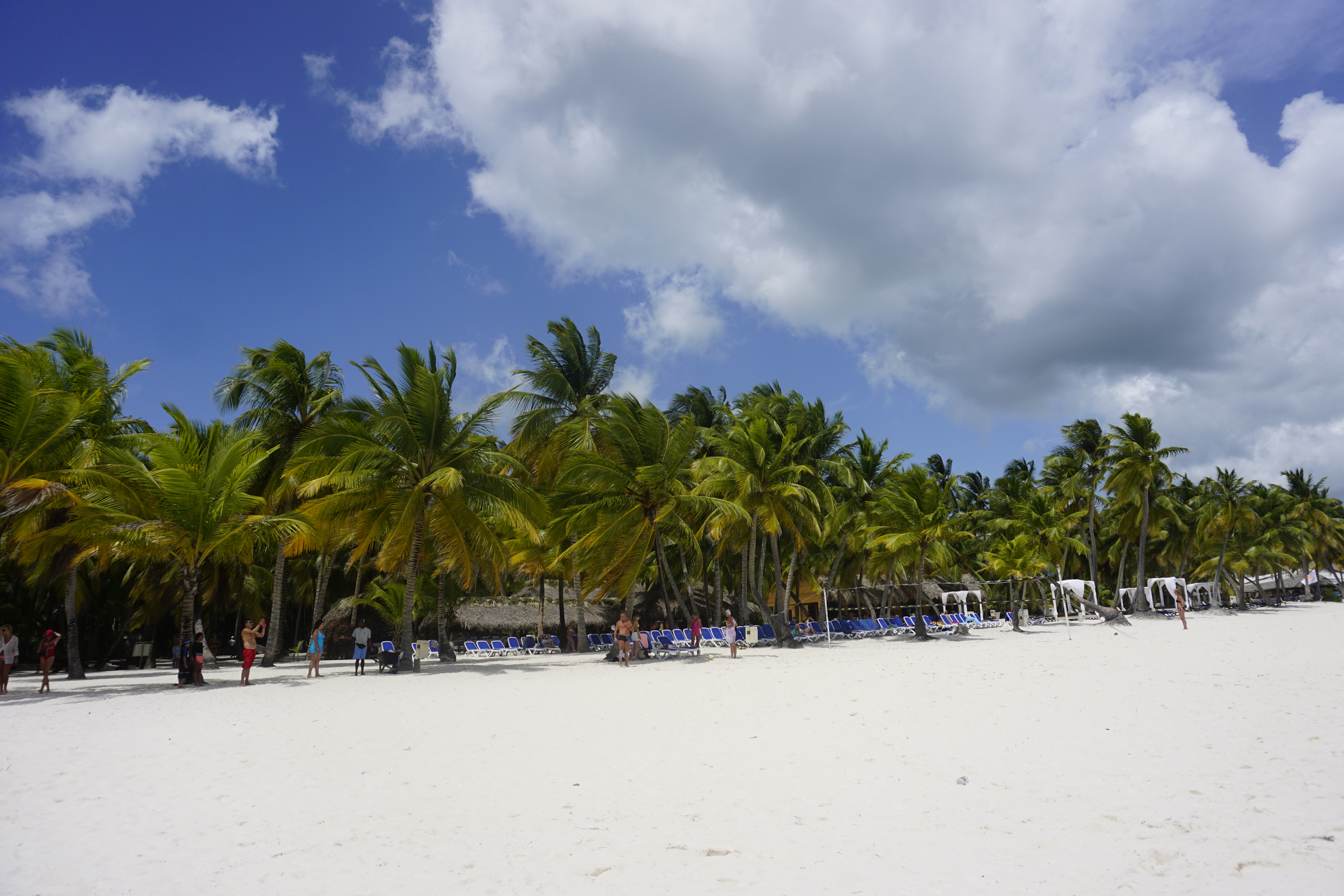 We were shown to our tables for lunch. I will warn you, since the food is outdoors it attracts flies and bees. If this bothers you (and your lil ones!), pack some granola bars or fruit snacks in a bag to snack on after lunch. You also don't want to get sick on an island so if you have a weak stomach, eat lightly. Overall, the food was good though. Rice, chicken, fish or lobster, salad. And plenty of drinks from champagne to soda and water.
The best part of my day at Saona was definitely getting a much needed full body massage on the beach while the family went off to play in the sand 🙂 And if you're wondering if this is a family friendly spot- yes, it is. There were children on this excursion and my daughter had a great time. On our way back, we boarded onto a catamaran where they had sandwiches, drinks and music. It was a smooth ride back and we pretty much just soaked up some more vitamin D and took in the beautiful ocean views.
In a glimpse…
Some more tips! 
My first tip is always to pack light. If I can do it, so can you! To check a bag is $35 and you also have to wait to get it after you arrive. You're allowed a carry on and a bag or backpack, so take advantage of that.
Maybe this is unnecessary to mention but you need a passport to travel to the Dominican Republic, so make sure you have one and it is up to date. Also, keep in mind that they charge you a $10 visitor fee before you get to immigration. Carry some cash on you- and be prepared with singles to tip people out there. The country is very poor and American dollars are valued, so you will need a nice wad of singles to tip.
Money- I still don't understand the whole pesos thing and to be honest, if you're staying on a resort, changing money isn't really necessary. Again, carry singles. Trust me, it's a little challenging to get change out there.
The weather in Punta Cana was beautiful. I always pack a few ponchos when traveling (in case of heavy rain), but I'm happy to report it was not needed. 
Wi-Fi- it's slow even in the resort. Figure out where you get the best wifi and make a stop there once a day. The rest of the day plan to unplug. You're on vacation, after all. But easier said than done, I know- this was very difficult for me! 
To conclude our trip, we visited Chocolate & Cia, an organic cocoa boutique on the RIU resorts. Read bout it here!